Last updated: July 22, 2014
This is probably going to be my favorite department in the store, with an evolving mix of gizmological goodies that for whatever reason need to find new homes. In many cases, though I really should know better by now, I bought cool high-tech stuff and put it on the shelf, only to discover 3 years later that I need a newer version. In other cases, I bought the wrong gadget, extracted something useful from the boat, or simply changed my design. Whatever the case, this page is a collection point for random treasures new and used (with only one of each available unless otherwise noted). Things are removed immediately when they are sold, but if you want to confirm or have other questions before buying something, please feel free to drop me a line.
Pair of 12V halogen boat interior lights – $45.00 → 
Removed from Nomadness: two brass halogen marine dome light fixtures with wood (teak, I think) trim rings to allow surface mounting with side wire-exit. I am changing everything to LEDs… but these were in my galley and work fine. Each has a mini toggle switch, and they take those common push-in halogen bulbs (12 volts). The photo makes it look like the wood is varnished, but it is not. The fixture diameter is 3-1/2″ and the wood ring is 4-1/2″. These would also be great under-counter lights in an RV; the teak mounting pads give them a beautiful finished look.
UV40/TF30 GPS on USB Eval Board – $50.00 →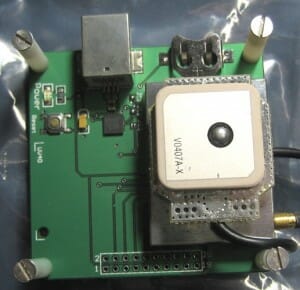 I bought this from Sparkfun in 2005 for $139.95, and it was mounted in the Shacktopus system… but never powered up. As you can see from the photo, I have stacked the active antenna on the GPS module, and added stand-offs so the unit can mount just below a non-metallic surface. Power is drawn from USB, and it generates the 3.3V from there. A power LED indicates operation, and a coin cell holder (CR2032) allows the GPS to hot-start. The GPS itself is from Laipac, and is a very simple "plug and go" device that puts out 4800-baud sentences as soon as it's powered up… I'm pretty sure the module here is the TF30. If you buy this, please remind me and I'll email you the schematic and a documentation PDF about the USB eval board.
Nicolet Isolated Electrical Stimulator – $90.00 →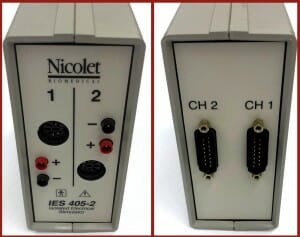 Model IES 405-2 – for your EEG and EMG needs. I have no way to test this, but guaranteed (2 weeks) against DOA.
You may check out from any "add-to-cart" window, or with this gadget: