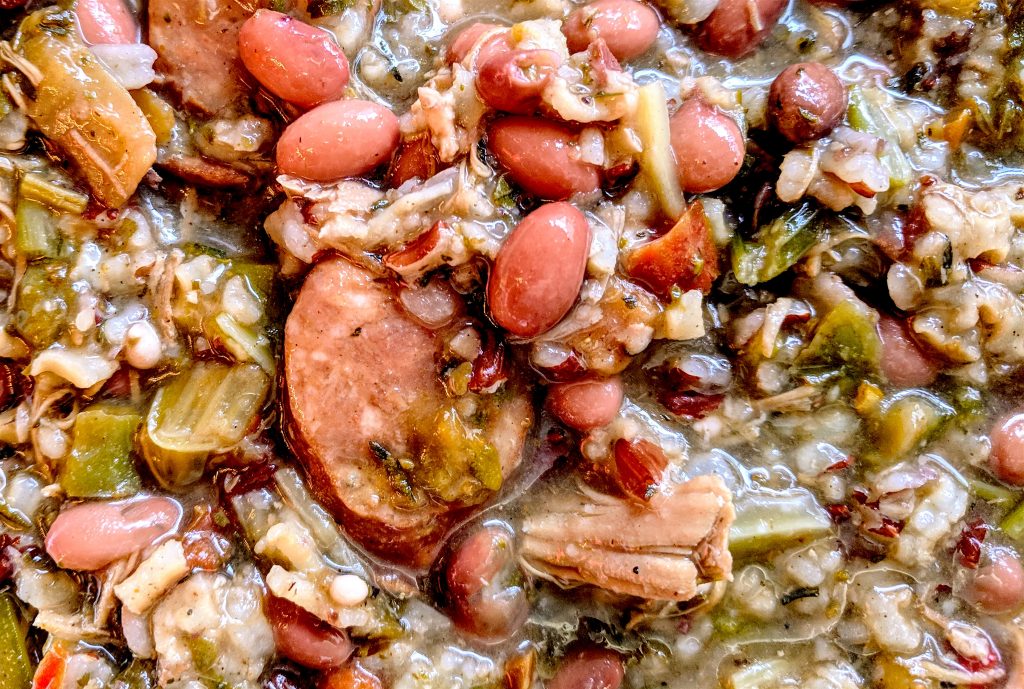 The Gumbo Scene from Snapshots of God
©1984 by Steven K. Roberts
Baton Rouge, Louisiana
April 30, 1984
Snapshots of God. To label an empty canvas thus is perhaps a bit ambitious, for God is one of those subjects that tends to either draw people in with fists clenched or chase them away entirely. See? Some of you are on guard already, while others are glancing down the page with a sigh to see if this book is on the verge of degenerating into pedantry, rhapsody, or testimony.
This little scene is an excerpt from "Snapshots of God," Chapter 31 of the Computing Across America book. And thanks Jerah Moore for the yummy gumbo that I photographed in 2018 for this story!
---
I rode to Louisiana State University and nosed about for awhile, as was my custom — stopping here and there to chat and get the flavor of the place.
Needing a new rear tire, I stopped at Precision Bicycles, just off campus. An exuberant and beaming fellow took one look at my bike and offered a place to stay: "I have a roommate, and it's not much, but we would be honored and blessed by your visit." He was obviously genuine.
Well OK, why not?
Talk about throwing the lion to the Christians!
I stopped at the apartment to wash away the sweat before dinner, pausing in the living room to look around at the collection of Bibles, pamphlets, religious plaques, crosses, and posters. All of their artifacts were iconographic. I was just coming to the conclusion that I was in the presence of some very hard-core Jesus freaks when my new friends, Paul and Matthew, spirited me off to dinner.
Ah, the Gumbo House. Boudin, gumbo, Shrimp Etouffee, and a beer for me. The food appeared on the table in a swirl of hot evocative smells, and I groped salivating for my spoon. Gumbo. Oh God, look at that gumbo!
Paul gently took my right hand.
Matthew gently took my left. Um, Hello?
And then they began praying — loudly, fervently, passionately. The thread passed back and forth between them like a game of spiritual hacky-sack, growing more elaborate with each volley as the players limbered up. I want my gumbo.
I gazed morosely into the slowly-cooling bowl, my hands imprisoned in the trembling grip of my enraptured hosts. The waitress arrived with a basket of garlic bread, and stood at the table unsure: uh, do I put this down, come back later, close my eyes, or what? I looked at her and shrugged. Hey, at least your hands are free.
People were staring. I had the crazy thought of dropping my face doglike to the bowl and lapping up my gumbo while Paul and Matthew rhapsodized about the miracle of this young man's journey and the bounty of Thy table.
Gumbo. I want my fucking gumbo. The aroma of Tabasco tickled my nose, and a plump pink shrimp lay half-submerged in the thick stew of okra, rice, chicken, and dark Cajun secrets. A half-split steaming link of boudin beside the bowl spilt its spicy filling onto the plate. Little bubbles burst one by one in the frothy head of my cold beer. My stomach rumbled and the waitress waited; people watched and my hosts prayed.
With a bit of critical-path management, we could have taken care of all this before the food arrived — if we had started immediately after placing our order.
Amen.
---
This is an excerpt from the upcoming High Tech Nomad book. There is a corresponding Facebook page… click image to visit: