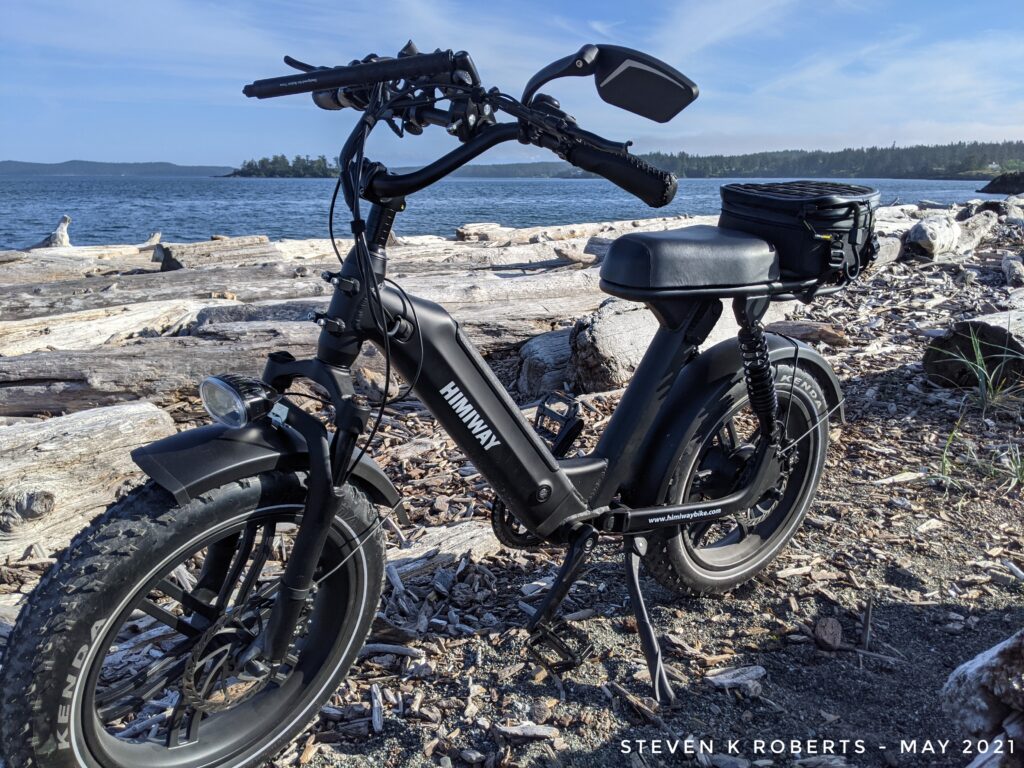 The Himiway Escape – an electric moped
Steven K. Roberts
Friday Harbor, Washington
June 8, 2021
Long-time readers of these technomadic tales know my history… including nearly a decade wandering 17,000 miles around the United States on a computerized recumbent bicycle. There were three versions of this high-tech machine from 1983 to 1991, whereupon I donated the bike to the Computer History Museum and turned my attention to watercraft.
Other than a mountain bike or two, I have been living without a trusty 2-wheeler ever since, assuming that I would eventually buy a folding bicycle to support the cruising lifestyle once I finally get off the dock. I've often looked at electric bikes and had the venerable Aerovironment Charger 20 years ago, but never actually got a modern one until the beginning of 2021 when something unusual caught my eye: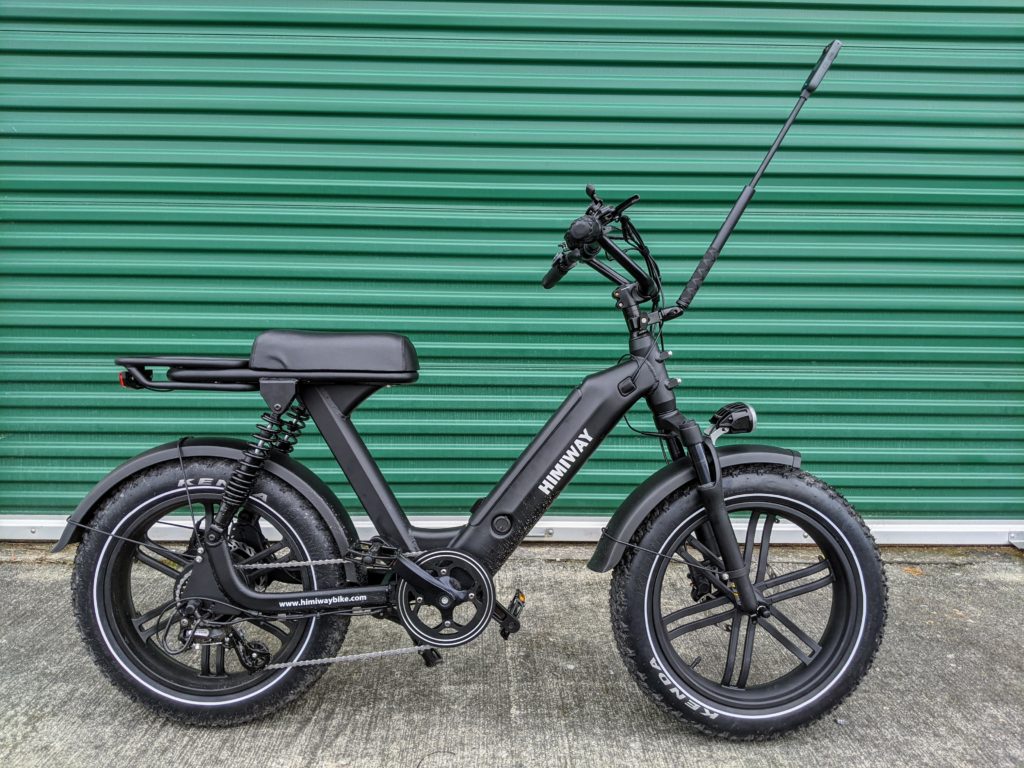 This stout machine is a departure from the mainstream electric bicycle themes (utility, folders, commuters, and road bikes). I should note that I am in my late sixties with back issues, tall, and not nearly as lithe as I was when pedaling around the US. Could this little "electric moped" become my trusty steed for local jaunts, with front and rear suspension, wide seat, and tight integration? At 6'4″ I am too tall to effectively pedal for any significant distance, but the moment I stepped aboard I felt comfortable… the way a scooter gives you the sense that you can immediately drop your feet to the ground and regain solid footing.
I started using the Escape for errands around San Juan Island, delighted by the ease of use, speed, and battery range. I picked up an Insta360 One X2 camera, added a handlebar mount (with a bit of neoprene for better clamping) to hold the selfie stick, and created a dreamy little microworld of my bicycle touring life while on a trip to my shop building. Given that my epic bicycle adventures of the last century are now just faint echoes in the linty recesses of my archives, it is therapeutic to use modern gizmology to turn a routine electric bike errand into a metaphorical journey from one kind of normalcy to another… with life on the road a magical miniature world in between:

This was playful and personally relevant, but I want to tell you a bit more about the bike itself… along with a few add-ons that I have found useful.
My use case is very simple, consisting mostly of commuting between boat and office, going for the occasional pleasure ride, and using the bike for trips that would be ridiculous in my diesel truck. It is liberating to be able to tuck the machine almost anywhere, unconstrained by the constant parking headaches of this touristy town on an island in the Pacific Northwest. I get to most places faster on the bike than by either walking or driving.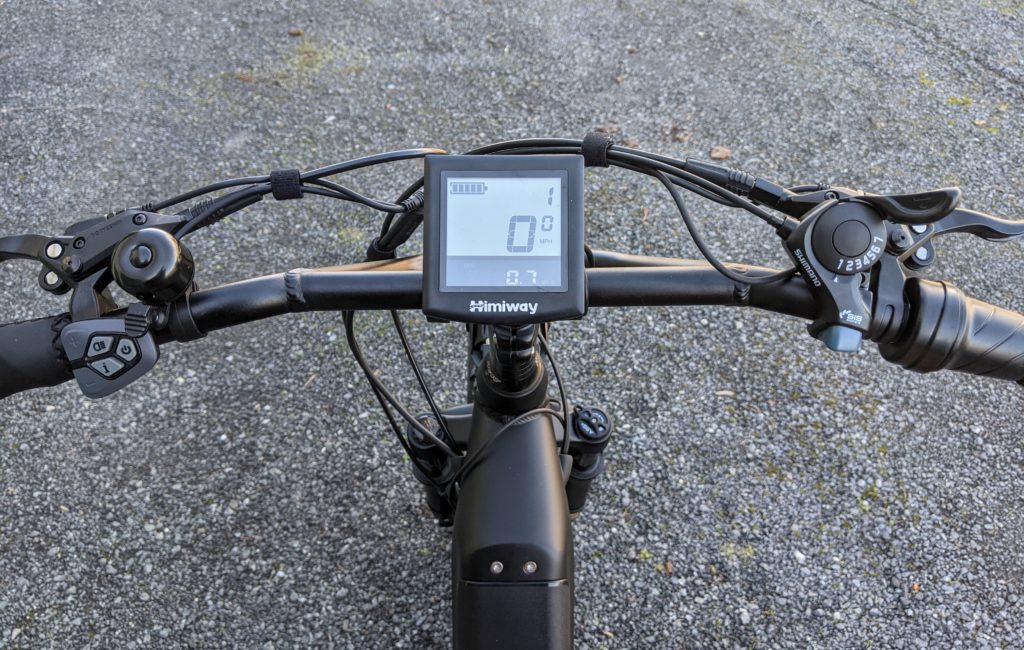 The seat is not adjustable, but it is very comfy (at this point, long off the road with aforementioned physical issues, I would not be happy with the posterior interface of a regular bicycle). I may 3D-print some spacers to raise it a bit; I have yet to run out of battery on the road, but if I ever did, pedaling would be a challenge due to my giraffe-scale leg length.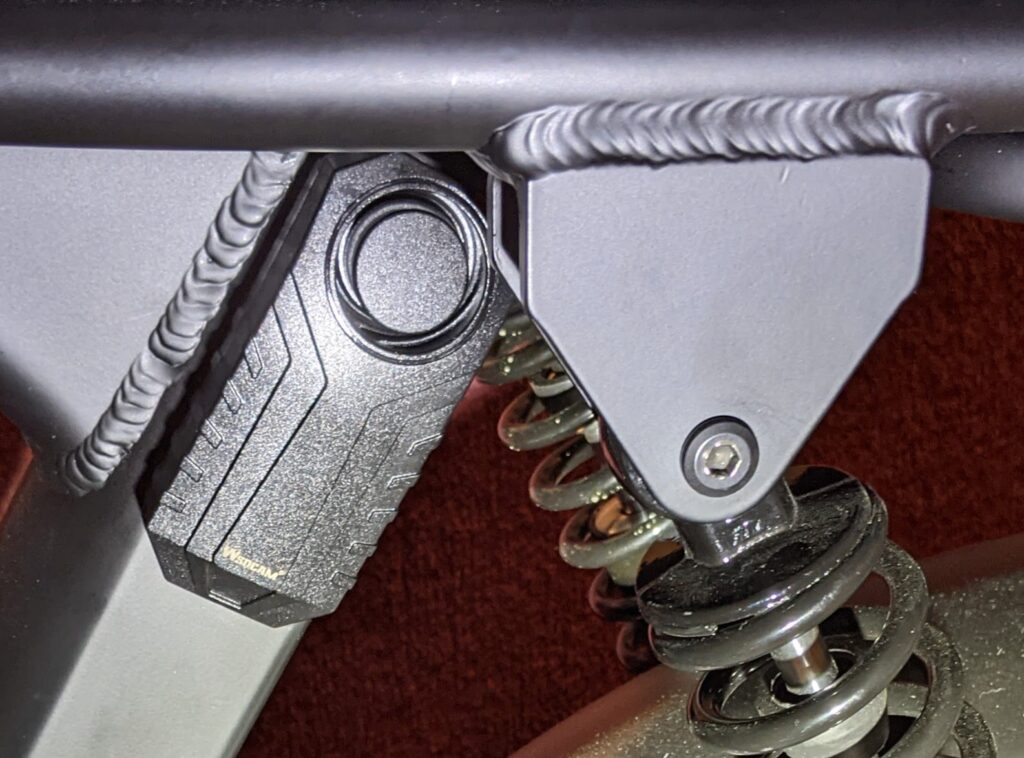 I am naturally tempted to geek it out, given my history, but have so far managed to resist Gear Acquisition Syndrome. Just a few things: for parking, I have the excellent Kryptonite 9.5 mm combo chain lock (perfect), along with a waterproof cover that is floppy but quite adequate. There is a motion-sensitive alarm that works amazingly well and is cheap, and of course I had to get a handlebar mount for the phone in order to have a comm/nav "console." I also added a handlebar mirror, though I find that I prefer the one on my Giro helmet.
I needed additional pack space… even though the little wood-inlaid rear rack is lovely. A fair bit of research turned up the expandable Rigg Tail Bag, which is excellent and holds lock, cover, tire pump, Himiway tool kit, and a bungee for lashing on additional cargo: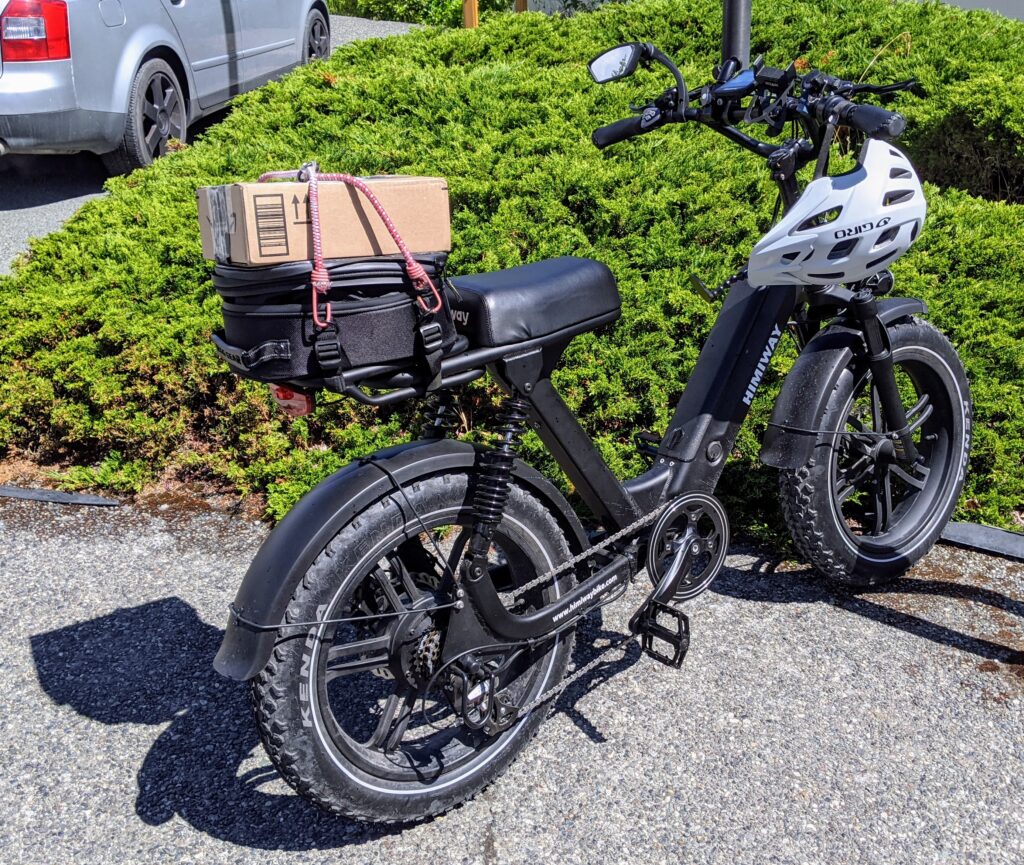 When riding to and from my lab, I almost always carry a messenger bag, and the bike has become quite the magic carpet. With front and rear suspension (and those 4-inch knobby tires) it is gentle on the body when on bumpy terrain… I'm often surprised by how smooth the ride is, even off-road.
I haven't pushed the envelope on optimizing the control algorithm or overriding the speed limit; my first hundred miles have been almost completely utilitarian, cruising around Friday Harbor at up to about 26 MPH. But at the other extreme, one of the things I love (though common on eBikes these days) is being able to hold down the (-) key and have it go at a walking pace… perfect for negotiating marina docks or huffing up a ramp without terrorizing pedestrians. (Speaking of which, the bike gets a lot of comments, as it has a whole different "feel" than regular eBikes with its squat heavy-duty construction… more electric moped than bicycle.)
I won't attempt a detailed list of features; there is a very good review of the Escape on YouTube, and Tinkering Turtle has a channel with some useful how-to videos including a walkthrough of the control panel. I am happy with this for the current uses and occasional trail jaunts, though I would not attempt to lift it aboard the boat without using my dinghy crane. At night, I lock the bike to my dock steps with the fabric cover attached, and occasionally set the little motion-sensitive alarm.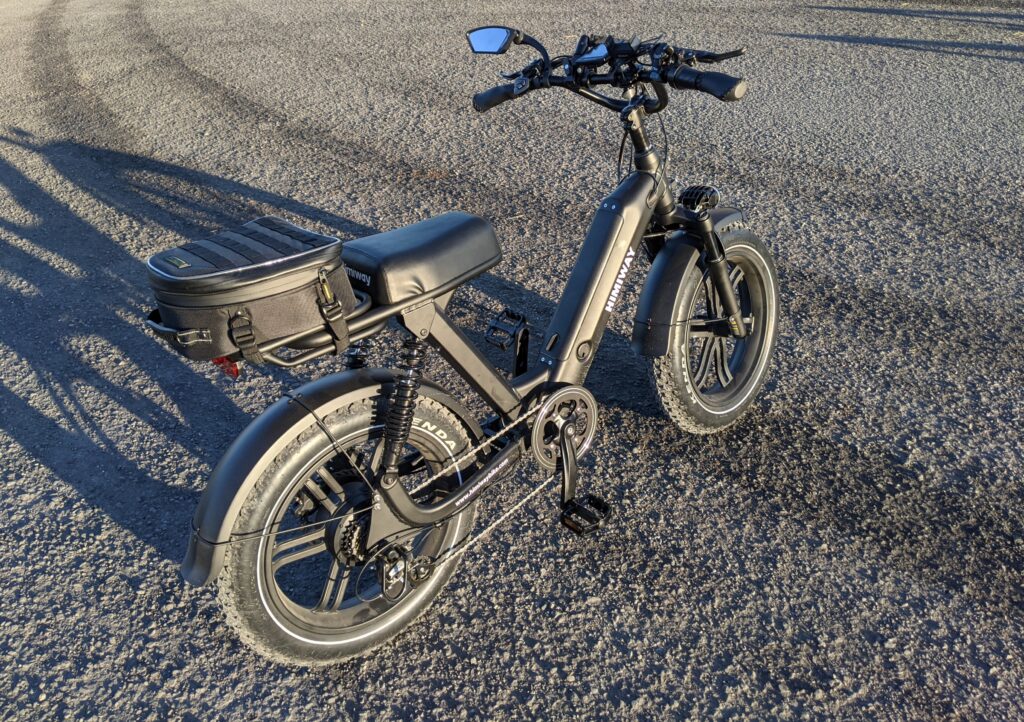 At 92 pounds, this is no lightweight… but when you look at it as a moped, that is perfect. The 750-watt motor scoots right along even with my 225-pound protoplasm on its back (well below its stated 330-pound capacity). All in all, I consider this a significant lifestyle upgrade as I commute between boat and lab, run errands, and head out for fun. A keeper!