by Steven K. Roberts
Friday Harbor, Washington
September, 2020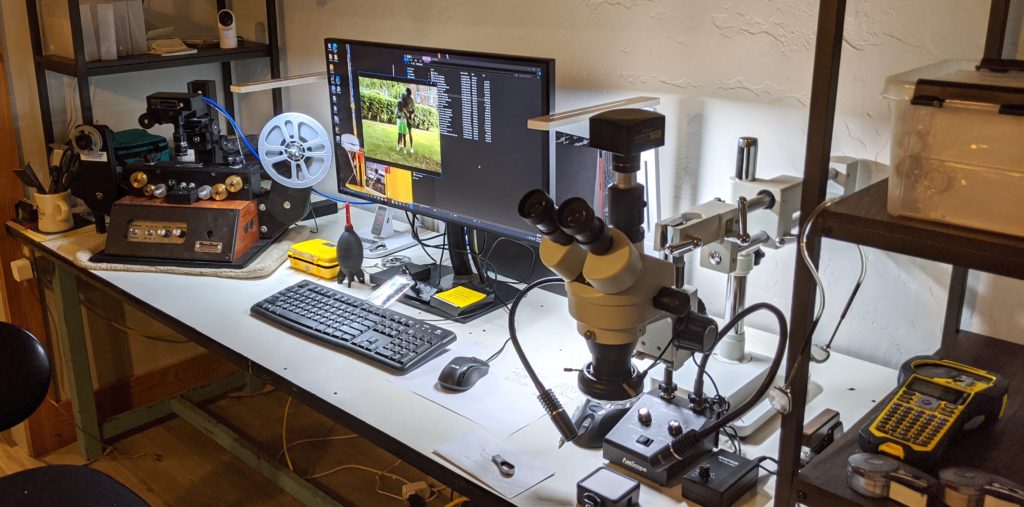 We are now operating in a commercial space in Friday Harbor, near the ferry terminal. Meetings are via appointment, with availability most afternoons; please contact me if you would like to discuss film, video, audio, or still image digitizing projects.
Like most businesses, this began for personal reasons. I inherited a library of 8mm movies taken by my father from 1936 through the mid-1970s, and some of the earlier stuff obviously had considerable historical value. While researching the rather overwhelming range of conversion services, I realized that the collection was large enough to justify buying my own system… so after obsessive research into professional tools, I acquired the RetroScan Universal (then upgraded it with a 2K camera and gave it a dedicated PC to allow maximum-quality scanning).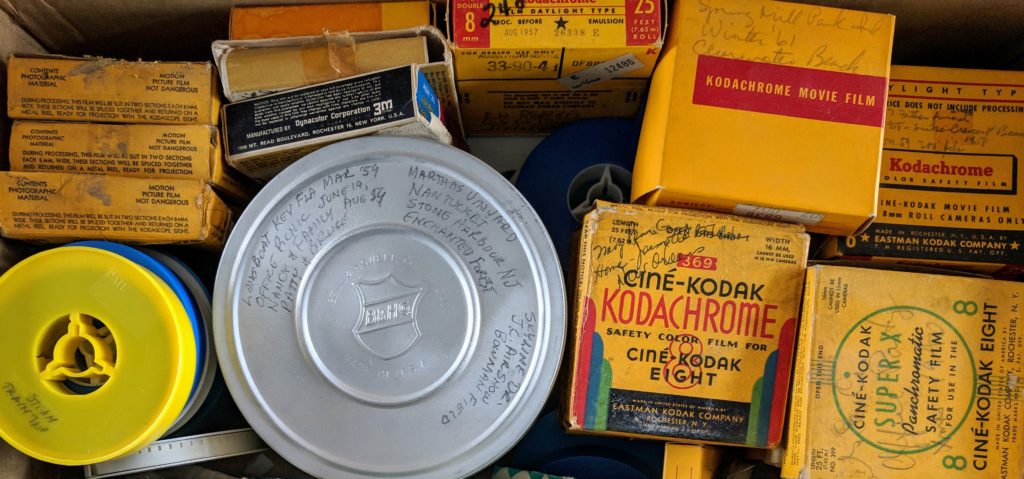 I continued refining the system, and in 2018 decided to set it up as a business. In addition to the machine itself and the 8mm/Super8 gate for my own projects (see examples in my film showcase), I picked up a 16mm gate… so I can handle just about any home movie format. As the film flows smoothly through the machine (handled only by its edges), every frame is digitized down to the grain at 2K resolution by a high-speed camera, then that huge image sequence is exported to a suitable output format depending on quality of the source material.

I now have the tools to scan every detail of your old home movies and convert them into digital form, ready for editing or sharing… and since every frame is captured, there is no shortage of still images for Facebook, blog posts, book projects, and so on. Here is a marvelous recent example… New York City in 1948:
New York City in 1948 – film by Charlie Aton from Steven K Roberts on Vimeo.
I occasionally do a little post-production to stabilize old camera jitter and restore color balance; here is a moment of railroad geekery from our family vacation to Colorado in 1961 (when I was 8):
Rio Grande 5534 in Royal Gorge – 1961 from Steven K Roberts on Vimeo.
One of my favorite parts of working with old film is the stills… each 3-inch reel is a time capsule of 8,000 images including micro-expressions that are far more interesting than the frozen "say-cheese" snapshots of the era (when photos were expensive and getting the camera out was an event). I am collecting quite a library of moments… here are four frames from one of my father's 1941 reels (regular 8 film):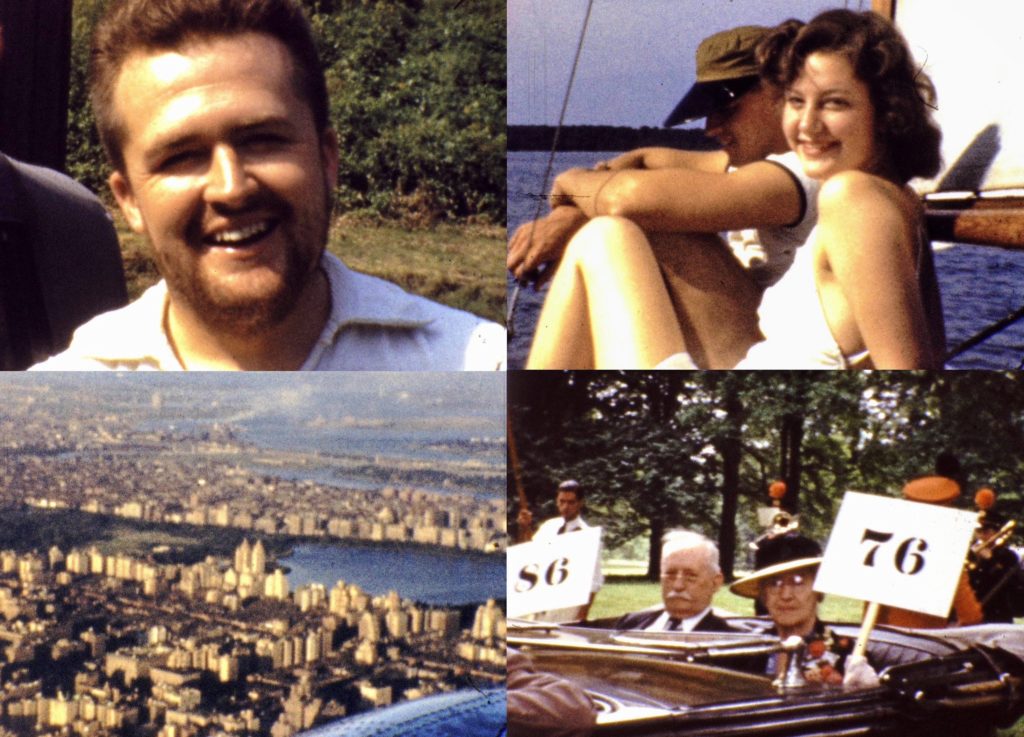 My original intent was to offer this service only to clients here in the San Juan Islands, though I began accepting projects from afar that that now amounts to about half the business. Please get in touch if you have old movies fading in storage and would like to preserve them for posterity. Turn-around time is typically 3-4 weeks, depending on the scope of the job… and delivery can be via thumb drive, external hard drive (including a loaner if you're local to Friday Harbor), or cloud (for small projects).
Pricing
So, how much does it cost to have your movies converted into digital form? The most common home movies are 8mm (either Regular or Super 8) which we scan in 2K resolution and then export as MP4 or AVI video files that can be edited or shared). But there are LOTS of variables, including huge "numbered image sequences" that give you a separate file for every frame of the film. We'll work with you to see what makes the most sense, and can deliver in different file formats if you prefer… including web-optimized for YouTube.
We are occasionally asked about transferring to DVD, and can do so if really needed… but that is a compromise I don't recommend. Your files will be hard to extract later… and the downgrade to 480p video quality is not nearly as high as the files that play directly on your computer and already come free with the service. That optical disc medium is dying, with drives less common as the years pass, and most smart TVs have USB ports anyway. There is little rationale for DVD.
The cost for digitizing is based on film length, which correlates with the time required to do the job including setup, cleaning if needed, occasional repair of old failed splices and fine-tuning (color, focus, contrast, tilt, exposure, framing, backlight) while the film is running… plus export and building the delivered filesystem. The nominal price for all that is 30¢/ft, which works out to about $15 for a typical 3-inch reel.

Included at no charge are occasional still frames that catch my eye… this is fun for all concerned, and these time capsules of ancient film contain treasures in the form of fleeting smiles or captured moments. These images will be sent via email or Facebook as the scanning process is underway, giving you teasers to share with friends while awaiting your video files. They will also be included in a folder on your thumb drive. Some of them are marvelous… with rich tonal range and subjects that could never have been captured while posing stiffly for the still cameras of yesteryear.

The output will be delivered on whatever media is needed to hold the file size (usually a thumb drive, or external hard disk for huge jobs)… and I pass along the Amazon cost or use media that you provide. (This is cheap; the SanDisk USB3 64GB drives we've been using for most projects are $15 each, holding over fifty 3-inch 8mm reels exported from the 2K scan.)
I will save your original files until we are sure that you have them safely backed up or shared with family (and usually for many months thereafter, just for added security). This makes it easy to export additional still frames from the original scans as you discover them, or generate additional thumbs if you don't want to do it yourself (it's easy).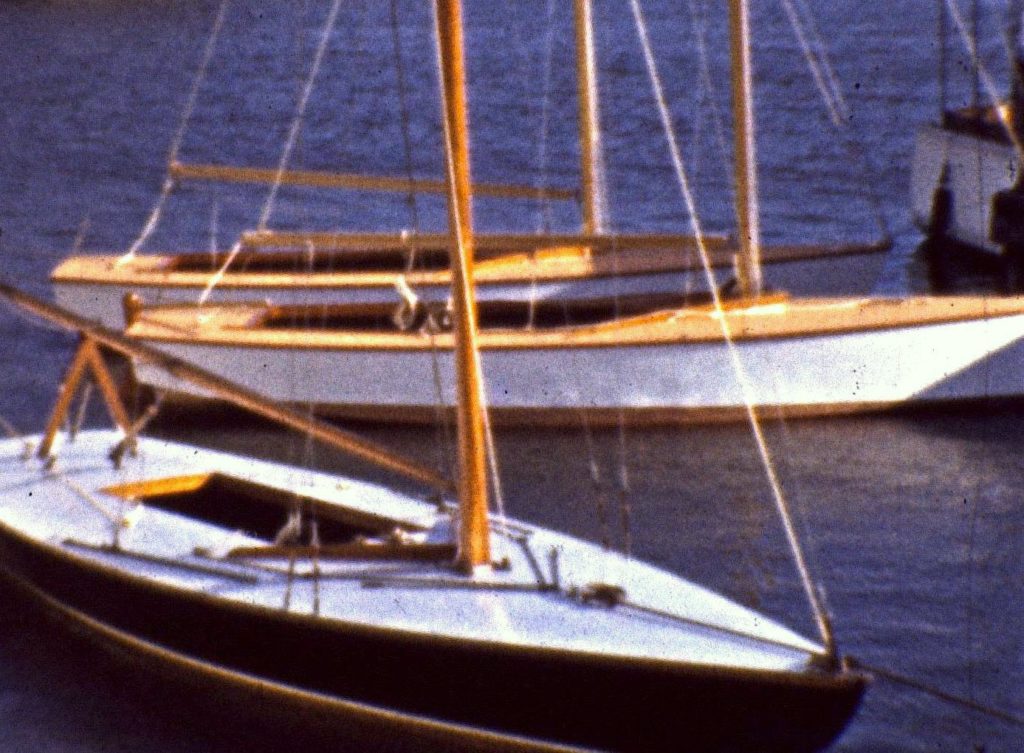 For most 8mm jobs, that's it — 30¢/ft charge plus media cost (and shipping if you're not local), with a small copying fee if you want me to make additional copies for family members. There are a few other options:
Numbered image sequences (huge) – $15 per export-hour + media
Editing, stabilizing, film recovery, YouTube, embedding, etc. – $65/hour
VHS, 8mm/Hi8, or miniDV – $25/hour (discounts for long tapes)
16mm films (silent) – 35¢/ft
Audio, Video, & Stills
In addition to movies and video tape conversion, we work with old images including transparencies (35mm or 2-1/4), negatives, prints, and audio cassettes. Sometimes the image quality of old photos is astounding, and we use a variety of tools to remove noise, adjust exposure, retouch, fix colors, and so on. Here is a scan of a 1970 slide, showing my father in his GE office: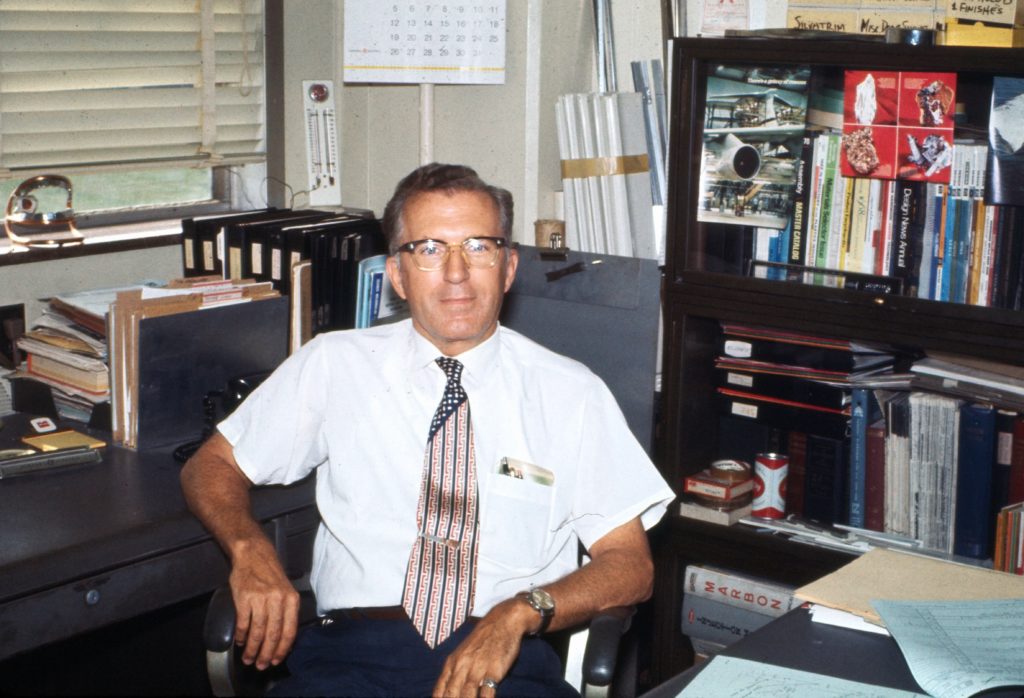 Slide digitizing will yield a numbered archive of your entire collection, making it available for online posting, prints, and historical research. We use a dedicated slide scanner for small jobs, and for large ones there is a streamlined workflow with tethered full-frame mirrorless camera on a copy stand, color calibration tools, and dedicated Lightroom machine.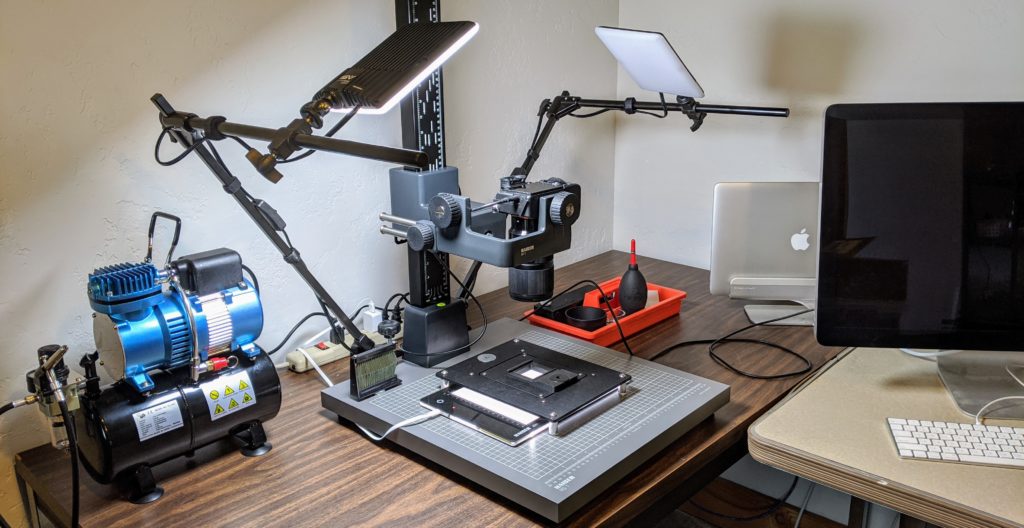 In addition to our primary focus on movies, we can handle most analog consumer video formats that have been in common use over the past 40 years: VHS, VHS-C, Hi8, and Digital 8. These tools occupy one end of the console, with the iMac at the far end taking care of video digitizing after audio is separately routed to allow EQ and other tweaks. We also do miniDV tape with a direct digital feed to Thunderbolt, entirely eliminating analog conversion losses, and can extract files from DVD if needed.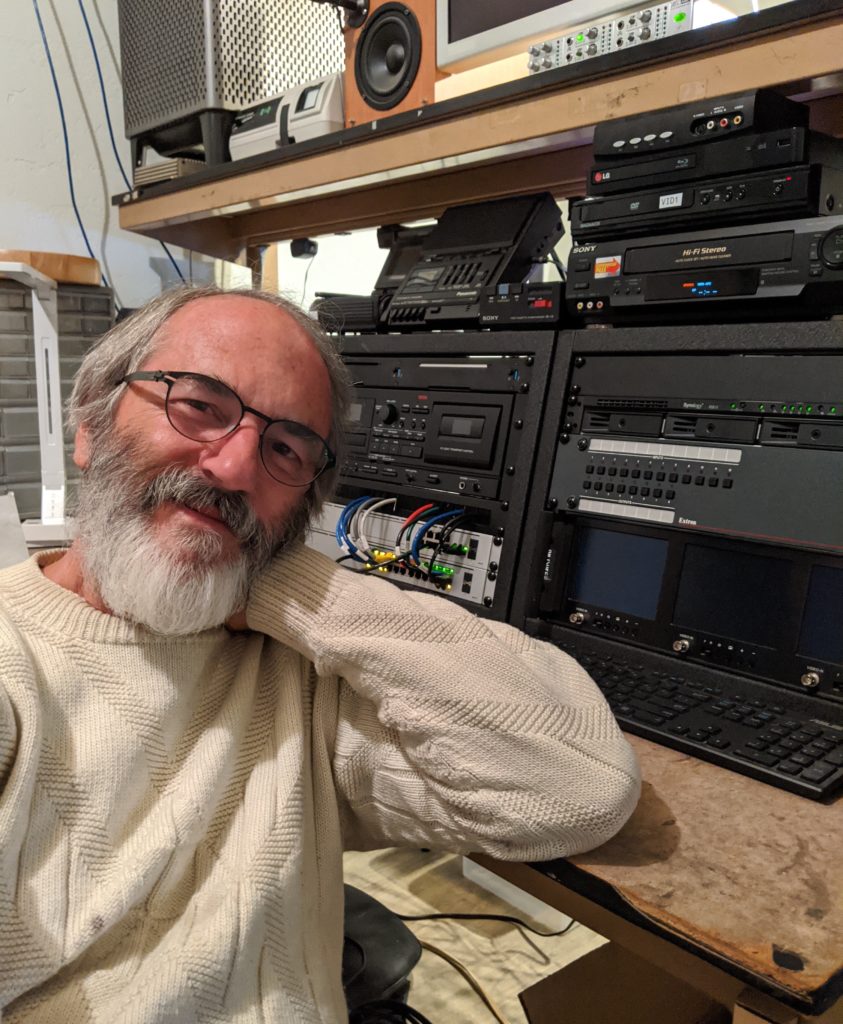 Please get in touch via the Contact form if you have questions or would like to have some digitizing done, and we will advise the best way to proceed and give you an idea of costs. If you include your mailing address, I'll send a quaint hardcopy brochure… as retro as old movie film! I am working on setting up an online storefront to make this all simple, and it will have an associated blog with featured stills and videos, tech tips, storage advice, human-interest stories, and so on.

We add capabilities as the need arises, and have recently added audio cassette and microcassette decks ($24 per hour of recording). This allows either direct-to-thumb MP3 digitizing or high-end options via Logic and Audacity on the Mac (routed through the MOTU audio network). We are currently researching which reel-to-reel deck to add to the growing system.

The latest news (September 2020) is that we have set up a lab in town to provide more workspace… with dedicated workstations for slides/negs, movie film, and audio/video. In the meantime, please see my post, Digitizing Our Lives, which puts a personal twist on all this in the time of COVID-19.