by Steven K. Roberts – updated April, 2019
My focus is building machines for geek adventure and then writing about them… but it's also necessary to make a living. In recent months, my movie digitizing tools have turned into a business… so this page gives more detail about that until I get a chance to give it a proper site of its own. If you have old film to convert to video (or wish to discuss other services), please use the Contact form to get in touch.
High-definition film digitizing service
I inherited a library of 8mm movies taken by my father from 1936 through the mid-1970s, and some of it has considerable historical value. While researching conversion services, I realized that the collection was large enough to justify buying my own system (I needed a fast PC for the holodeck anyway). After obsessive research into professional tools, I acquired the RetroScan Universal:
In addition to the machine itself and the 8mm/Super8 gate for my own projects (like this 1945 snowstorm in Erie, or my parents' 1946 honeymoon in Bermuda), I picked up the 16mm and 35mm gates… so I can handle just about any home movie format as well as stacks of slides. Every frame is digitized right down to the grain by a high-speed camera, then that huge image sequence is exported to a suitable output format depending on the application and initial quality… ranging from DVD up to 720p and 1080p, or 2K for the larger formats. In other words, I can process your old home movies and give them back in digital form, ready for uploading to YouTube or editing in Final Cut Pro… and since every frame is captured as a still, there is no shortage of images for Facebook, blog posts, books, and so on. I also have the tools to digitize VHS and 8mm video tapes, including fine-tuning of audio or adding a soundtrack… and can rescue ancient photos.
One of my favorite parts of this is those stills… each reel is a little time capsule of micro-expressions that are far more interesting than the frozen snapshots of the era (when photos were expensive and getting the camera out was an event). I am collecting quite a library of moments…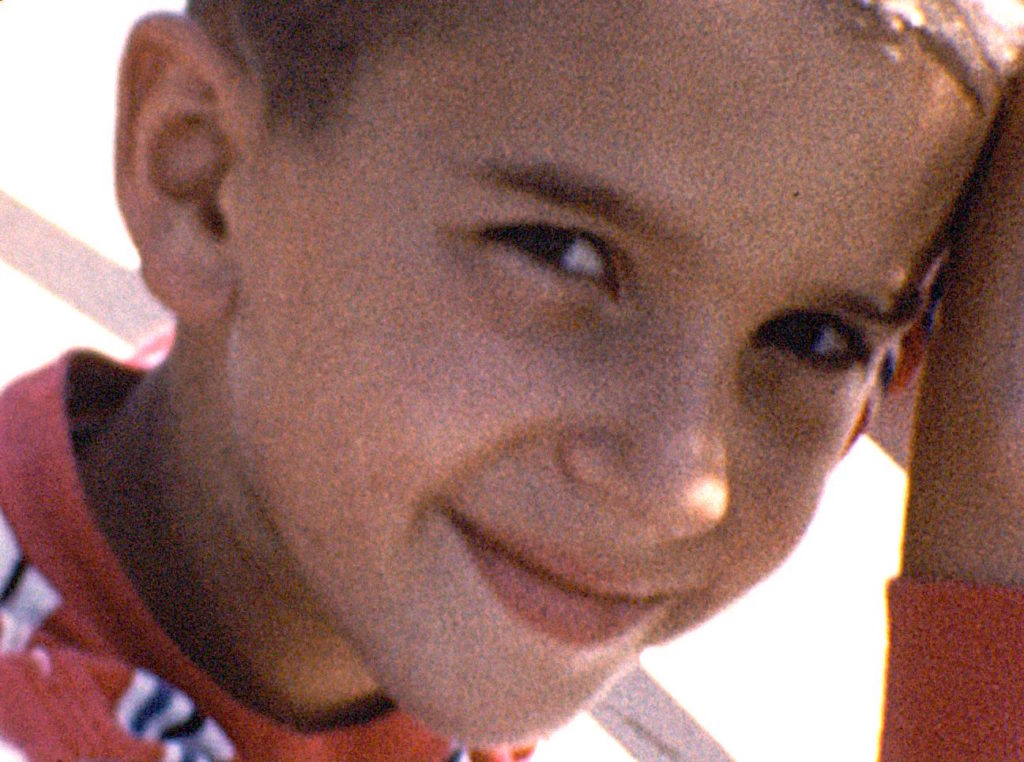 The original intent was to offer this service to folks here in the San Juan Islands, though I have started accepting jobs by mail. Please get in touch if you have old movies fading in storage and would like to preserve them for posterity. Turn-around time is typically a couple of weeks, depending on the scope of the job… and delivery can be via cloud, thumb drive, external hard disk (including a loaner), or direct transfer via LAN if you're here in the neighborhood.
---
Film Digitizing Costs
What will it cost to have your movies converted into digital form? That depends on a couple of things… the nature of the collection, and the type of output needed. The most common home movies are 8mm (or Super 8), and for most folks we recommend a default of 720p compressed AVI files (which work on Mac and PC, can be edited or shared on YouTube or Facebook, and so on). But there are LOTS of variables, ranging from DVD or other file types up to numbered image sequences that give you a file for every frame of the film, and we'll work with you to see what makes the most sense. The standard video files are included in the scanning cost to keep things simple.
We are often asked about DVD, and can produce them… but that is a compromise. Files are harder to extract later, if someone wants to make copies or edit into a compilation… and the video quality itself is not as high as the files that will play directly on your computer. They are easy to share with non-technical folks, though, since they can just be inserted in a player, so we can produce them as an add-on if you wish (see below for pricing).
The charge for digitizing is based on film length, which correlates with the time required to do the job. For the most common 8mm material:
3-inch reel (50 feet) – $15.00
5-inch reel (200 feet) – $50.00
7-inch reel (400 feet) – $100.00
The output will be delivered on whatever media is needed to hold the file size (thumb, SD, external hard drive)… and I can pass along the cost or use a drive you provide, whatever is easiest. If the job is small, I can deliver via a cloud service, and I hold on to your files until we are sure that you have them safely in hand and backed up.
For most jobs, that's it – only the per-reel charge plus media (and shipping cost if you're not local to Friday Harbor). There are a few options:
Numbered image sequences or other special files – $15 per export-hour
DVD output – $25 for the first and $10 per copy
Custom editing, heroic recovery, embedding, and so on – $65/hour
VHS or Hi8 digitizing (with DVD option) – $25/tape
Please get in touch via the Contact form if you have any questions or special requirements, and we can help advise the best way to proceed based on your needs.

Underwater Video with ROV
One of my favorite toys/tools aboard is the OpenROV Trident, described in my article about the underwater toolkit aboard Datawake. Most of my use of this has been general exploration and getting to know the local marine biology, but I have also been doing dives for pragmatic reasons… like examining props fouled by lines to determine whether it is safe to proceed before hiring a diver, checking zincs and the status of thru-hulls, looking for critters, pre-screening dive sites, taking video of a trap, peering through a bow-thruster tunnel to make sure it's clear, scanning cables for corrosion or high-stress points, and checking the condition of underwater structures like moorings and dock pilings. While this is limited to applications that benefit from inspection-only (unlike the additional capabilities of a diver), one benefit is that you get to keep the video of the dive for future reference, or publishing on social media. If you just need to LOOK at something, please give me a call… the price is low, and I can refer you to an excellent diver here in Friday Harbor when you need more hands-on help than I can provide. I can set up periodic checks of your boat bottom so you know when to call for help, inspect your anchor set, do a few transects of an mooring field or anchorage to assess fouling issues, get "beauty shots" of the seabed, or just go exploring. I can also affix a GoPro to the submarine for timed still photos in addition to the video feed, and we have excellent underwater lighting if the object of interest is so far down that it doesn't see much daylight. Maximum depth is limited by the 100-meter tether, but in practice I try to stay above half that or so.
Here is a short video I took of a friend's running gear after an oopsie while backing down on the anchor slurped the dinghy towing bridle into one of the props, followed by another a few days later that was the result of a shrimp-pot line getting fouled on another friend's boat. In both cases, Kurt the diver was called to quickly remove the lines, but the first one gave us enough information to make the choice to tiptoe back to port instead of calling for a very expensive remote service call to a distant anchorage!
Thermography
A favorite imaging tool aboard Datawake is a FLIR thermal camera, which allows me to visualize heat loss, hot spots in cabling, refrigeration issues, engine anomalies, losses in hydronic heating systems, looming issues with power supplies, poor insulation, inflammation sites on human bodies, and many other things. Like other ways of expanding our sensorium, the ability to see in the thermal domain adds powerful diagnostic capabilities… so I have decided to add this to my little menu of services for local boaters, homeowners, and businesses. If you want to identify heat losses in your house or predict future issues in a dense breaker panel, this is just the ticket.
Pricing on this is based on time… tell me what you are trying to discover that would benefit from a thermographic analysis, and I'll show up, gather images fine-tuned to the application, and send them to you along with commentary and numerical data including spot measurements (FLIR and Fluke) of interesting points. I have other image, electronic, RF, and acoustical analysis tools as well, but that's too much to go into here.
360° Photography
I run a Facebook page called San Juan Islands 360, a showcase for 360° images that I take around the islands, in businesses, aboard boats, and so on. This is amazing technology, with two back-to-back cameras that each capture hemispheres that are then seamlessly stitched into a sphere that lets you look around… through a moving window in the case of a smartphone, via mouse-dragging on a desktop computer, or by simply looking if you have a virtual reality system. This is a superb way to show the interior of a business, do a walkthrough of a home for sale, publish images of your boat or workspace, or capture an outdoor scene.
The images can be used in the Oculus Rift and other VR environments to let the viewer look around naturally… embedded in a WordPress page… or posted on Facebook. This image format is now a standard, so the tools are well-evolved and free.
As an example, if you own a store in Friday Harbor, I will show up, take a few shots while optimizing lighting, then head back to my lab and fine-tune the colors, tweak roll angle (usually about a 3° correction), choose the best ones, then either park them on Facebook or send you the files directly. Barring complications or long travel times, it costs about $50 to produce one excellent shot that will let online visitors take a look around your store. A more complex task, like a full tour through a house for sale or other multi-site project, would be correspondingly more… and we can take that to yet another level with clickable hotspots that let the viewer navigate through a tour seamlessly. I'd be happy to quote on your job.
There are lots of examples of basic 360° images on that Facebook page if you want to visualize how this might work for your application. Here (using the Facebook viewer, so will only work if you have an account) is a 360 selfie aboard my little trimaran, a view from the south side of Mount Constitution, and my favorite aisle at Ace Hardware.
3D Printing
In addition to a small machine shop on-board, I have a LulzBot Mini 3D printer along with a fair stock of filament. The build platform is a 6-inch cube, and I occasionally take on small print jobs. Is there something on Thingiverse you need printed? Send me the link and I'll see if it's a fit, then give you a price.
Nautical and Other Geekery
Datawake is a floating lab filled with gizmological delights, and I've been doing this for most of my life. I built an amphibian pedal/solar/sail micro-trimaran, traveled the US on a computerized recumbent bicycle, and way back in the Olden Days did custom industrial control system design. I published an electrical engineering textbook along with five others, and have authored hundreds of technical articles over the years. Current work involves Raspberry Pi computers, networking, navigation systems, power management tools, laboratory integration, exotic amateur radio modes, marine electronics, and technical archiving; occasionally I take on consulting or short fabrication projects as long as they don't distract too much from my own work.
Examples include pre-purchase analysis of ship systems, assistance with console integration, help with embedded tools, setting up your boat net connection, getting you started with NMEA2000, choosing communication gear, and so on. There aren't many folks here on the islands doing this sort of thing, so if you're stuck on a geeky boat project and need some help, please get in touch. I have a pretty full plate with a book in progress and a few boat projects, so tend to be careful about over-committing… but am always willing to at least consider work with interesting clients and blinky toys. If I don't have the clock cycles to dive in directly, I have a huge network of tech-savvy contacts and may be able to set you up with people who can get the job done.
Writing and Editing
My career since the early 1970s has always had publishing at its core, including consulting writing for corporate clients… marketing copy, readable documentation translated from engineering-speak, ghost-written articles, product naming, web presence, and so on. I've also written six books and tons of articles (as well as online narratives of geeky adventure), and have a penchant for wordplay. This all translates into another class of services for clients; if you have a written communications challenge in print or online media and could use a bit of help, let me know.
I don't really offer web-design services; that rabbit-hole already keeps me adequately busy with my own never-finished site. But one thing in that department I can do is help set up a workflow for creating an archive of historical documents using the WordPress timeline, scanning and OCR via searchable PDF, image management, and so on. I have been doing this for my own history, and the procedures are well-established. If you are looking at a mountain of documents that need to somehow "get put online," than I can help define the process so you only have to handle each item once.
Writing and similar services are generally billed hourly.