Nomadness Report – eBook – $15.00 → 
A Compendium of Boat Hacking and Gonzo Engineering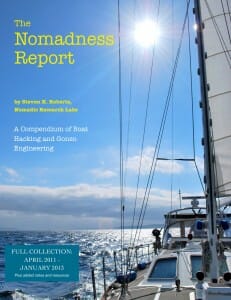 This is a compilation of all 22 issues of my publication about the Nomadness project, which was published in PDF form from April 2011 until January 2013. This book is 196 color pages with a table of contents, and covers 2 years of projects on the boat as well as a lot of technical detail about systems.
You can get a sense of the contents by browsing the descriptions and "contact sheet" thumbnails below. If you find yourself wanting more than a few of them, the book is a much more cost-effective solution; otherwise, you can pick up single issues for a couple of bucks, on average.
Nomadness Report Individual Issues
If you'd prefer the a la carte approach, this section will let you choose individual issues using a shopping cart… and after PayPal checkout, it will send you non-expiring download codes to acquire the PDF files. These are listed chronologically, with a brief description of each. Each issue is represented by a "contact sheet" of thumbnails of the actual pages so you can get a sense of what's there. These are fun and geeky, with lots of useful technical details and links to sources.  You can scroll to the bottom to view your shopping cart… or check out immediately from any add-cart action.
Issue #1 – Apr 24, 2011 – 5 pages – free here
Issue #2 – May 3, 2011 – 6 pages – free here
Issue #3– May 10, 2011 – 8 pages – $2.75 → 
Issue #4– May 19, 2011 – 5 pages – $1.25 → 
Issue #5– May 25, 2011 – 9 pages – $2.50 → 
Issue #6 – June 1, 2011 – 7 pages – $2.00 → 
Issue #7 – June 8, 2011 – 8 pages – $2.00 → 
Issue #8 – June 17, 2011 – 4 pages – $.50 → 
Issue #9 – June 27, 2011 – 6 pages – $2.00 → 
Issue #10 – July 18, 2011 – 7 pages – $2.00 → 
Issue #11 – August 5, 2011 – 7 pages – $2.00 → 
Issue #12 – September 7, 2011 – 6 pages – $1.50 → 
Issue #13 – October 6, 2011 – 8 pages – $2.00 → 
Issue #14 – November 7, 2011 – 6 pages – $1.25 → 
Issue #15 – December 12, 2011 – 8 pages – $1.25 → 
Issue #16 – January 9, 2012 – 9 pages – $2.00 → 
Issue #17 – March, 2012 – 16 pages – $3.00 → 
Project refocus due to Vancouver Island expedition
AIS receiving station (and server feed) technical details
Circuit-breaker database
On-board Mac Minis and wireless Internet access
29-year laptop contrast
power and heating maintenance notes
Microship availability for Canadian adventure
New navigation tools and Shipnet developments
Marine networking overview
Update on helm seat project
Commentary on the switch to monthly publication schedule
Issue #18 – April, 2012 – 13 pages – $3.00 → 
Venturing into the San Juans (project home-base relocation)
Vesper WatchMate 850 AIS installation and testing
Feature tech article by Steve Mitchell covering AIS Class B handling on public servers as well as DSC call initiation on connected Marine VHF radios.
Temperature-controlled fans for computers in enclosed areas
Little Cod marine wood stove glass hack
Nomadness safe and battery alcove
A couple of tricks spotted at the Anacortes Boat Show
Develoment system update: email, security, and front-panel fabrication
Nomadness Emulation and Telepresence System
Issue #19 – May, 2012 – 14 pages – $3.00 → 
New Friday Harbor dock, with many photos
New lab facilities (including a Bridgeport milling machine!)
Magnetic curtain follow-up
Private head compartment for Isabelle (the cat)
Solar array structure project underway
Power system and lab desktop project preview… and a few more
Companionway slide bolt, helm laptop rack, and other recent jobs
Guest feature by Scott Carle: step seat aboard Valkyr
Issue #20 – July, 2012 – 15 pages – $3.00 → 
9-page feature on boat lab desktop fabrication (1.5″ laminated structure, with magnetic fixturing and tool-cabinet wing)
Temporary chart plotter mounting
The delivery voyage from La Conner to Friday Harbor
Bow navigation light replacement
Preview of power project
Issue #21 – September, 2012 – 14 pages – $3.00 → 
Issue #22 – January, 2013 – 14 pages – $3.00 →