Reaching Escape Velocity
EBook download (2.8MB PDF) – $10.00 → 
Hardcopy edition, signed – $12.50  → 
This is for those who are attempting to launch a gonzo engineering project or large-scale expedition with minimal resources. It is not about specific hardware or software technical methods, but instead the meta-hack of developing enough support and buzz to get your project to take on a life of its own. Large corporations can do this with brute-force methods (unlimited money and people), but individuals face daunting hurdles when competing for mindshare and resources. Without the ability to leverage larger forces as a sort of martial art, it is difficult for a lone geek to escape the gravity well.
This little book is the collection of "trade secrets" that have made my 25 years of adventures possible… the art of working with sponsors, volunteers, and media to get an insanely ambitious project off the ground and keep it moving on its own momentum.
Contents
Foreword
Introduction
The Business Angle
Getting Educated
Sponsorship
The Media Dance
A Public Presence
Building the Team
What is Gonzo Engineering?
Afterword
Reaching Escape Velocity is also available from Amazon in both print and Kindle editions (although, if you prefer the paper version, buying it with the link at the top of this section gets you an autographed copy).  Oh, and there was a sweet little mention in Make: Volume 21.
Winnebiko II Poster
Shipped in mailing tube (13 oz) – $10.00 →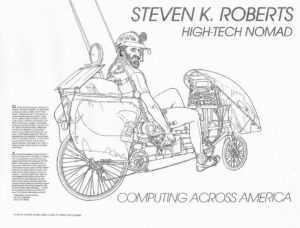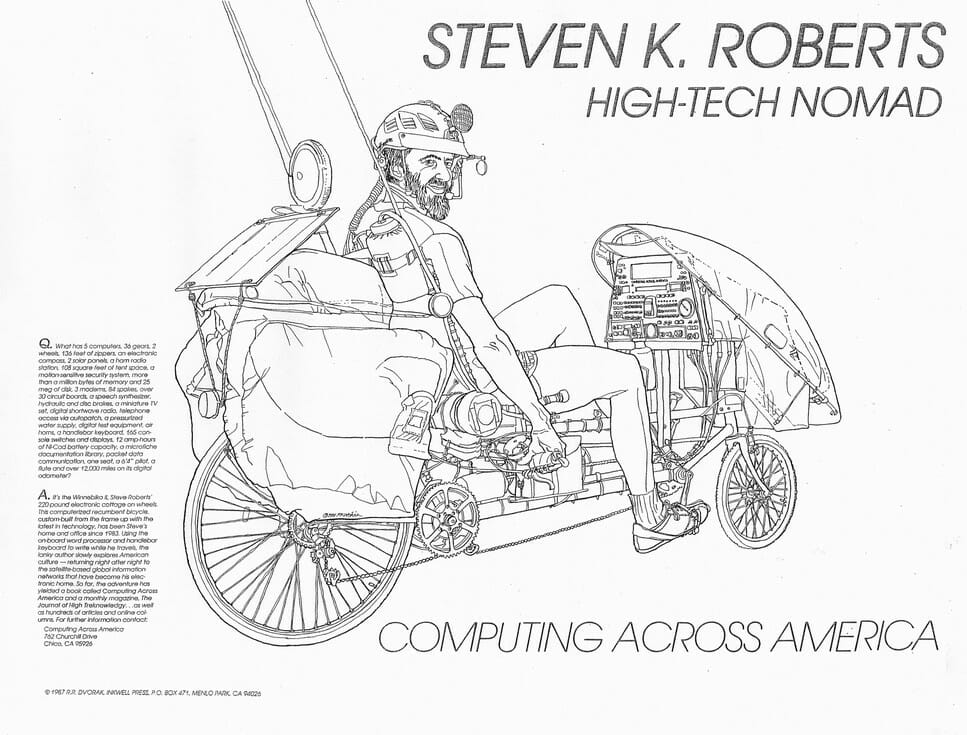 These 18×24 posters carry an amazing image drawn from life by Robert Dvorak (author of Drawing Without Fear) in 1987. The Winnebiko II is accurately represented, and the associated text highlights the features of this machine… the version that covered both coasts of the US from 1986-1988. We used to sell these for $15 back in the '90s and ran out, then believed for years that they were rare. The artist contacted me in early 2011, wondering if I wanted the stack he's been saving… so I bought the whole lot and am now offering them at a bargain price.
Posters are shipped rolled in a mailing tube. You can also pick one up at the Computer History Museum in Silicon Valley (where you can see BEHEMOTH at the same time).
Please specify how you would like it signed (or not). I'd be happy to include a custom message if this is a gift for a geekling…
Back Issues of Journal of High-Tech Nomadness
Issues 8 and 10 (1990 & 1991) – $4.00 →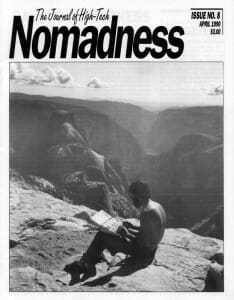 20+ years ago, publishing was a very different phenomenon. There were no blogs or websites, and online publishing was limited in scope and ASCII only. Zines were hip. During the epoch of the Winnebiko II and the development of BEHEMOTH, I published twelve issues of a small magazine… the first six called The Journal of High Treknowledgy, and the next called The Journal of High-Tech Nomadness.
Most of the inventory is long gone (with the early ones exceedingly rare), but I have a good pile of issues 8 and 10. This store item is one of each, shipped in a poly mailer (7 ounce package, First Class). It's fun stuff… here are the contents of the two 28-page issues: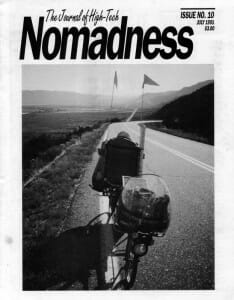 JHN8… Call to Nomadness, CSPC (the poor man's composite, using cardboard and fiberglass), Immersed in Santa Cruz, The Evolution of the Winnebiko showing the three console versions, Nomad of the Night (guest column), Networks in the Sky (packet radio), Writing "The Other Man" (guest column), Maggie's Adobo & Megadora recipes, tech notes about the BEHEMOTH system, Hack of the Month (by a brilliant 4-year-old), and a letters column.
JHN10… Last-Minute Update about Silicon Valley life, On the Loose in Dataspace, Pound-Miles per Hour (poking fun at the bicycle-racing speed obsession), Mobile R&D tools, The Evolution of BEHEMOTH (three full bike photos), Eating B'Dang B'Dang by the late Jef Raskin, Notes from Maggie's adventure, 2 book reviews, and Notes from the Bikelab (BEHEMOTH overview, HF dipole, microwave motion sensor, LED taillights, solar and battery management, RUMP packaging, CD packaging, and network architecture).