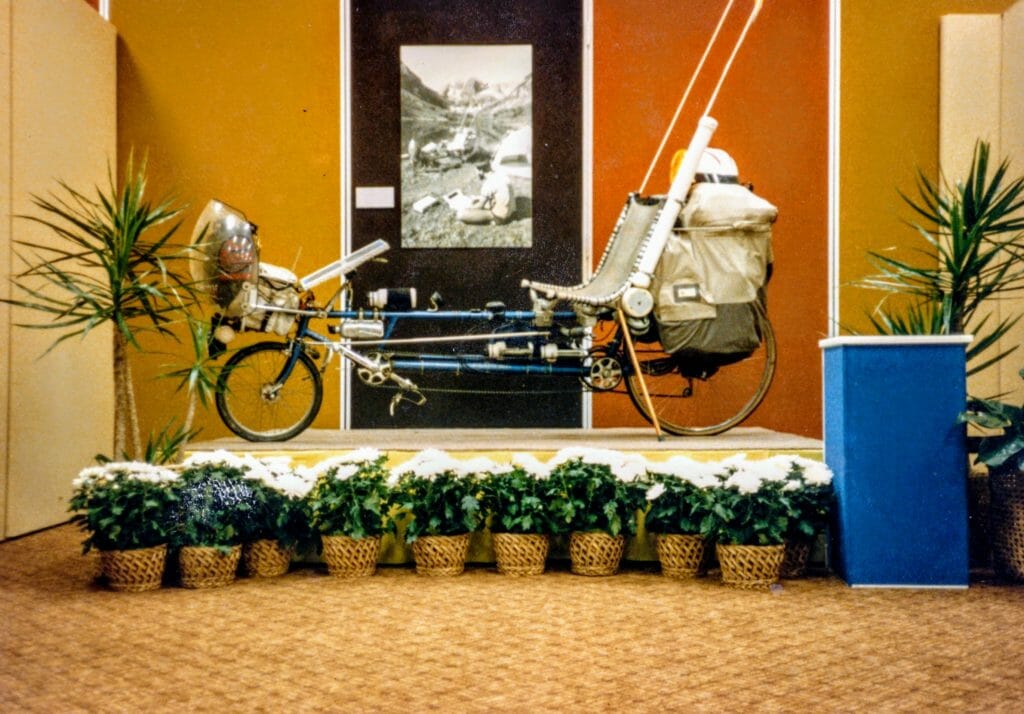 Winnebiko with Hewlett-Packard at COMDEX 84
It was a mad, dangerous rush to cross Utah in sub-freezing weather while sick… breaking a fundamental rule of bicycle touring that mirrors the one well-known in the nautical world: "A sailor with no schedule always has fair winds." After a brutal week of pushing much too hard, I arrived in Las Vegas. 
---
I found the Convention Center and put myself in a bovine frame of mind long enough to be processed through COMDEX registration. There were nearly a hundred thousand people here to walk the thirteen miles of exhibit frontage—if you lined up everybody cozy in the aisles, there would be a person every eight inches, a sweating gray-suited queue of sore-footed computer people. A single nuke on Paradise that week would have given Japan an instant three-year trade advantage.
I wandered ground zero in my cycling garb, wearing a combination Exhibitor/Press badge. Heh. Attendees looked through me at first, then reacted with the startle reflex upon noticing my professional affiliations. It was a pleasant iconoclasm.
The old electricity was there, a "show excitement" that has infected me since childhood science-fair days, but my life was changing; I was technologically jaded. I looked more at faces than computer screens, more at bodies than boxes. Not so very long ago, I would have lugged around twenty pounds of brochures and methodically checked off exhibitors in the showguide until my blistered feet forced a halt.
That has changed, but I must confess that I did whoop with delight when Hewlett-Packard's Bill Crow deftly struck a few keys on my Portable and generated a scaled sine plot on the screen. "Hey, I didn't know it could do that!" I cried, remembering a time a decade before when a professional flutist had picked up my new instrument and sweetly sung Syrinx. I had gazed at the silver tube with a new appreciation, realizing that all sorts of potential magic lay within.
It was because of H-P that I was there. That long-ago phone call from the Llano, Texas, Dairy Queen had yielded not only an exquisite traveling computer system but also a powerful symbiosis of support and media exposure. I rode to COMDEX every day from the Alexis Park Resort Hotel, wrestled my bike onto a sort of floodlit tokonoma surrounded by potted plants and posters, did a few interviews, and then wandered the show looking for familiar faces. There weren't many. Computer shows are now dominated by smooth marketing-types, not the brilliant weirdos and visionary tinkerers who once gathered wild-eyed to share dreams.
"My memory has just been sold; my Angel is a centerfold . . ."
---
Here is a note about the origin of that photo on the wall, taken near Aspen, Colorado.
---