This is almost trivially simple and can be done with endless variations, but I'm posting it to help prevent any more "consumer moments" than necessary.  You can buy things like this for $100 or so, but it's a fast project that can be accomplished with mesh slings, some PVC from the local building supply store, and an hour or two of time.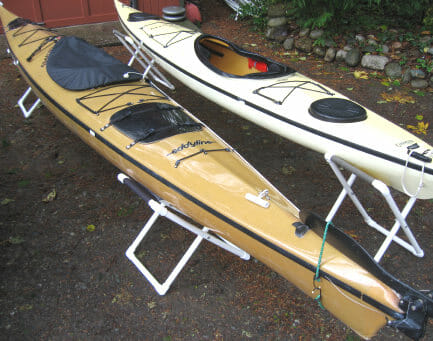 Easy Homebrew Kayak Stands
© 2010 by Steven K. Roberts
Nomadic Research Labs
$32.50Read more
There are lots of good reasons to keep kayaks off the ground… including general boat hygiene, keeping rodents and spiders from nesting in them, speeding the washing and drying process, raising them to a working height that's easy on your back, and expanding available storage space by opening the area beneath the boat.  This little trick is a lightweight solution to the problem, and can be scaled to whatever height and width needed.
I used 3/4-inch Schedule 40 PVC for these, and it has been quite adequate.  I wouldn't quite trust them with body weight, but that's not the intent… it just keeps my boatlets off the eternally moist concrete floor or muddy lawn.  The units shown here are made from the following components… quantities shown are for a pair of stands, good for one kayak:
8 PVC vertical members, 24″ long
8 PVC horizontal members, 13″ long
16 PVC 90° elbows
PVC cement (not necessary but recommended for maximum toughness)
4 bolts, 2.5″ long 1/4-20 with lock nuts (either 2 regulars jammed, or one nylock).
4 washers (1/4″) washers between the tubes – good form but not really necessary
2 Fabric slings, approximately 10×17 inches with sewn-in tunnels.
All this is non-critical dimensionally.  If you want it taller or shorter, just adapt the vertical members accordingly… if you want the stands to be a little stiffer and heavier, you can upgrade to 1″ PVC.  The pivot point is midway down each long tube, and is easily drilled with a 1/4-inch bit (if you're free-handing, you will get more accurate results by drilling a smaller pilot hole first).  You can glue them with PVC cement if you want them as tough as possible, though I find it more convenient to just press the fittings on… it's plenty strong and you can break them down if you ever need to.
The important part is the fabric saddle; I recommend a strong synthetic mesh instead of a densely woven cloth that will hold moisture against the hull and cause mold:
You could use simple web straps and slide-release buckles (or, I suppose, even rope) instead of the somewhat more complex sewn tunnel shown in the photos, but I would advise caution with this… not only are there moisture-retention issues, but some hull materials like rotomolded polyethylene will take a "set" if stress is concentrated in a small area over time, especially in hot weather.  After considerable experimentation, we settled on a strong mesh that has held up over 5 years of use without any sign of degradation from the evils of ultraviolet, moisture, and stress:
This is, in principle, a simple home project – the total cost of the PVC parts for each stand assembly is only about $8.00.  The slings are a bit trickier, as sewing an open-weave mesh requires careful handling.
Feel free to copy the concept, but if you don't want to "try this at home," as they say in the idiom, you're in luck… we've decided to add these slings to our product line of technomadic tools.  (Ordering information is at the bottom of this page; you can get the slings from us and assemble your own PVC frames.)
As with all fabrics, long-term ultraviolet exposure is the enemy and will eventually cause failure… so parking them in the sun forever is not advised. If you can tarp it over, both your slings AND your kayak will last longer.
Here are a few photos of the units in use:
There are lots of ways to do this more beautifully (and expensively) with wood, aluminum tubing, or other materials… but for a quick solution to an annoying problem, simplicity and low cost are Good Things.  The same technique can also be used to keep your sailboat mast off the ground while the boat is in surgery or off-season storage, as it's easy to relocate the stands as needed to gain access to parts of the rig that need to be serviced.
Cheers from Nomadic Research Labs!
Steve
Mesh Slings for Sale
Due to the tricky sewing and exotic fabrics involved in making a proper sling that will neither hold moisture against the kayak hull nor induce deformity by concentrating the load over too skinny an area, we have decided to produce these here in the Pacific Northwest and make them available.  The cost is $32.50 for a pair.
$32.50Read more
For each stand, you'll need to locally acquire the PVC and bolts as specified above.  A pair of stands will support any kayak, including doubles, and has been tested here in the lab to 250 pounds (a week loaded with a 2×10 board stacked with concrete blocks had no significant effect on the slings). The design has evolved to maximize the sling's ability to conform to hull shape; by removing the edge binding shown in one of the photos (which was largely cosmetic), we have made certain that loading on the hull is as uniform as possible.
Cheers and thanks from Nomadic Research Labs!
The slings are made in the USA (Washington State).
You must log in to post a comment.