A Boutique of Gonzo Engineering and Technomadics
The Nomadness project is supported by a variety of nickel generators, including publications about the project itself, technological spin-offs, a few sideline products, selected geek goodies, and even some tasty Nomadic Research Labs surplus items. This store is the primary collection of all this (replacing the creaky Zen Cart installation). Our collection is split into a few broad categories: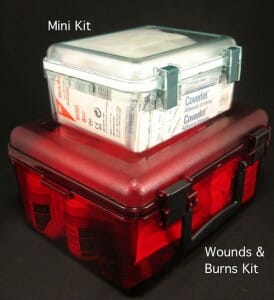 Expedition Medical Chests – If your boat takes a wave or spends a long time in high humidity, you don't want your medical supplies ruined. Expedition Medical Chests are sealed polycarbonate cases generously packed with ER-grade supplies. Nomadic Research Labs has been exploring applied technomadics since 1983, and we now have a nurse on staff who was unimpressed by our existing expensive ship's medical kit. Not only was it padded out with common medications and non-intuitively organized, but the non-waterproof packaging would have eventually destroyed the more sensitive materials. We decided to do it right… whether for marine use as originally intended, or general disaster preparedness.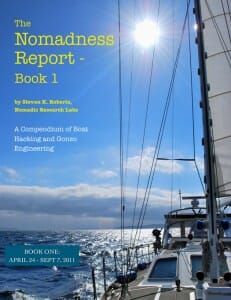 Boat Hacking Publications – This is a gallery of downloadable PDF Nomadness Report back issues, as well as compilations in eBook form. These are geeky and filled with technical details, reflecting the ongoing narrative of developing this sailing equivalent of the Starship Enterprise. As major subsystems are completed, they will spin off into detailed Design Packages with schematics, parts resources, and enough explanation to allow you to build your own. The Reports cover a variety of topics, and on their store page, you can see a "contact sheet" of thumbnails of each one along with an outline of its contents.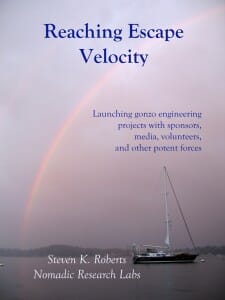 Technomadic Publications – This page of the store offers books, journals, and posters from the earlier epochs of my adventures… which included 17,000 miles around the US on three versions of a computerized recumbent bicycle in the 1980s, then a decade of building an amphibian pedal/solar/sail micro-trimaran. One of the highlights here is my Reaching Escape Velocity book, which is about the "meta-hacks" that make it possible to accomplish absurdly audacious projects without deep pockets. This book has helped many expeditions get off the ground, and is pretty much my whole collection of "trade secrets."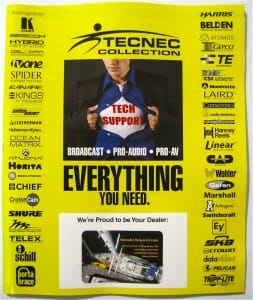 TecNec Dealership – At our home-base development facilities in Friday Harbor (in Washington's San Juan Islands), we have become the region's dealer for this huge distribution network of somewhere around 300 vendors… all focused on professional audio and video systems, studio gear, racks, networking, and other goodies. We can sell individual items, but the most effective mutual win in this department is in situations where pulling together lots of sources saves time, research, and shipping costs. There are about 60,000 products available.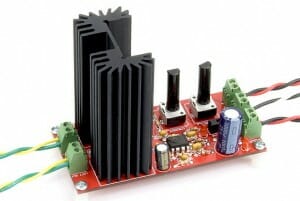 Electronic Kits – I have loved kits since I was a little kid, building radio gear and test equipment from the venerable Heathkit as well as Knight and others. Later, I watched friends do well with electronics magazine articles and corresponding kits, and have always wanted to get into that business. As the Nomadness project unfolds, I plan to spin off some of the more generally useful subsystems in this form… but in the meantime, I carry a few commercial kits for your soldering pleasure.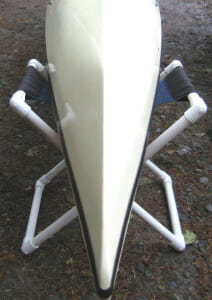 Kayaking Goodies – Over in this corner, we have a small collection of products from our "Technomadic Designs" spin-off, featuring mesh slings for low-cost DIY kayak stands, foam-core paddle bags, a little paddle tether, and the smallest of the medical kits (suitable for the wet, cramped environment of a touring kayak). Even with the 18-ton steel Nomadness gobbling all resources these days, I still have a deep fondness for the simple beauty of kayaking… and these items reflect that. The slings, in particular, allow a quick homebrew boat-storage solution that's about half the net cost of the sleek commercial units.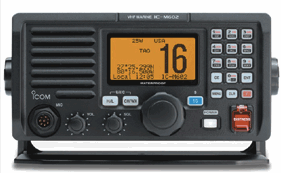 Nomadic Research Labs Surplus – As a lifelong techie who has spent countless hours crawling around the surplus meccas of Silicon Valley, ordered tons of goodies from the classic mail-order giants like Fair and H&R, and even run my own combined computer/electronics/surplus store in the '70s, this is probably going to be my favorite corner of the Emporium of Nautical Geekery. Goodies will include comm gear, embedded controllers, nav equipment, boat parts, and random items from the lab.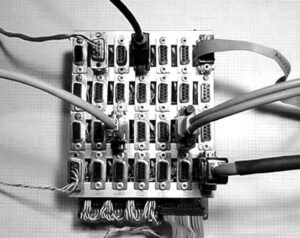 Vintage Downloadables – I've been building gizmological contraptions for 40 years now, and some of them were even documented well enough to be turned into detailed design packages. In the back of the store, past shiny gewgaws and kits hanging in bags from a peg-board, past books and parts and the pile of kayak gear, there is a musty corner harboring yellowed PDFs lovingly assembled long ago with low-res photos and old-timey fonts. Deep within these, a few treasures may yet be found…