The Library of Technomadics
Latest News (January 19, 2018)…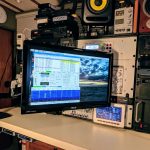 Aboard Datawake, there are some new blinkies to keep this geeky old technomad happy! I fired up the Icom 7300 ham rig and have been doing the new FT8 digital mode. This involves a dedicated Raspberry Pi, a new antenna, and an upgrade to the console… a new post in the blog describes all this, including some of the magic of using "processing gain" to extend the range of radio communications.
There are a few services that I perform for local clients in the San Juan Islands: movie and video digitizing, thermography, 360° photography, 3D printing, nautical geekery, and writing. Click for details. 
Each of the six major technomadic machines is introduced at the links below, with a few of the best photos and links to detailed documentation, adventure tales, and media. These are the best starting points if you want to read about computerized bicycles and nautical geekery:
Recent additions and features:
Exploring the boat in the thermal domain with a FLIR ONE camera.
The most-visited page lately has been the one about building a heavy-duty piano drawer, finally passing the discussion of keeping rodents out of your pole building.
The ship console is 8 feet long and packed with electronics.
The bidet aboard Datawake has been a significant lifestyle upgrade.
Recent posts cover the Weather Station and the D-STAR OpenSPOT.
I have a Facebook page for the Datawake boat project and one for the High-Tech Nomad book.
My eBay store is slowly getting built up again after a long hiatus… I have a very long way to go and it has been lying idle for years, but there are lots of treasures that should go away while I'm still alive (well-curated numismatic and philatelic collections, random antiquities, paleo-gizmology, geek goodies, books, jewelry, and more)
The latest additions to the archives include what may have been the first instance of texting while "driving" (April, 1987) and a detailed piece in the Sacramento Bee.
Here's a free sample of the book, with 3 chapters. I am halfway through the edit of the new edition of Computing Across America.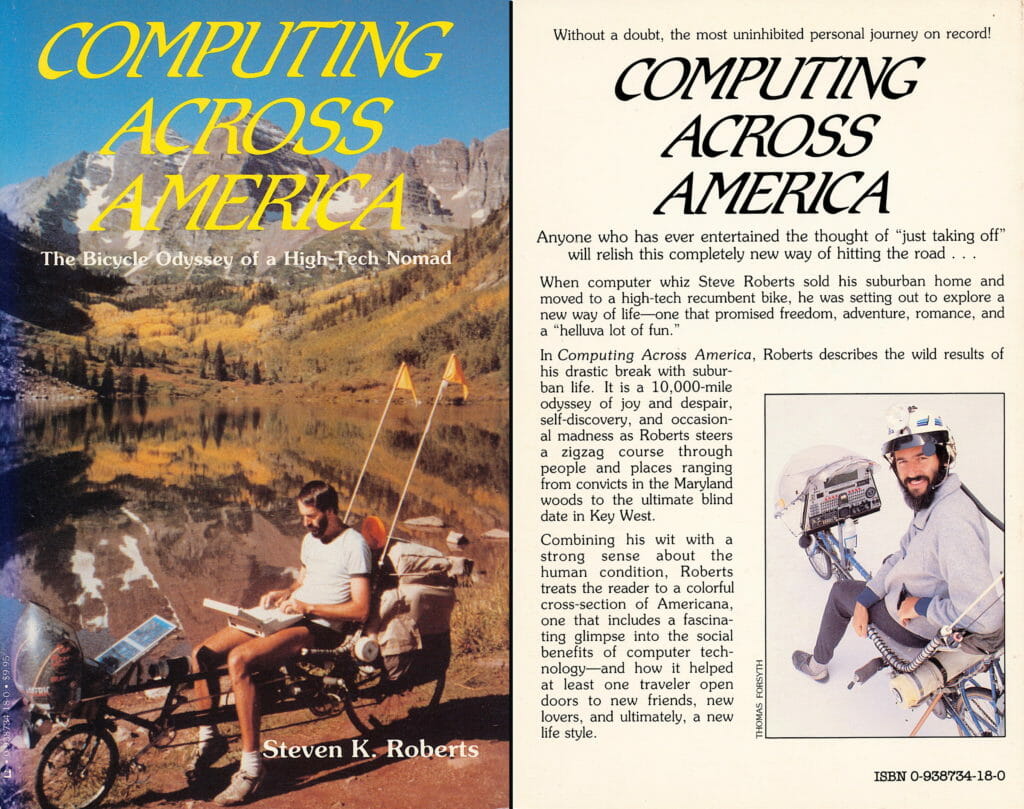 ---
Since 1983, I have devoted all available resources to adventure, geek expressionism, and gonzo engineering. This has fueled a playful life of building and traveling with technomadic contraptions, writing about everything from the underlying tech to the romance of the road.
After a decade and 17,000 miles aboard a computerized recumbent bicycle, I turned my attention to building an amphibian pedal/solar/sail micro-trimaran… while 580-pound BEHEMOTH, the final incarnation of the bike, became a permanent exhibit at the Computer History Museum.
The Microship project took a decade, and then it was time for a new phase… creating a starship of sorts, large enough for full-time adventure with an on-board lab and a suite of tools for data collection, underwater exploration, circuit design, 3D printing, milling, music and video production, communications, and more.
This site is the collection of documents related to these projects (along with earlier unrelated work, some historical tidbits, product reviews, and how-to material).
Thousands of items are slated to be included to this archive and given dated blog pages that match their actual publication or event dates. As such, "latest update" is relevant only to new postings (with an RSS feed). The photos below offer a few starting points, with related posts and the usual WordPress menus/categories/tags.
My gizmological contraptions in reverse chronological order: