The Library of Technomadics
Latest News (October 10, 2017)…
I am building a new front-end for this huge archive (600 pages and counting). Each major machine gets a page to introduce its epoch, show a few photos, and reference detailed documentation along with adventure tales and media. The active links in this list are complete…
Winnebiko (1983-1985)
Winnebiko II (1986-1988)
BEHEMOTH (1989-1992)
Microship (1993-2002)
Nomadness (2006-2015)
Datawake (2016-present)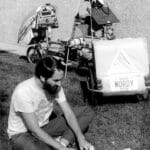 Exploring the boat in the thermal domain with a FLIR ONE camera. The bidet aboard Datawake. Other recent posts cover the Weather Station, the D-STAR OpenSPOT, some lifestyle geekery, and the ship console.  Current news is at the blog and I have a Facebook page for the Datawake boat project as well as one for the High-Tech Nomad book. I'm working on the re-issue of Computing Across America, along with the new "epoch" pages on this site… and aboard the boat, starting to update my ancient power-distribution system. The latest addition to the archives talks of what may have been the first instance of texting while "driving" (in April, 1987)
Here's a free sample of the book, with 3 chapters. 
---
Since 1983, I have devoted all available resources to adventure, geek expressionism, and gonzo engineering. This has fueled a playful life of building and traveling with technomadic contraptions, writing about everything from the underlying tech to the romance of the road.
After a decade and 17,000 miles aboard a computerized recumbent bicycle, I turned my attention to building an amphibian pedal/solar/sail micro-trimaran… while 580-pound BEHEMOTH, the final incarnation of the bike, became a permanent exhibit at the Computer History Museum.
The Microship project took a decade, and then it was time for a new phase… creating a starship of sorts, large enough for full-time adventure with an on-board lab and a suite of tools for data collection, underwater exploration, circuit design, 3D printing, milling, music and video production, communications, and more.
This site is the collection of documents related to these projects (along with earlier unrelated work, some historical tidbits, product reviews, and how-to material).
Thousands of items are slated to be included to this archive and given dated blog pages that match their actual publication or event dates. As such, "latest update" is relevant only to new postings (with an RSS feed). The photos below offer a few starting points, with related posts and the usual WordPress menus/categories/tags.


My gizmological contraptions in reverse chronological order: