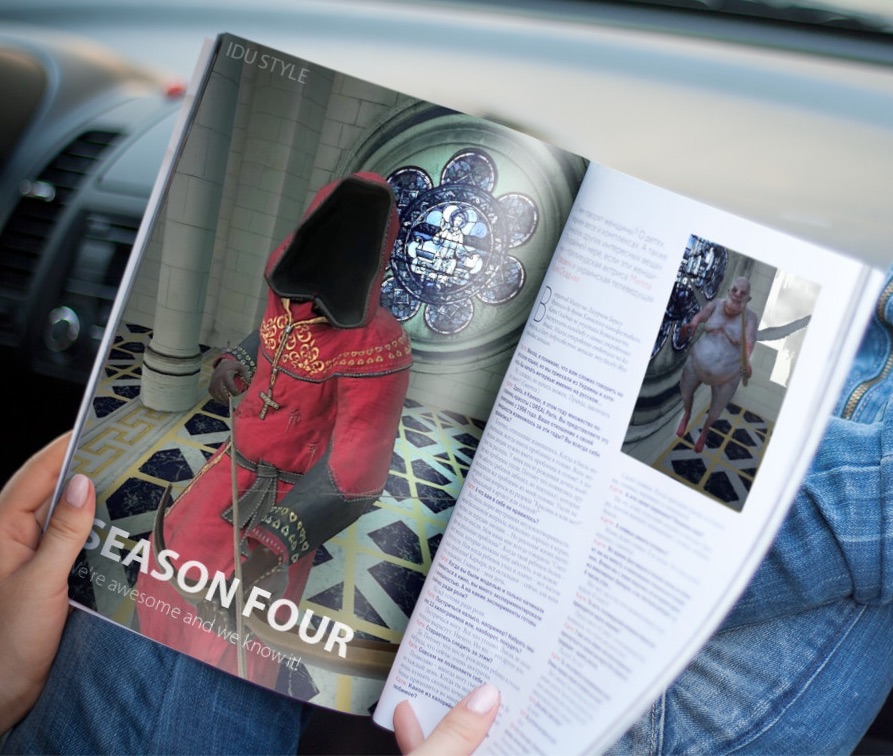 Season Four Raiments
IDU Style feature in Afterlife
Timed to coincide with the beginning of IDU Season Four, Afterlife magazine published a sartorial special issue. As the cover model, Conrad the Relentless wears the new raiments well, pairing his signature red-robed archer statement with leather arm bracers in a pierced-heart motif that echoes the shoulder embroidery flowing from his coronal-themed collar. With an audacious bolo-tie crucifix reflecting his top-grain sash belt and embellished edging on the hood, there is no mistaking Conrad's baleful intent when he gazes at you from the infinite blackness and raises his bow.
The advent of Season Four has meant a fashion upgrade across the board (with the exception of Abominations, whose sense of style is primitive). Even the naked Cupids have taken the opportunity to look a bit sharper, and the prolific Ichor teleported in for a brief cameo in the interview… back-pedaling a bit after philosophizing in his archery book about the pointlessness of becoming emotionally invested in physical form over which one has little control. "Well, at the time we didn't have the computational bandwidth to let our facial expressions show," he admits, "but hey… now that we do, why not judiciously apply a few pigments to highlight our proud cheekbones and stolid jowls? I see no harm in being recognizable, and not just another generic 'murder pigeon' or any of those other insulting things that humans call us."
The magazine is mapping out a series of features keyed to this new season, so I am sure we can look forward to additional details of the upgraded ensembles draping our adversaries.
---
This is part of the In Death: Unchained literature collection by Steven K. Roberts.