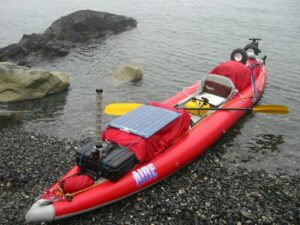 I've been kayaking since 1992, and it was a paddling week in the Adirondacks that launched me on the convoluted Microship project. That expedition never quite materialized, but my love for kayaking has remained… I had lots of adventures with the geeked-out Bubba at left, and there's an inflatable Hobie with pedal drive aboard Nomadness. It's still my favorite way to play on the water.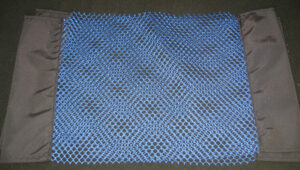 This has been our most popular kayaking item, since it saves a bundle of money with a little simple DIY. If you don't mind cutting a few pieces of PVC tubing from your local home-improvement store, these slings yield effective kayak stands. The polyester mesh prevents trapping moisture against the hull (growth), and it readily adapts to any shape (preventing stresses that can lead to deformation in hot weather).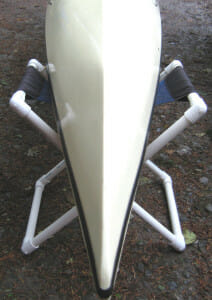 There is a page of assembly instructions, and you can either copy the idea and sew your own, or buy ours… it's an easy decision unless you are already set up with suitable materials and an industrial sewing machine. With commercial stands costing over $100, this is a quick and easy alternative that has worked well for hundreds of fellow kayakers. (When you order quantity 1, you receive a PAIR of slings, needed for the two stands that support one kayak. The PVC and hardware you need to acquire locally.)
The photo at right shows the kayak upside-down, to prevent it filling up with water, but most folks keep them right-side up. Either is fine.