Computing Across America (1983-1985)
The technomadic story begins at a time of primitive computer and communications technologies. Cellular phones did not yet exist, online services cost a few dollars an hour for cumbersome text-only services, and people were debating whether one could actually work at home instead of the office.
I had just turned 30, and was on a quest for geek adventure fueled by publishing... a way to escape Ohio suburbia and combine all my passions into a nomadic lifestyle. After six months of obsessive preparation, I hit the road in September 1983 on a custom recumbent bicycle with solar-powered portable computer (the venerable Radio Shack Model 100), a CompuServe account, and a base office.  The idea was to simply have a way to stay in touch with clients and publishers while traveling full time, and as the months passed I refined the toolset to render my physical location less and less relevant. "Work at home? Work anywhere!" I wrote, exuberantly, sensing that I was pedaling at the cusp of major cultural change.
This started simply as a high-tech bicycle tour, but what I didn't expect was that the media would be enchanted by the idea of nomadic connectivity… combining new information tools into a mobile lifestyle that also happened to be visually distinctive with the recumbent bicycle, solar panels, antennas, and more. My bike trip was becoming a career.
As the adventure unfolded, I wrote a book called Computing Across America, produced columns and features for various magazines, did regular interviews, and watched my whole life change. Ohio suburbia faded to a speck in my rear-view mirror, and I fantasized about the next generation of technomadic tools.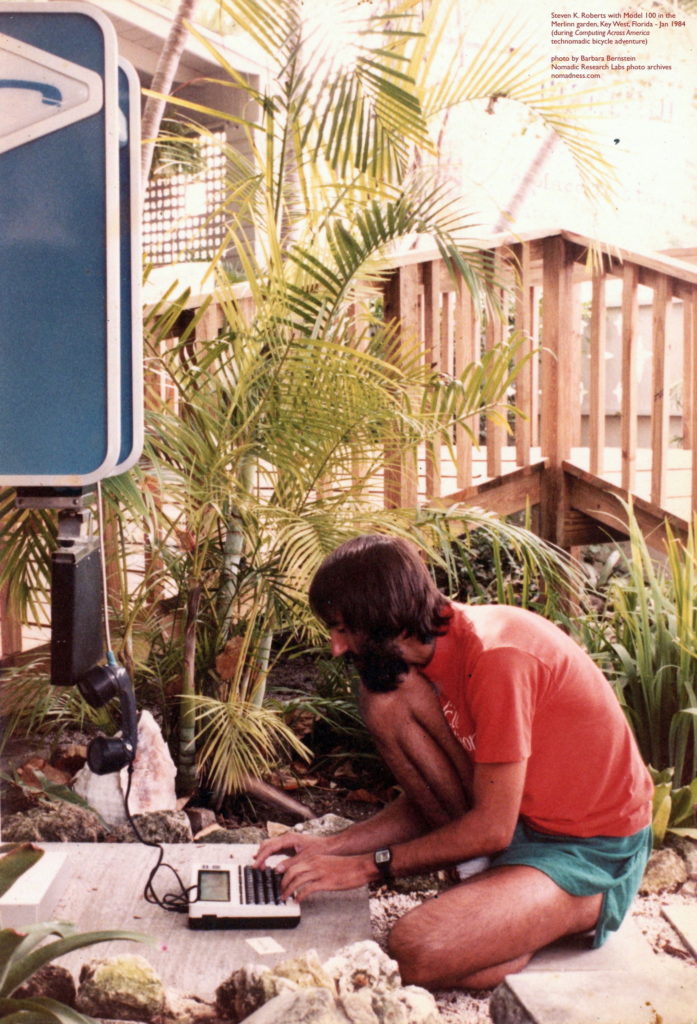 This first trip took place between 1983 and 1985, but the technological world was rapidly evolving and parts quickly came to feel obsolete. By late 1984, I had switched to a much more capable Hewlett Packard Portable, and was designing a system to let me write while riding as well as maintain a steady wireless link to readers. When the 10,000-mile mark rolled around (appropriately enough, in Silicon Valley), I decided to take a year off from the road to finish the book and build a whole new system onto the trusty frame that had carried me this far.
Here are a few favorite references to posts in the archives about the Winnebiko epoch. Each has links to previous/next articles at the bottom if you wish to explore further; there are dozens of stories, newspaper articles, and tech pieces covering this phase of the journey:
Winnebiko specifications
Fabricated over a 6-month period leading up to initial departure on September 28, 1983, this was the elemental form of my technomadic adventure substrate.  The overall weight including packs varied during the 10,000-mile tour from 135 to 195 pounds, and gearing was a straightforward wide-range 18-speed system.  There was no provision for writing while riding, although I did have a remote-controlled audio cassette deck for note-taking while underway—this, along with a large pile of spiral notebooks, helped tremendously when writing the Computing Across America book.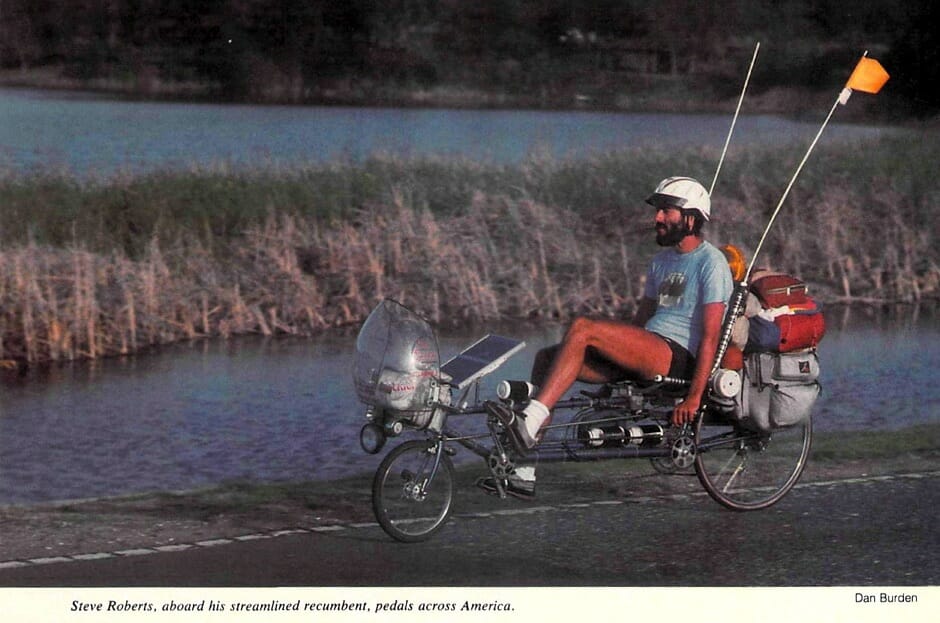 Basic Mechanical Features
48-spoke, 27" undished rear wheel
16" front wheel
Under-seat steering with stainless steel tie-rod to fork
Blackburn rack carrying initial standard touring load, gradually refined during trip
4130 Chrome-Moly frame, lugless, filleted/brazed construction, triple stays, built by Franklin Frames (Jack Trumbull)
Small Zzipper fairing around handlebar pack for electronics, mounted in front

 

of head tube
Crossover drive with 1:1 input chain and 18-speed derailleur, forward bottom bracket in tandem-style eccentric
Electronics
Simple electronics package mounted above front wheel; under-seat switch box
"Push" speed/distance sensor, later the Cat-Eye Solar
Paging security system with piezoelectric vibration sensor
CB radio for emergencies
12V battery for lights and other loads, 5-watt solar panel and AC charger
Yellow barricade flasher behind seat, xenon strobe on pole, taillight, sealed-beam headlight
Radio Shack Model 100 laptop in pack; later the HP-110 portable