News from No Pressure (formerly known as Nomadness)
Latest Update: October 16, 2016
Over the past year, while I have been getting settled into Datawake, my previous boat has been getting lots of excellent attention. She has new opening ports and pilothouse windows, extensive repairs, a fresh dodger, new standing and running rigging, a watermaker, electric heads, a life raft, and a meticulous new owner whose engineering career led him to this boat. Around the end of October, with the help of stalwart crew, he will be heading down the Pacific Coast for a layover in San Diego, then continuing through the Panama Canal with the intent of bringing No Pressure to her new home port on the East Coast.
I've offered to host a page where his brief updates via satellite can be visible to friends, and this is it. I will update this any time there is new information to pass along (and will do another page with a photo essay of the extensive upgrades referenced above). In this photo, taken as they returned from an easy test sail on January 24, that's Dick at the helm and Eric on the bow, doubtless thinking: "Put down that damn camera and catch our lines!"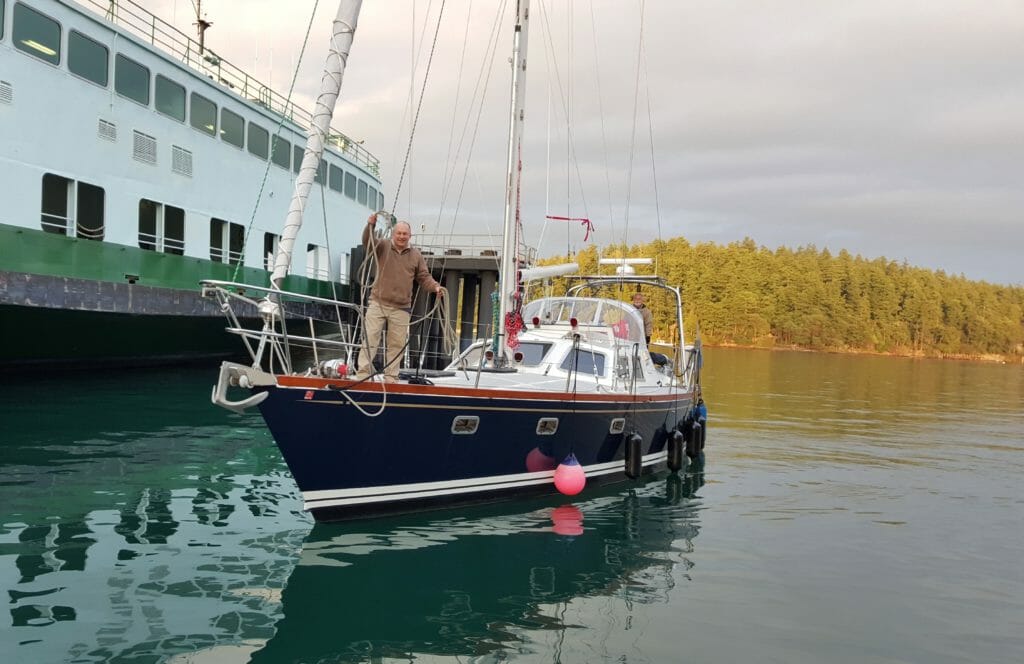 Notes from Dick Tasker
October 16, 2016:
We will be leaving from Friday Harbor, San Juan Islands, WA on a sailing trip to San Diego, CA on the first leg of our trip to Venice, Florida via the Panama Canal on our new boat No Pressure, an Amazon 44 pilot house cutter. We plan to leave around the end of October (exact date depends on weather) with a crew of four intrepid sailors: Myself, Eric Lewis (my brother-in-law), Rick Butterworth (a long time friend) and Alfred Poirier (a sailing friend of Eric's).