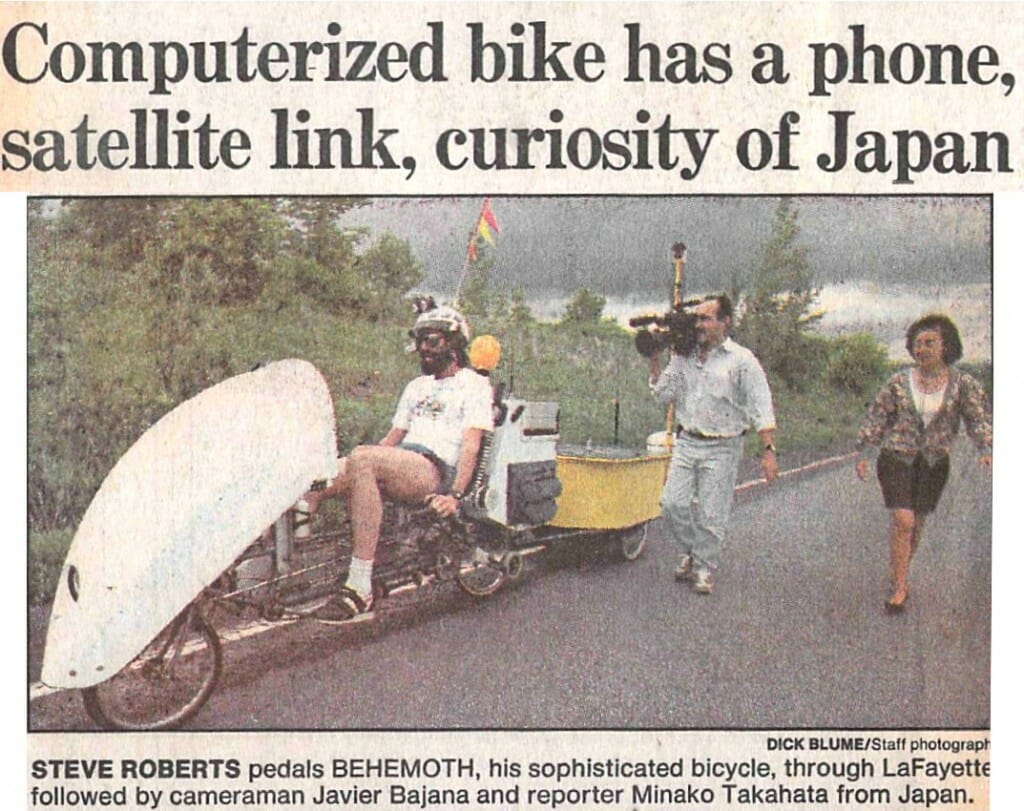 Computerized bike has curiosity of Japan – Syracuse Herald American
During the busy 2-year epoch that lay between the final BEHEMOTH ride and the start of the Microship project, I pretty much devoted my time to an open-ended media and speaking tour via the first of my mobile labs… this one based on a 20-foot Wells-Cargo trailer hauled behind a Ford diesel pickup truck. One of the best parts of this was being able to spend time with dear friends across the land between gigs, and the road show would arrive, take over my host's driveway, and descend on the guest room with a sea of geeky clutter. Sometimes, the media would follow.
Near Syracuse, I was visiting my pal Jean Polly and her delightful family, whereupon a Japanese TV crew from Tokyo Broadcasting showed up (for a piece that aired on channel 6 over there about a week later). The local paper got a kick out of all this, and here is the result.

Computerized bike has a phone, satellite link, curiosity of Japan
By Gary Gerew, Staff Writer
Syracuse Herald American
June 7, 1992
Steve Roberts crested Barker Hill Road in Jamesville and kept on pedaling.
Nine years ago, he sold his house in Columbus, Ohio, began building computer-equipped, solar-powered bicycles, and set off for what's become a 17,000-mile trip around America.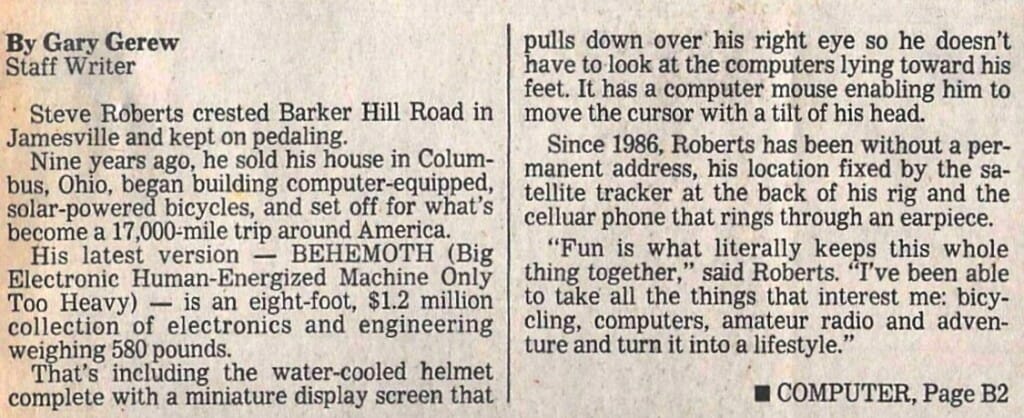 His latest version — BEHEMOTH (Big Electronic Human-Energized Machine Only Too Heavy) — is an eight-foot, $1.2 million collection of electronics and engineering weighing 580 pounds.
That's including the water-cooled helmet complete with a miniature display screen that pulls down over his right eye so he doesn't have to look at the computers lying toward his feet. It has a computer mouse enabling him to move the cursor with a tilt of his head.
Since 1986, Roberts has been without a permanent address, his location fixed by the satellite tracker at the back of his rig and the cellular phone that rings through an earpiece.
"Fun is what literally keeps this whole thing together," said Roberts. "I've been able to take all the things that interest me: bicycling, computers, amateur radio and adventure and turn it into a lifestyle."
Through Onondaga County on Saturday, Roberts gave an interview to a television crew from Japan.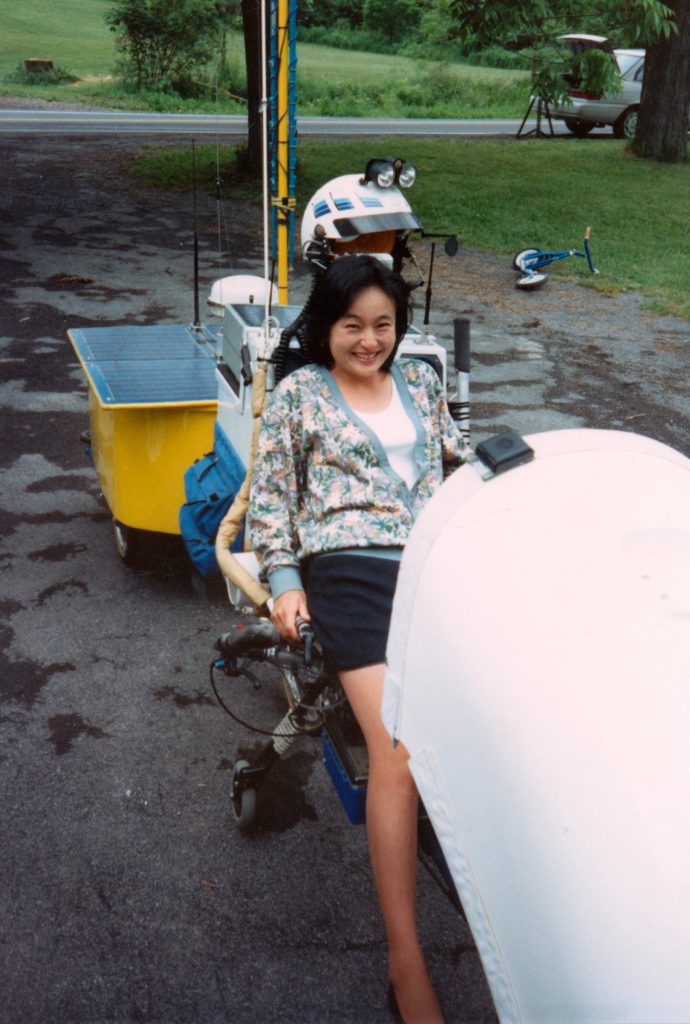 "If he was roaming around on a regular bike, if he had just given up and left his home and family, then it wouldn't be much," said Minako Takahata, the correspondent for the Tokyo Broadcasting System's morning news telecast. "But with all this technology, I don't think people will say he's crazy."
Steve Roberts' mother wasn't so sure of that.
"I decided the best way to let her know was by sending her a magazine article about these bicycles and said, 'Guess what I'm doing?' Parents always react better to a fait accompli," said Roberts. "She just said, 'Steve, are you going to be a bum all your life?' "

The 39-year-old computer expert prefers the term nomad.
He's also been productive. Computing Across America was written by Roberts on the road.
His typing was done on a keyboard built into the bike's handlebars, allowing him to pick out letters like notes on a flute.
Roberts sells the books at computer shows, where he also delivers speeches for up to $5,000 an appearance.
Most of the equipment aboard BEHEMOTH was donated by 150 computer and engineering companies using Roberts as an experiment.
"They get a lot of publicity and engineering feedback out of this," said Roberts.
"The whole idea behind this is that I can do everything on a bicycle that I can do at a work station. It shows there's no need to be in an office."
While on the road, Roberts stays with a network of friends. In Jamesville, he is staying with Jean and Larry Polly. They met electronically after Jean sent Roberts a computer message last summer saying she had enjoyed his book.
When not in use, Roberts tows BEHEMOTH between cities in the trailer that serves as his workshop for keeping the 105-gear bike in tune. Roberts said he is able to reach speeds of up to 50 mph going downhill, but the average cruising speed is about 9 mph.
He said Japanese executives flock to have their pictures taken with the bike and gush over the electronics at trade shows.
"I may be some sort of cult figure over there, but I'm not sure," he said.
Roberts said he may soon find out. His newest design is for an amphibious vehicle.
"It's in the formative stage now, but with something like that I'll be able to spend more time on the water," he said. "And maybe then I'll go cruise down the west coast of Japan."
You must log in to post a comment.