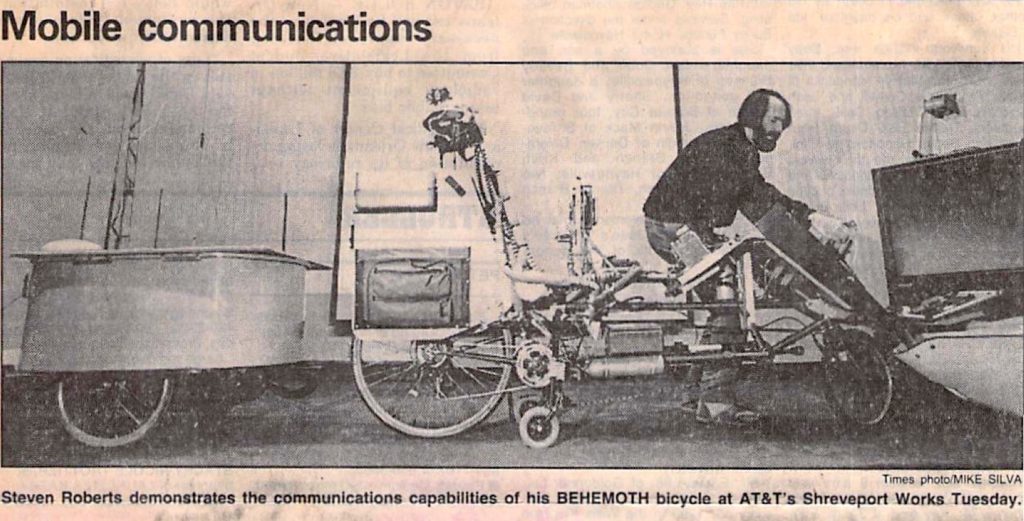 Inventor pedals his wares – Shreveport Times
In 1993, I was excited to visit AT&T Shreveport Works for a demo and plant tour… and a pair of donated VideoPhone 2500 units which, at the time, felt like the magical long-promised future of telephony. A quarter-century later, I am still astounded that this capability is in everybody's pocket and Facebook browser; back then it was amazing, and they sold for $1,599 each. This article in the local paper was from my presentation with BEHEMOTH on stage at AT&T.
by Bill Cooksey
Shreveport Times
February 17, 1993
Steven Roberts describes himself as "a high-tech nomad" or a "yuppie hobo."
But take a look at his mode of transportation and you might just call him a technowizard.
On two wheels.
Roberts stopped in for a visit and speech Tuesday at AT&T's Shreveport Works with the high-tech bicycle he calls BEHEMOTH — that's short for Big Electronic Human-Energized Machine … Only Too Heavy.
The 580-pound, 105-speed bicycle and its accompanying trailer are packed with S1.2 million in electronic gear. The devices allow Roberts to communicate via cellular phone or a ham radio with just about anyone in the world while he pedals the bike around the country, writing books along the way.
BEHEMOTH Presentation at AT&T Shreveport Works – 1993 from Steven K Roberts on Vimeo.
Options include:
Keyboard mounted into the handlebars.
Console Macintosh computer.
Satellite Internet link.
Cellular phone with modem and fax machine.
Heads-up computer display.
Tow trailer with solar panels and satellite antennas.
And just for the sake of comfort and security, Roberts has installed a CD stereo, a research and development lab, and a paging security system that also warns anyone who gets a little too close to back off.
While riding, Roberts wears a helmet that features audio, a cooling system, lights, video camera equipment and other gadgets.
It's great for shocking drive-through fast-food attendants, he said.
Roberts said he became tired of his normal job and suburbia more than 10 years ago and turned his energies toward building a bicycle that would allow him to write books while pedaling across the country.
In 1983, he started his odyssey with "Winnebiko," his first technocycle. He has since logged more than 16,000 miles on his custom-built bikes.
His next project will be an electronics-packed kayak already dubbed the Sea Moss Microship.
Roberts said the equipment on the current bike is donated by electronics companies who want him to experiment. His living expenses are covered by selling his books. And just in case you don't have cash, he has a credit card verifier on board.
But even with all the equipment on board, sometimes Roberts is missing something he needs.
One day, a sweating bicyclist pulled up alongside, slowed down and asked, "Do you have any Grey Poupon?"
"Now I carry these packets of it," Roberts said.