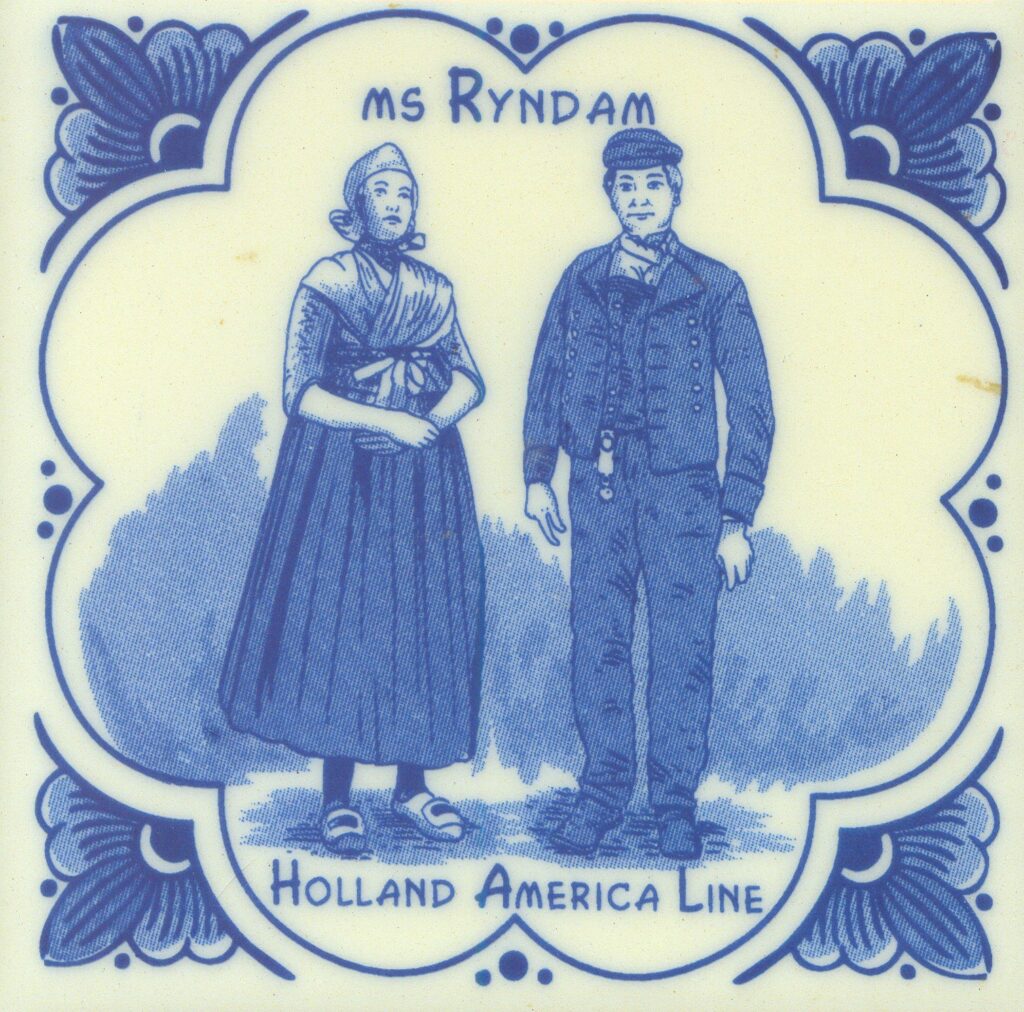 My second speaking gig on a Geek Cruise (after Perl Whirl and before Linux Lunacy) was in the western Caribbean aboard the 720-foot Ryndam in the Holland America Line. This was not only a week of deep immersion with Java geeks and a sort of broad circumnavigation of Cuba, but it resulted in a very serious injury when I fell on a black spiny sea urchin while snorkeling in Cozumel, shredding my right index finger. The story of that aspect of the adventure is in my Microship post a couple of months later.
This is just a quick note about the event itself. Here is the program entry for my talk on the first day of the cruise: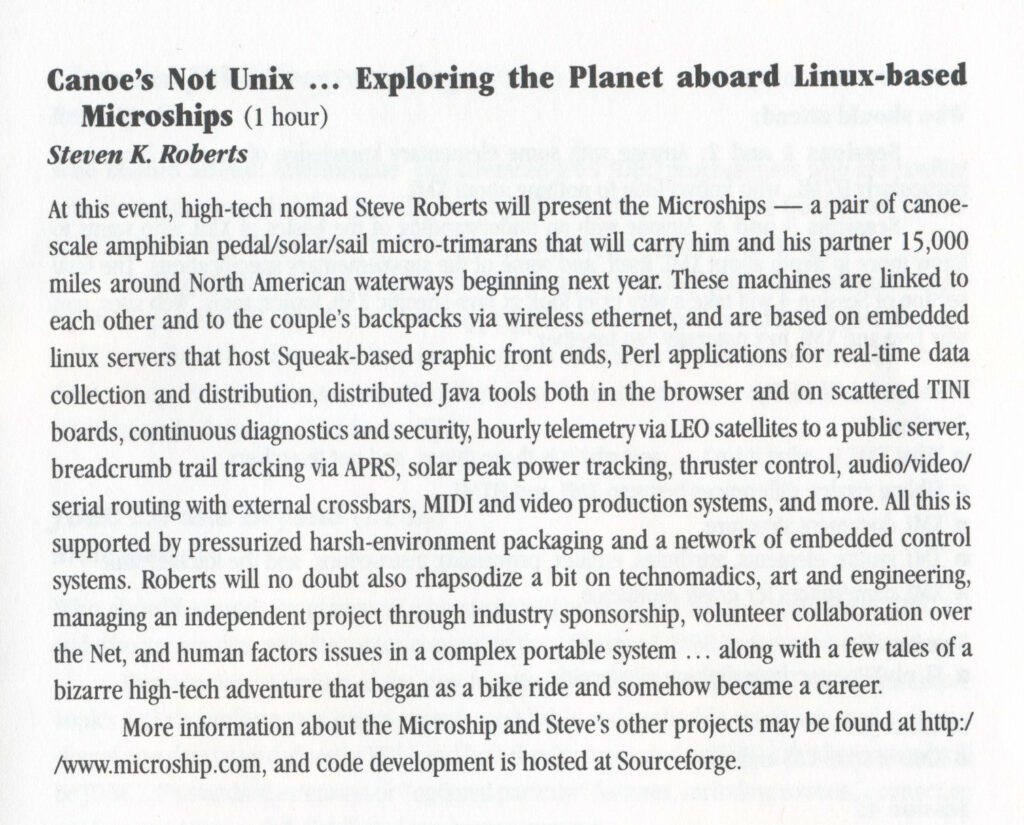 The February 2001 issue of Software Development magazine carried a delightful article by Dana Cline about Java Jam, and here is a photo of the participants posed on the foredeck of the Ryndam (I'm the guy in yellow shorts near the left end of the front row, and the fellow in the blue shorts to my left is Neil Bauman, who runs the Geek Cruises).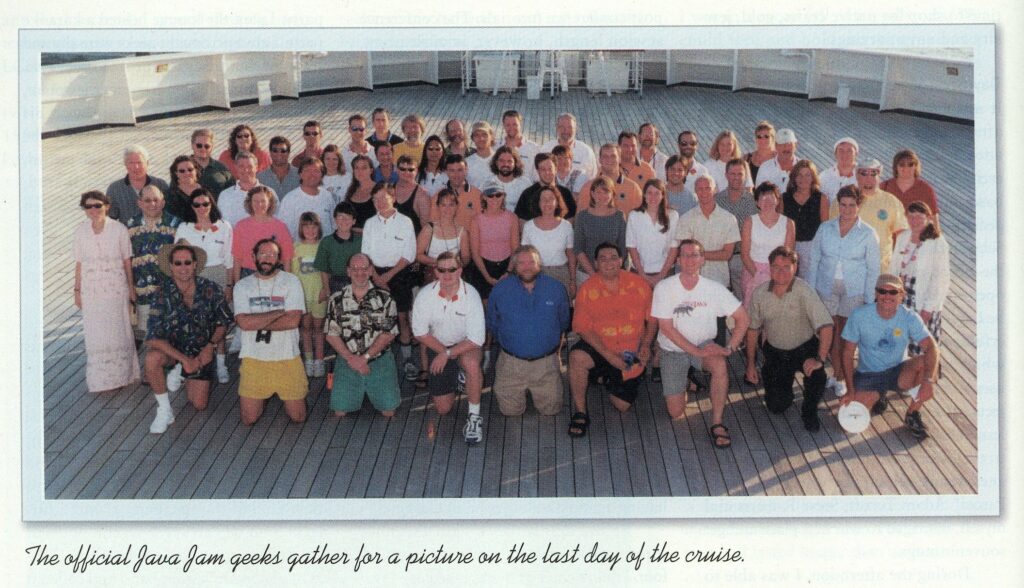 Dana's 6-page article, with full text in the Dr. Dobbs archive, goes into lots of detail about the adventure… here is the bit about my presentation on the first day of the voyage…
---
As we left Half Moon Cay, the geeks gathered in one of the larger conference rooms for Neil Bauman's "Welcome Aboard" speech. Bauman then introduced Steve Roberts, who spoke about his Microship project.
In 1983, Steve left a normal life to roam across the U.S. on a custom bicycle, communicating his adventures via CompuServe using a Radio Shack Model 100 computer. His latest project is to roam America's waterways in a pair of small ships that will serve as living quarters, transportation and communications hub for Steve and his partner Natasha Clarke. Their voyage, which will be chronicled on their Web site, will start in the Pacific Northwest and take them across the Northwest, down to the Gulf of Mexico, around Florida and up the Eastern Seaboard, and then finally through the Great Lakes. Roberts' ships are wonders of miniaturization (unlike the Ryndam!). Starting life as 19-foot canoes, they've been modified with full cockpits, a mast, pedals and retractable wheels for portages. The ships' electronics are extensive: there are hundreds of sensors, controllers and user interface devices, as well as wireless networking and satellite communications, all of it driven by banks of solar cells. At its heart is a Linux server running custom Perl scripts.