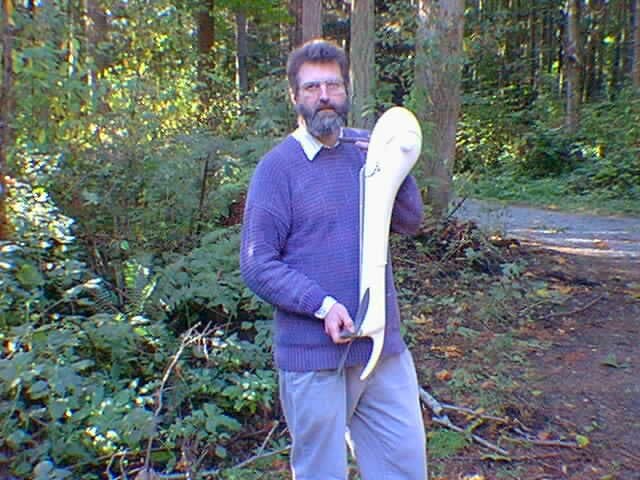 by Steven K. Roberts
Nomadic Research Labs
Santa Clara, California
September 28, 1997
"I hate quotations."

— Ralph Waldo Emerson
Canadian Road Trip
Every now and then, we are presented with a choice: optimize efficiency or enjoyment (though the former is enjoyable and the latter, efficient). Such a trade-off appeared recently when it came time to arrange shipment of the Fulmar-19 hull/crossbeam sets from Sidney, BC… and with the tempting opportunity to visit a few friends along with the pressing need to get a visa for Lisa (Elizabeth), the choice was clear. Road trip!
So we launched in the first week of August, frolicking enroute at every opportunity and dropping in on friends. Crossing the border into Canada with a British citizen gave us our first taste of the hassles that lay ahead — Lisa's presence was sufficient excuse for a polite but thorough search of the truck by Canadian customs.
That hurdle passed, we arrived in the vast city of Vancouver on the final day of an international fireworks competition. Attempts to find a midtown hotel were thus met with bemused chuckles, and it took five hours of driving around to find an overpriced place to stay on a remote stretch of highway…
Our first task was to get a 6-month visa, which Lisa needs to be legal in the US. I played tourist and circled periodically back to the Atomic Cafe (owned by a former family counselor who now serves up world-class food and espresso while doling out emotional support to the endless stream of frustrated petitioners to the US Embassy across the street), while Lisa, figurative hat in hand, moved slowly along the line of chairs awaiting her moment to deliver a complete life history and self-justification to the imperious bureaucrat who holds the Keys to the Border. It was a close call. Apparently, they're suspicious of anyone who changes travel plans, and she barely managed to acquire a single-entry 6-month visa. (Just to give you an idea of the user-friendliness of this organization, arranging the appointment required a $46 phone call to the US Embassy's 900-number in Washington!)
We spent an afternoon playing on Wreck Beach (the spirited nude beach adjacent to UBC), then moved on to more relaxed business — a weekend on Salt Spring Island with Bob Stuart and Bob Simons. The former, builder of our pedal drives, is moving into a wonderfully quirky house on the property, a round homebuilt structure accessible only via tenuous steps carved into a steep wooded hillside, where the wall by the bed is a window into the trees and the only sights are those of deliciously wild nature and the Gulf of Georgia beyond.
We managed a bit of TOW (Time On Water) in Ganges Harbour; first in a homebuilt wooden kayak-tri propelled briskly by one of Bob's pedal thrusters, later with Mark Coulter on his 36-foot Piver Dart trimaran, Curlew II. Lisa was enchanted by both, of course — and together the guys are working to productize not only these sleek drive units but a small proa to be propelled by same. At this writing, we are fortunate to be hosting them as lab guests for 2-3 weeks… plying their considerable fiberglass and fabrication skills to jump-start the key structural projects on the Microships…
The other key motivation for the jaunt to Canada was to pick up horrendously expensive but much-needed boat parts from Fulmar in Sidney. By the end of the next day, we had strapped four amas (outer hulls) onto our Yakima roof rack, with four folded akas (crossbeams) nestled among pillows atop the futon. The border guards naturally stopped us, noting that the amas look suspiciously like torpedoes, but after being assured they were "canoe parts" they let us pass without paying duty. And yes, the immigration officials made sure that the final step of getting back into the US was fraught with uneasiness… almost denying Lisa entry despite the official visa in her passport.
Canoe-tri Integration
We made it, of course, and at this writing are immersed in refreshingly physical work, tying together the key structural components that will ready the boats for their first test sails: hulls, crossbeams, rigs, leeboards, rudders, decks, seats, thrusters, and electric auxiliaries.
We found a chunk of 3″ aluminum tubing at a recycling center, and Andrew Letton chopped it neatly into two 21″ lengths that will accept our rotating rigs (2.5″ anodized aluminum tubing with two Delrin bearings). Next step — anodizing with Teflon impregnation at CSL in Santa Clara, followed by glass sheathing and bonding to the forward bulkheads.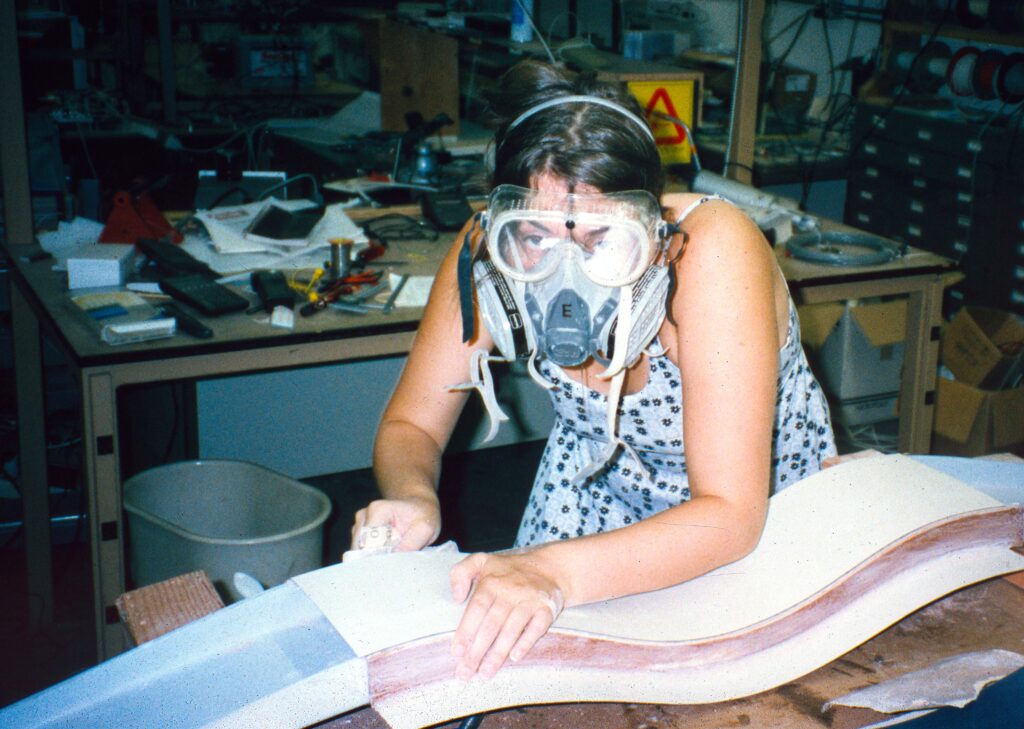 The first fiberglass parts we fabricated were the "aka nests," curved wells that accept the crossbeams and couple righting moment into the rest of the boat structure. With the aid of Keith Koppelman (of Cosmic Hippo fame, here to interview me for Techweb), Lisa and I converted the Fulmar parts into molds by surrounding them with Formica and thin plywood, filleting with thickened epoxy and beveling with a laminate trimmer to soften the corners. After numerous coats of release wax, we began pulling parts (2 from each)… the layup consisting of 2 layers of 6-ounce fiberglass on the bias to handle the corners, followed by 6 layers of 10-ounce. They all came out beautifully, and as I write, Bob and Mark are sculpting Divinycell foam, shaping the bulkheads, and glassing the nests onto the Wenonah canoes to begin the trimaranization…
In addition to Bob, Mark, Andrew, and Keith, thanks also go to Lonnie Gamble for building a rolling workstand under one of the boats, as well as John Marples and Jim Antrim for ongoing consultation on the countless critical choices involved in trying to get this right the first time. Board dimensions and placement, rudder specs, dihedral, ama angle of attack, stress calculations… everytime we think we have it all figured out, new knowledge uncovers new unknowns. And, as always, we are constantly depending on David Berkstresser's structural engineering expertise to help us figure out everything from the proper orientation of glass fibers to the most effective way to integrate suspension into the hydraulic wheel deployment system.
(Footnote to the above: coached by John Marples, we just defined daggerboard placement… rigging the sail on the floor, finding the centers of effort of the triangular part and the roach, determining their relative areas, and offsetting accordingly. The bottom line… the CE of this rig with 16′ luff and 8′ foot is about 3′ back from the leading edge of the mast. After struggling with the nasty structural and performance issues of external leeboard mounting, we're tending toward an offset angled daggerboard trunk along the port sheer, exiting the hull at the turn of the bilge approximately at the leading edge of the pedaling envelope. This will be worse when hitting bottom, but better at all other times… we're working on a spring-loaded retraction system.)
Pedal & Solar Thrusters
Bob's thruster is an elegant piece of engineering that will doubtless see daily use in this adventure… quietly converting pedaling effort into 3-4 knots of forward motion. A 5/8″ stainless input shaft on the left side of the device carries crank rotation and serves as a turning axis for deployment. Molded to the end of the shaft is a stepped collar of filled epoxy and glass, carrying the roller bearings as well as a 90-tooth drive gear, coupled via 1/4″-pitch chain to a 10-tooth cog on the propeller shaft. A tensioned idler reduces the cross-section of the unit to the minimum necessary to pass the chain (which makes a 90-degree twist), and the prop is a light 12″ two-blade unit that can be quick-changed to allow repair or choice of pitch. A molded skeg protects the prop from bottom contact, and the internals run in a light oil bath to keep it quiet and prevent corrosion
None of the foregoing, however, gives a sense of the elegance of this design, nor of Bob's craftsmanship. It was uncanny to watch him on Salt Spring Island, building this unit in his workspace in the woods… his shop at the time a dirt-floored shed filled with rusting bike parts, the office a van parked next to the vegetable garden. After observing Bob for a while, Lisa commented that she'll never again accept "I don't have adequate workspace" as an excuse for not getting things done…
We're hoping that our use of these thrusters will help get this product off the ground — drop one in a kayak and you can cruise comfortably at 5 knots or sprint at 7-8, a healthy boost over average paddling speed (3-4 knots) with the added bonuses of greater comfort, use of bigger muscles more optimized for locomotion, and hands-free operation.
The current status of our thruster integration is completed placement analysis, with the shaft 14″ above the bilge to allow heel clearance. Andrew Letton is designing the removable pedal and bearing assembly (to allow sleeping in the hull), and Bob & Mark have come up with a system for deployment, retraction, and prop service.
The other thruster is electric — each boat carries a retractable Minn-Kota 42EX motor with bidirectional PWM controller. Jeremy Heath, who was part of our student team at UCSD, is working on a FORTH board that will implement the basic control task that we need, allowing the power available to the thruster to track a running average of available solar power. Each boat carries 480 watts of Solarex panels between the hulls, which in optimum conditions can generate about 32 amps at 12 volts (approximately full motor thrust)… but we all know that ideal conditions are rare, with dirt, shading, temperature derating, and suboptimal insolation angles.
The solution is simple. We'll use Hall-effect current sensors to periodically grab two readings: the actual current going to the motor, and the net current entering the battery after subtracting all other system loads. The processor is basically a smart potentiometer shaft, with the "throttle" on its input and an "actuator" on its output (actually a FET or two emulating the Minn-Kota controller's input pot). The software caps the actual thrust at a value that reflects the average current available from the solar array after all other demands have been satisfied — this is the "free power" that we can use without worrying about battery charge levels. Any thrust request above this level will light an LED on the console to indicate that limiting is taking place.
Of course, this isn't quite enough… we also have to satisfy the RED ALERT mode that might occur if the great looming mountain of a freighter is bearing down on us and we don't care about the future status of the battery. A "Thrust Limit Override" switch will physically bypass the whole processor and directly connect the "throttle" to the thruster.
Web Projects
For quite some time, we've been planning to create a "virtual console" website to track our adventures… and with likely developments in educational tie-ins we are more interested than ever in making this happen. We had a productive meeting recently with Mike Gittelsohn, Strata Rose, Alex Burmester, and Nathan Parker — with the result that investigation is now underway into server-resident database tools, procmail scripts to accept hourly telemetry blocks sent from the boats, and software to integrate nav, environmental, and internal data with the web interface. Much more on this as it develops…
In addition, Chris Smith is working with over 100 Microship sponsor logos, building some sexy displays for both our web site and the console "electronic decal" slideshow…
Sponsor, Media, And Event Updates
Once again, we have a number of sponsors to thank…
Sharp Electronics has provided a pair of color micro-video cameras, likely to see service as the console cameras aimed at each pilot. The others on board include the two in the turret, an underwater camera, the Sony Hi-8, and probably one on each radar arch, looking forward.
The Hewlett-Packard Logic Dart I mentioned in #120 has arrived, and is even cooler than I expected… basically, a sleek handheld logic analyzer with easy auto-ranging, zoomable waveform browsing, marker-based measurements, the ability to display tri-state as a level distinct from ground, and basic DMM functionality. It's beautiful, easy to use, and even talks via IR to my H-P calculator printer!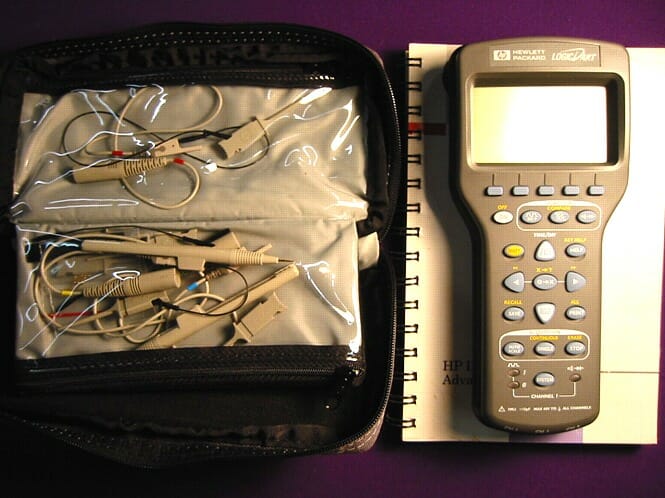 Statpower, which we visited in Burnaby, BC during the recent Canada trip, replaced the 24V charger donated last year with their latest 12V model. Each boat can accept dockside AC via Marinco shore power hardware and charge its own battery in the absence of solar input. Marinco also sent a care package of power goodies that includes electric horns, outlet testers, power entry connectors, and cables.
In #120, I reported the donation of MicroLAN hardware from Dallas Semiconductor, mentioning that we were potentially stymied by the PC-based development environment. This prompted an intriguing response from a company called PBA, offering an embedded version of the Dallas TMEX protocol. This sounds like a most elegant solution, analogous to the device from Addenda Electronics we use to talk to the Sony VCR with a vanilla serial port.
The Casablanca from Draco Systems is really proving its worth. If you have a need for video production beyond the level of two-VCR assemble editing, and you don't have the budget for $200/hour professional edit suites, you MUST check this out. Lisa has been rapidly developing expertise in producing project video, the most recent of which was shown during my talk in Boston for Natural Microsystems. This is practically a desktop publishing system for video, and gives amazing flexibility in rendered transitions, video effects, titles, and editing… all in a box the size of a fat VCR. Magic stuff…
From BEHEMOTH to the Microships from Steven K Roberts.
One more sponsor update — Tetherless Access, the company, is no more. The 1 Megabit/second wireless Internet link to our lab is still in place, however, and remains so through the courtesy of the NSF Wireless Field Test project, with local wizardry provided by Dewayne Hendricks. (I'm writing this on the plane enroute back to the lab from a gig in Boston, and believe me, going back to modem speeds, even with the lovely PowerBook Duo 2300c, has been a challenge…)
We have a couple of other news bits:
Also, mea culpa for not mentioning in the last issue my recent speaking gig at the Tech Museum of Innovation in San Jose (the future home of BEHEMOTH). To prevent the need for a similar apology in issue #122: I'll be the banquet speaker at Pacificon, the Ham Radio convention in Concord, CA on Oct 18. There will also be a more technical forum about work in progress earlier in the day.
Footnote: Boston Jaunt
Well, I made the mistake of not posting this before zooming cross-country last week, so naturally there's a bit more that has to be crammed in. I'll keep it brief:
The trip itself was intense… for the first time, I shipped BEHEMOTH to a speaking gig and met it by plane instead of making my usual epic cross-country drive in the Mothership. We had a pair of crates built by Trans-Pak, then handed them <shudder> over to Consolidated Freightways for the long haul to Boston. It was interesting tracking progress via the web, but apparently the trailer crate took a hit somewhere enroute, shearing off the OmniTRACS antenna platform and destroying an axle. All this came to light the night before my talk in the Harborside Hyatt, but we pulled through, did the gig, aimed the bike back at California, and returned via Louisville to see my dad. At least now we know shipping BEHEMOTH is possible, but better internal packaging is needed.
Second, while in Boston we had a fascinating visit with Steve Loutrel, the artist/engineer who created the sweetest and most robust pocket cruiser I've ever seen — Adelie. This 30-footer, optimized for extremely harsh-environment sailing in northern Canada, is, from stem to stern, a testimonial to excellence… mechanical engineering that'll curl your toes. Custom titanium components, gasket compressing hatches, deployable wheels, hydraulic steering, carbon-skinned honeycomb, and an overall sense of perfection. Inspiring…
And finally, we returned from Boston to find that Bob and Mark had made substantial progress in our absence!
That's it for now — I'll try to keep these updates more current, but Major Upheaval lies just ahead with lab move-out only two months away. This is the time… if you are near Silicon Valley and know of ANY sponsorable space in the 2,000 sqft range, please let us know ASAP! We have a couple of possibilities developing, but nothing is at all certain except the date of our departure from this familiar lab.