No Pressure – the Maiden Voyage
News from No Pressure (formerly Nomadness)
Saturday, Nov 12 – 3:00 PM
Friday Harbor to San Diego transit complete!
NOTE: this was live-blogged during their voyage, and is in reverse sequence with the most recent posts at the top.
Saturday, Nov 12 – 12:45 PM – Arriving San Diego
Saturday, Nov 12 – 10:30 AM
Final approach to San Diego…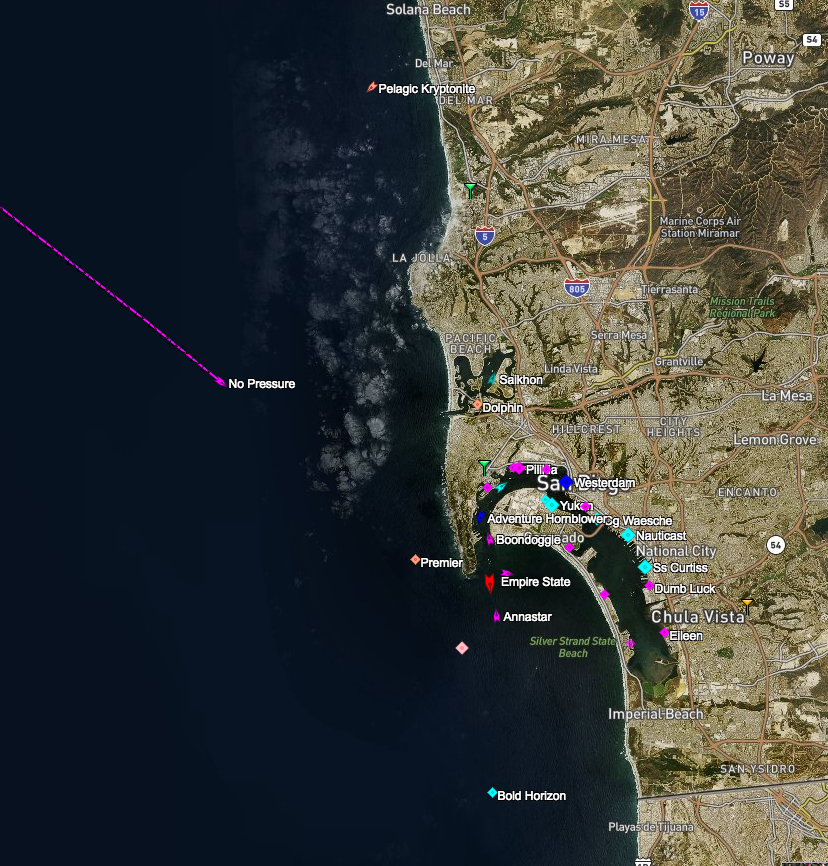 Friday, Nov 11 – 9:00 PM
They only stayed in Santa Barbara long enough to acquire fluids and then pressed on… making for San Diego with an ETA of 3:00 PM Saturday.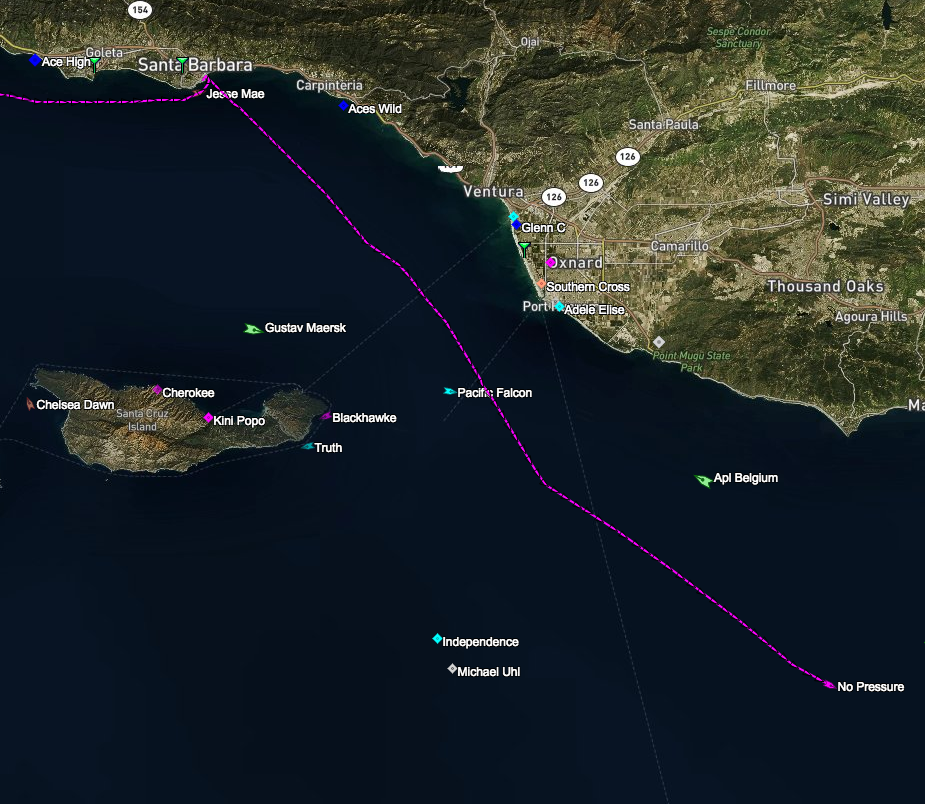 Friday, Nov 11 – noon
In the harbor in Santa Barbara…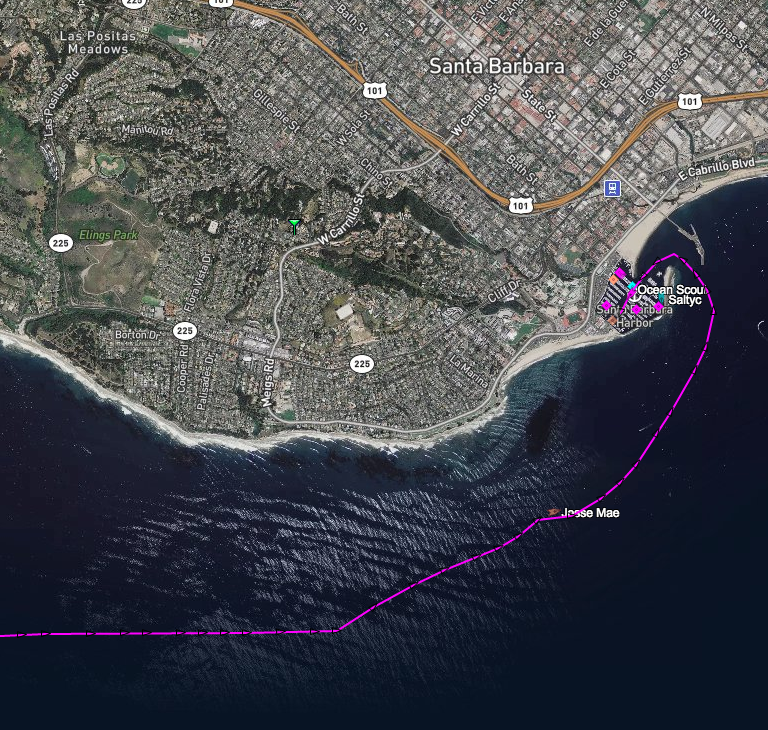 Friday, Nov 11 – 9:30 AM
Woke this morning to see them homing in on Santa Barbara… looking forward to the story! (There is a sail tear 2/3 of the way up from a big jibe, and some issue with pedestal steering pump losing fluid… as well as a need for engine oil… so fingers are crossed that the marina has a spot, as they don't take reservations.)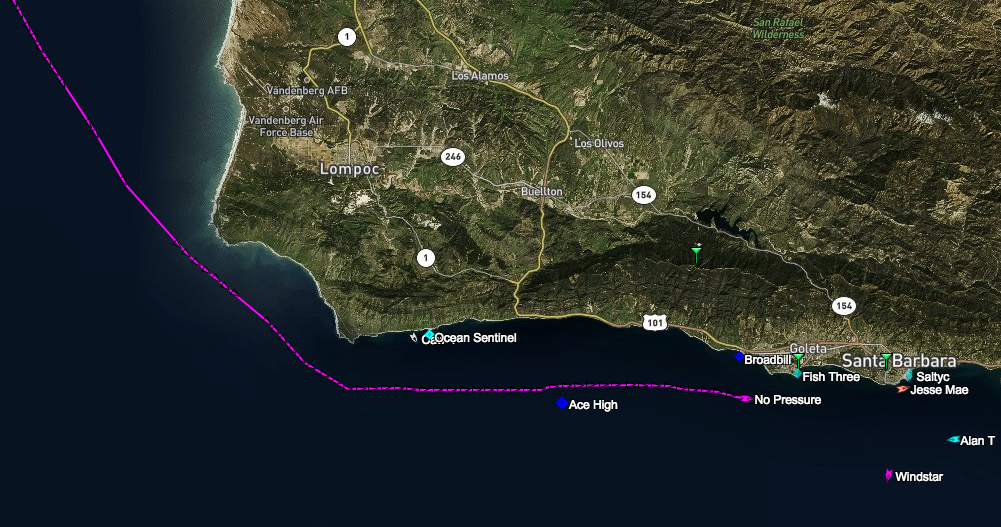 Thursday, Nov 10 – 8:00 PM
The crew has a few repairs to make and fluids to acquire, and is making for Santa Barbara. Steady progress and good conditions…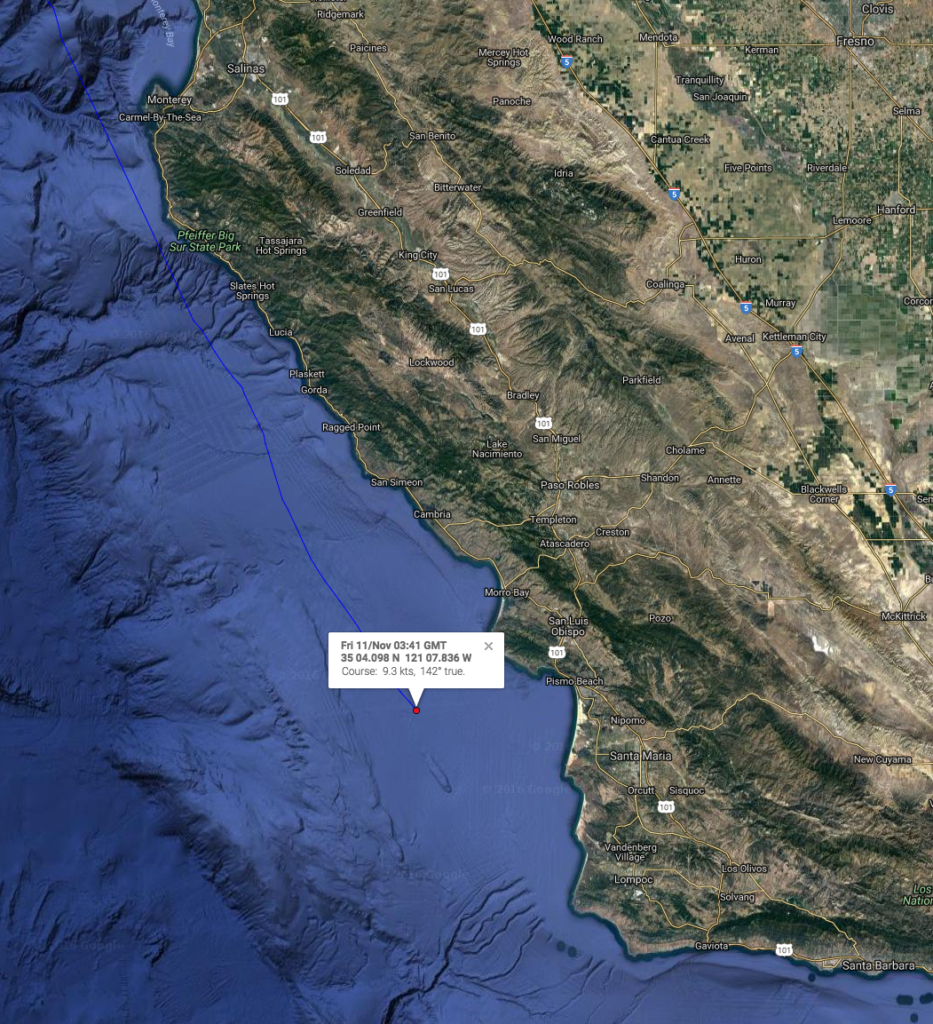 Wednesday, Nov 9 – 11:30 PM
They are well past Monterey Bay and sailing all night… planning to use the wonderful 5-15 knot northwesterly breeze that should persist all through tomorrow. They need to stop and get more engine oil, and might do that in Santa Barbara.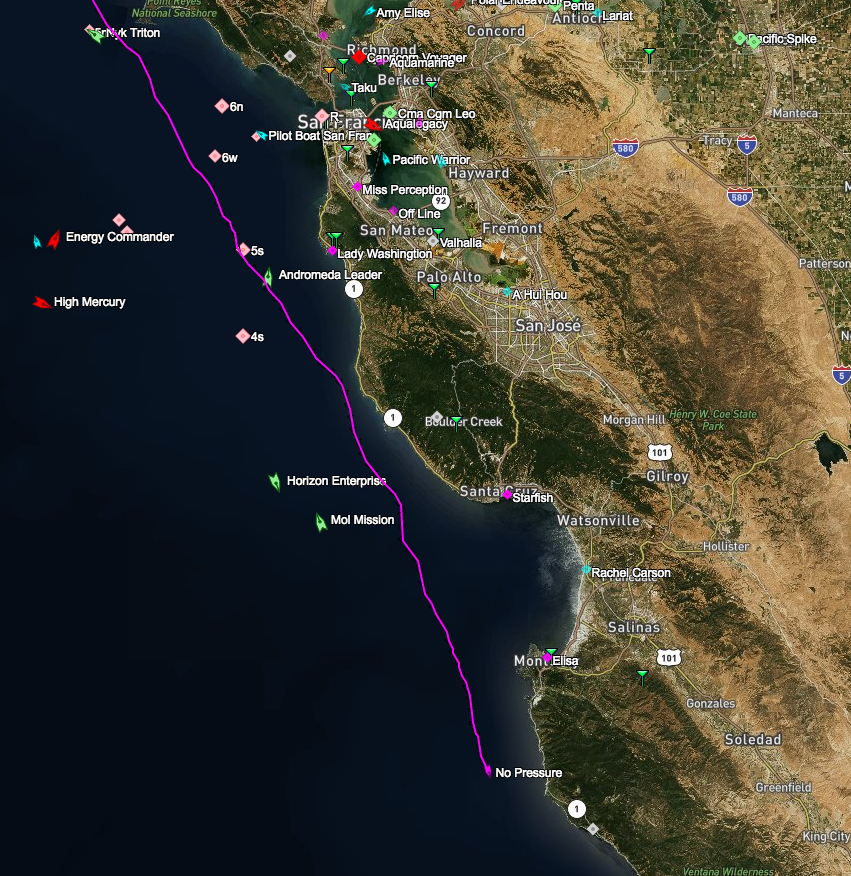 Wednesday, Nov 9 – 2:30 PM
Just spoke with Eric and passed along the very benign weather prediction (perfect tailwind today and tomorrow, then light westerlies or southerlies on Friday). He sent three photos… including one from just now with the boat sailing downwind, wing and wing: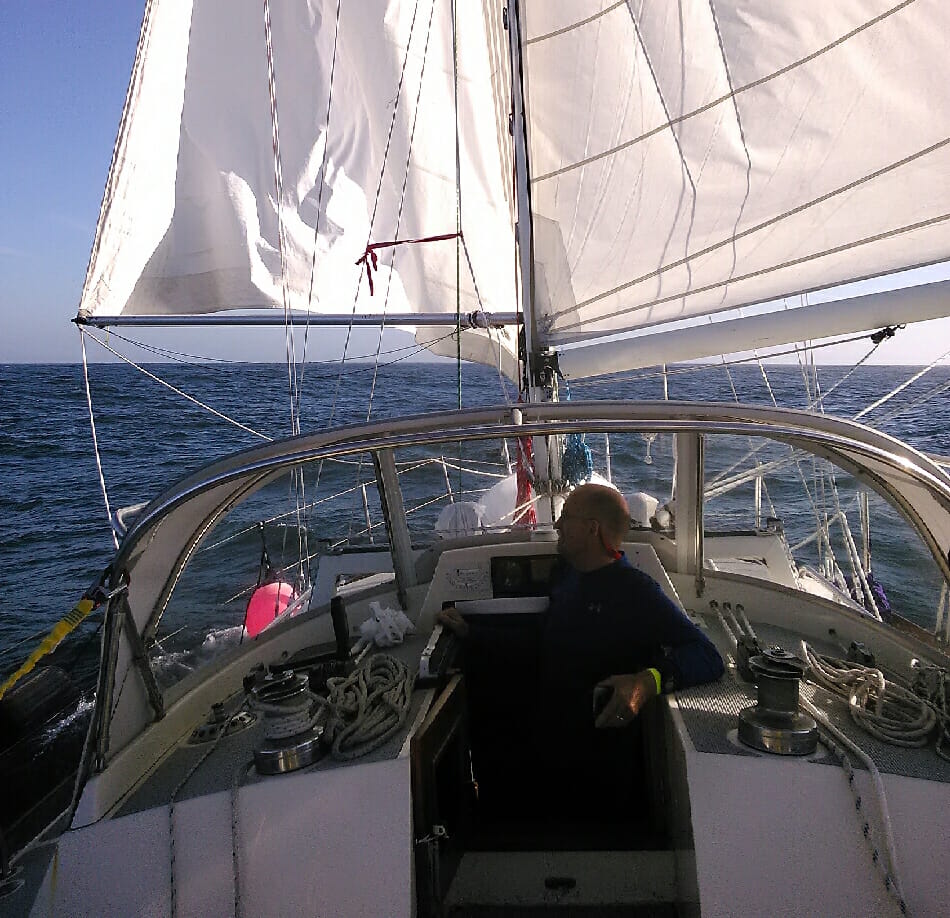 And two of the skipper:
Wednesday morning, Nov 9
Looks like they are bypassing San Francisco… here is the overnight track via AIS: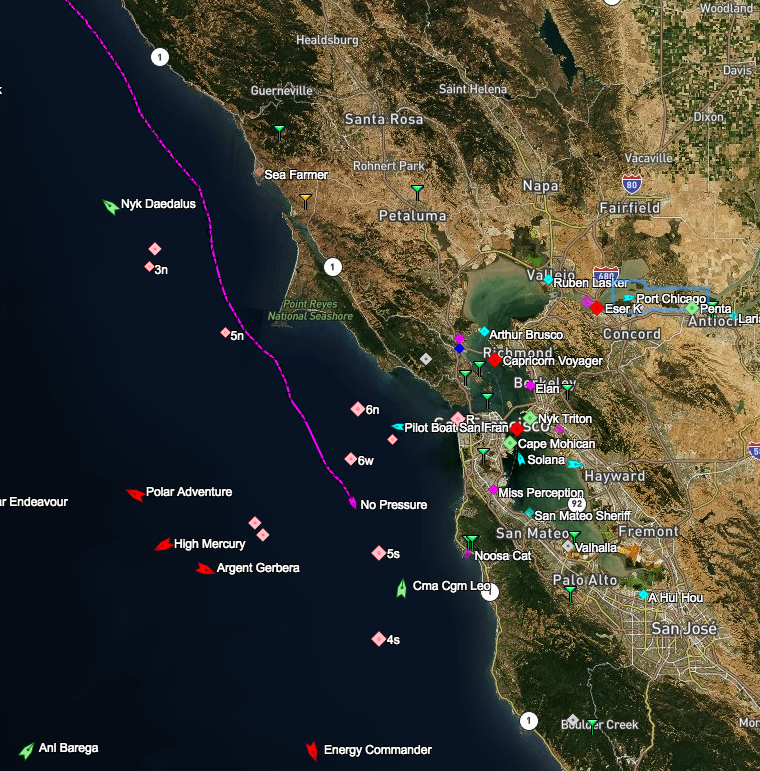 Tuesday evening, Nov 8 — midnight
update from Dick via text message
Today was a much more relaxed day. The seas were relatively calm — mainly 8-10 ft swells and not much wind driven waves. Of course that meant there wasn't much wind and what there was was on our nose. We did raise the sails as we motored along so it at least looked like we were sailing ?. We did see two whales today. They surfaced a few hundred yards away, took several breaths and then dove. We also saw another pod of dolphins. Several of them came right up to the boat and swam along with is. Of course we were much too slow for them so they eventually took off. It was also an unusual but normally typical day in that we had three meals! We all had breakfast, ate cheese, crackers, sausage and fruit for lunch and made chili for dinner. Anything but normal for us lately. 
The engine abruptly stopped running today when we were motor-sailing. Turned out it had air in the fuel line which we solved by using the fuel transfer pump to bleed the system. The generator has had a problem in that it did not stop when the stop button was pushed. We traced the problem to a defective stop solenoid that normally cuts off the fuel when the stop button is pushed. We solved the problem (temporarily) by tying a line to the lever which we can pull to stop it.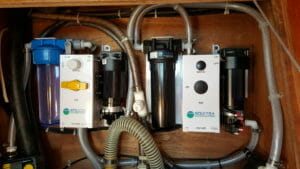 The water maker was not working since we used it the first day.  That turned out to be air in the line also. To celebrate solving the three problems, I took a shower in the water the water maker made and heated by the power the generator created, which I sorely needed after working on the hot engine and bleeding the fuel lines. It's the simple things that make the difference ??
Due to the necessary stopovers in Astoria and Crescent City we are not sure we can make it to San Diego by Saturday. No major problem for those of us that are retired but difficult for the one of is that is still employed. For a perfect ending to a nice day, I saw three meteors on my 7-11 watch.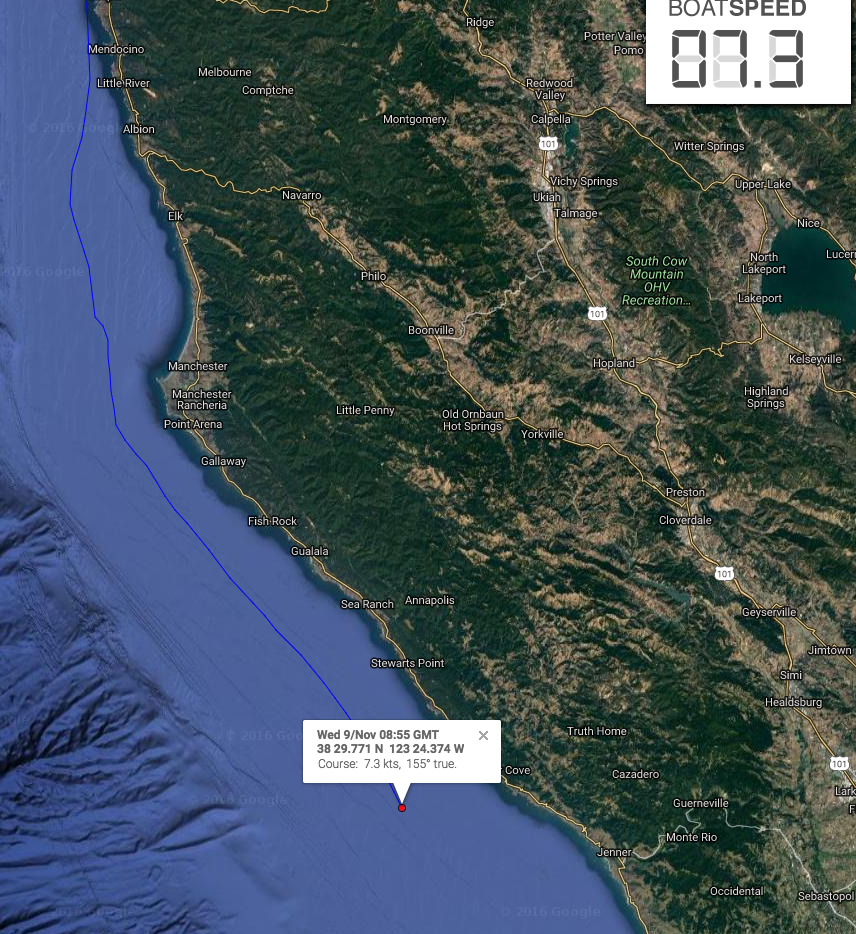 Tuesday evening, Nov 8 — 5:00 PM
There were some problems today with fuel delivery or air in the system, and for a couple of hours they were sailing without being able to get the engine going, but around 3:30 Dick reported: "I have no idea exactly why it stopped in the first place, but we got it going again by using the fuel transfer pump to bleed the system. Probably introduced when I changed all the fuel filters (that looked pretty clean). Anyway, we are back in business."
The Iridium tracker was out of commission for about 6 hours, which explains that straight line from Cape Mendocino down to that spot west of Rockport. If you are watching the tracker and they seem to have stopped, experience tells us that it is most likely the satellite phone, not anything bad. It has needed to be restarted a few times…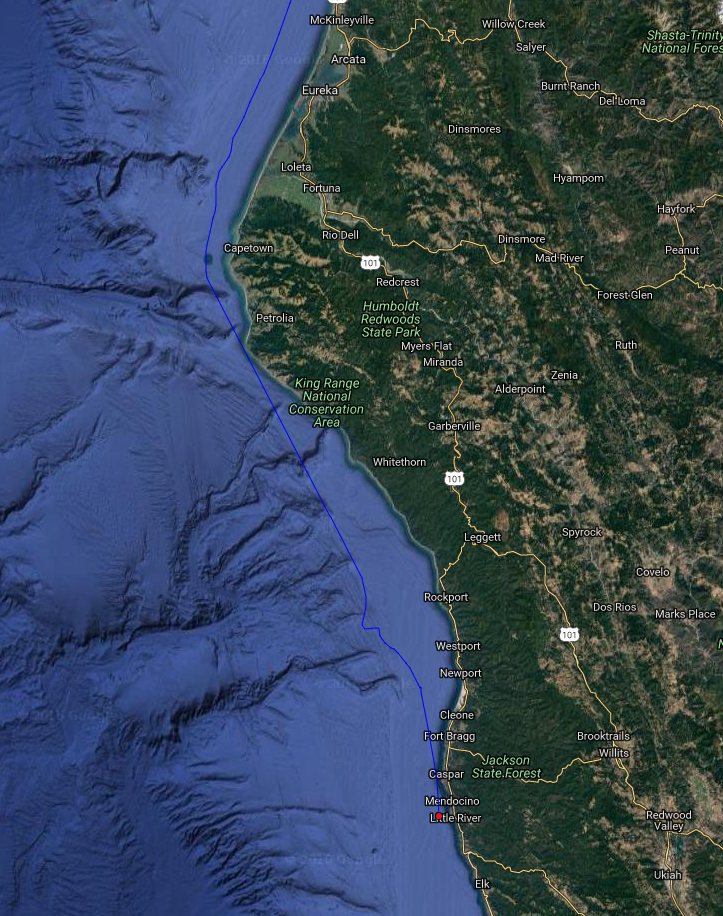 Monday night, Nov 7, 11:00 PM
Posted by Dick via text message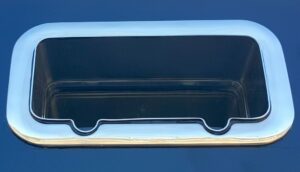 When we left Astoria, the wind conditions were still right on the nose — possible to sail, but the sea conditions made it difficult so motored the next 62 hours.  We arrived for a rest and dryout in Crescent City at 11:00 PM on Saturday.  The 2½ days getting there were not what we really wanted to do.  Heavy, mixed up seas with winds to 30 knots — on the nose of course. And our porthole tightening and caulking only partly worked… which is mainly why we stopped in CC.  We found one of the forward ports had not been completely sealed around the mounting ring, similar to the one above the aft berth.
The engine started running roughly unless it was throttled way down. Investigation revealed dirty fuel filters. So I changed them while underway. Engine purrs like a kitten now (well maybe roars like a lion is more like it, but it runs smoothly now). Other than having the boat get very wet inside from the leaky portholes, and the occupants getting beat around a bit, the 2½ days from Astoria to Crescent City was invigorating!  At night we had the frequent "ghost birds" flying along with us.  Saturday morning a pod of dolphins followed us for about an hour. Probably about 20 individuals of all sizes. It was really neat to see how effortlessly they swam all around the boat. Going ahead, behind and crossing our path.

On Sunday in Crescent City we spread things out on the dock to dry (at least until it started to drizzle). We also found the leak in the forward porthole and caulked it, and it seems to have worked. We also ran some caulking "rope" around the base of the"doghouse" where it was coming in. During the trip to CC a particularly large wave knocked Al against the dining table, which promptly detached from the floor.  Turned out it wasn't particularly well attached to the floor. While stopped in CC we bolted it down! Not going anywhere now.
Today we left Crescent City, and finally had conditions that were conducive to sailing! Of course, the wind was still on our nose, but the sea conditions were much calmer so we sailed for a few hours until the wind died down too low to sail and make any reasonable headway. As you can see from our path, we couldn't sail directly into the wind so we did what is known in sailing as tacking. Sail as close to straight into the wind as possible and then sail upwind with the wind on the other side of the boat. That is why our path zig-zags, not because we had a party to celebrate the good sailing conditions and drank all our wine at once! Alas, by about 3:00 the wind died and we had to resort to our trusty diesel once again. But the few hours of real sailing almost made all the pounding and putting up with the leaks worthwhile.  The weather is supposed to be even better for sailing in the next few days! 
— posted by Dick while underway off Eureka, California
Monday, a little after noon
They are on the move, and looks like upwind sailing! No stories from the skipper about the second leg yet, but we spoke and texted yesterday during the Crescent City layover… a few repairs (a port left unsealed by the yard in Tacoma, salon table got loose from my too-short screws, some puzzles about charging and power management). I'll pass along more as I get news… I'm assuming the next stop is San Francisco.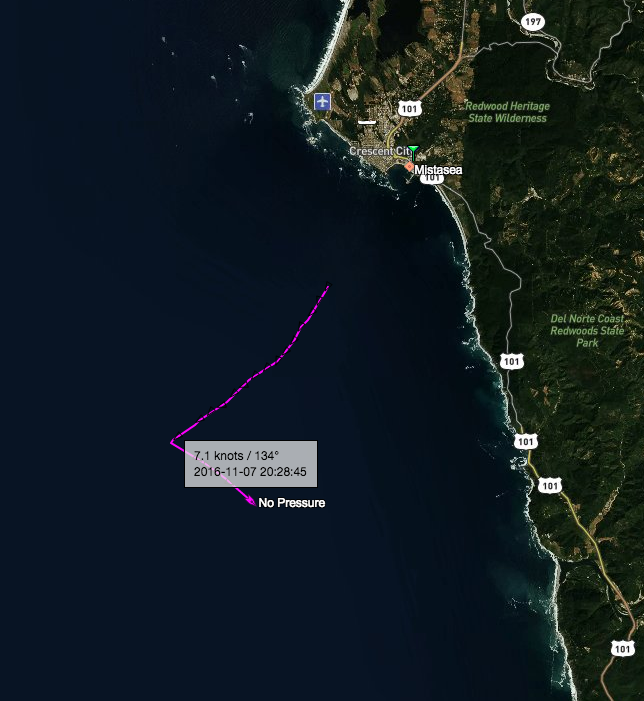 Sunday, Nov 6
Midnight Saturday, Nov 5
No Pressure is safe at the dock in Crescent City, California! This leg from Astoria included some adventures… more to follow when I've received an update from Dick. For now, here are images of the trek down the coast as well as a close-up of their location in the harbor: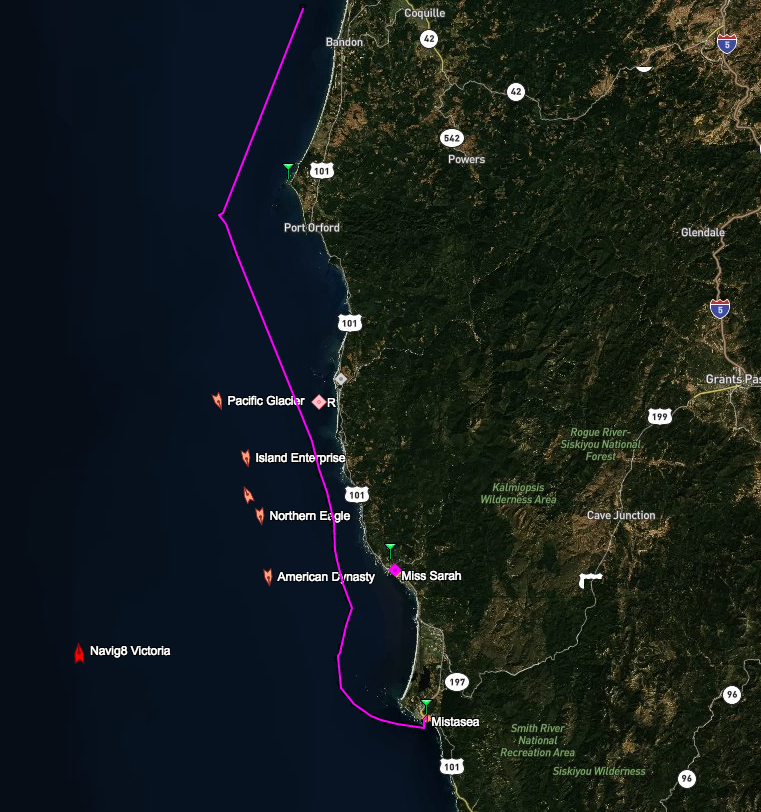 Noon Saturday, Nov 5
Happy to report that they are south of Cape Blanco after a challenging night… more when I get an update. Here is their track: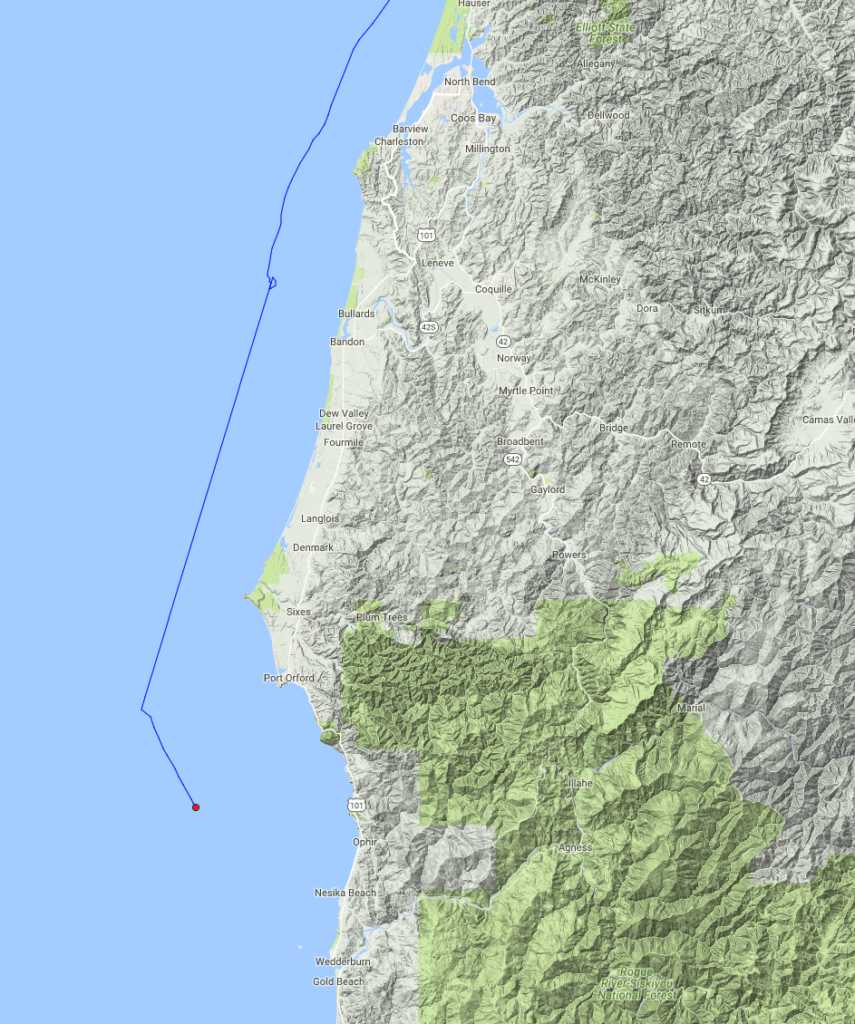 Brief note from Dick, approximately midnight Nov 4
Well, that was invigorating! Twenty-five knot winds on the nose, unsettled seas and ghost birds playing tag with the boat. Off watch and time for a little sleep. More later.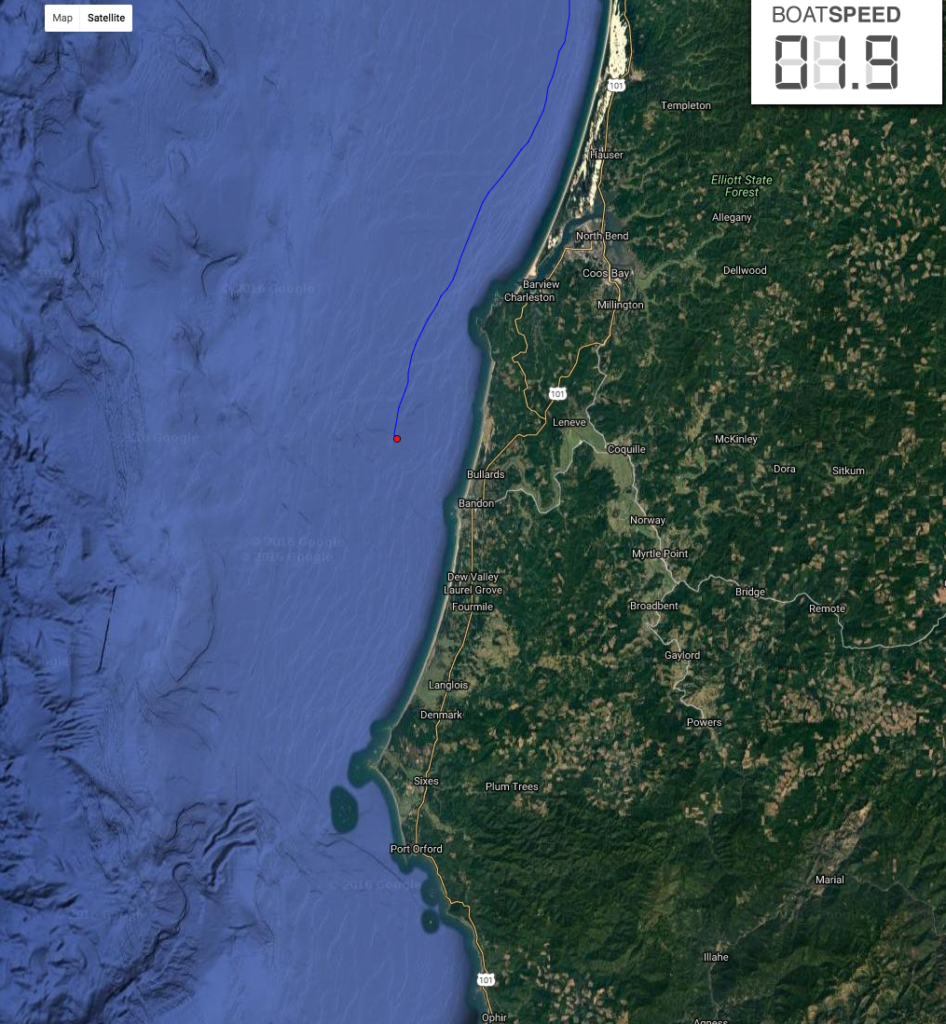 8:00 PM, Friday, Nov 4 — Pixel spotted!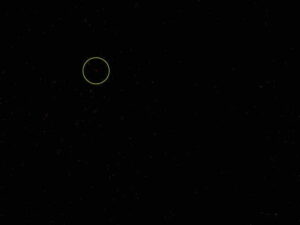 Here in quiet Friday Harbor aboard Datawake, I have been keeping tabs open for both trackers, weather data, and webcams. I found a view out the Coos Bay bar entrance that updates every 10 minutes, and hoped they would cross during daylight. Alas, that didn't happen, but I did catch their port navigation light! Here's No Pressure in her element… click to see full-size (with context below).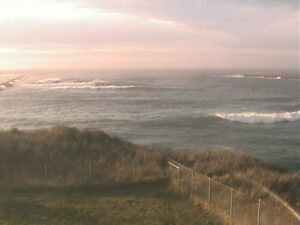 Friday evening, Nov 4, about sunset… this is what the bar at Coos Bay looks like at the moment. I am hoping there will be enough light when they pass to catch a glimpse on this Coast Guard webcam that updates every 10 minutes or so. The bar is currently closed to recreational vessels, so they will be pressing on (probably with intent to pull into Crescent City tomorrow mid-day, roughly 100 nautical miles to the south).
Oregon Coast – 10:45 AM Friday, Nov 4
Update from Dick via text message
Friday morning report:  Still motoring along at ~6 kn.  More wind this morning – 15 kn.  Still on our nose.  Amazon still handling the environment without a problem. The autopilot continues to work well despite the erratic compass.  More clouds than yesterday but still a sunny day.  Haven't seen any marine life except for lots of birds everywhere.  Fascinating to watch them fly along inches from the surface, following the waves as the surface moves up and down as much as 20 ft.  We have seen some substantial logs.  Makes one glad that No Pressure has a steel hull!  Some of the crew are having a bit of unexpected seasickness.  I guess this a bit rougher out here than they have been in before. Maybe spoke to soon about the sun.  Getting overcast now.  And the solar panel was putting out some power.  Running the generator to recharge the batteries after running all night with the radar and autopilot on.  All for now.
Update
Had to add oil to both engines as we have run them a good bit.  Especially the main engine.  Thank goodness for the oil transfer pump and the four gallons of oil we added to the oil storage tank.  Sun has come out again and the solar panel is putting out about 50 watts.  If the sun was higher in the sky we would get more but we will have to wait for more Southern latitudes.
Oregon Coast — 11:30 PM Thursday, Nov 3
Update from Dick via text message
Today was clear and sunny. Beautiful day to sail, but with the wind on our nose we would have had to tack and make slower forward progress. So we are motoring to help make up for the three days in Astoria. The really good news is that the boat is completely dry so our porthole tightening worked!
I forgot to comment on the birds on the way out of Juan de Fuca. We would be sailing along and out or our peripheral vision would see something white. It would be one or more gulls gliding along, keeping pace with the boat, looking like ghosts over the water.
When we left Astoria this morning we saw two Coast Guard ships "playing" in the river bar — tipping almost 90°. One of them came over to us to see what we were doing as the bar was closed to anything under 40′. They also warned us that the waves were up to 17′. We told them that we knew, and we had already been on worse coming into Astoria!
The Amazon 44 handles well out here. Stable (at least as stable as one can be in waves this large), easy to control with no pounding. Just cuts through the waves, and we feel completely safe and in control.
We are using a program called Navionics Boating HD running on my Samsung tablet for our navigating and routing.  It works really well inside or out, where it is enclosed in a watertight cover.  Only a minor problem when the weather was so bad coming into Astoria — the waves would sometimes "press" the screen, changing the view!
The Second Leg begins!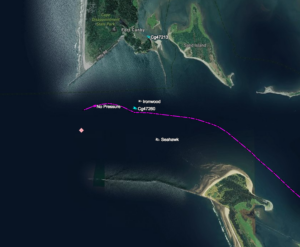 On the move this morning, with launch about 10:00. Click link in title for the track log; I'll post maplets periodically as they continue south. They have weather-routing consultation from a friend who has traversed that coast a few times in a boat of similar scale, and as before, we're in contact via cellular (sporadic) and Iridium satellite to pass along changes or address issues. Stay tuned!
Friday Harbor to Astoria
(posted Wednesday evening by Dick Tasker)
We left Friday Harbor Saturday afternoon and motored most of the way out of the Strait of Juan De Fuca.  Finally put the sails up as we rounded the bend at Cape Flattery.  Sailed until late Sunday until the winds ended up pretty much on our nose.  We then motored all the way down to Astoria, Oregon.  Seas were pretty reasonable until Sunday night when they picked up.  The rest of the way to Astoria was pretty rough.
As we crossed the shipping lanes that go into Grays Harbor there was a bit of excitement. It was night and there was a trawler that seemed to be circling within the lanes!  We managed to avoid him but we certainly had to pay attention for a while.
Sunday night through Monday when we arrived in Astoria (up the Columbia River) the seas steadily increased until they were up to 20 ft.  The worst  part was that they were very irregular.  We took water over the bow a good number of times.  The boat handled very well and we felt perfectly safe
The only really annoying part of the trip was that some of the portholes leaked, despite the fact that they were all tightened before we left!  We decided to stop in Astoria for a few days since the wave action was rather uncomfortable 🙂 and the winds were on our nose — with rough seas, difficult to sail and would be motoring into major head winds… and also because the boat was pretty saturated inside due to the leaky portholes.
We found a spot in the West End Marina in Astoria with a hotel right next to it.  The last two days we have spent drying the boat and our clothes, and working to eliminate the porthole leaks.  We found that one of the original portholes had never been correctly sealed around the hull and was leaking like a sieve.  The rest just needed to be tightened a bit more.  We tested them all by spraying them point blank with a hose!
We discovered when we left Friday Harbor that the knot meter was not working so we did not know our speed through the water.  We did know the speed over the water since we have GPS for navigation.  I had cleaned the one knot meter that we knew was there, but it turned out that there were two on the boat — one for the main instruments and one for a small display in the aft cabin.  The one I cleaned was the aft one.  We found the second, took it out, removed the barnacles and other marine life… and now it works!
The Webasto diesel heater was not working the days before we left Friday Harbor and we diagnosed it to a defective fuel pump that was replaced.  It worked for a few days but has stopped working again and seems to need a flame sensor. Fortunately, we really don't need it so it is not a big deal.
We plan to leave Astoria tomorrow (Thursday).  The seas have calmed down some and the winds aren't completely on our nose, so we hope to actually sail South.
October 31, approximately noon (posted by Steve)
No Pressure is safe at the dock in Astoria, after a long trek down the Washington coast all day Sunday and overnight. They crossed the Columbia bar late this morning, about an hour after slack-to-flood, and proceeded to port in anticipation of rising southerlies that will make continuing difficult for the next couple of days (current wind simulation here, with their location the small circle). When I hear directly from the crew, I will update this report.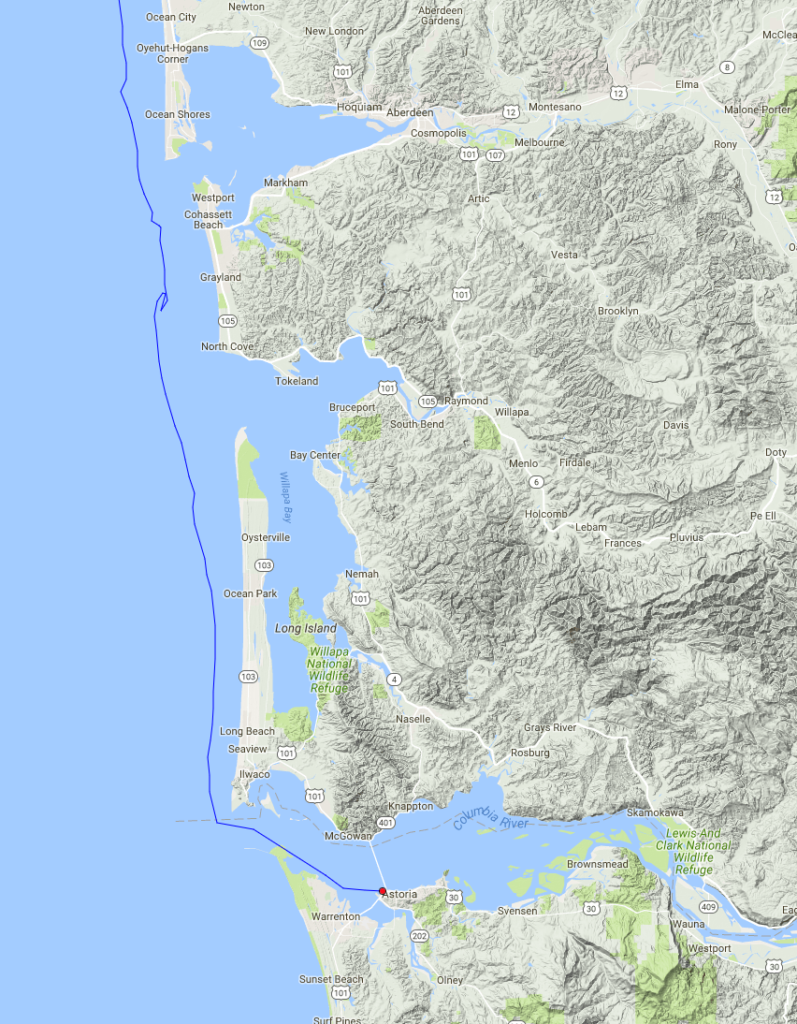 11:30 PM on Oct 30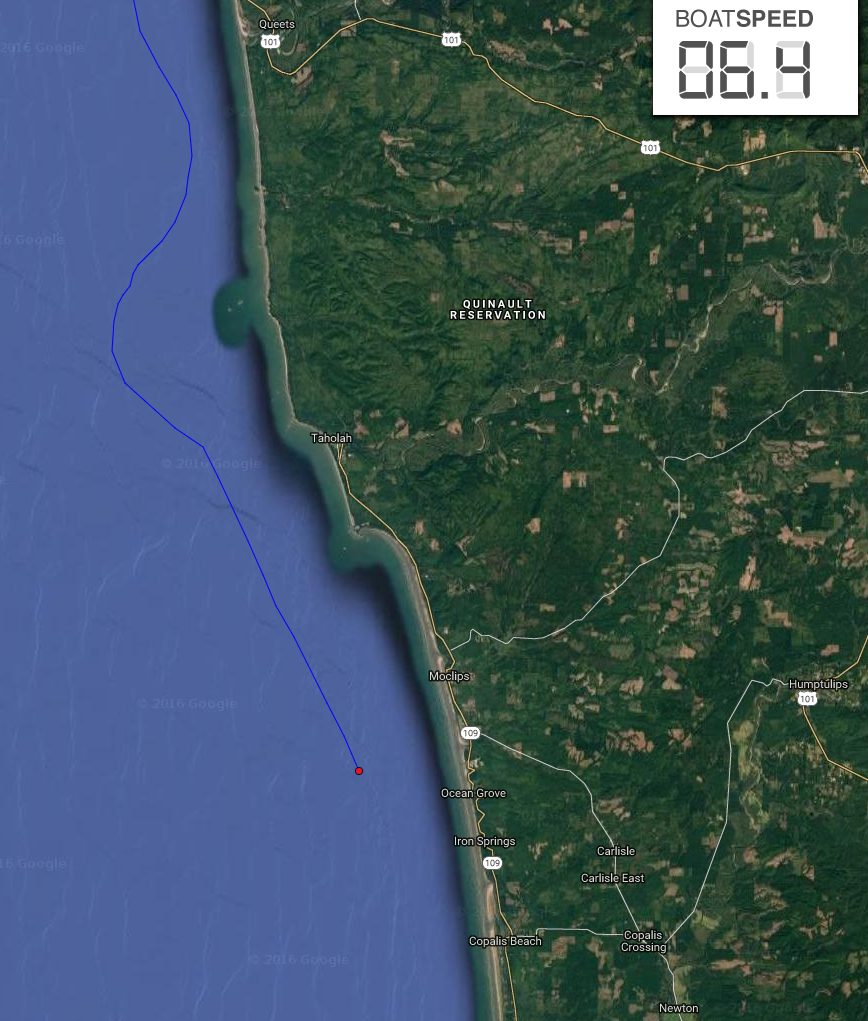 5:00 PM on Oct 30
Happy to report a position update via Iridium! The map will looks like they cut across that point of land, but we've been hours without data so it just connected the last two dots. The dot shows their current location just west of Destruction Island, in light winds, motoring to speed things up (and charge batteries):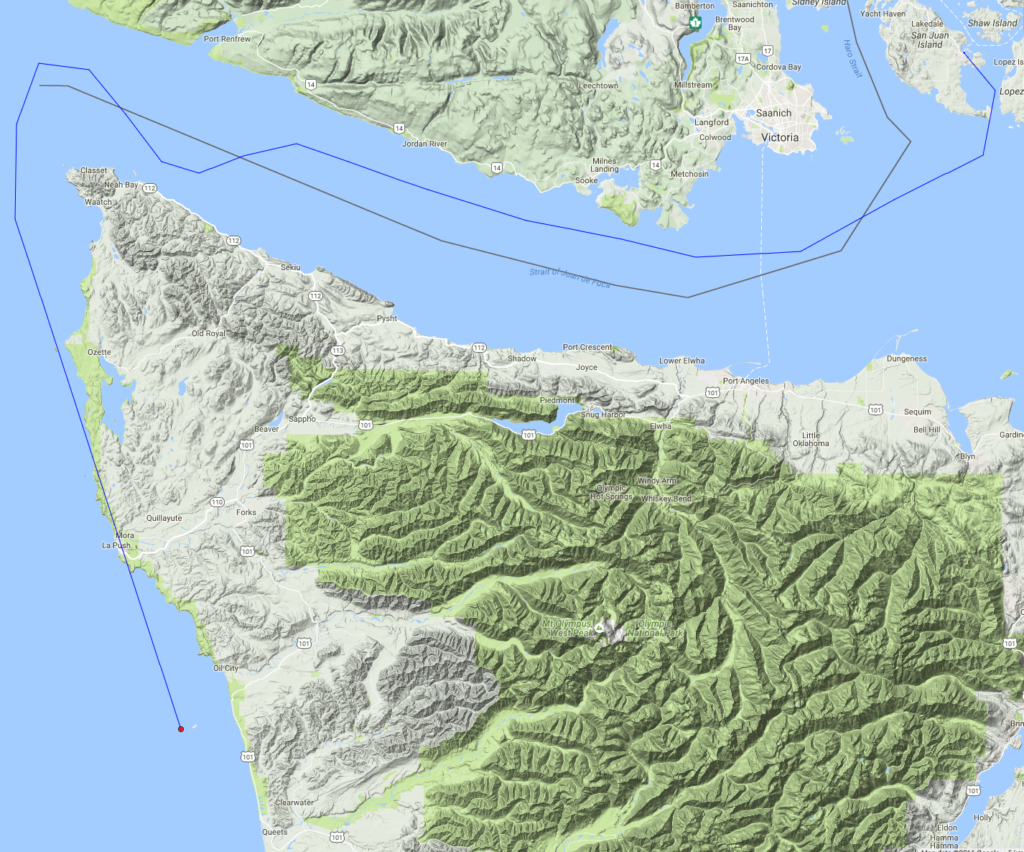 3:00 PM (Pacific Time) on Oct 30
Just had text exchange with Dick – sorry for lack of current track images! Turns out the Iridium unit is mounted inside where its view of GPS satellites is compromised by the boat heeling to starboard (they are sailing in nice easterly winds). That has prevented any map updates for the past few hours… but he just moved it outside so we should get one in the next hour (which I will post immediately). Here is their full track as of 10:45 AM; we spoke on the phone around noon and they were sailing very well, with text message follow up at 3 PM.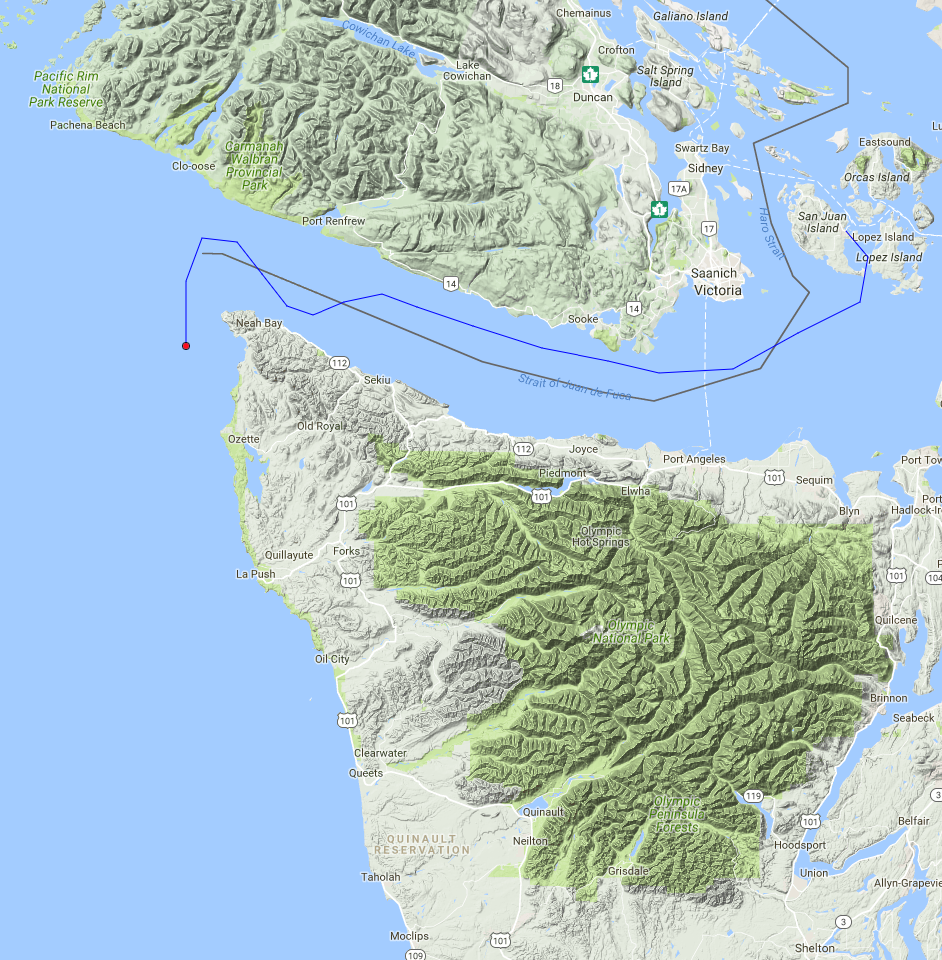 Right now they are getting perfect easterly winds, which are moving them south at a steady clip of 7+ knots. The wind will start coming from dead ahead in a few hours and they may have to resume motoring. This animation shows current conditions (updated every three hours).
23:00 on Saturday night (10/29)
She is cruising! About halfway out the Strait of Juan de Fuca (all maplets clickable for more detail):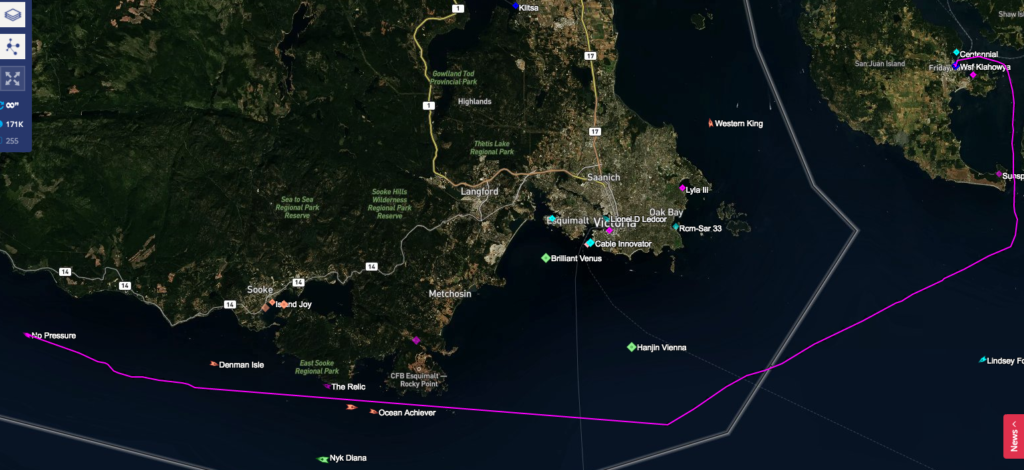 No Pressure is now south of Victoria, BC (about 7PM Pacific time):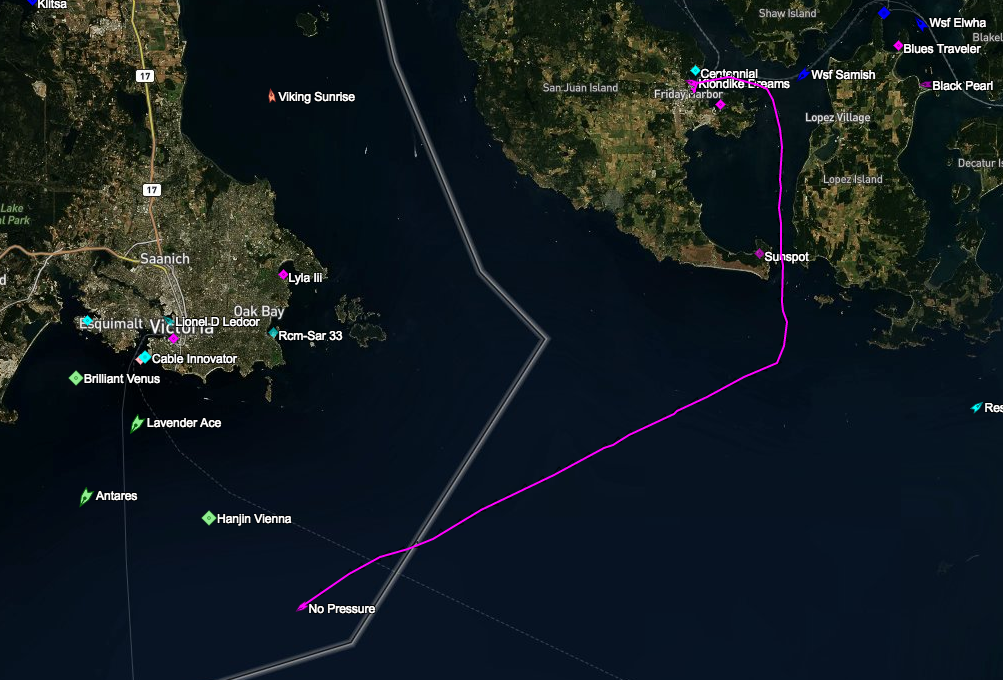 Departure from Friday Harbor: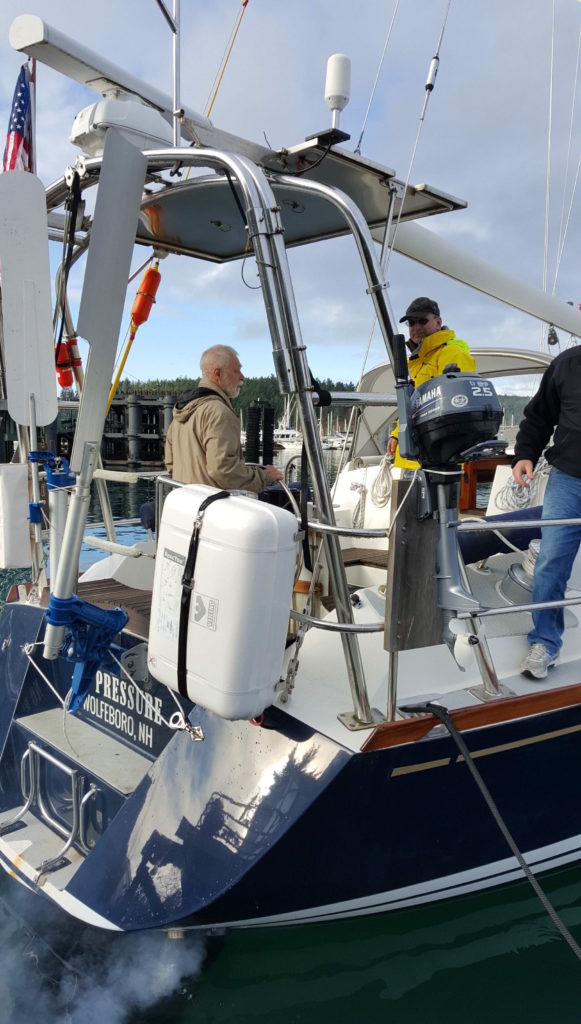 They are on their way! More soon as I have a chance to report, and I'll start posting updates from Dick as they arrive. This page will be modified soon so the most recent information is at the top…
Background
Over the past year, while I have been getting settled into Datawake, my previous boat has been getting lots of excellent attention. She has new opening ports and pilothouse windows, extensive repairs, a fresh dodger, new standing and running rigging, a watermaker, electric heads, a life raft, and a meticulous new owner whose engineering career led him to this boat. Around the end of October, with the help of stalwart crew, he will be heading down the Pacific Coast for a layover in San Diego, then continuing through the Panama Canal with the intent of bringing No Pressure to her new home port on the East Coast.
I've offered to host a page where his brief updates via satellite can be visible to friends, and this is it. I will update this any time there is new information to pass along (and will do another page with a photo essay of the extensive upgrades referenced above). In this photo, taken as they returned from an easy test sail on January 24, that's Dick at the helm and Eric on the bow, doubtless thinking: "Put down that damn camera and catch our lines!"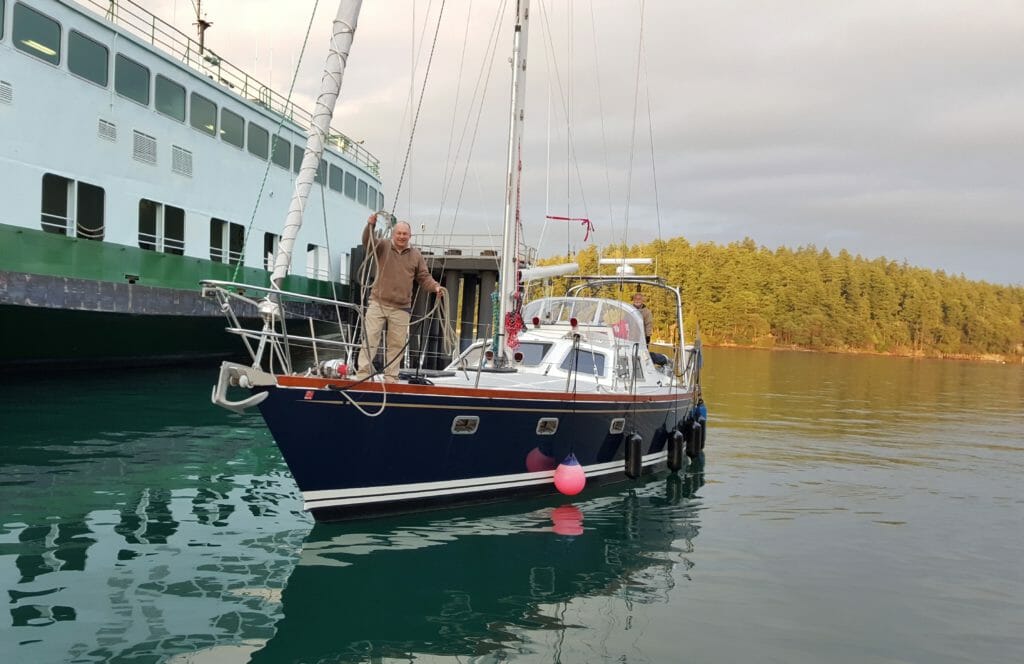 Notes from Dick Tasker
October 16, 2016:
We will be leaving from Friday Harbor, San Juan Islands, WA on a sailing trip to San Diego, CA on the first leg of our trip to Venice, Florida via the Panama Canal on our new boat No Pressure, an Amazon 44 pilot house cutter. We plan to leave around the end of October (exact date depends on weather) with a crew of four intrepid sailors: Myself, Eric Lewis (my brother-in-law), Rick Butterworth (a long time friend) and Alfred Poirier (a sailing friend of Eric's).
October 24, 2016:
Location at the dock in Friday Harbor, working on the final projects before departure….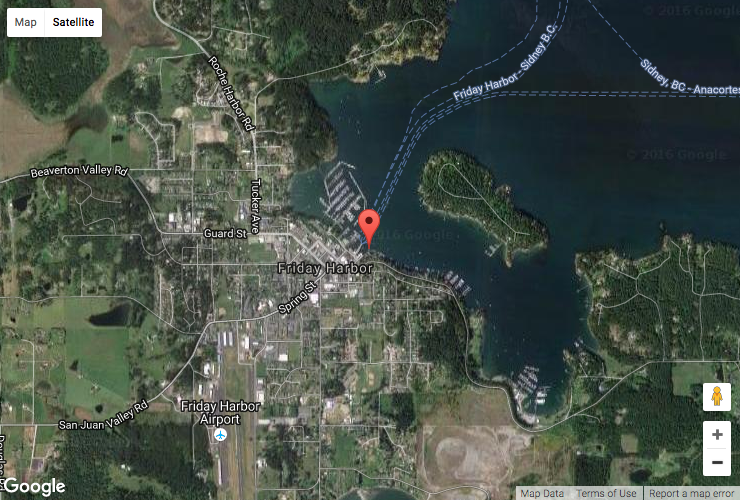 October 28, 2016
(posted by Steve Roberts) Looks like departure is set for Saturday morning, Oct 29. The boat is looking gorgeous, everything is fixed and fine-tuned, and the crew is stalwart and enthusiastic. First stop will be the fuel dock at the Port, where the 90 gallon aft tank will be filled (two 70 gallon tanks are already full), then off they go… either through Cattle Pass and into the Strait, or over the top of San Juan Island and down Haro Strait. I'll be watching their track and weather closely, and will re-arrange this page so the newest updates are at the top. Stay tuned!