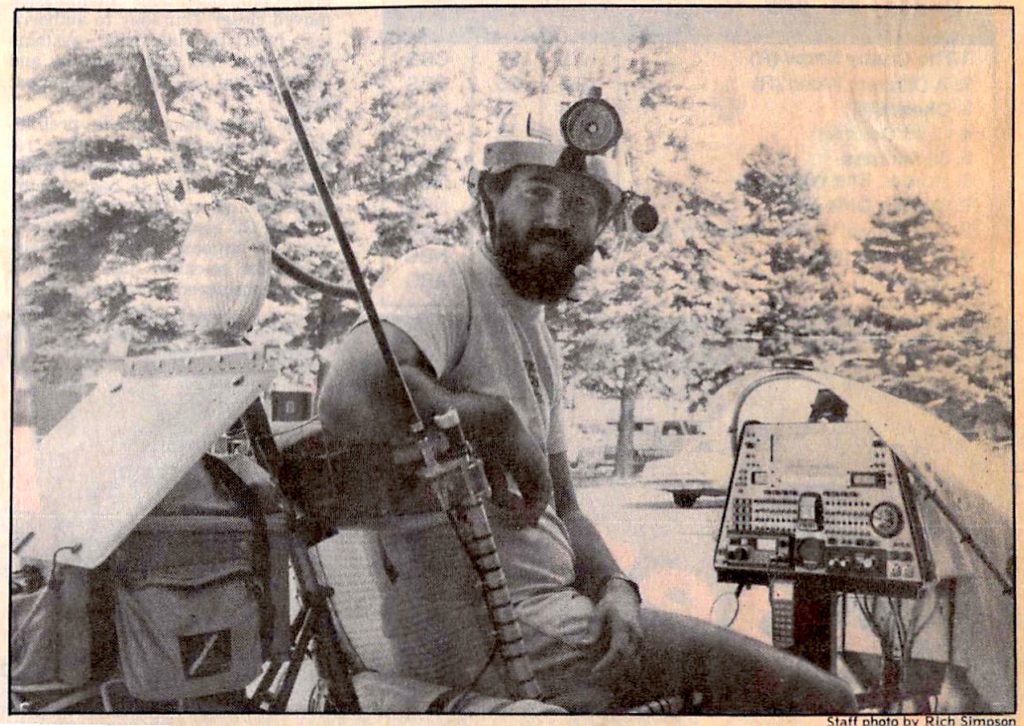 Anaconda gets visit from high-tech nomad
This was a ham-radio connection, made during the bus trip around the US after the publication of Computing Across America. We stayed with K0PP for a few days, and had the fun of connecting my 5-watt Ten-Tec Argonaut 515 rig to my host's monobander and working a DX pile-up via QRP from a rare county in a rare state… after having just had a flurry of amateur-radio PR. Crazy experience. The Montana Standard did this story about our visit… the one in the local Anaconda paper is here.
by Rich Simpson
Montana Standard 
September 2, 1988
Steve Roberts does not follow a normal pattern of life.
Most writers who are bicycle, ham radio or computer enthusiasts compose their stories at home or in an office.
Not Roberts.
His office is a reclining eight-foot bicycle, equipped with five computers, a citizens band and ham radio, cellular phone, and two solar panels. He writes articles for computer and hi-tech trade journals by punching an eight-key binary keyboard as he pedals down America's thoroughfares.
His trek led him to Anaconda this week. He ventured through the Smelter City on a promotional tour for his book. "Computing Across America." The book discusses the first 10,000 miles of his journey.
Roberts pedaled through Anaconda's streets, but has been traveling in an old school bus since January to keep up with regional trade shows.
"The bottom line from a business standpoint is that it doesn't matter where I am," Roberts said. "I deal in information and information has no mass."
A successful anomaly may be the best way to describe the 6-foot-4 bearded former Columbus, Ohio resident.
Five years and three cross-country bicycle treks ago, Roberts, 35, decided to build a lifestyle that combined all of his passions — travel, computers and adventure.
He had a custom 54-gear bicycle constructed with solar panels, radios and a security system. The cycle, steered with a bar beneath Roberts' high-back chair, came equipped with an electronic dashboard that rivals instrument panels on many airplanes.
Roberts then sold his home in Ohio and took to the road.
The writing project didn't fully progress until he installed his binary keyboard system. The equipment was added after Roberts found himself in Texas and nearly broke, and pondering how to maintain his free-lance career. He had written three technical books before leaving Ohio, but punching a lap-top computer and pedaling simultaneously was impossible to do, he said.
With the advanced technology on his bicycle, Roberts can send his articles directly to his publishers and receive his messages from his Louisville, Ky., office without using mail or telephone systems.
But, he admits, he is unable to overcome "PFD" — his acronym for deadline pressure — despite his relaxed lifestyle and electronic toys.
"It's a good thing I have electronic communication, because there's no time for mail," Roberts said.
Spurred by his traveling companion, 36-year-old Columbus native Maggie Victor, Roberts makes his deadlines. She probably applies the only pressure Roberts feels and occasionally threatens to postpone until he completes his assignments.
Besides chief cook, Victor is Roberts administrative secretary. She monitors his schedule and the couple's household as she rolls down the road behind Roberts.
The two can communicate while riding via Victor's ham radio — the only electronic equipment on her 15-gear recumbent bike.
While Roberts' elaborate computer system is the modem for funding his two-wheel odyssey, his ham radio operation is almost as much a key in his transcontinental treks. About 4,000 "hams," like Ken and Rose Kopp of Opportunity provide him housing.
Roberts has stored the names of persons he has communicated with and contacts them when pedals near their home. Roberts will remain in Opportunity until Sunday, he said.
"Sometimes we describe ourselves as professional house guests, because we get integrated so fast," Victor said. "We feel like America is our neighborhood."
America's byways became Victor's main street several years ago when she fell in love with Roberts and quit her job to go on a bike ride.
"It's (Columbus) a kind of a place that inspires long-distance travel," Roberts said. "Culturally, it has no zip to it. It's boring, that's all."
Boring, however, doesn't appear to be a word Roberts would use to describe his lifestyle. He's excited about installing a satellite communications system on his bike this winter while residing in either the Seattle or San Francisco areas.