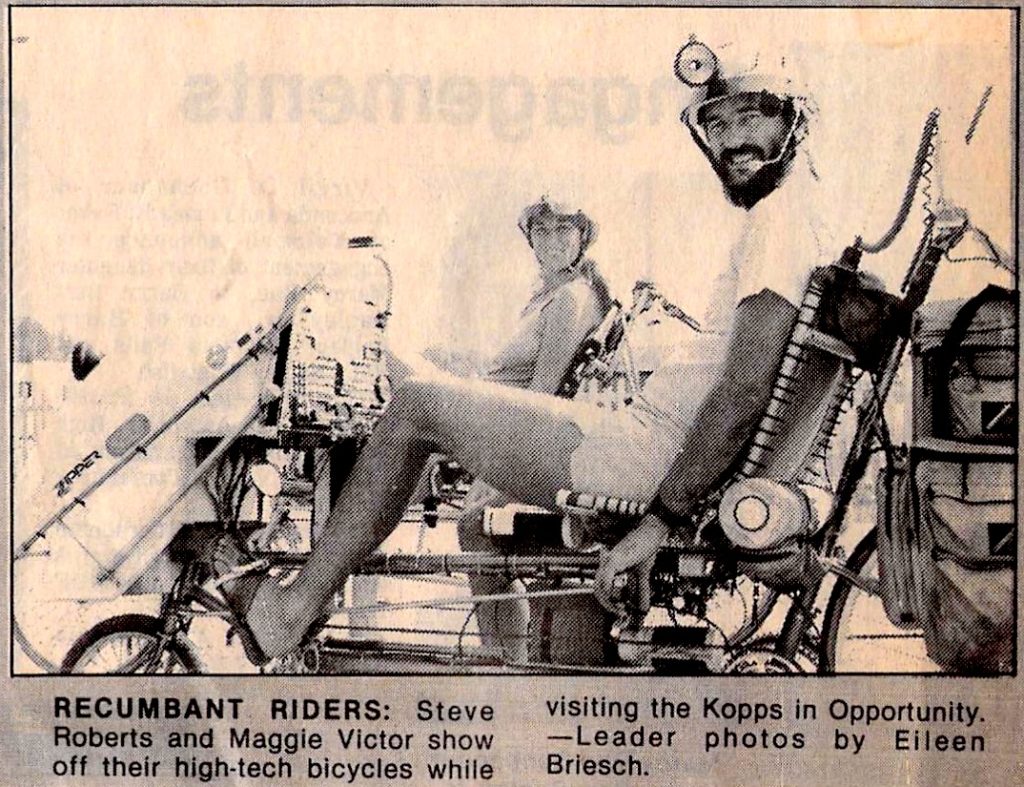 High-tech nomads in Anaconda
During the school bus epoch, wandering the US with Maggie, we stayed for a few days with K0PP, a ham-radio friend in Anaconda, Montana. This is one of the two newspaper articles about that event (the other is here), and there is a tale in the "Miles with Maggie" series about exploits on the HF bands while using his huge antenna installation. 
by Eileen Briesch
Anaconda Leader
August 31, 1988
Steve Roberts has proven an old cliche wrong. You can have your cake and eat it too.
Five years ago, Roberts was a disgruntled freelance writer in Columbus, Ohio, chasing the American dream of financial success and life in suburbia. Everyone told him he should be happy, but he wasn't.
"I had half the American dream," said Roberts. "I was working increasingly hard for something I really didn't want."
So he chucked it. Roberts sold the house, the car and his possessions in a gigantic garage sale, bought a recumbent bicycle and outfitted it with a ham radio, computer, cellular phone and solar panels.
"I capitalized on all my passions — bicycles, computers, networking, romancing, traveling," Roberts recalled. "I'd build a lifestyle with my passions and hobbies and try to make a reasonable profit."
Roberts, who wrote a book called Computing Across America, has since logged 16,000 miles on his bicycle. While bike touring he has also managed to run a business, work as a consultant on computers and continue to churn out freelance articles for a variety of publications.
His office is the bike and wherever he happens to park it. "After touring about a year and a half, I was still broke and realized if I could write, I could make this profitable," said Roberts, who is visiting with ham radio operators Ken and Rose Kopp in Opportunity.
Hooking up with the Kopps was much like most of his adventures on the road. He happened to learn about them from some other ham radio operators and decided to visit them in Opportunity as he and his "cyclemate," Maggie Victor, tour the country to promote Roberts' book.
So far, those travels have put Roberts in the national eye. He has been seen on PM Magazine, Good Morning America, CNN, CBS Morning News and has been featured in USA Today.
The 35-year-old still enjoys the road but also manages to run a business, all from the seat of the recumbent bicycle he purchased five years ago.
Of course, the bicycle he now owns is not your typical recumbent bicycle.
Recumbent bicycles are not new to this country. They've been around since the 1930s, but "the racing world refuses to accept them because they're fast," Roberts said. "They're much more comfortable than a regular bike. I could never have done this with a regular bike."
Roberts' bicycle weighs 275 pounds, but that includes a trailer on the rear and the following equipment, much of it high-tech: five computers, an 80 through 2 meter ham radio station, a motion sensitive security system, more than a million bytes of memory, a 3.5 inch disk drive, 108 square feet of tent space, three modems, more than 30 circuit boards, 54 gears, two wheels, an electronic compass, two solar panels, 148 spokes, a speech synthesizer, hydraulic and disk brakes, a tiny TV set, shortwave radio, telephone access via autopatch, a pressurized water supply, packet data communication, digital test equipment, air horns, a handlebar keyboard, 165 console switches and displays, 17 amp-hours of battery capacity, a microfiche documentation library and, of all things, a flute.
It will even talk to you. The sound of a gun is followed by a computerized voice saying, "Please do not touch me."
Life on the road for the first 15,000 miles was exciting and different every day for this high-tech nomad, a series of sweet beginnings every day, new friends and ever-changing scenery. He trekked from Columbus, Ohio, down the East Coast to Key West, Fla., turned west along the Gulf Coast and finally headed west to Texas, New Mexico, Colorado, Utah, Nevada and California.
But it was lonely. Two and a half years ago while back in Columbus, he met Maggie Victor in a jazz bar. "I fell in love and had a wonderful relationship," Roberts said. "But I kept warning her it was just a summer romance.
"Finally one day I asked her if she'd like to go for a bike ride and she's been with me ever since."
The two now can share the adventures of the road. "It's a great way to live," said the 36-year-old Victor, who had been a social worker before opting for Roberts and his nomadic lifestyle. "You are never short of learning experiences. There are always new people to meet and it's a great opportunity to grow."
For now, the two are living out of an old school bus with a mother cat they picked up in Virginia and her two kittens while Roberts promotes his book. They will then relocate to the West Coast where Roberts will redesign the bike, adding a satellite station, a navigational system for the computer, a solid state refrigerator and other improvements for both bikes.
You must log in to post a comment.