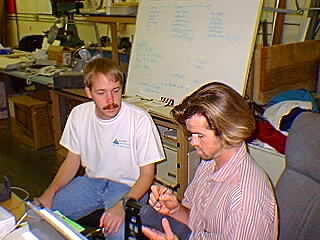 BEHEMOTH and Microship on Computer Chronicles – video
This was filmed during a rather depressing part of the project… I was in a big windowless building in Silicon Valley, my relationship of 2.5 years was ending, and the intended nautical substrate was proving to be just too much to deal with. Computer Chronicles came by on December 18, 1996, and captured a snapshot of that phase… including some nice shots of the video turret being controlled by one of our wireless Newtons (Tarpons) via the FORTH network. The 2.5-minute video is below.
Microship Project on Computer Chronicles
January, 1997
You must log in to post a comment.