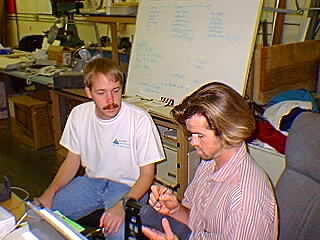 BEHEMOTH and Microship on Computer Chronicles – video
This was filmed during a rather overwhelming part of the project… I was in a big windowless building in Silicon Valley, my relationship of 2.5 years was ending, and we were definitely behind schedule. Computer Chronicles came by on December 18, 1996, and captured a snapshot of that phase… including some nice shots of the video turret being controlled by one of our wireless Newtons (Tarpons) via the FORTH network. The 2.5-minute video is below.
Microship Project
on Computer Chronicles
January, 1997
You must log in to post a comment.