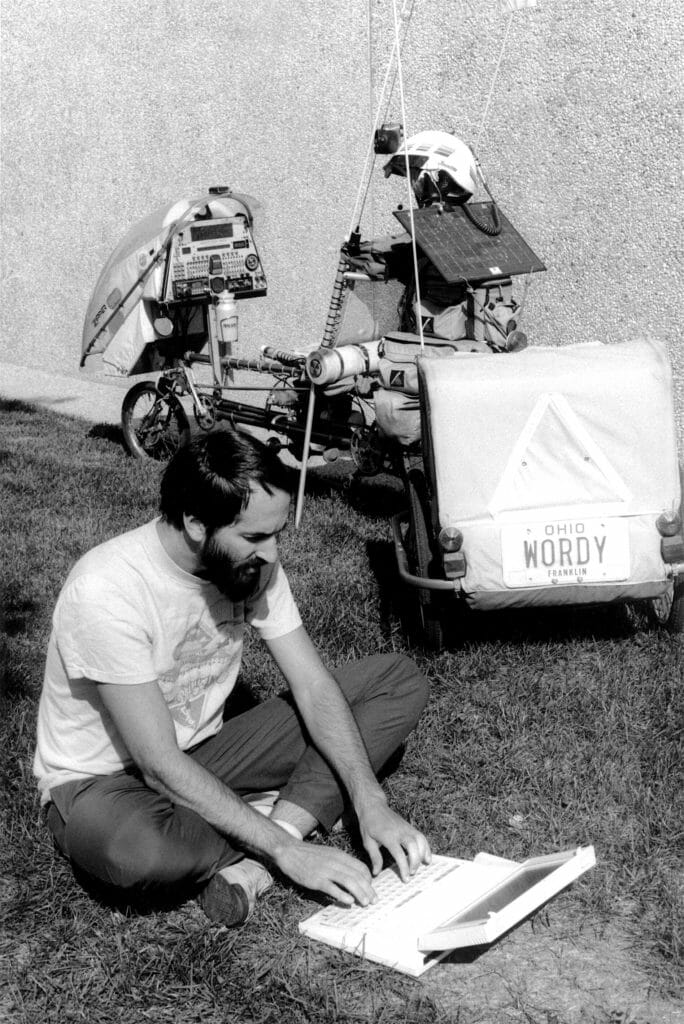 Bicycling Nomad Travels in High-Tech Style – GRIT
It was a surprise to have a story in GRIT, the rural newspaper that I remember from childhood… with ads in comics urging kids to become carriers. The photo above may have been the trigger, as it was sent out with a GEnie press release after my photo shoot there in 1987.
This story came out during the bus jaunt with Maggie around the US, before we settled into Silicon Valley to begin construction of the next machine.
by James Raia
GRIT
January 24-30, 1988
Steve Roberts has been riding his special bicycle around the United States for more than four years. But the 35-year-old former corporate consultant may soon be ending his journey — or at least using another form of transportation for a while.
With the release this month of his new book, Computing Across America: The Bicycle Odyssey of a High-Tech Nomad, Roberts planned to stash his 275-pound recumbent bicycle — the equivalent of a lawn chair with wheels — for a motorhome. Roberts will use the motorhome as the traveling promotional headquarters for the 350-page book about his first 10,000 miles on the road.
While a book about riding around the U.S. on a bicycle may be interesting in itself, Roberts' tales revolved around the specialized nature of his mode of transportation.
ROBERTS' eight-foot-long bike is equipped with five computers, a ham radio, citizens band radio, two cassette players, and a storage compartment for clothing and camping gear.
While Roberts slowly pedals across the U.S., he spends most of his time writing, thanks to the computer keyboard on his handlebars.
Roberts began his travels in September 1983 after he became frustrated with his sedentary life-style. His first bicycle included one computer, although he eventually took a year off to add more equipment to his
traveling newsroom.
"Like any big city, there are nice people in Columbus, Ohio," Roberts says. "But I owned a suburban, three-bedroom house and I was doing a lot of hustling in a life-style I didn't like."
Roberts has now traveled more than 15,000 miles on his bike — an average, he estimates, of about 60 miles a day.
"I don't consider myself any kind of macho cyclist," says Roberts. "Actually, I'm lazy by nature. The most I've ever done in one day is 136 miles. Aerobically, I'm fit… I've got great legs, but my upper body is boring."
For the last 5,000 miles or so, Roberts has traveled with Maggie Victor, also 35. The duo first met in Columbus, while Roberts was writing a story on a personal computer in a restaurant.
Soon thereafter, they decided to continue the journey together. "I told her. 'Sure you can travel with me,'" Roberts recalls. "I told her, 'Quit your job, sell your home, and change your life-style. We leave in August.'"
Victor rides a bicycle similar to Roberts', although she has only one computer.
In addition to his fourth book — the others were more technically oriented— Roberts supports himself by contributing articles to newspapers and magazines across the country.
"I don't have any savings, but I'm living a self-sustaining life-style by doing all the things I've always wanted to do." Roberts says. "There's never a shortage of story ideas when you're on the road."