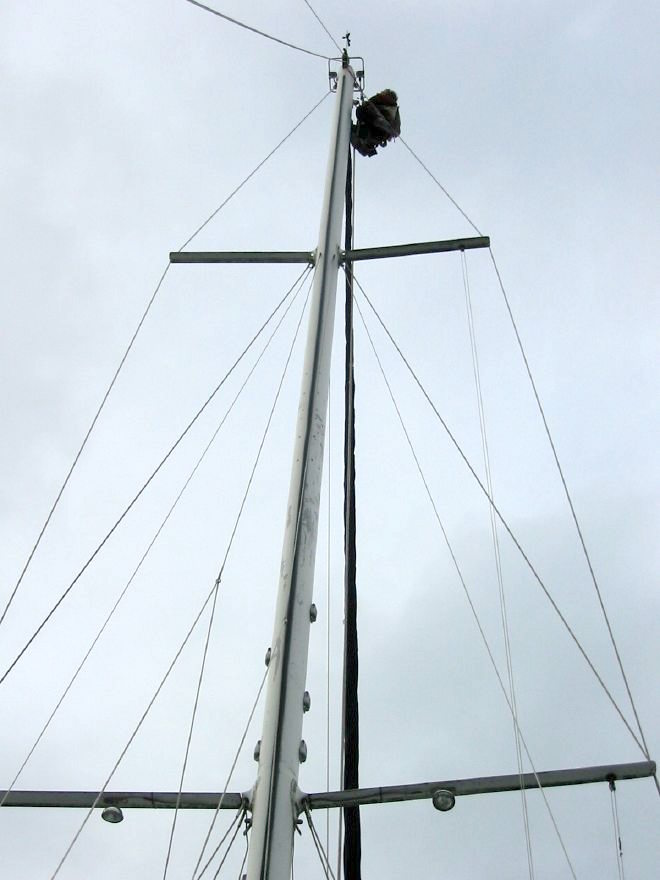 The First Two Experts Visit…
Historically, I have posted most of my news to the Microship live page, a place for ephemeral commentary and fleeting tidbits that really don't need to be archived. But as a couple of readers have pointed out over the past couple of days, it's time to start blogging about this new project. So this, along with the Nomadness site of which it is a part, will henceforth be the collection point for all information about the ship. And so, on to the news!
The first two of three experts have now completed their consultations: I spent Wednesday with Brion Toss, who examined the sailing rig in close detail while making a running commentary on all aspects of the hardware and design. It is fundamentally sound, although there are definitely some essential and expensive projects: a new boom with vang, rerouting of the starboard staysail sheet around to the port side of the pilothouse to share one accessible winch, a rearrangement of main winches, new headsail furler and better line routing, a few fixes at the masthead, and some minor things like tang/terminal alignment and shroud tuning.
Two days later, it was time for another guru… this time to demystify the engine (something very far from my areas of expertise). Craig Hatton came by and examined the Detroit Diesel 4-53 and the 5KW Westerbeke genset, concluding that both are in essentially great shape. A few little things need to be fixed, of course: genset cooling water is blocked and its fuel filter is sucking air somewhere, and over on the engine side there is a loose muffler baffle and a lack of insulation on the exhaust loop… but most of the work that needs to be done is relatively minor and can be handled by me later.
You must log in to post a comment.