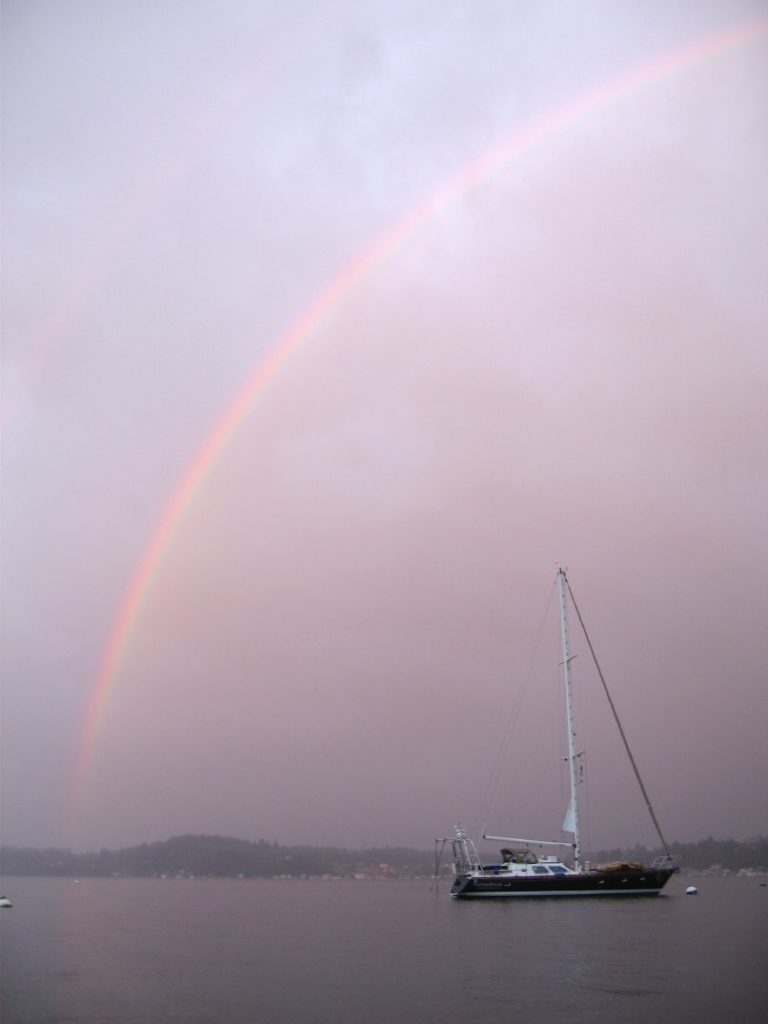 Brion Toss prevents a dismasting
I write now from a place that I perceive as an outsider after only a month on the water, reminded of this quote from Gilbert Keith Chesterton:
The whole object of travel is not to set foot on foreign land; it is at last to set foot on one's own country as a foreign land.
It feels like that, swinging on a buoy off the shore of Camano Island — with the eye of an explorer, I take note of the boats, smelt fisherfolk, houses lining the shore, the August moon on the water. It even felt vaguely foreign when we returned "home," with the facilities deeply familiar yet somehow colorful in their novelty. I marveled at my piano, got to know my cat, strolled slowly between house and lab to take in the century-old firs and the chorus of birdsounds.
I am pleased to discover that it didn't take long to see it with a fresh simplicity… like the old family home in Kentucky it is something to be closed down, the stuff not as important as it once was, the myriad decisions simpler. If something ain't boatable, part of the mobile lab, or needed for the base office, it needs to go away. Can't wait to get back to eBaying and FreeCycling… but first I have some more sailing to do.
The wake of Nomadness is now 289 miles long:
We wimped out on the last day, from Port Townsend back to Camano Island; there was a small-craft advisory of 30 knots in the east end of the Strait of Juan de Fuca, and timing for the transit of Deception Pass precisely at slack was critical in this full-moon epoch of extreme tides. So we took the long way around Whidbey, ending the day muscling into the wind for a few hours before rounding Rocky Point and easing up to a friend's buoy.
We're taking a few days to visit and sail with friends before heading out again, lying low while yet another spell of bad weather passed in what must be the most dubious "summer" ever in the Pacific Northwest. Icky weather makes for purty moments, though…
Rigging Interlude
One of the best parts about "wandering around" is dropping in on friends… and high on the list of anticipated visits was Brion Toss, yacht rigger extraordinaire. His classic Rigger's Apprentice is the first book I reference when trying to get boat stuff to stick together, and his DVDs on rig tuning and inspection are legendary. We've crossed paths and corresponded over the years (he was even one of our sponsors on the Microship project and helped me NOT buy that unfinished Roberts 53), so I was delighted to be able to meet for dinner at the famed Ajax Cafe in Port Hadlock and then welcome him aboard the next day in Port Townsend.
As soon as Brion stepped aboard Nomadness, his keen eye took in every detail of the rig… and I was relieved to hear mostly positive comments (he is quick to spot flaws). Barely missing a conversational beat, he tweaked my mid-boom sheeting for improved power and lower friction:
I've had a few glitches with that mainsail furler in the photo and we discussed that; fortunately, he seemed unconcerned and made a few suggestions to streamline operation. But then, at the bow, he paused. "Hmm…. I think there's a safety issue here…"
The link plate on the jib furler, which connects this very highly stressed component to the bow of the boat, had no toggle and was just a split piece of stainless… and it was looking very tired. And, more weirdly, the bottom turnbuckle screw was so far out of the body that the little mark meaning "do not back out past this point!" was floating more than a half inch in space. We had no way of knowing how much thread was still in there holding the rig up, but it definitely was not enough. I was advised to deal with that "before putting the sails up again."
Brion just happened to have a new link plate in the shop that had been acquired for another job and, although tied up for the rest of the day, knew a competent rigger with some time on his hands… so before long we were dropping the jib, loosening backstays, triangulating the mast with a couple of halyards tensioned to bow cleats, and disconnecting the headstay for the upgrade. Here's Brian Morningstar:
Looking back, this brief ordeal was almost relaxing compared with, say, the plumbing experience. More importantly, it removed another layer of obfuscation from the boat, giving me an insight into some of the forces involved and the complex interactions involved with the standing rig.
What Next?
A cusp nears, with our house sitter jetting back to Arkansas and no new one on the horizon (help!). I'm looking at some major projects (updated and re-ordered by a month on the water), and winter moorage is starting in mid-October. What all this means for the next few weeks is not clear, but we're itching to meander through the San Juans and Gulf Islands, then make our way to one of the Holy Grails of northwest sailing: Princess Louisa Inlet.
I'm also starting to lay the groundwork for some of the systems, and want to be sure I avoid a repeat of the La Conner syndrome from last year: oscillating slowly between house and boat, driven by lists of old things forgotten the previous time and new things stopping me in my tracks on one front after another. I need a measurement, a tool, a part… an hour and a half worth of diesel each way, weeks flying by with too little progress.
Since there are no marine facilities on Camano Island and I certainly can't afford a waterfront place with my own dock, the solution to this problem will involve the mobile lab (my business is "Nomadic Research Labs," after all, so it's not that much of a stretch). The essence of my sloppy 3,000 square-foot building will be shoehorned into the 24-foot trailer that I used to haul the remnants of the old homestead from Kentucky, then parked somewhere near the boat's winter moorage. I don't want to lose momentum every time I need to rip a piece of okoume or sniff out some pesky RFI, and while enucleating the lab will gobble overhead, it will also disambiguate the remainder.
In the meantime, 'tis the season for sailblogging, sun-addled brainstorming, and aimless meandering. Hard-core geekery and associated publications will come soon enough; I'm itching to hack N2K, deal with instrumentation, fire up the server, build the comm console and hear those first SSB squawks, install the new power system, see solar panels sparkle in winter sun, sip from a watermaker, slurp data from every corner of the boat, stuff an iPod into a Fusion, watch video from bow and masthead, spew posits on 144.39, and start the publication series.
But first, how about a Dark 'n Stormy to go with this fresh Dungeness Crab…
Cheers from somewhere… Out There!
Steve
You must log in to post a comment.