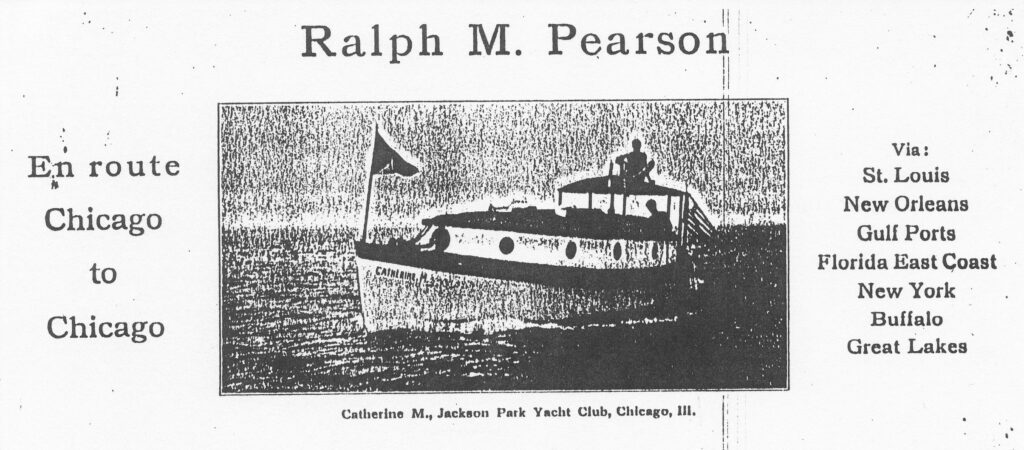 Catherine M on the Great Loop – 1909
I was adopted, and when I was 28 I was lucky enough to track down my birth parents after many months of research. My bio-dad, Ronald Hayes Pearson, was an artist and sculptor of considerable renown… based in Deer Isle, Maine. As I got to know the family, I heard about his father, Ralph M. Pearson, who not only wrote seven books on art but was involved in early aircraft design issues. This mix of art and engineering was fascinating enough, given my own proclivities, but of particular note was the fact that he also had a yen for adventure. In 1909 he piloted a homemade boat, the Catherine M., around what is now known as the Great Loop, from Chicago to Chicago. His traveling companions were his mother and a friend, and it was a wild adventure…
On May 3, the day of departure, he wrote: "At last I was free. For the first time in seven years I was free from the chains of business, free from the stern, monotonous call of duty, free as a bird on the wing, with my home under me throbbing to the steady beat of the engine and sensitive to the least turn of the wheel in my hand."
Here is a story from the St. Louis paper, and you can read the "Retrospect" chapter from his unpublished book at the link.
Gasoline Launch
Rests Here
on Long River
and Ocean Trip
St. Louis Globe-Democrat
May 17, 1909
R. M. Pearson, Chicago artist, with his mother and a friend, in 35-foot, 15-horsepower motor boat, is making tour to get sketches and photographs.
After a 451-mile trip through the Illinois and Michigan canal and the Illinois River, the Catherine M., a 35-foot motor boat, is tied up at the St. Louis Levee. R.M. Pearson, the owner, is on his way to New Orleans, where he will start a coastwise cruise to New York, thence up the Hudson, through the Erie Canal and the Great Lakes, back to the starting point, Chicago. His mother, Mrs. K. M. Pearson, and a friend, H. W. Whitten, are with him.
Pearson, who is a member of the Jackson Park Yacht Club of Chicago, is an artist, and is making the trip partly because it has been a pet plan of his for a long time and partly to make sketches and photographs from which to make etchings on his return to Chicago. The party left Chicago May 3 and expect to be at least five months on the water.
Although it was snowing when the boat pulled out of Chicago, the travelers enjoyed the trip thoroughly. The cabin of the craft has ample sleeping accommodations for four, and in the cook's galley all the meals of the party are prepared. Downstream the boat makes twelve miles an hour under present high-water conditions, and in still water eight miles an hour. The motive power is a two-cylinder 15 horse-power gasoline engine. The craft has a beam of 8½ feet and is so constructed as to be seaworthy when the waves are high.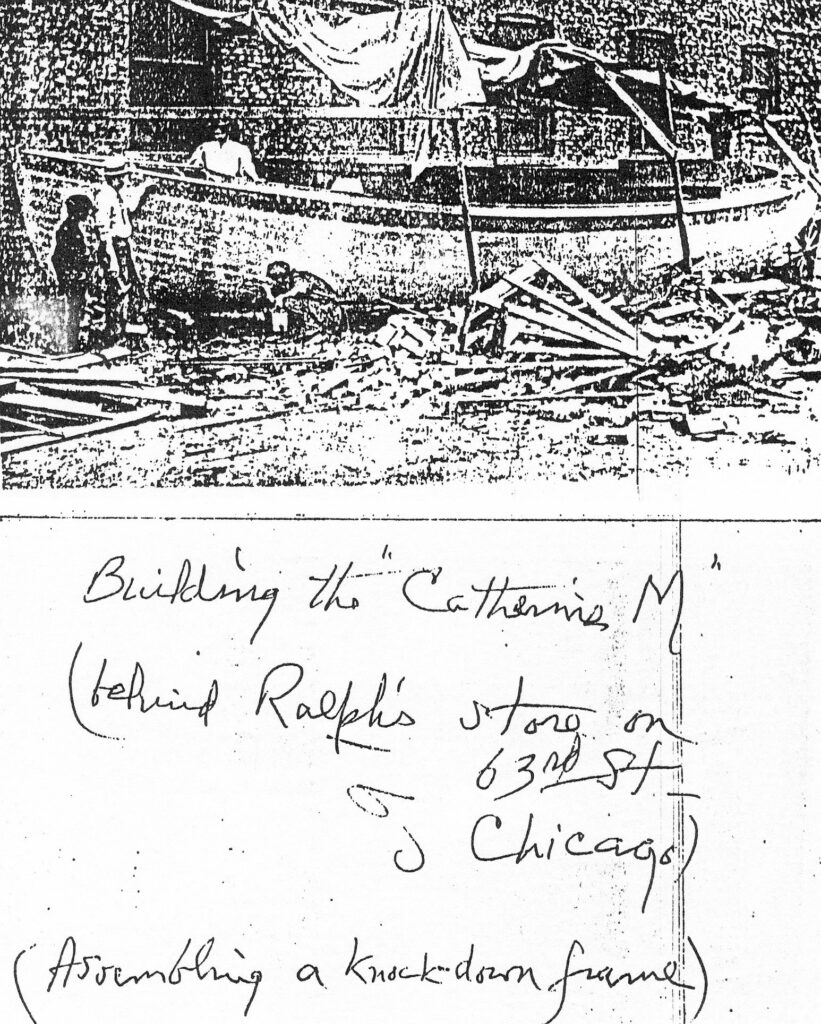 "The snow got so thick after we left Chicago," said Pearson at the St. Louis Power Boat Association floats yesterday, "that I could not see to steer and we had to lay to at a small wharf and hold off until it stopped. Saturday night we anchored on the lee side of a small island near Alton, and the current was so strong that the boat rocked pretty well all night. But we are enjoying the trip and are looking forward to the long run back to Chicago."
The Catherine M. took on supplies and gasoline Saturday. Yesterday, the travelers, who are in no hurry, rested here while Pearson did some sketching, and to-day at 8 a.m. they expect to go on down the river.