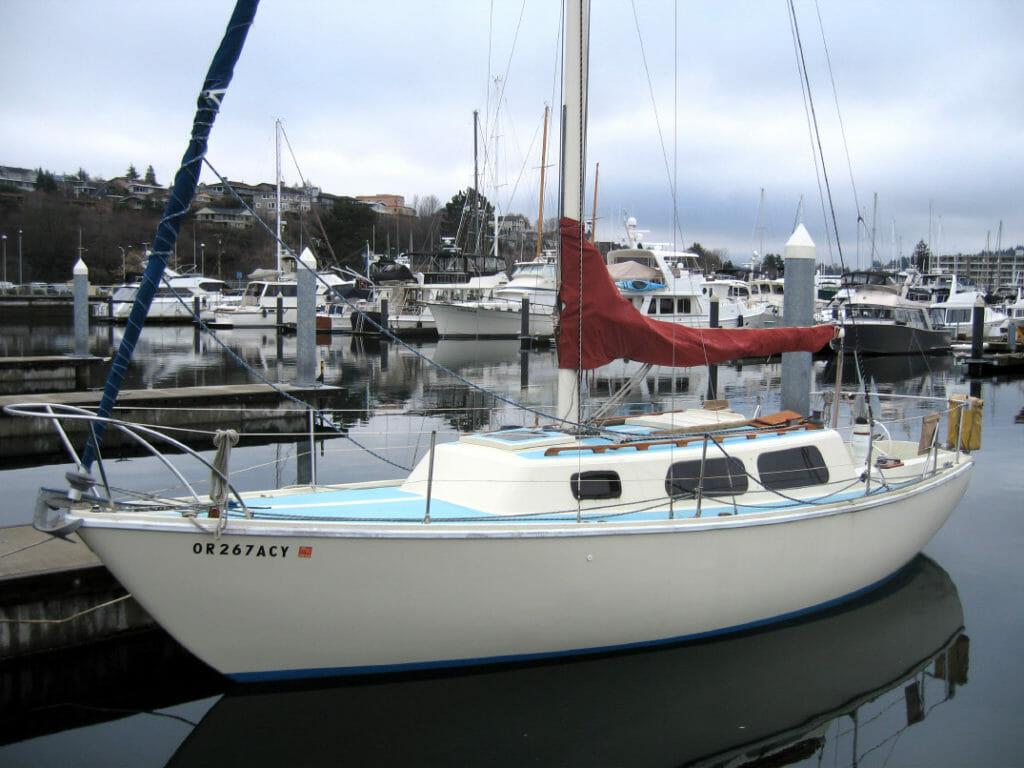 Dervish of the Salish Sea
The trickiest part of an insanely complex and steadily morphing project is the way it warps the lives of all involved. I have a long history of watching relationships flounder while I devote all available time and energy to technomadic dreams, obsessed with gizmological overlays on boats and bikes, revising designs to keep pace with technology, sometimes hitting RESET and reverting to square one with only the satisfaction of a learning curve to amortize the years and dollars past.
It has thus been no surprise that we have been experiencing rising tension along these lines here at Nomadic Research Labs. One little part of my brain mutters, "oh no, here we go again," another takes stabs at logistical palliatives like real estate, and the rest continues to design quixotic network architectures whilst drooling over the latest shiny bits.
I certainly have been taking too long to get moving; no argument there. Part of the problem is my habit of being "boggled by my own imagination," as Dave Wright astutely observed; the rest lies squarely in the domain of facilities that are simply wrong for this project. A dozen years ago, I landed here to get the Microship done, but now the boatlet is a sculpture in my lab and my real ship is too far away.
This is what drives the Polaris mobile lab project (which is going well), but we have also been searching for the magic wand that would bring all the rest together… including us. Sky arrived here almost 2 years ago, eager to hop aboard a sailboat and take off with me on a life of adventure; she cares little for blinky bits and on-board servers. "This is my business and passion," I would explain, going on to sketch product spin-offs, book ideas, monetized bloggage… all interspersed with the soaring vision of my starship and magnum opus.
About a month ago, I thought of a solution radical enough to border on the absurd: get a second boat for Sky and her dog, finish the mobile lab, put tonnage-reduction into turbo mode, and move the whole kitten kaboodle to a marina where we could pursue dreams various while renting out the home-base facilities (a positive cash flow would be nice about now). This would let me focus on geekery, plant the seeds of the flotilla, let Sky spend more time on water, and eliminate the need to stay rooted to a land-based lifestyle that we don't want.
She naturally loved that idea and went on a quest… but the boat she chose (a nicely equipped Cascade 27) was too expensive, yet prohibitively small for my galumphing body. I vetoed it with much gnashing of teeth, and there the matter sat for a while, neither of us sure what was to follow, storm clouds on the horizon.
Had we reached an impasse? While we never really questioned the fundamentals of the 2-boat idea, we were coming to fear that my shrunken budget would not cover anything adequate for Sky to live aboard. The cheapies (like an abandoned Watkins that went up for auction recently) were too depressing.
But through a classic friend-of-a-friend scenario, my sweetie located a 1974 Cal 2-29 on a trailer in Olympia. In a curious twist, the owner had taken it in trade from a fellow whom I knew from a few Cruisers Forum threads, and he turned out to be a wealth of good information about the boat. We concluded that this was an interesting opportunity, so without giving ourselves too much time to over-analyze and come to our senses, we bought the boat… trailer and all!
My first suggestion for a name was Dharma, which is an acronym for "Dog House And Relationship Maintenance Accessory." We decided that explaining this would become tiresome, and the otherwise meaningful term had been tainted by the silly Dharma and Greg sitcom. But for years, Sky has carried a vision of her dream boat, jaunty and salty, to be named Dervish. A fiberglass Cal may not have quite the look she had imagined, but life is here and now, and this will take her on many a dance with the winds of the Salish Sea. Dervish it is.
And so, on to logistics. Boats are clumsy and useless on trailers, though I did briefly have the vision of parking it by the lab for a long project of incorporating Geeky Goodness. Aghast, Sky said "nothing doing," and took control of the project… beginning with extraction from what became a very muddy field when the rains came. My truck doesn't offer much in the traction domain, so we ended up doing a big loop with the aid of a 1952 Case tractor.
We hauled her to Olympia's Swantown Boatyard and splashed the next day via Travelift, then she got a tow north to West Bay Marina where her friends awaited. Here's the happy skipper, still not quite believing that this is real…
With help from a fellow in the marina who does this sort of thing for a living, we got the one-lung Farymann diesel running and installed the shiny new Racor fuel filter that came with the boat. Little jobs progressed well, interspersed with evenings aboard other boats and social events various… Sky flying high as a new skipper, her friends excited, notebook filling with lists and sketches. For once I was in the background, enjoying the sense of not being responsible for any decisions, helping when needed but sometimes just staying out of the way. Rather relaxing.
Of course, being a boat, something had to go awry. After a brutal night at the windward dock in 50-knot winds (with one person getting blown into the water after midnight and rescued), we had an appointment to get the mast stepped. Our rigger, on the clock, showed up on schedule and confirmed the readiness of standing rigging. Sky gingerly motored over to the slip below the crane. Then we waited… and waited… while the guys puttered with the masterwork of deferred maintenance, trying to get it to start. It never did.
Out of time, we put Dervish back to bed and drove north, making plans for the next attempt and the hundred-mile delivery sail to bring the boat to the marina where Nomadness lies a-wintering. Once Polaris joins them (in the parking lot, of course), all three elements of Nomadic Research Labs will be in place. Sky and Zuby-dog will move aboard the little boat, Java-cat and I will occupy the big boat, and we'll be one huge step closer to resuming a life of technomadic adventure.
Working on systems while living with them should be much more entertaining, and Sky will no longer be sitting around waiting for me to get done with my übergeekery so we can go sailing. It sounds a little crazy, but I'm convinced that the Two Boat Solution is an elegant lifestyle hack. Now I just need to find someone who wants to rent a 4000 square feet of shop and house in the woods of Camano Island…
You must log in to post a comment.