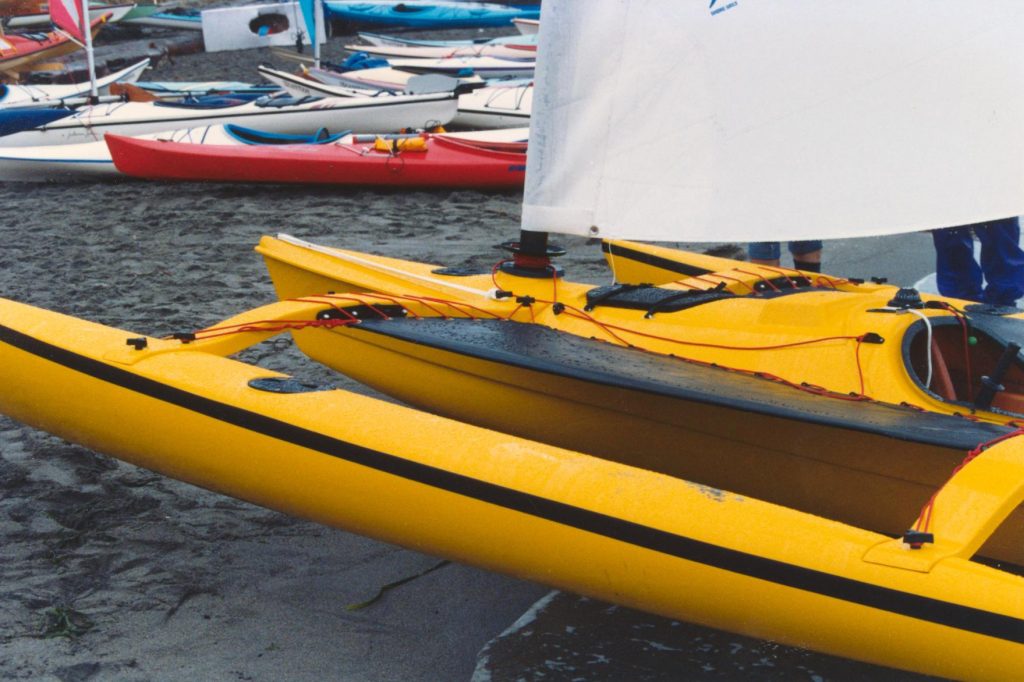 by Steven K. Roberts
UCSD – San Diego
May 12, 1994
(including video)
I spent this past weekend in Seattle, sailing a couple of Fulmar-19s around Puget Sound (about 25 miles on Sunday, ranging from reaching at 11+ knots to pedaling about 4 miles in dead calm), starting at Shilshole Marina and making two trips to Bainbridge Island.
To cut to the chase, I wrote a check to launch final fabrication of hull #9 — more or less standard, but with extra-strength akas. It's white, and beautiful… and I'm happy to note that it has high-WQ even without on-board electronics. To kayakers, the boat is a sleek kayak with added amas, sail, and pedals… to yachties, she's a tiny, fast, high-tech trimaran.
Meeting the Fulmar-19 trimaran from Steven K Roberts
There have been about 12 built so far — the designer is John Sinclair, Fulmar Corporation, based at Shilshole Marina in Seattle. The cost is about $8,000. Empty, it's 260 pounds, and comfortably carries two people with gear. Think kayak-trimaran… it falls squarely between the two worlds.
Other specs:
LOA: 19 feet

LWL: 18 feet

Beam (overall): 11 feet

Beam (akas folded): 6 feet

Draft (appendages up): 6 inches

Draft (drive down): 18 inches

Cockpits: 2

Sail: 80 sq ft sock-luff roller furling main on carbon fiber mast

Pedal drive: about 4 knots
I've had it to about 11 knots this past Sunday morning, and faster in the afternoon (but conditions then were too wild for me to be messing with the handheld GPS). The boat points very high, amazingly so (I could complete a tack within 60 degrees), but downwind performance is not too hot with the loose-footed sail. We'll have to fashion a barber haul — hopefully, sheeting out to an ama will work and save the extra weight of a whisker pole. Also, we might want to change sails — we still have a strong ally at Sobstad, and with the furlable "rat battens" it may be possible to come up with a fully-battened main…
Anyway, details will emerge over the next few months, I'm sure!
Implications Of The Foregoing…
So. This was a big decision, and with one stroke of the pen I have defined major characteristics of the next few years of my life. I felt that way when I signed a mortgage… but for very different reasons.
The first effect of starting with the Fulmar (named after a shore bird, by the way — John had first called it Shearwater, but the name was taken) is that we've probably knocked a year off the project. I am now confident that I can shut down the lab a year from next month, leaving UCSD for full-time adventure in June, 1995. While it's audacious to publish a date, this is just the kind of deadline I need… and I think it's realistic. If this boat does deviate in some way from the "ideal" Microship substrate, that is more than offset by the jump-start (both practical and emotional) of having a working system as a starting point.
The second major effect of this is that we suddenly have a mechanical spec — and a tight one at that. This boat is SMALL… every object on board must be lightened as much as possible and preferably rendered multifunctional. Redundant systems, excessive spares, heavy toys, and overkill packaging are unacceptable. Robb is continuing to stress the importance of careful weight study — we want this ship to rest on her lines when launched and behave properly on all points of sail.
What this translates into is thinking of all components in the light of kayaking, backpacking, and cycling — not live-aboard yachting, cruising, or RV'ing.
The third effect is a set of deadlines, and I'd like to solicit local help on a few fabrication projects between now and the second week of June:
Portable "crane" to allow easy and safe transport of the center hull from ground level to my lab.

A rolling (lockable) workstand that cushions the hull and places it at a good working height.

Disassembly and disposal of the old mockup, currently eating valuable lab space.

Rearrangement of the lab benches between finals week and ship arrival.

Acquisition and modification of a Shorelander boat trailer to support the Fulmar-19 per manufacturer's specs. We'll use this to transport the boat to water until integral trailering is developed.

Racks to store the amas, akas, and solar arrays while the center hull is in surgery.
Onward! Despite the overload of this crazy month of speaking gigs all over the Southwest, a recent hand injury (not serious, but stitches), creeping office entropy, multiple complex student projects to manage, and changing apartments again… yes, despite all that, this decision has removed so much ambiguity that I'm actually getting psyched and cleaning up the lab.