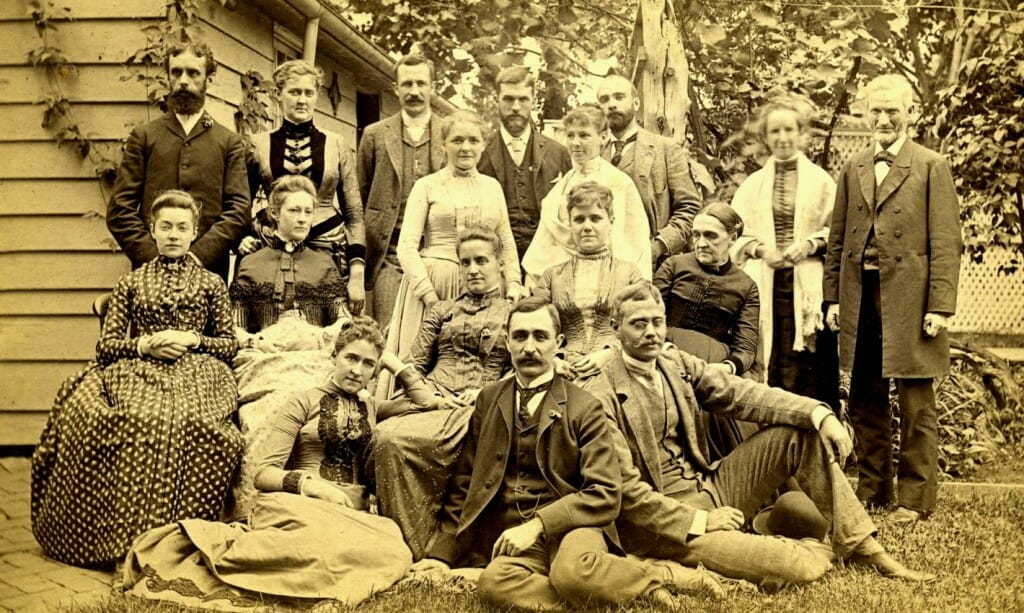 Hall Family Photos, Matlack and Biddle Street, West Chester PA
Circa 1890… some Roberts family history
I have never understood my own genealogy very well, yet I am the last of a line on my father's side, in possession of precious photos and papers relating the history of this distinguished Quaker family from West Chester, Pennsylvania. I'll gradually post a few things here, just to help others with historical searches… though I'm afraid I can't help much with identifying the people… although this is Abby Mary Hall Roberts, probably shortly after marrying Chester:
These first two photos appear to have been taken at the same house, located at the intersection of Matlack and Biddle Streets. In this first one, Abby Mary Hall (later a dean of Swarthmore College, as well as my grandmother) is in the middle in the back row, next to Thomas Hall, the family patriarch. If you are part of this family and can help attach name to faces, please contact me. Click photos to embiggen…
A quick Google Map search turns up an aerial view of the street corner, 120 or so years later. It does not currently offer street view of that neighborhood, so I don't know which house it is…
I will add other information and photos occasionally… there's a lot of history here.
Here is one from 1889, marked Estelle Hall:
And here is a scan of an ancient framed pair of photos, showing Thomas Heston Hall (1825-1897) and Lydia Harlan (Cox) Hall (1832-1908):
This beautiful chart shows the family history back into the 1600s…