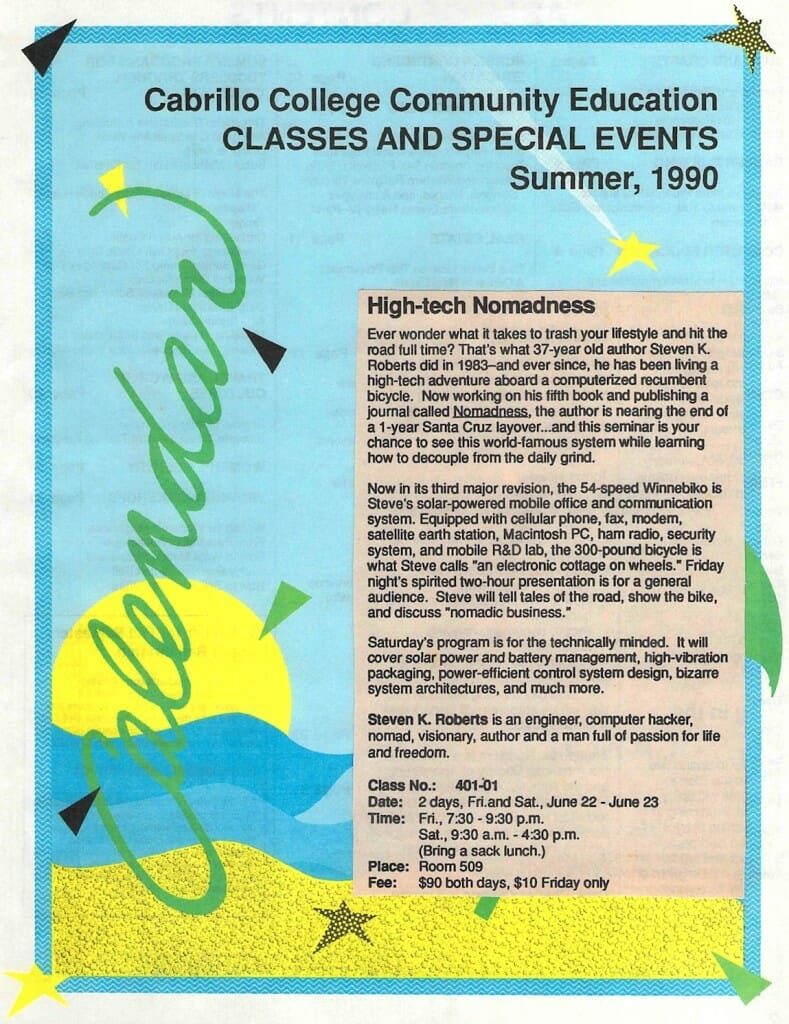 High-tech Nomadness at Cabrillo College
This was a variation in my usual public appearance with the bike… a Friday night program for the general public and a detailed Saturday presentation for geeks. I had been based in the Santa Cruz area for a year or so, working on BEHEMOTH in a rented house up in the hills outside Soquel, and then moving to a lab sponsored by Borland International. While all this was going on, I was making random forays to speaking gigs, though still a newbie when it came to the business side of things. Memory of the Santa Cruz epoch is a blur of beaches, earthquakes, living with friends, dreaming of the ultimate geek bicycle, and writing.
June 22-23, 1990
Cabrillo College
Aptos, California
Ever wonder what it takes to trash your lifestyle and hit the road full time? That's what 37-year old author Steven K. Roberts did in 1983 — and ever since, he has been living a high-tech adventure aboard a computerized recumbent bicycle.
Now working on his fifth book and publishing a journal called Nomadness, the author is nearing the end of a 1-year Santa Cruz layover…and this seminar is your chance to see this world-famous system while learning how to decouple from the daily grind.
Now in its third major revision, the 54-speed Winnebiko is Steve's solar-powered mobile office and communication system. Equipped with cellular phone, fax, modem, satellite earth station, Macintosh PC, ham radio, security system, and mobile R&D lab, the 300-pound bicycle is what Steve calls "an electronic cottage on wheels." Friday night's spirited two-hour presentation is for a general audience. Steve will tell tales of the road, show the bike, and discuss "nomadic business."
Saturday's program is for the technically minded. It will cover solar power and battery management, high-vibration packaging, power-efficient control system design, bizarre system architectures, and much more.
Steven K. Roberts is an engineer, computer hacker, nomad, visionary, author and a man full of passion for life and freedom.
Class No: 401-01
Date: 2 days, Fri. and Sat., June 22 – June 23
Time: Fri., 7:30 – 9:30 p.m. – Sat., 9:30 a.m. – 4:30 p.m.
(Bring a sack lunch.)
Place: Room 509
Fee: $90 both days, $10 Friday only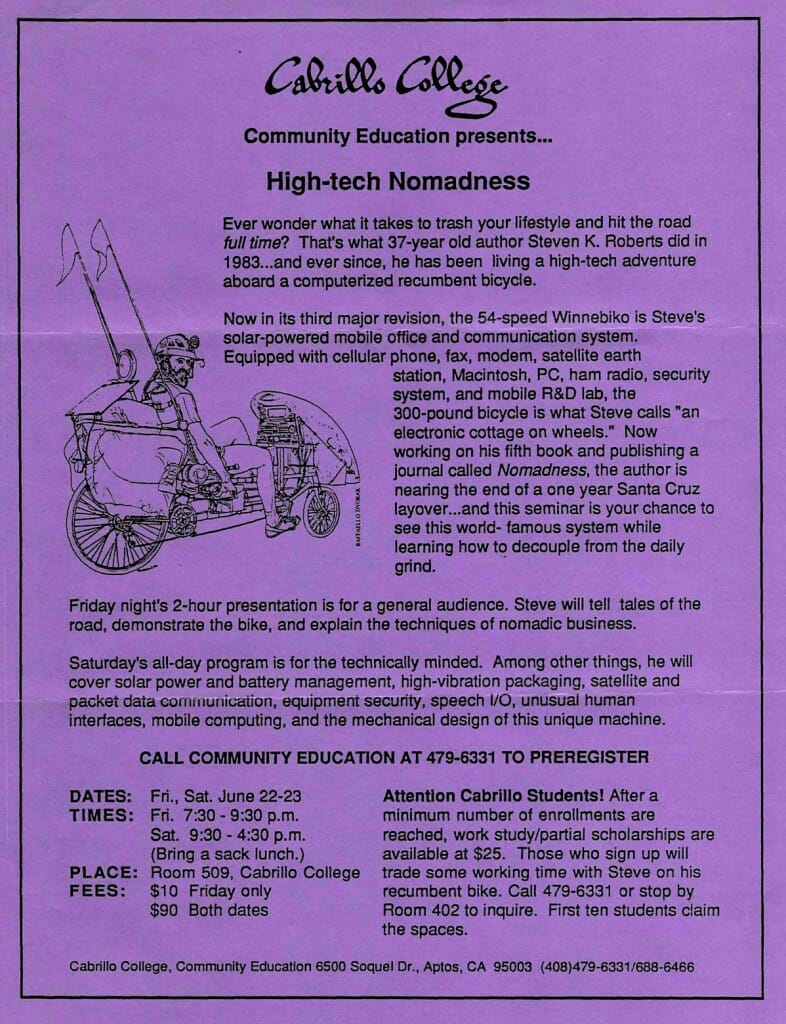 You must log in to post a comment.