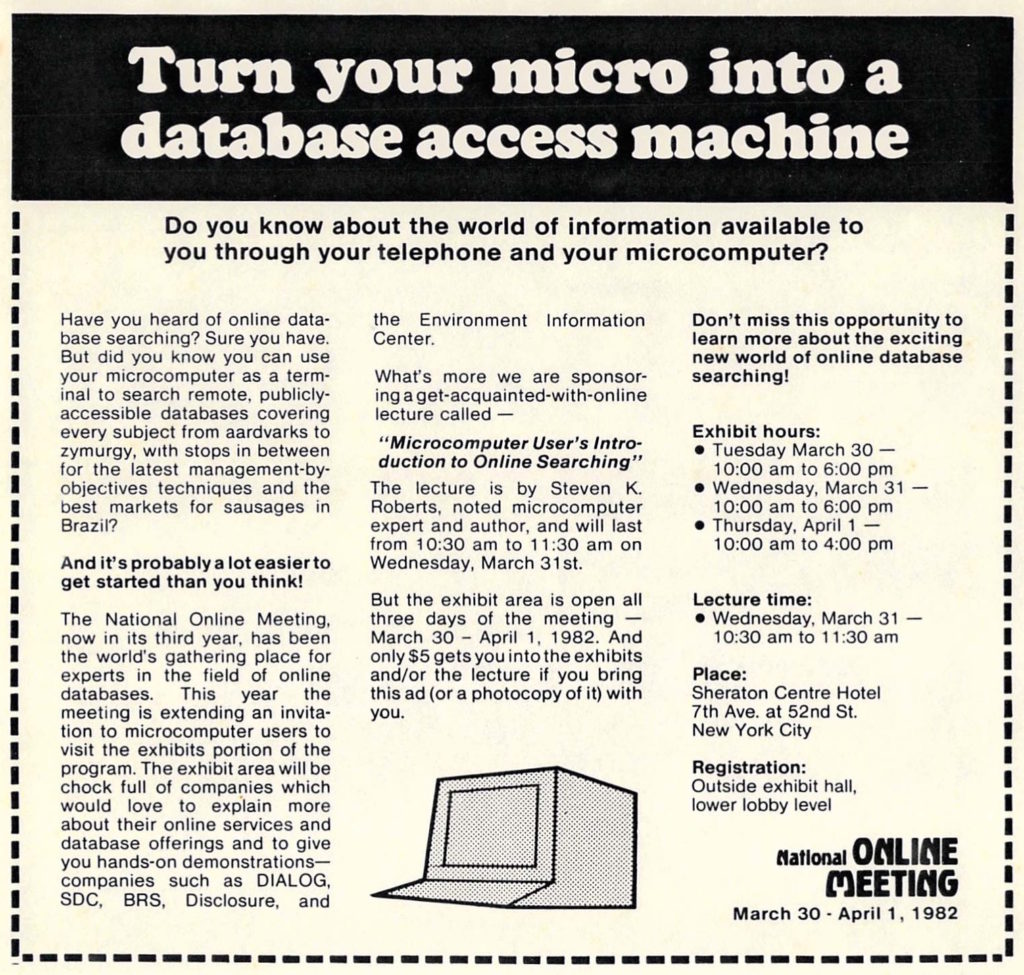 Microcomputer Lecture – National Online Meeting 1982
This ad ran in the New York Times, and included an announcement of my lecture about using microcomputers to assist with online searching. This was yet a radical concept… threatening to the vendors for fear of database downloading (detailed article at the link).
Turn your micro into a database access machine
Do you know about the world of information available to you through your telephone and your microcomputer?
Have you heard of online database searching? Sure you have. But did you know you can use your microcomputer as a terminal to search remote, publicly-accessible databases covering every subject from aardvarks to zymurgy, with stops in between for the latest management-by-objectives techniques and the best markets for sausages in Brazil?
And it's probably a lot easier to get started than you think!
The National Online Meeting, now in its third year, has been the world's gathering place for experts in the field of online databases. This year the meeting is extending an invitation to microcomputer users to visit the exhibits portion of the program. The exhibit area will be chock full of companies which would love to explain more about their online services and database offerings and to give you hands-on demonstrations — companies such as DIALOG, SDC, BRS, Disclosure, and the Environment Information Center.
What's more we are sponsoring a get-acquainted-with-online lecture called
"Microcomputer User's Introduction to Online Searching"
The lecture is by Steven K. Roberts, noted microcomputer expert and author, and will last from 10:30 am to 11:30 am on Wednesday, March 31st.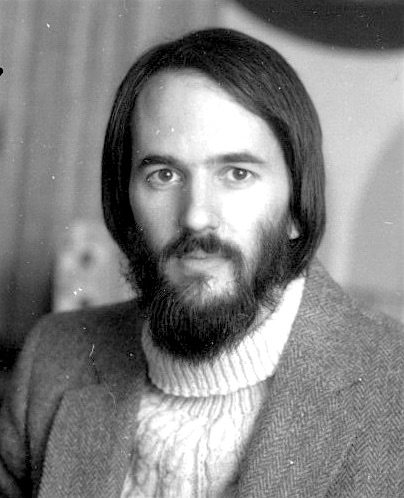 But the exhibit area is open all three days of the meeting — March 30 – April 1, 1982. And only $5 gets you into the exhibits and/or the lecture if you bring this ad (or a photocopy of it) with you.
Don't miss this opportunity to learn more about the exciting new world of online database searching!
Exhibit hours:
Tuesday March 30 — 10:00 am to 6:00 pm
Wednesday, March 31 — 10:00 am to 6:00 pm
Thursday, April 1 — 10:00 am to 4:00 pm
Lecture time:
Wednesday, March 31 — 10:30 am to 11:30 am
Place:
Sheraton Centre Hotel
7th Ave. at 52nd St.
New York City
Registration:
Outside exhibit hall, lower lobby level
National ONLINE MEETING
March 30 – April 1, 1982