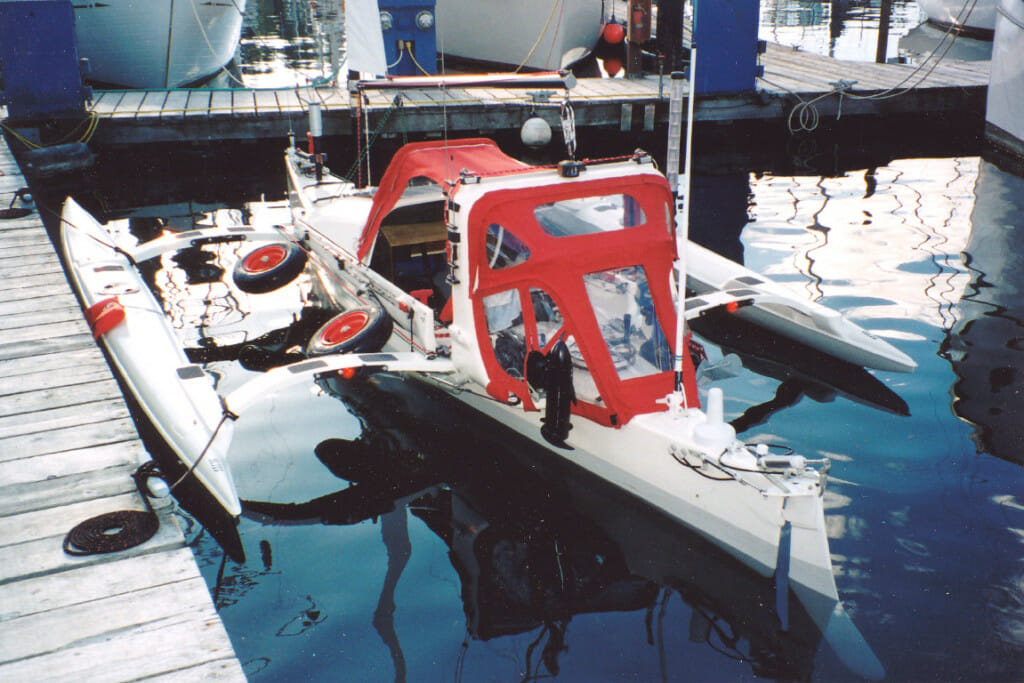 Microship Available for Vancouver Island Adventure
Updated January 12, 2018:  I am leaving this post here just so I don't break deep links from Out There, but this offer is no longer available. When I wrote this post, I was planning to pull together a group of boats to circumnavigate Vancouver Island, and would have loved to have the Microship come along as part of the adventure. However, the Microship is indeed available, and that link points to a much more current article with far better photos and links to more technical details. 
Microship Available for Vancouver Island Circumnavigation
This geeky boatlet has been sitting in its lab for a decade now, with no on-water adventures since a Puget Sound loop in 2001. With about a decade of intensive effort on the project and incalculable cost, that's bugging me more and more… and the latest twist is that I have just sold the building as part of my move toward full-time voyaging in a much larger boat.
I had the boat listed on Yachtworld for a while, and lowered the price from $73K to $42K. That's an absurdly small percentage of the development cost, but of course it was a custom project with very specific (and highly geeky) requirements.  It's a give-away price, but is still too high for most people shopping for one-person trimarans.
It has recently occurred to me that there's an interesting opportunity here for another approach. The plan for 2013 is late-summer departure for a loop around Vancouver Island… a "technomadic flotilla" of mixed boat types and experienced skippers. This could provide a very supportive context for a Microship adventure…
I'm willing to loan the boat to someone at no cost for this trip (about 1,000 miles). For me, it would be a chance to see my baby fly; for the person who makes the journey, it's a chance to have a wild adventure. Ideally, of course, this would be a shakedown, and said person would then want to actually BUY the boat for grander adventures still, but that is not a requirement.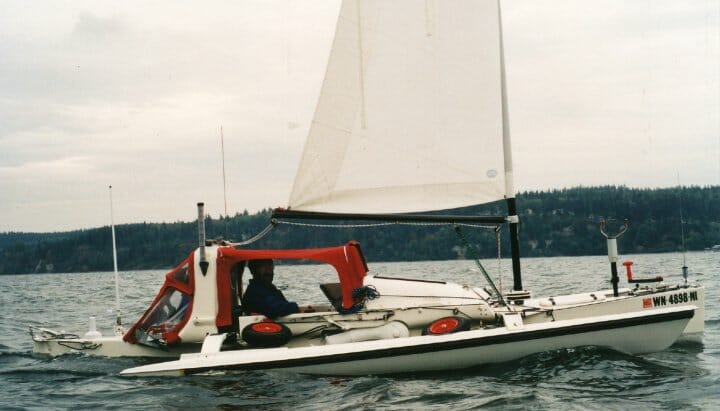 What is required is that the skipper-to-be have the skills and resources to spend significant time leading up to departure fine-tuning the ship, testing, and outfitting. This person must be reasonably experienced with small trimarans, and comfortable with a wide range of conditions. There are no guarantees here, though the flotilla would certainly provide a bit of a safety net with mechanical, medical, nutritional, and logistical assistance when needed.
I understand that there is the near-certainty of breaking something, not to mention the inevitable personal risk of going to sea in a tiny boat, and it's OK if it is necessary to abort partway through the trip. Part of the deal, though, is that the logistics are all the responsibility of the skipper… including getting the Microship back to her home port when it's all over (via water or trailer, as the case may be). The skipper must also assume all responsibility for getting hurt, dying, etc… you know the drill.
I'll have to be comfortable with whomever takes this on, of course… this is a rather audacious expedition for a canoe-scale micro-trimaran. Naturally, I'll spend some time getting the skipper oriented to the boat and helping to get the project started, but I am deeply immersed in my own epic to-do list on S/V Nomadness and don't have the resources (time, money, energy, or space) to take a very active role.
I do recognize that this is risky, but the greatest risk is taking NO risk. It's been sad to see the boat just sit there as my own life has moved on, recalling a decade of obsessive focus, industry involvement, and more money than I want to admit. Just seeing her on the water again would be a hoot, and I believe she can make it… we will not be in any huge rush, and will happily layover in protected harbors to avoid getting hammered.
So, if you have a yen for insane irrational adventure, savor the glory of using inappropriate tools, are reasonably mediagenic, and have the energy to tackle something absurdly challenging… then I'd love to hear from you. I will choose carefully, and please understand that the requirements are fairly complex. I have to be as confident in you as you must be in the boat; both are essential for this to work.
A few notes on timing and logistics: the flotilla will depart Friday Harbor and head north at a leisurely pace, with a side trip to Princess Louisa Inlet for those who wish to take a 3-day detour while others hang around Pender Harbour. This is the opposite of a race, and the boats in our Facebook group for the trip include sailboats of 25-50 feet and a couple of trawlers. Some folks are only going partway, and expect to veer off and pursue their own adventures in Desolation Sound or the Broughtons. Participation is by invitation, and some of the sailors have circumnavigated Vancouver Island previously (I have not). We'll be publishing an ongoing multimedia narrative, of course, and will use AIS, APRS, and other tools to keep everyone advised of the locations of everyone else.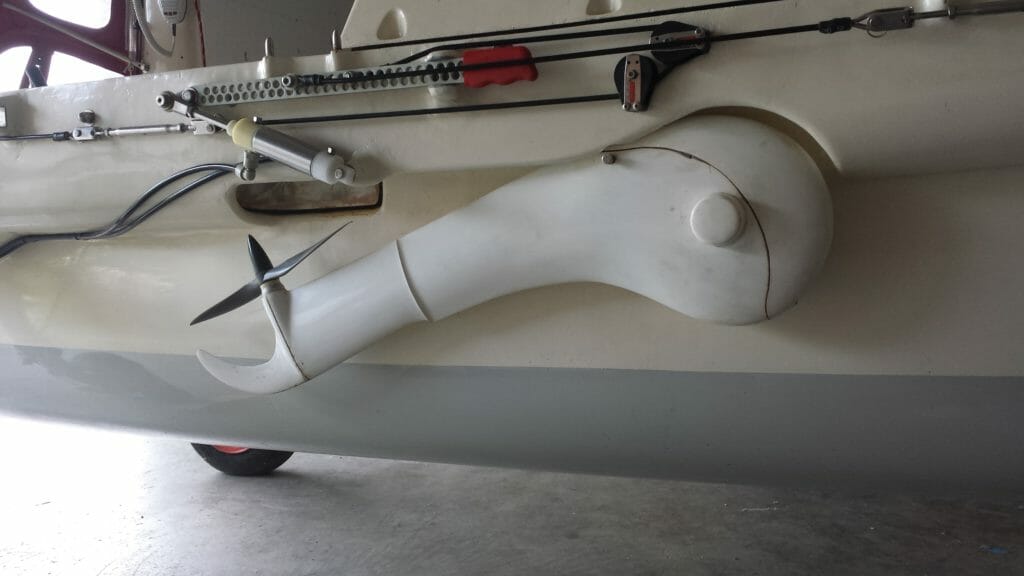 To be ready for this, the Microship needs some maintenance and improvements… so please budget a solid 2-3 months in a nearby facility to get ready for the trip. I have a 480-watt solar array custom-made for the boat that was never fully installed (a significant mechanical project, optional but very cool), and this can run the electric thruster at full blast on a sunny day to make life easy. Hydraulics need to be bled, the pedal drive needs to be lubricated and cleaned, the fabric dodger needs some tweaks to keep the water out when you're trying to sleep, and probably lots of other things. The boat has a VHF and GPS, LED navlights, a robust power system, fresh-water tank with pump, Delta anchor with 185 feet of webbing and some chain, horn, radar reflector, ultrasonic wind sensor, and a few other goodies. The recumbent seat is highly adjustable, and can retract onto the after-deck to allow rolling out a camping mattress and sleeping bag.
The rig is a 93-sqft vertically battened sail with all controls (vang, outhaul, main, and furler) in the cockpit. Steering is with a pair of comfortable T-handles that provide redundant hydraulic circuits, and the kick-up rudder can be reset from the cockpit. Pedaling is easy to sustain at 3 knots or so, with much faster sprints possible. I think the electric motor is good for 4-5 knots or so, but it's been a while. The forward-angled kick-up daggerboard is at the turn of the bilge to allow sleeping on board, and there are bulkheaded forward and aft stowage compartments as well as the two amas to provide redundant flotation.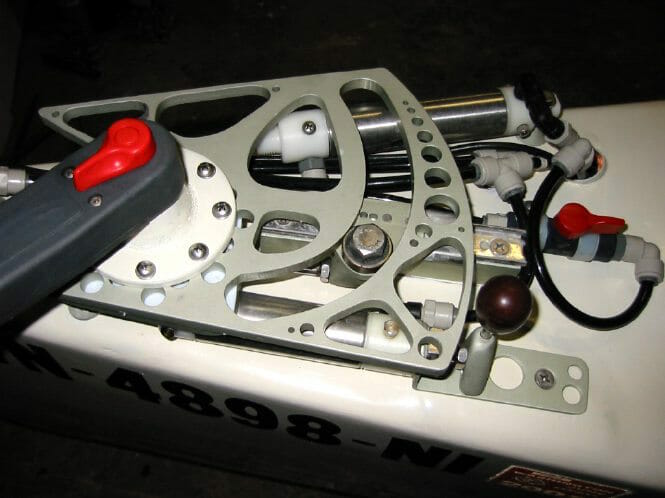 The steerable and retractable landing gear are insanely cool… it's awfully nice to deploy them and pull the boat up a ramp to take a break from it all and avoid moorage fees when camping options are nearby. On land, harnessed to the forward crossbeam, you plug a winch handle into a hydraulic assembly as shown here, yielding Ackerman steering as well as a "pigeon-toe" mode to keep the boat from running away on a slope. The landing-gear system alone gobbled 2-3 man-years of engineering time.
That's enough of a teaser for now… much more, of course, if I hear from likely candidates.
Cheers,
Steve
You must log in to post a comment.