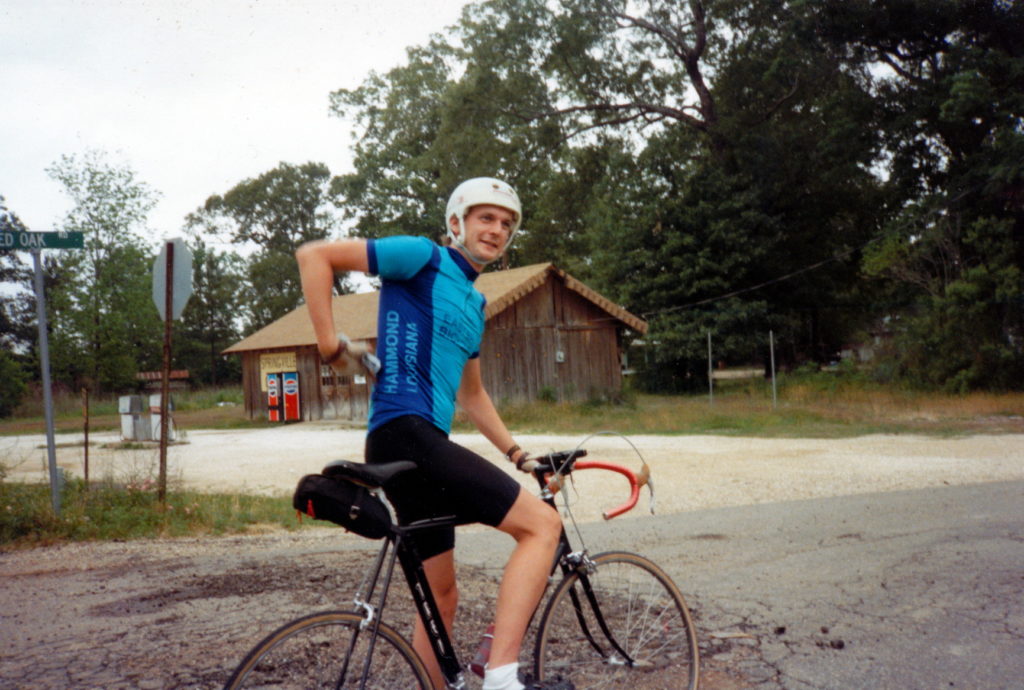 Computing Across America, chapter 30
by Steven K. Roberts
Hammond, Louisiana
April 26, 1984
If you go down to Hammond, you'll never come back…
— The Roches
It was to be a basic one-night college-town layover, nothing more. On the way to SLU I stopped at a bike shop and was advised to get in touch with John McClaine, Hammond's resident "famous cyclist." So already I was armed with a fallback position if the campus cruise and dining-hall routine failed to yield anything interesting.
I continued toward the college, but had ridden only a few blocks when I noticed someone pedaling furiously to catch up with me. I slowed, and there beside me appeared John McClaine himself astride a mountain bike (a bayou bike?).
"My God!" he cried. "That looks like something out of a non-violent version of The Road Warrior!"
He quickly extended an invitation to stay at his place, and after dropping by the annual Strawberry Jam to load up on free red beans and rice (look out, Albuquerque), I appeared at his door.
John is an expatriate Minnesotan, witty, mellow, blonde, and full of stories about everything from his solo bicycle tour around the British Isles to the general absurdity of the MBA life. He speaks in a quiet, insightful manner punctuated by quick smiles and laughter, and he makes the kind of eye contact that opens the door immediately to close friendship. Within the first hour of my visit, we were already discussing the possibility of his accompanying me partway to Baton Rouge the next morning.
We rode out of town together two and a half weeks later.
One of the major hallmarks of this journey is the profusion of new friendships that have developed in unexpected places — not just random bike-admirers and "contacts," but friends. The dark unknowns are illuminated time and again by the joy of communication, and more than once have I observed that I could spend my whole life in the impossible but rewarding attempt to meet all of the exceptional people in the world. They're everywhere, and it didn't take long to discover that Louisiana has received unfairly bad press.
Hammond is a small, friendly, comfortable college town. Within two or three days I became deeply involved in relationships and intrigue, embroiled in the personal politics of a town so small that no trip out of the apartment could occur without waves from new friends. I could pedal downtown at midnight, park the bike in front of Mariner's, and go inside to socialize without a fear in the world for the safety of myself or my machine.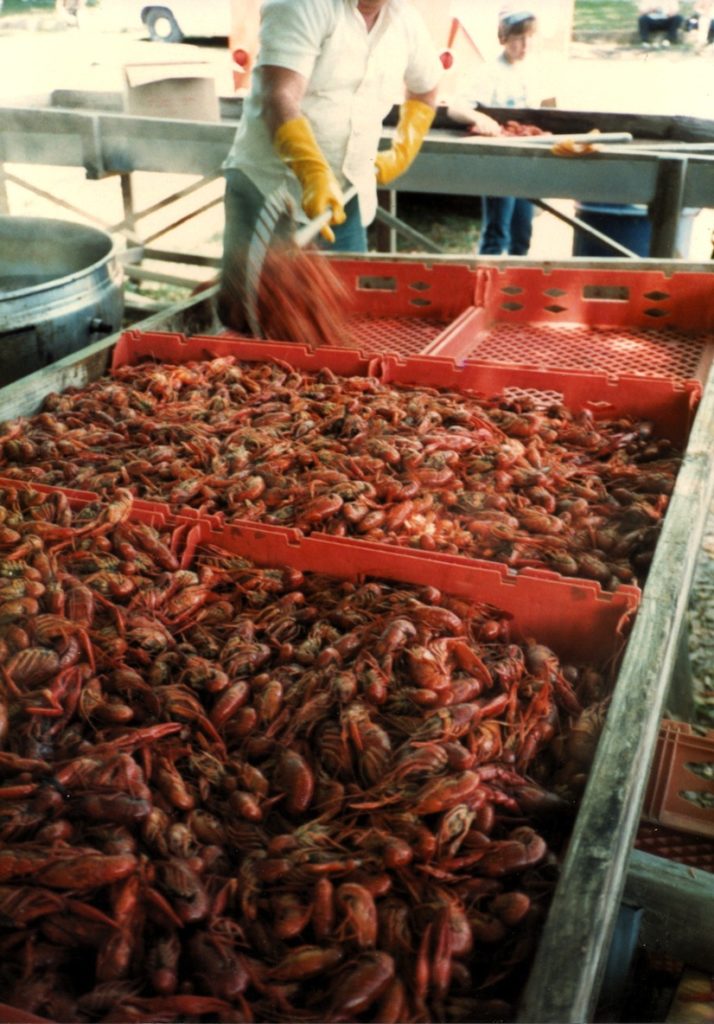 Ah, and the cultural experiences! Crawfish are a big deal in this part of the world, and John wasted no time in ushering me over to the annual campus crawfish boil. It was a major event, with a feeling of carnival. People were gathered under a simple roof, normally intended for livestock (animal aromas still present despite the potent smell of crawfish). The music was loud; the lines were long; the beer was twenty-five cents a glass. Everywhere were sounds of laughter, shouting, and the smacking of lips.
We paid a dollar each and were rewarded with almost unmanageable paper plates, piled four inches high with red "mud bugs," corn-on-the-cob, bread, and a baked potato. We walked around the long greasy debris-strewn tables, finally selecting an unlittered place with a good view of the passing beauties.
And then, with a bit of coaching, I began eating them. It's almost a ritual: break 'em in half, peel back a band of shell, pinch the tail, pull out the meat, extract intestines, eat, stick a finger into the main body to scoop out spicy fat, eat, break claws, eat. Some suck the heads. Everywhere were people eating, eating, eating tens of thousands of crawfish; a huge table of doomed live ones writhed next to a four-foot boiling kettle while Cajuns with rakes and ladles jovially processed them, munching a few as they worked. Frat boys serving beer snacked on 'em; sorority girls selling tickets stopped after every few dollars to deftly eviscerate and devour another of the creatures.
Seven hours later the smell was still on my fingers and in my beard: like the aromatic memory of a recent Louisiana lover, it was too poignant and evocative to wash off.
Hammond was quiet and conservative with flashes of sweet insanity that gradually became more frequent as I merged into the community. John introduced me to his friends and warned me about the local morality. "You might want to be careful around the dorms," he said. "A male in a female dorm gets charged with criminal trespass. A female in a male dorm gets 'written up.'" He was a hall director, and knew about such things.
"Yeah, this is the south, isn't it?" I lazily replied, gazing out over a moonlit expanse of quiet campus green.
"In every way. People here are rowdy but straight — they're into their cars and they go home on weekends to take shit from mom. Every year the new students are fascinated by the same pranks."
We stood on his balcony and savored the silence. Some of the mystique that colleges have always held for me was gradually slipping away; at the moment, I didn't particularly feel like I was missing any excitement.
John chuckled and gestured at a somnolent dorm. "They seem so innocent when they're asleep, don't they?"
I had spoken with some of the students earlier, probing their attitudes. One fellow had just broken up temporarily with his girlfriend. "She's real Christian," he said, "and doesn't get into the things I do. But she's gorgeous, man."
"That's not enough," I replied.
"Yeah, but she's real cute. I'm gonna marry her someday."
"Why make long-term decisions based on short-term information?"
He thought a moment. "Hey, I like that! Real philosophical!"
Of course, I found the traditional male "scoring" attitudes here too. In Mariner's one night, I commented to someone that I don't like to drink before sex, that it's too dulling. "I guess that's a negative commentary on the singles-bar scene," I said.
"I don't know, man. Sometimes it helps to have a few beers first — like 2 a.m. when you're just lookin' for a hole and a heartbeat."
A few days later, I received still more southern Louisiana sexual philosophy. Perfect, willowy, longhaired Angel had just gone out with John, and one of the students asked me, "Damn! Is that John's new girlfriend?"
"Well," I replied, not thinking. "I think we're both in love with her. But I'm leaving town soon."
"Hey man, back home we have a saying about such things: 'What's mine is mine; what's yours is mine.' We share our women, man. My buddy'll go out with a chick one night and tell me about it; I'll go out with her the next night and do exactly the same things."
Well, I had never really felt that way about such matters, but I suppose some might be tempted to make cynical commentary about my two-and-a-half-week Hammond stay. John and I not only became friends, but intertwined our lives through the his past, present, and future girlfriends. It was uncanny.
It began casually. One night at Mariner's bar we ran into his recent ex-lover Frankie, who pointedly ignored him and radiated the kind of hostility that arises from the "Hell hath no fury" syndrome. We retreated uncomfortably and went around the corner to Brady's, drinking beer and talking scorpions with the owner.
But in walked Julia, an old girlfriend of John's, and before long we had entered party mode, buying beer and appearing at her house for a seemingly endless night of conversation. John didn't leave us alone until 5:30 in the morning.
Not long after falling into a numb, smiling slumber, I awoke to a conversation in the garden. I looked out to see my new friend and her sister talking.
"Woke up this morning and saw a half-dead rooster in the pickup."
"Was it one of the ones y'all named?"
"No, but it fought both of its brothers and killed 'em. Poor thing could hardly walk."
"Fightin' down in Bogalusa?"
…and so on. This wasn't Ohio.
John and I savored a sense of kinship, but this was just the beginning. He had broken up with his long-established bright-eyed girlfriend only days before my arrival, and she and I met one night at the library where I sat innocently studying shorthand. Before long it had grown serious and I was playing the dual role of new lover and shuttle diplomat, viewing the open wound of their relationship from three simultaneous viewpoints.
We joked of the deepening tangle one night and he mused, "And I thought the eighties were going to be boring!"
This might well have run its course and joined the torrid database of on-the-road encounters were it not for the insights that it spawned: it was like viewing one of my own affairs from a detached yet intimate level, as if through a macro zoom lens. The parallels became more apparent, his nature and mine so much alike that the situation grew intriguing.
I was reminded of my marriage, and I winced at this close-up view of the pain I had caused. I lived with him and slept with her, explaining to each how the other really felt. And through the keen awareness of her eyes I saw him/me:
Plans to work, then procrastinates. Avoids confrontation. Quickly recovers from a split and transfers attention and affection to another. Loves falling in love, but shuns commitment. Et cetera. Ouch. Perhaps with all that goes a freedom of spirit that attracts certain people.
In the middle of all this, John and I took off to spend a day with his father, cruising down the Tickfaw River in a 25-foot cabin cruiser. We motored along, our tannin-stained wake entwined with gray exhaust, the banks on either side lined with tupelo gum and cypress trees. Past the Prop Stop watering hole; past a house on pontoons with its charcoal grill blowing steak fumes. Past ramshackle dwellings nestled in the trees, some crushed by storms, their broken roofs resting on collapsed walls with an occasional white stove still standing incongruously amid rotting debris. This was the swamp.
From such a viewpoint, the drama of my Hammond life seemed remote, ridiculous. We joked about it, and then John suddenly froze with a look of shock. "Oh no! I wonder what my parents think!" He glanced surreptitiously at his dad, piloting the worn cruiser into the open waters of Lake Maurepas.
"What do you mean?"
"Well, about two weeks ago I permed my hair."
"Right."
"Right. Then I shaved my legs for bicycle racing."
"Uh-huh."
"Then I broke up with my girlfriend."
"Uh-oh."
"Yeah. And then a weird guy with a strange bicycle moved into my apartment." He buried his face in his hands. "You don't think they think… Augh!"
We had a good laugh, realizing that if either of us had been female we wouldn't have involved so many other people in the unusual friendship that had grown between us.
---
I escaped for a sabbatical in New Orleans, taking a Greyhound bus from one mad microworld to another. What an absurd way to see the country! The world glided by too smoothly, stripped of texture and smells and people. Miles were not purchased with sweat and effort; they just happened. The scenery was an experience of video, not viscera. I was yawning by the time I reached the city, then jammed my knees into still more bus seats to rendezvous with Monique, a friend I had met on the beach near the end of my stay in Key West.
The seamy underside of New Orleans looks about like the seamy underside of any big city: dirty, concrete, boring, somehow alien and hostile. The first night did little to change that perception, as we stayed in an expensive and predictable downtown hotel. Mediocre room-service gumbo, a view of dying midtown streets, four gunshots echoing outside just after midnight, better-than-average shower head. Welcome to the City. It could have been Houston or Detroit.
But there the dullness ended. A desk clerk overheard us chatting and told us she would be leaving on vacation Saturday. We looked like an awfully nice young couple… would we like to rent her apartment for $24 a night? This is not normal. We took one look at her spacious place on Esplanade and accepted the offer without hesitation. But first we needed accommodations for Friday night — and that gave us a chance to stay in the heart of the French Quarter.
After becoming permanently spoiled by the magic of Key West's Merlinn, a guest house was the only rational choice — and the Olivier on Toulouse Street was a credit to the genre. Built in 1836, it exuded "old N'Awlins" character from its very walls. Our room came with a big Victorian four-poster, ornate fireplace, blue velvet wallpaper, sixteen-foot ceiling and the original bronze chandelier; this had been the parlor, long ago, and graciousness still lingered in the air like a hint of jasmine. This place (at two thirds the price) shamed our sanitized hotel room of the night before.
And then it was Friday night on Bourbon Street. We were buoyed along in the crowd, trying not to spill our Dixie beers. I marveled at miniskirted beauties as Monique stumbled at the occasional gorgeous hunk. Around us were tourists, some tacky, some even garbed in matching shirts. There were strip shows, T-shirt shops, and street music; through it all passed a motley full-spectrum human promenade with no type unrepresented. We approached an "All-Male Revue" and the hawker snared us to explain: "This isn't one of those strip and strut shows, my friends, this is professional female impersonation…" then his voice was lost as we were swept along once again.
Suddenly in my hand was a two-by-five-inch red card, boldly proclaiming: BARE! TOTALLY EXPOSED! I turned it over and read: "Stripped, nothing hidden. Actions, deeds, even thoughts. Every sin you have will be exposed when you stand before God — on judgment day." That's how to sell religion on Bourbon Street.
We stepped into a sex shop, its racks stuffed with rubber appliances of dubious intent, studded leather goods, handcuffs, and sealed pricey smut ranging from the prestigious Enema Quarterly to borderline kiddie porn. A bored young Iranian sat at the cash register under a sign reading: "Please be advised that the clerk on duty has no knowledge of the contents or character of any magazine or other item in this bookstore. Our clerk does not ever review, seal, affix markers or price tags on stock, nor shelve the magazines or other items displayed. In view of this, the clerk cannot and will not advise you as to the quality, nature, contents, or character of any item for sale here."
Back to the street, shaking our heads. We stopped to marvel at a trio of break-dancers as they gyrated with acrobatic precision in the jazz pouring freely from an open doorway. The crowd grew and the coins flew — the sweating human oscilloscopes capturing every nuance of the sound and displaying it on the dark screens of their agile young bodies. But there was a sudden tension, and the circle of onlookers parted. Two unsmiling cops stepped in to break it up.
Seeking food, we strolled a side street and found ourselves drawn irresistibly into an evocative oasis, as a spirited old man with an alto sax wove delicately intertwined syllables of profound musical insight. He glowed with an inner flame and flooded the bar with a wash of searing sound while the other three members of the Paddock Jazz Band tossed the theme among them as only long-established partners can. We stumbled to a table and absently paid seven dollars for two beers as potent notes shook us, soft notes stroked us, and tiny vibrating ones fluttered over our bodies to tease us with their touch.
I was rapt, awed, humbled. The sound wound through the room and echoed down the street, touching certain passers-by and pulling them in while others merely twitched, sensing something, and hurried along. But no one hearing the sound could remain unmoved. A few random denizens of the night, too poor to buy drinks inside, lurked in the doorway — a small pool of ragtag humanity standing silent, eyes respectfully downcast.
The sound. It knifed cleanly and bloodlessly through the crisp style of the cat across the room, stinging his heart and stopping his jive. It snaked through sordid alleys, spooking the real cats and returning vague echoes of exquisite loneliness. It was the sound of a human soul, exposed and pulsing, at once irresistible and embarrassingly intimate.
A lean scatterbreed hound with cocked ears stopped at the door, looked in, and stifled a commiserating bark.
I gazed across the table at my friend: trapped in the spell, breathing rapidly, she stared at the dancing reflections in the bell of the sax. She was captivated, wrapped in the music's arms, aroused by the deep sensuality of Bill Kelsey's expression. Then I turned to study this glowing old man… the spark was in his eyes.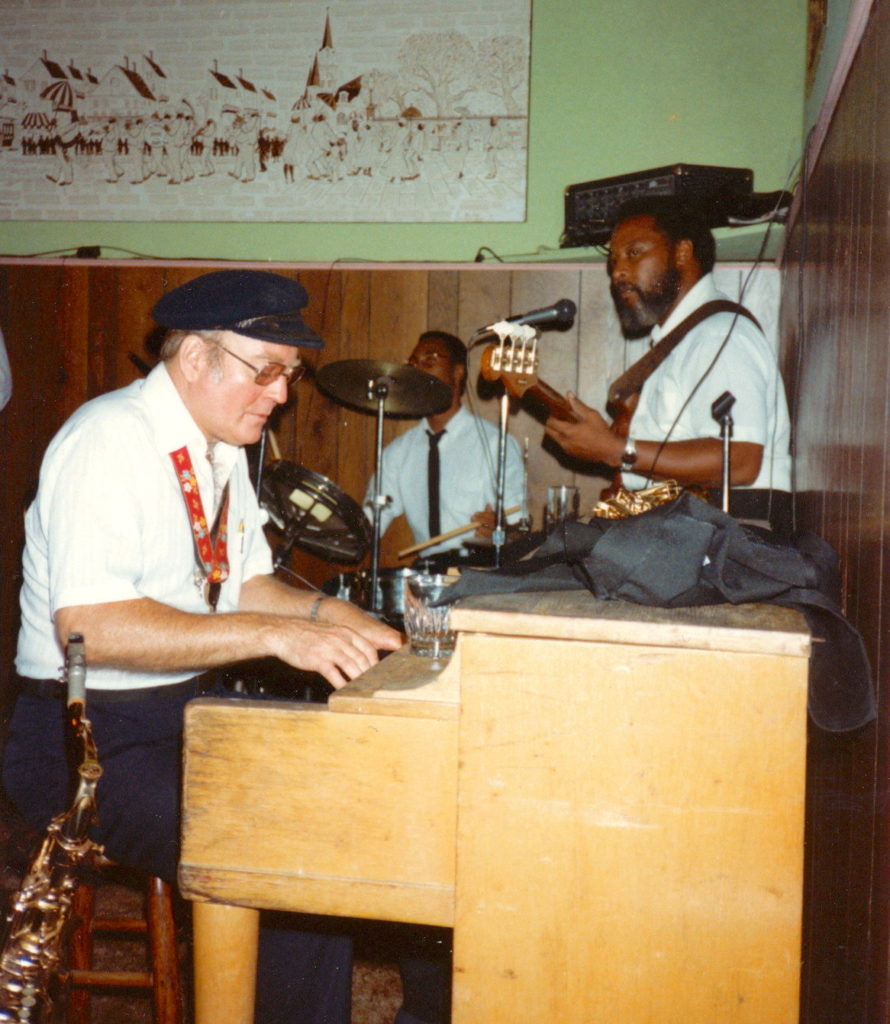 When the last set ended and the glasses were being put away, when people were drifting back into the night and Monique went off to the bathroom, he picked up a clarinet. There was still something he had to say. Our eyes locked, and he launched into a wordless musical explanation of all that can't be said — the inner magic that inspires whole religions. The music lay far outside the realm of keys and idiom, and the light in his face was unmistakable.
I swallowed hard and he stopped with a brief obligatory tonic, hardly bothering to find and satisfy the harmonic tension. The absence of music was eerie; glasses clinking at the bar seemed surreal, amplified.
"You… you move me," I croaked, shivering. I knew he knew what I meant.
With a peaceful smile and a soft laugh he replied, "Of course, it doesn't come from me. You know where it comes from."
My eyes widened as my suspicion was confirmed. I felt like I was tripping."Yes… I do …"
There in his eyes was I. "Krishna," he said, beginning to wipe the instrument.
I blinked, startled. What? Krishna? "It's… it's the same spark, isn't it?"
He paused for a moment and looked at me closely, then slowly nodded and drew the cloth through the body of the worn clarinet. Behind him stood Irving Charles, the mellow bassman, a cigarette dangling between the littlest fingers of his plucking hand. Monique was walking sexily toward us from the bathroom, and the moment of undiluted recognition was quickly passing.
"Phew," said Bill Kelsey.
"Phew," I replied. It was a cosmic slap, an event that shocks the vignetting from inner vision.
There wasn't much we could add. The only small talk we managed was that he had started playing when he was five. I mumbled something incomprehensible about a bicycle trip and was suddenly back on the street, feeling high and beyond words. Monique touched me lightly and didn't press for details.
But we were still hungry. It was now long after midnight, and the regular restaurants were closed. The crowd was more colorful, more drunk, less homogenized by the wash 'n wear trappings of tourism. Somebody tried to sell us cocaine (or so I assumed — an offer of "blow" is a bit ambiguous). A hooker in red miniskirt and high fuck-me pumps winked at me in simulated shyness. A hawker directed our attention through a doorway where a nude woman writhed on a stage under smoky spotlights. Two men walked by, holding hands, one of them calling "Hi girls!" to a gay couple going the other way. The Quarter belonged to the locals now — the hour was late and I could sense the cultural identity, the diverse hedonistic community. There were some hard-core crazies swirling around us, but they loved this place and it showed.
We joined the parade of madness and exotica and the merely curious, strolling the streets in a mishmash of drunks, druggies, bikers, gays, prostitutes, wealthy, and poor. Food. Somewhere there had to be food.
Another side street, another lit doorway. Clinking dishes and laughter. We found a window seat in Molly's Irish Pub and relaxed.
After exquisite omelets and three cups of coffee, a trio of gays breezed in, hilarious and drunk. Much to Monique's dismay, they began flirting with me. (Three good-looking guys approach and she thinks they're after her. Ha!) "Damn, you're cute!" one smooth black guy said coyly, sitting beside me thigh to thigh. Another cozied up to Monique, gestured over at me, and said, "Honey, listen, you and me gotta talk." They flitted around the room, kissing everybody, returning now and then to flirt with us as other people drifting down the street stopped to chat through the open window.
I kinda liked this place.
I enjoyed the attention of the gays, largely because my presence there with a woman prevented any awkwardness. I could safely tease them, sensing the kind of sexual power that women possess all the time. Could that be one of the motivations behind the gay culture?
It's a heavy responsibility you know, this business of being male. If you don't happen to have a fancy high-tech bicycle or some other foolproof drawing card (Ferrari, cocaine, or a face that makes you look like the latest hot film star), then you're stuck with the traditional method of having to approach women. This can be rather frightening. Tentatively, you stick your neck out; confidently, they either stroke it or cut it off.
Hang around in the shadows of a singles bar sometime and watch:
The men preen, work up a few lines, have a couple of drinks to soften the inevitable rejections, gaze longingly at a sweet alluring blossom, and then take the Big Chance.
The women render themselves stunning, flash some thigh, snicker at the clumsiness and absurdity of most of the guys' approaches, and wait — hoping that someone who is not a jerk will ask them to dance.
And when the drinks are bought, the expectations start. It's an informal version of the hustle that goes on in strip joints: he buys her a drink, and thus feels entitled to some time in her presence. Maybe he'll get lucky.
What a system.
Actually, the whole society works this way. The women's clothing industry is a breeding ground for tomorrow's sexuality, offering sensual textures for any occasion. Ads for everything from cigarettes to computers pander to that dependable male horniness. We grow up lusting after the unattainable wish-book fantasies of Playboy and Penthouse, and we walk into NO PARKING signs when someone in a see-through dress sashays by. But if we try to retaliate with see-through pants, we get locked up and labeled sick.
To men, lust is largely visual. I had an embezzling secretary once — admittedly an extreme case — who could shatter my concentration by simply bending over the bottom drawer of the file cabinet in her miniskirt.
<pang> This she did often, always glancing into my office to savor my discomposure. But if I had responded in kind, she would have doubtless fled the building in disgust, crying "Pervert!" and suing me for sexual harassment.
It's a gross imbalance, but gays have sidestepped it neatly. As uninterested as I am in the idea of frolicking with male bodies, I do envy their freedom from polarized sexual roles. They can be sensitive, alluring, flirtatious, and giddy — as well as serious, macho, or quietly professional. They have a choice, and can dress as they please. Nobody objects, at least not in the gay societies of New Orleans, Key West, Provincetown, Laguna Beach…
I sat in Molly's and watched them. They weren't awkward about touching, nor were they protecting any kind of macho image. Though their sexual preferences didn't match mine, they were three very free and happy people and I have often wondered "what if…"
New Orleans held us for about a week. We found Jim Turner on Jackson Square with his glass harmonica, the sweet acoustic memories of Key West sunset echoing quietly from the arches of the old cathedral. "Hey, world traveler!" he cried, seeing me; thus honored, I hung around long enough to land a job playing the drones in his Scottish bagpipe melody.
A sore throat threatened my bliss, but I fought it off with happy-hour beer and a dozen raw oysters — glistening gray creatures salty and alive, their flavor as dark and mysterious as the ocean floor. We sat on the balcony surrounded by the aromas of suds and sea, looking down on an endless parade of life and color. Some young kids set up a break-dancing show below us on the street—not as smooth as the group the night before, but earnest enough. I tossed them a quarter.
A dancer about ten years old chased the coin, plucked it from the gutter with a flourish, and pointed at me accusingly. "Hey! You could hurt somebody like that, man! Next time you do that, wrap it up in a dollar bill first!"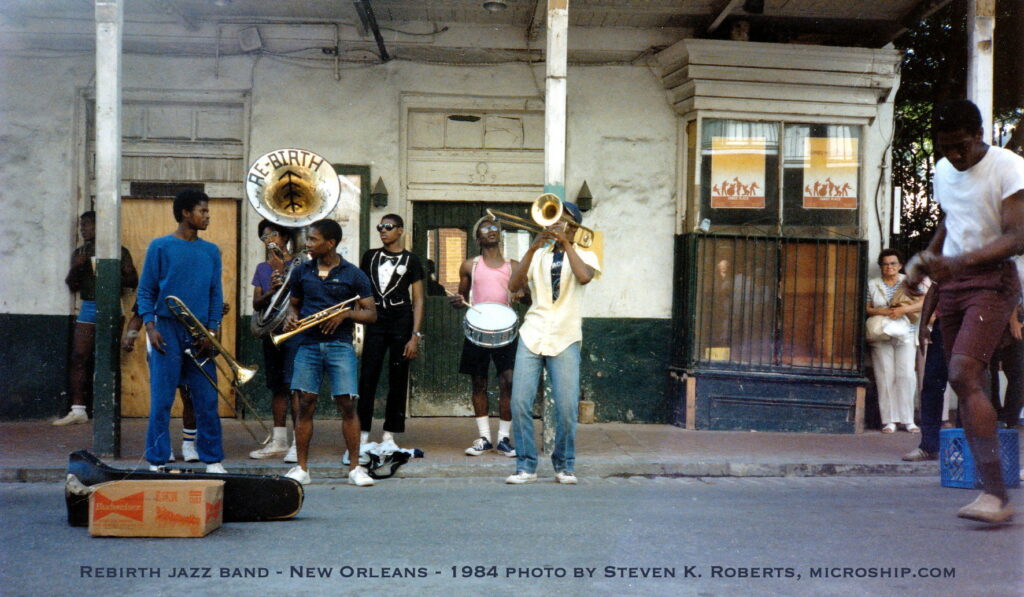 I stepped off the bus in Hammond after midnight, the small Greyhound station startlingly sleepy after the huge terminal in the city. I crept quietly back to John's apartment in late morning sunshine, wanting very much to hit the road. Life with the other woman wasn't nearly as complicated. I packed up, made a spirited round of good-byes far more involved than my transience would suggest, then camped alone near Ponchatoula to prepare myself for the road.
From the KOA pay phone, I called John. "Hey, pal, you still up for that ride out 42 we talked about a few weeks ago?"
"Steve! Damn, I'm glad you called. Your departure seemed kind of anticlimactic — I had a picture in my mind's eye of riding off with you into the sunset, and when I started realizing you were really gone… well, it didn't feel right."
"I'm not sure 'anticlimactic' is the word for it," I joked, "but that's another story."
So off we went on little country roads, after breakfasting with a helicopter-towing family who invited me to visit if I ever happened to pass through St. George, Utah. (It seemed impossibly remote, but then, so had Louisiana not so very long before.)
For a while John and I were silent. Then we grinned at each other and started talking about it, realizing just how quickly I had entered their lives, how quickly the barriers had fallen. Hammond had been a bonbon in my lifestyle sampler. I felt as if I had lived there for years, yet the lives of my friends appeared at once close-up and far away. I looked over at John on his sleek Trek racing bike: I was the unfettered embodiment of his dreams; he was a projection of my own loony life into a stable context. We had learned much.
John and I parted in the Louisiana woods. A somehow-inadequate handshake, an embarrassed chuckle, a difficult good-bye. Quietly, we turned from each other and pedaled very different machines back to our respective adventures.
---