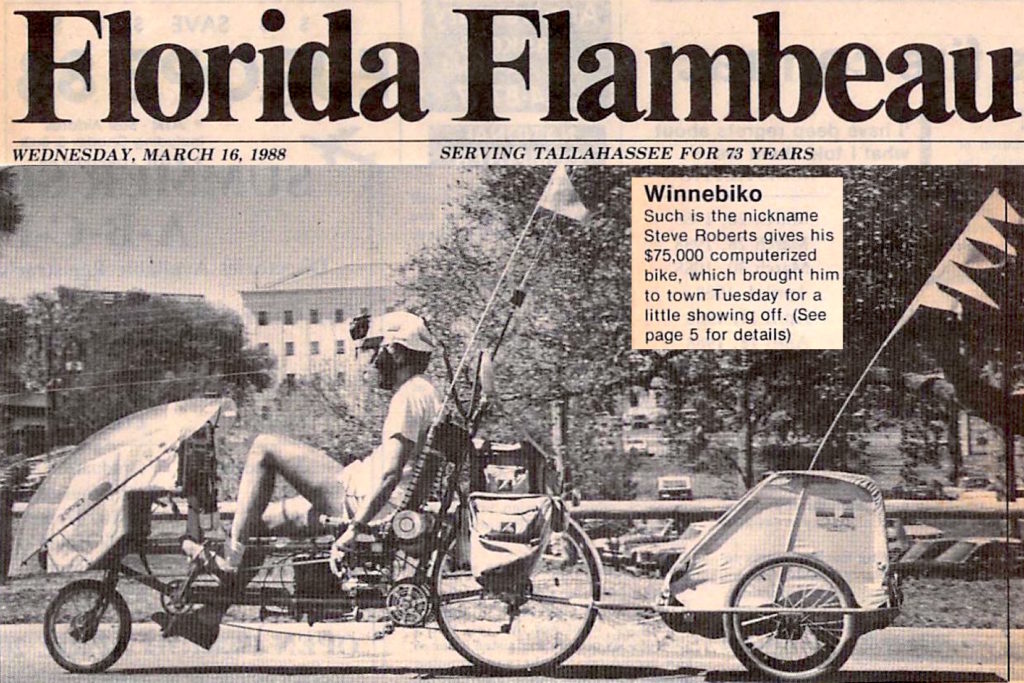 Nomad Wheels in on High-Tech Vehicle – Florida Flambeau
by Lisa Photos
Florida Flambeau
March 16, 1988
Steve Roberts can type up to 30 words a minute while riding his bicycle up to 50 miles per hour.
In fact, Roberts — who has a complex computer system rigged up in a sort of cockpit at the front of the unique bike — has whipped up an entire book about his on-wheels experiences throughout North America.
During a brief visit in Tallahassee at the Department of Transportation Tuesday, the freelance writer explained how his high-tech bicycle/computer terminal works, and promoted his newly published Computing Across America: The Bicycle Odyssey of a High-Tech Nomad.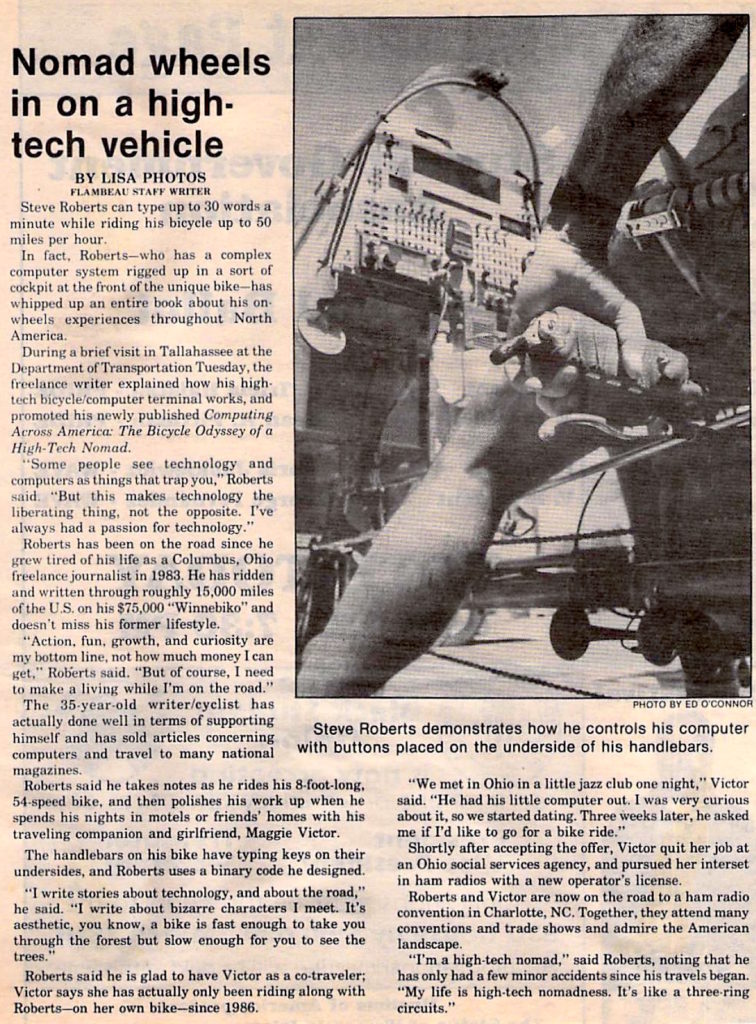 "Some people see technology and computers as things that trap you," Roberts said. "But this makes technology the liberating thing, not the opposite. I've always had a passion for technology."
Roberts has been on the road since he grew tired of his life as a Columbus, Ohio freelance journalist in 1983. He has ridden and written through roughly 15,000 miles of the U.S. on his $75,000 "Winnebiko" and doesn't miss his former lifestyle.
"Action, fun, growth, and curiosity are my bottom line, not how much money I can net." Roberts said. "But of course, I need to make a living while I'm on the road."
The 35-year-old writer/cyclist has actually done well in terms of supporting himself and has sold articles concerning computers and travel to many national magazines.
Roberts said he takes notes as he rides his 8-foot-long, 54-speed bike, and then polishes his work up when he spends his nights in motels or friends' homes with his traveling companion and girlfriend, Maggie Victor.
The handlebars on his bike have typing keys on their undersides, and Roberts uses a binary code he designed.
"I write stories about technology, and about the road," he said. "I write about bizarre characters I meet. It's aesthetic, you know, a bike is fast enough to take you through the forest but slow enough for you to see the trees."
Roberts said he is glad to have Victor as a co-traveler; Victor says she has actually only been riding along with Roberts — on her own bike — since 1986.
"We met in Ohio in a little jazz club one night," Victor said. "He had his little computer out. I was very curious about it, so we started dating. Three weeks later, he asked me if I'd like to go for a bike ride."
Shortly after accepting the offer, Victor quit her job at an Ohio social services agency, and pursued her interest in ham radios with a new operator's license.
Roberts and Victor are now on the road to a ham radio convention in Charlotte, NC. Together, they attend many conventions and trade shows and admire the American landscape.
"I'm a high-tech nomad," said Roberts, noting that he has only had a few minor accidents since his travels began. "My life is high-tech nomadness. It's like a three-ring circuits."