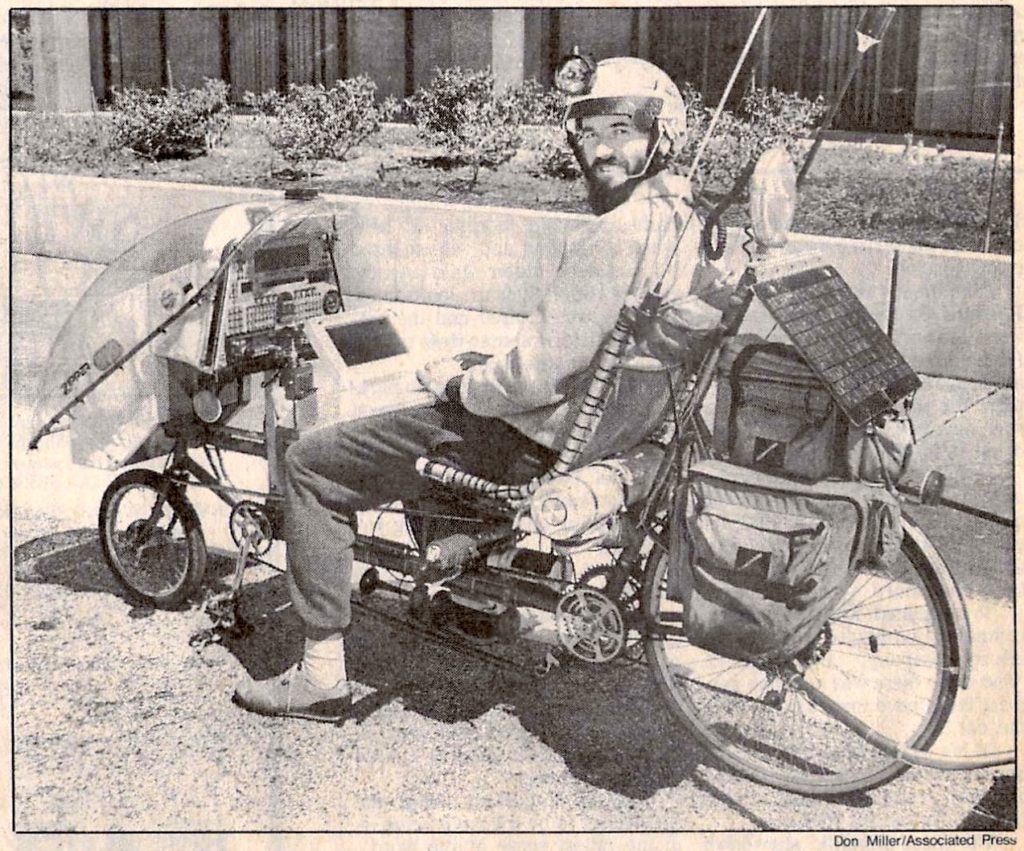 High-tech biker odyssey – Tallahassee Democrat
Cruising highways on bicycle of future
by Linda Guggino, staff writer
Tallahassee Democrat 
March 16, 1988

It was a chilly 48 degrees at noon outside the Florida Department of Transportation on Tuesday when Steve Roberts, wearing gym shorts and a T-shirt, rolled up on his $75,000 bicycle.
A score of bundled-up onlookers who had heard about this bike of the future were standing around, waiting to talk to Roberts about his life as a nomadic writer — literally nomadic.
Yup, as Roberts tools along down that long, lonesome highway, he writes stories and articles, jots down notes and thoughts and captures those good turns of phrase that used to vanish with the breeze before he figured out how to compose as he pedaled.
What makes Roberts' bike worth $75,000 is that he has installed a network of five computers on it, which includes four typing keys in each handlebar, a computer screen in front of him, a program that translates his coded tappings into words and a radio-communications system.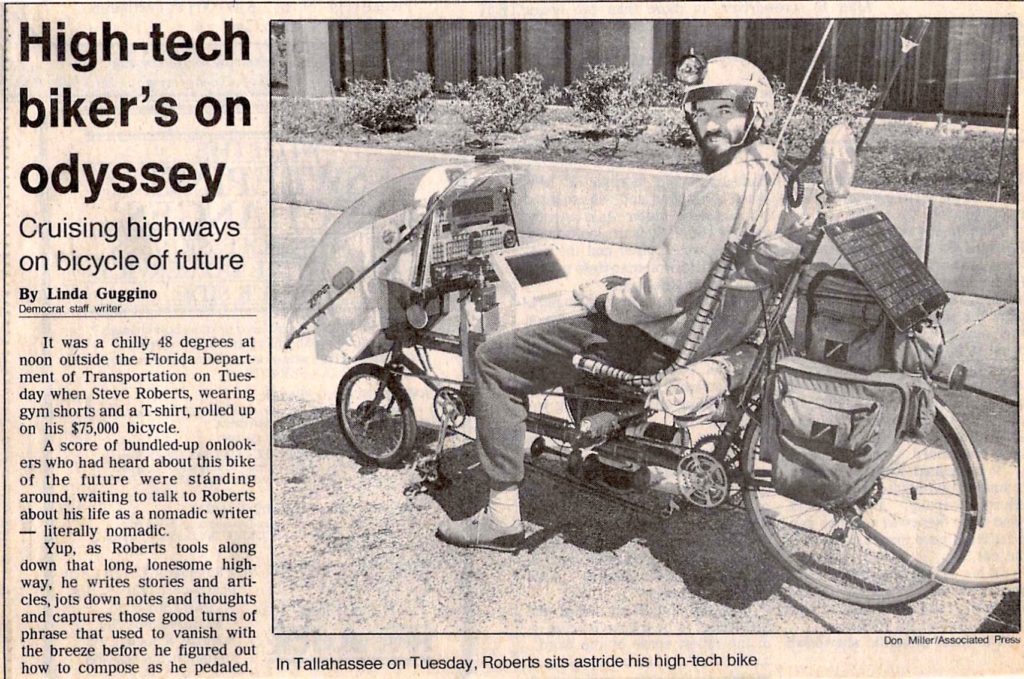 Roberts, 6-foot-4, 35 years old, amiable and relaxed, seemed to relish showing off the bells and whistles on his technology-studded vehicle.
"To me, the technology is liberating, not confining," he said, attached to his bike by means of the helmet on his head. The helmet was loaded up with radio wiring, a curly black cord and a miner's light on the front. Someone asked him if he had any idea what he looked like and he looked a little puzzled and said, "No."
But his traveling companion, Maggie Victor, chuckled.
"We look so absurd going down the highway that we really get better treatment than most bicyclists. Our absurd look is really our security system," she said.
Victor, also 35, said she met Roberts two years ago in a bar in Columbus, Ohio. She and a girlfriend spotted him when he sat down with a lap-sized computer. Three weeks later, she had quit her job as a social worker, sold everything she owned and was on the road with him.
"The only time I got worried was the first night. I kept worrying about where we would sleep, but Steve kept saying, 'Something will come up.' Sure enough, we were in a little grocery store and a woman said, 'Oh, you've got to come home with me. My husband will never believe this.' It's been just fine ever since," Victor said.
Roberts said his odyssey as a high-tech nomad was entirely driven by his passions — passions for leaving suburbia, for finding adventure, for technology, for romance, for the unknown.
"I was a free-lance writer in Columbus, Ohio, and I thought, whoa, wait a minute. If I'm a freelance writer, I ought to be out there, not stuck inside an office. So…"
So, the adventure began in 1983 when Roberts had his customized recumbent bike built. The bike, called Winnebiko II, weighs 275 pounds and comes with two solar panels that keep things running. At the end of the day, after averaging 50 or 60 miles on the road, Roberts and Victor spend the night with old friends, new friends, in campgrounds or motels.
Using the Genie satellite-based information network, he keeps in touch with his business contacts all over the country and manages to publish "Journal of High Treknowledgy," a monthly magazine about his ongoing journey.
"Computing Across America," the book about his first 10,000 miles on the computer/bike, which includes several of his 1984 adventures in Tallahassee, Gainesville, Key West and St. Augustine, was recently published.
The onlookers drifted away and Roberts shivered. He asked for a pair of sweat pants. As he was pulling them on, he said, "Oh, well, there goes the image."