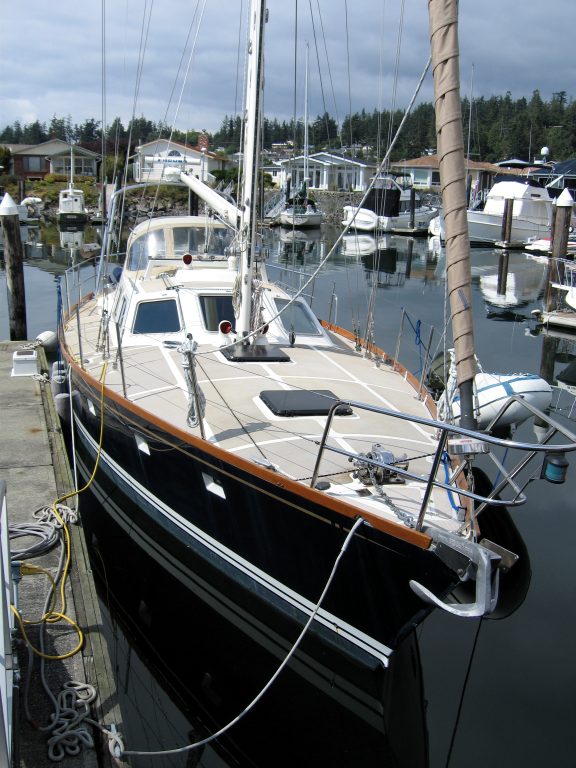 Nomadness, Reloaded. Again.
A lot has happened since my last posting, in which I had reluctantly concluded that the trimaran was for sale. Among other things, she has indeed been sold… and just completed an inaugural voyage with her new Canadian owner (ironically, right back to Desolation Sound via Cowichan Bay, Pender Harbour, and Nanaimo).
I write now on the eve of sea trial and survey of what might be my new ship after a long and exhausting quest (with which I didn't want to bore you; hence the long silence here). The process was as stressful as could be imagined, and is certainly not over yet… next week the experts examine her closely to find non-obvious system problems, turbo-diesel quirks, hull anomalies, creeping corrosion, rig imbalance, and any mismatch 'twixt contracted price and reality.
Once all this is over, I'll either run away (as I have before at this point) or proceed toward closing… and just in case the latter occurs, I went ahead and secured a slip for the 6-7 months of dockside projects before going on the hook for a season of exploring Northwest waters. And after that? Either a gradual widening of range until I'm ready to cast off the metaphorical mooring lines of home base tonnage, or that long-imagined leg out the Strait of Juan de Fuca, followed by a left turn and the beginning of a global voyage after the requisite rendezvous with the Baja Ha-Ha.
Anyway, I'll refrain from extensive details until I know one way or the other whether this is the boat, but here's a teaser: she's an Amazon 44 steel raised-salon pilothouse cutter, a robust substrate for geeky goodness that was built to handle the rigors of circumnavigation. She carries a double-spreader high-aspect rig with in-mast furling loose-footed battenless main, and standing rigging is stout and redundant. There are lots of interesting features, but all that can wait, blog-wise, until I know whether she is to be mine.
The photo at the top of this page is Windarra at the dock during my first showing. Yikes.
Much more soon (as well as a revamping of the Nomadness site to reflect the new boat, which may or may not keep the same name. I'm also considering Irony, a play on the hull material as well as a setup for the dinghy and kayak monikers (the other two members of the holy trinity: Entropy and Recursion).
You must log in to post a comment.