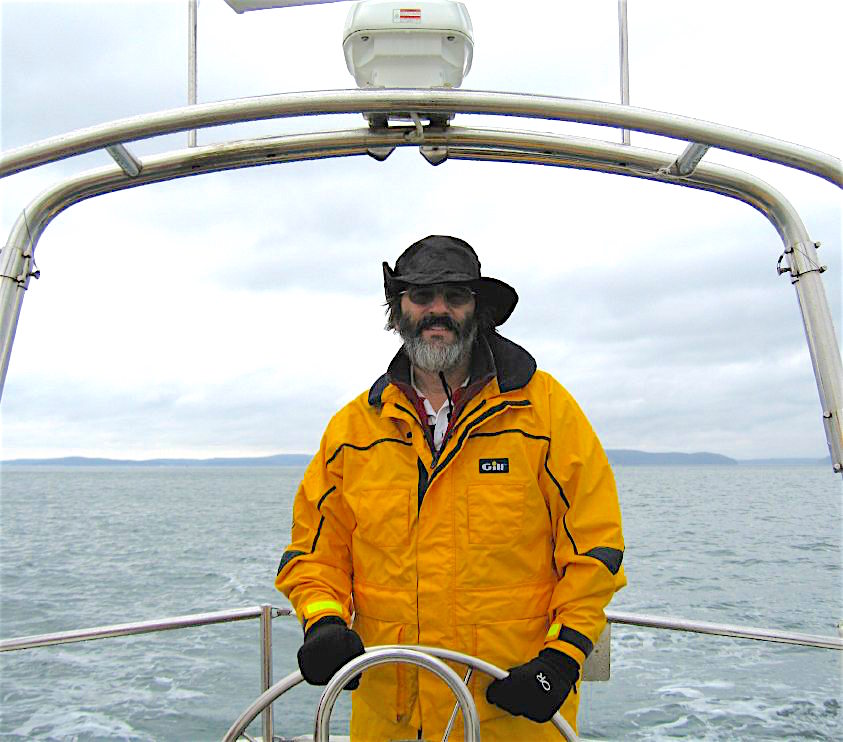 If a man must be obsessed by something, I suppose a boat is as good as anything, perhaps a bit better than most. A small sailing craft is not only beautiful, it is seductive and full of strange promise and the hint of trouble. If it happens to be an auxiliary cruising boat, it is without question the most compact and ingenious arrangement for living ever devised by the restless mind of man—a home that is stable without being stationary, shaped less like a box than like a fish or a girl, and in which the homeowner can remove his daily affairs as far from shore as he has the nerve to take them, close hauled or running free—parlor, bedroom, and bath, suspended and alive.

– E.B. White
And so it begins, for real this time. What I learned from Microship-on-Steroids is that I need not a rocketship, but a substrate that's almost industrial in robustness, yet still graceful and balanced. Not a "work boat," in other words, but a voyager built to work-boat standards.
The deal is done, and my first time out was the delivery run (with two wonderful friends aboard), taking her from her old digs to the new winter moorage. Given my propensity for jumping into things with both feet, it is entirely appropriate that there was a small-craft advisory, with 25 knots of wind on the nose and a vigorous flood current behind us…
Despite burying the bow in square, closely spaced stacks of waves, we took not a drop in the cockpit or below. Steering was decisive, the Yanmar turbo diesel purred softly, and going forward (whether above decks or below) was surprisingly secure. The pilothouse was comfortable as well, with the Webasto heater keeping things toasty and a joystick with rudder position indicator making steering easy. Though it wasn't needed, I checked the radar to confirm that proceeding in the fog would be at least possible, and the instruments were faithful and consistent.
The trip had it's "arrrh, matey!" moments, of course; how could it not? Them what died was the lucky ones. I'm actually rather glad it was a blustery, somewhat scary day and not a sunny millpond; it felt like a mini-voyage with fast-moving current and a hard biting wind (a good thing to get familiar with, as I intend to do a fair bit of winter sailing here in the Pacific Northwest to further learn and bond with the boat before going full time).
The new S/V Nomadness is now parked in her slip, and my job for the next few weeks is to move the basics aboard, figure out where everything is, learn the essentials of maintenance, and—very soon—make a solo run down to the nether reaches of Puget Sound. Then will begin the projects, though fortunately all of them are layered atop this robust and well-found steel vessel.
I'll close with one more classic quote to capture the feeling of this phase:
"I've always wanted to sail to the South Seas, but can't afford it." What these men can't afford is not to go. They are enmeshed in the cancerous discipline of "security." And in the worship of security we fling our lives beneath the wheels of routine—and before we know it our lives are gone.

What does a man need—really need? A few pounds of food each day, heat and shelter, six feet to lie down in—and some form of working activity that will yield a sense of accomplishment. That's all—in the material sense. And we know it. But we are brainwashed by our economic system until we end up in a tomb beneath a pyramid of time payments, mortgages, preposterous gadgetry, playthings that divert our attention from the sheer idiocy of the charade.

The years thunder by. The dreams of youth grow dim where they lie caked in dust on the shelves of patience. Before we know it the tomb is sealed.

Where, then lies the answer? In choice. Which shall it be: bankruptcy of purse or bankruptcy of life?"

– Sterling Hayden