Pedaling a Practical Dream – UNR
A delightful, yet whirlwind visit to the Reno campus of the University of Nevada included a talk hosted by the Computer Science Department and two newspaper stories. This one is the university paper; the other was in the Gazette-Journal on the same day.
by Paul Mello
Sagebrush
Univ of Nevada – Reno
April 17, 1992
When Steve Roberts rides his bicycle, passing motorists usually do a double take.
Roberts doesn't ride a 10-speed.
He rides a $1.2 million, 105-speed recumbent bicycle with a cellular phone, fax machine, high-speed modem, active helmet cooling, heads-up display, speech synthesis and recognition, handlebar keyboard, head mouse, security system, hydraulic brakes, solar power and a complete network of computers.
Its called BEHEMOTH (Big Electric Human Energized Machine, Only Too Heavy). The 13-foot-long bike is the third version of what was originally called "Winnebiko."
Roberts originally came up with the idea when he found himself living in an intellectual vacuum and money trap — suburban Columbus, Ohio.
"I was chained to my desk and deep in debt like everyone else," the middle-aged man said in his news release. "Stuck."
After wondering where his passions had gone, he listed them.
"Writing, adventure, computer design, ham radio, bicycling, romance, learning, networking, publishing… each of these things had at one time kept me up all night in a delicious frenzy of intellectual growth," he said.
He decided to chase his dreams. Aided by some 35 volunteers and 150 corporate sponsors, BEHEMOTH evolved. It is an elongated version of an awesome tricycle dreamed up by a child and ridden by a man who never grew up.
But the original version had one major flaw.
"I couldn't write while riding," Roberts said.
He can now. With keyboards on the handlebars and a microscreen under his right eye, writing is a mobile experience.
Roberts showed off his bike and his wit Thursday at the Scrugham Engineering and Mining Building in front of a crowd of about 50 students and professionals.
And he had some tales to tell.
Once, while eating at a restaurant, a 10-year-old boy carrying a skateboard underarm walked toward the bike. Roberts activated the bike's voice synthesizer with his palmtop computer.
"You have a strange bicycle there," the bike said.
The boy, not phased by the talking bicycle, proudly asserted, "It's not a bike, it's a skateboard."
After a brief conversation that Roberts said the boy carried on as normally as if it were with a person, the boy spotted his mom and said, "Oh, there's my mom — wait right here."
After pleading with his mother, she reluctantly followed the boy. But the bike didn't squeak. Roberts finally gave in when the mother began to turn away.
"Hi there, pretty girl," the bike blurted. "Would you like to ride on me?"
The woman froze.
"See?" her son said.
It's just one of many stories Roberts has stored up in his mind and his bike after 17,000 miles aboard Behemoth. He's even written a book about his travels, Computing Across America: The Bicycle Odyssey of a High-Tech Nomad.
Roberts is tall and bearded. Wearing a BEHEMOTH T-shirt, he stood above his creation, looking like a man who hadn't slept for a day and a half — because he hadn't. His tour of schools, companies and universities has left him with little time to sleep.
On the bike — while riding — Roberts can type out reports and assignments he has and at the same time enjoy great scenery. He said the fact that he is not in an office sometimes makes clients uneasy. But he said the location of his work has very little to do with the outcome of the work.
"I could be on a mountain and they wouldn't have to know about it," he said.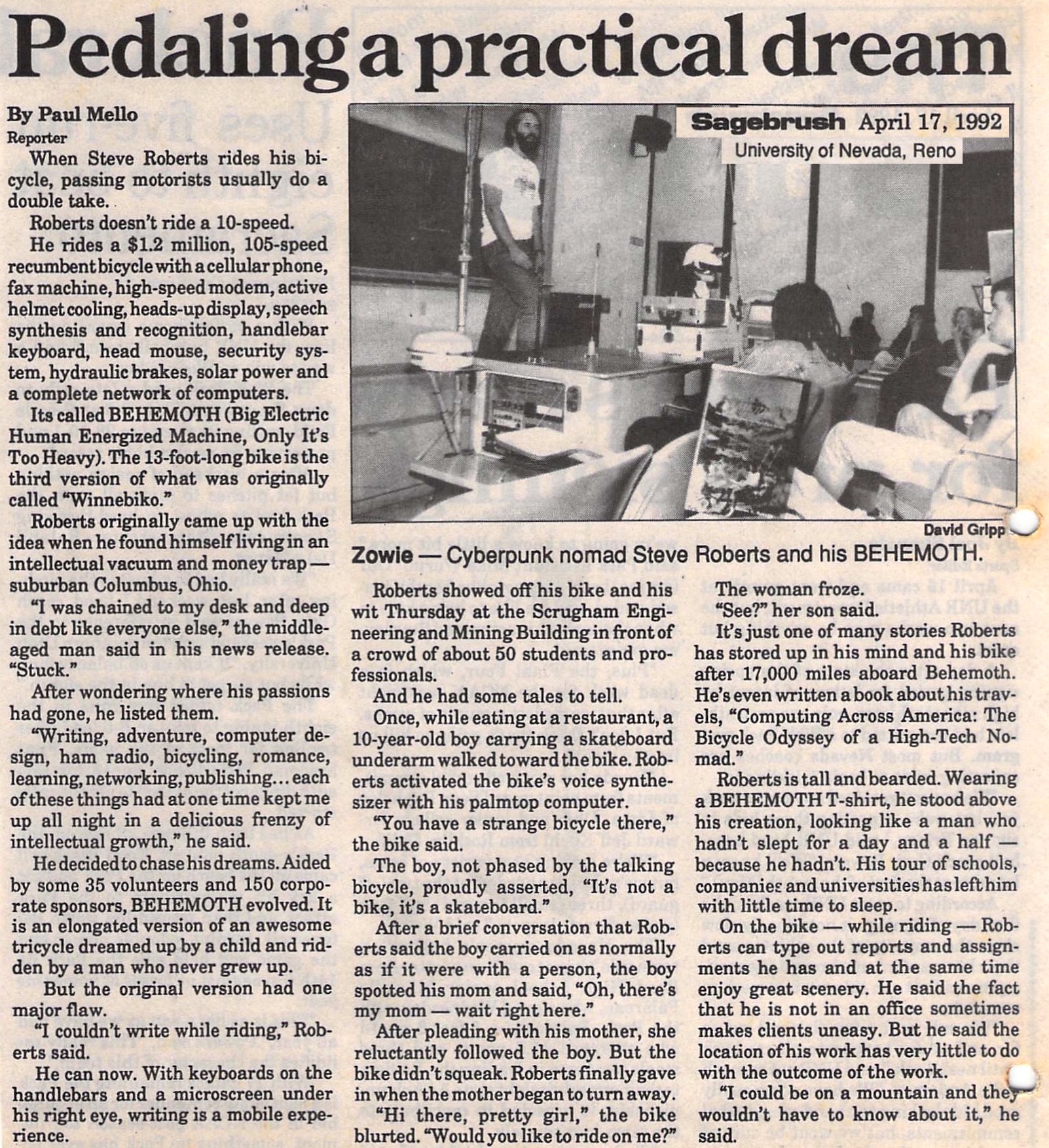 You must log in to post a comment.