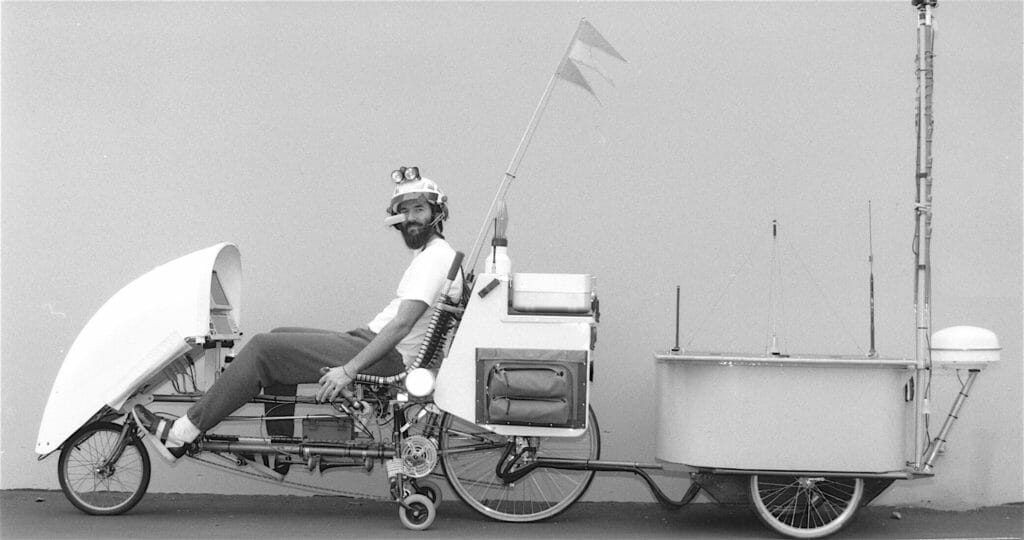 On the eve of departure from the Bikelab at Sun Microsystems…
by Scott Leibs
Information Week
June 17, 1991
"People" section
Steven Roberts is getting ready for a bike ride. It won't be a typical jaunt, but then nothing about Roberts is typical.
In mid-July, he will cross the state of Iowa on a bicycle that he says is worth about $1 million. And that's not counting the paper for the dot-matrix printer. Dot matrix printer? Of course. One can't expect a bicycle with four on-board computers not to produce hard copy.
Roberts, an admitted techie, free lance writer, and free spirit, has already logged 16,000 miles on a bike he has dubbed Behemoth (Big Electronic Human-Engineered Machine… Only Too Heavy). His upcoming trip will kick off another round of travels on his 400-pound movable techno-feast.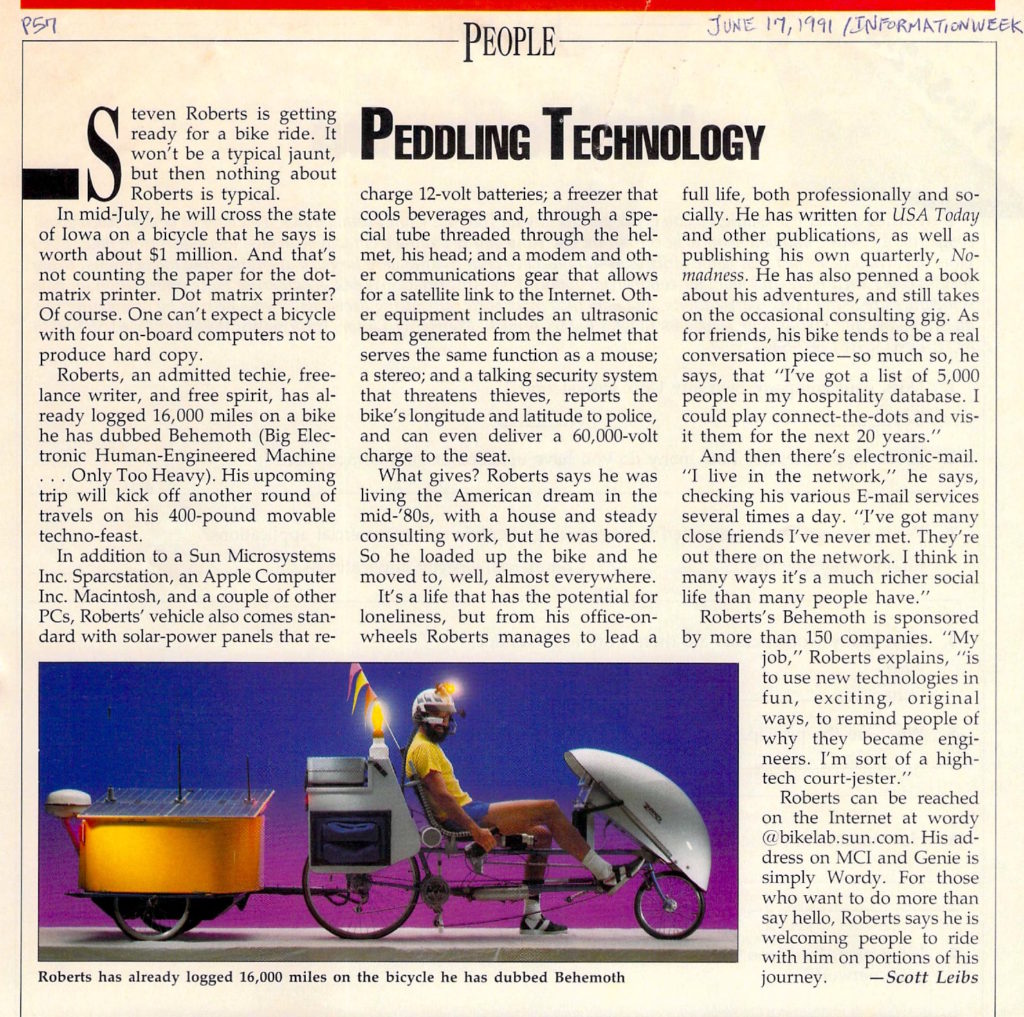 In addition to a Sun Microsystems Inc. SPARCstation, an Apple Computer Inc. Macintosh, and a couple of other PCs, Roberts' vehicle also comes standard with solar-power panels that recharge 12-volt batteries; a freezer that cools beverages and, through a special tube threaded through the helmet, his head; and a modem and other communications gear that allows for a satellite link to the Internet. Other equipment includes an ultrasonic beam generated from the helmet that serves the same function as a mouse; a stereo; and a talking security system that threatens thieves, reports the bike's longitude and latitude to police, and can even deliver a 60,000-volt charge to the seat.
What gives? Roberts says he was living the American dream in the mid-'80s, with a house and steady consulting work, but he was bored. So he loaded up the bike and he moved to, well, almost everywhere.
It's a life that has the potential for loneliness, but from his office-on-wheels Roberts manages to lead a full life, both professionally and socially. He has written for USA Today and other publications, as well as publishing his own quarterly, Nomadness. He has also penned a book about his adventures, and still takes on the occasional consulting gig. As for friends, his bike tends to be a real conversation piece — so much so, he says, that "I've got a list of 5,000 people in my hospitality database. I could play connect-the-dots and visit them for the next 20 years."
And then there's electronic-mail. "I live in the network," he says, checking his various E-mail services several times a day. "I've got many close friends I've never met. They're out there on the network. I think in many ways it's a much richer social life than many people have."
Roberts's Behemoth is sponsored by more than 150 companies. "My job," Roberts explains, "is to use new technologies in fun, exciting, original ways, to remind people of why they became engineers. I'm sort of a high-tech court-jester."
Roberts can be reached on the Internet at [Sun address redacted]. His address on MCI and Genie is simply Wordy. For those who want to do more than say hello, Roberts says he is welcoming people to ride with him on portions of his journey.
You must log in to post a comment.