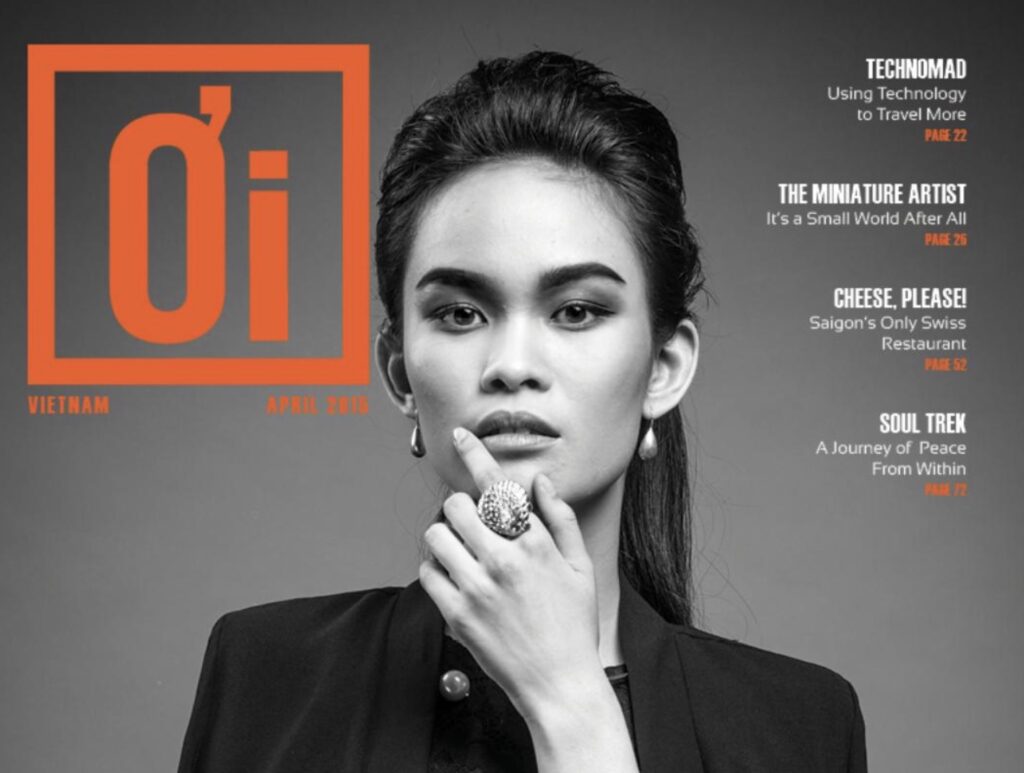 Technomad in Oi Magazine – Vietnam
This beautiful glossy city magazine targets expats, travelers and English-speaking Vietnamese in Ho Chi Minh City. It published this 4-page article about digital nomads in 2015, opening with the story of my technomadics beginning in 1983. The front page is in the photo below, and the full text is on their server (article starts on page 22). The 1984 photo of me on the Winnebiko was taken by John Delzell in Palatka, Florida.
Technomad
by James Pham
Oi
April, 2015
Text of the introduction about Steven K. Roberts
(please visit Oi magazine for the full article)
IT ALL STARTED on September 28, 1983 when 30-year-old freelance writer/consultant Steven Roberts got on his computerized 8-foot long recumbent bicycle that would eventually see him riding 17,000 miles around the US while working as if from an office. The term "technomad" was born.
Armed with a Radio Shack Model 100 laptop, a CompuServe account, solar panels and assorted camping gear (all weighing in at 135 lbs), Roberts explained his mission: "The whole trip offers an opportunity to test the viability of the information society. I want to see if I can maintain a heavily interactive, information-oriented professional practice involving a lot of clients, with an absolute minimum amount of paper — and complete freedom from the confines of an office. I'll exist in a totally asynchronous fashion."
While technology has come a long way in the last 30 years making the "electronic cottage" Roberts talked about increasingly more comfortable (Roberts typed in binary with four buttons on his handlebar keyboard and needed pay phones to download files), the motivation to free one's self from a physical desk remains the same. "My reality had become one of performing decreasingly interesting tasks for the sole purpose of paying bills, supporting a lifestyle I didn't like in a house I didn't like in a city I didn't like. I had forgotten how to play. Could it still be possible to construct a lifestyle entirely of passions, or was losing the spark a sadly inevitable part of growing up?" wondered Roberts.
One afternoon, Roberts made a list of all his passions ― writing, adventure, computer design, cycling, romance, learning and networking ― and set about trying to find a way to combine them all into a life of full-time travel…