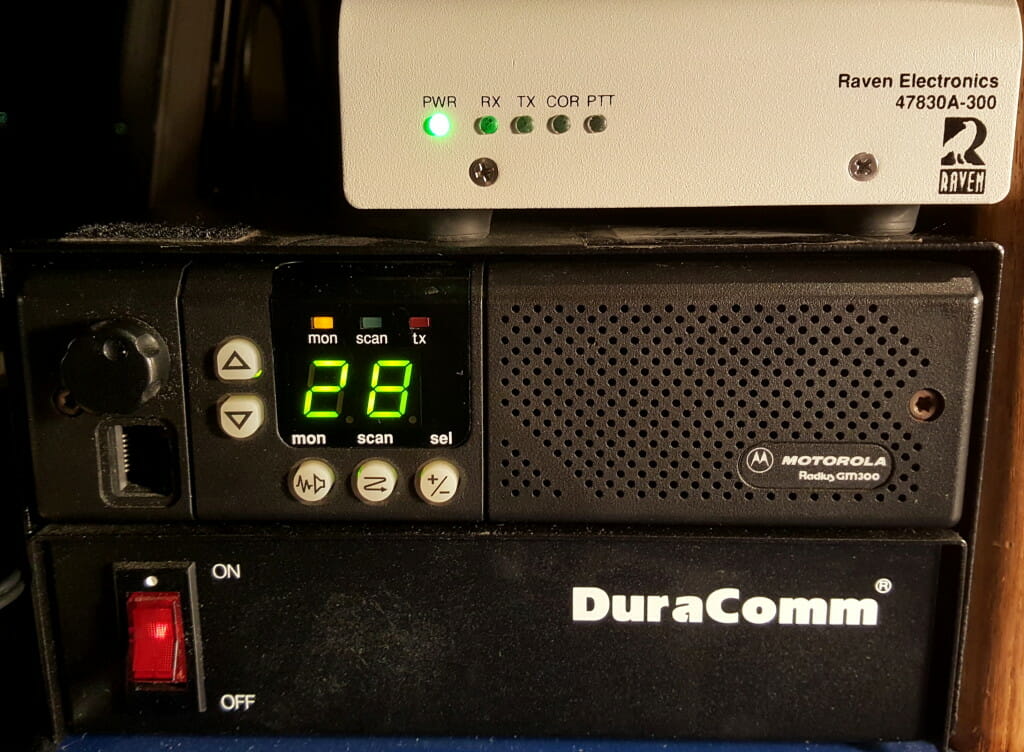 Friday Harbor Automated Marine Radio Check on VHF 28
Updated July 3, 2022: The system is no longer available. For a while it was on the Port of Friday Harbor office building, with the antenna at the peak of the roof (after 3 years aboard my boat). This was a 50-watt station with high-gain collinear antenna about 60 feet above mean sea level in the Port of Friday Harbor (48.536 N 123.016 W). Unfortunately, the service has been discontinued, but I am leaving this story in the archive for historical reasons.
---
This post is mostly for my fellow mariners in the Pacific Northwest, and is about the necessary evil known as the radio check… and a new service that helps solve the problem.
In busy areas during high season, it can drive you crazy… folks putting out a call on a busy channel to see if their marine VHF is working. It's a good thing to know, of course, but the information you derive from this method is iffy at best. When someone says, "sounding good, Skipper," it doesn't have much meaning unless you also know the distance between you, the nature of both rig/antenna systems, and what the stranger means by "good."
If you try this on Channel 16 (the calling and distress frequency where you are most likely to be heard), then you're breaking the law… so in various places channels 9 and 22A have become the defaults (22A around here). But it's kind of intimidating to bother the Coast Guard for a radio check… and they often find it annoying on busy days.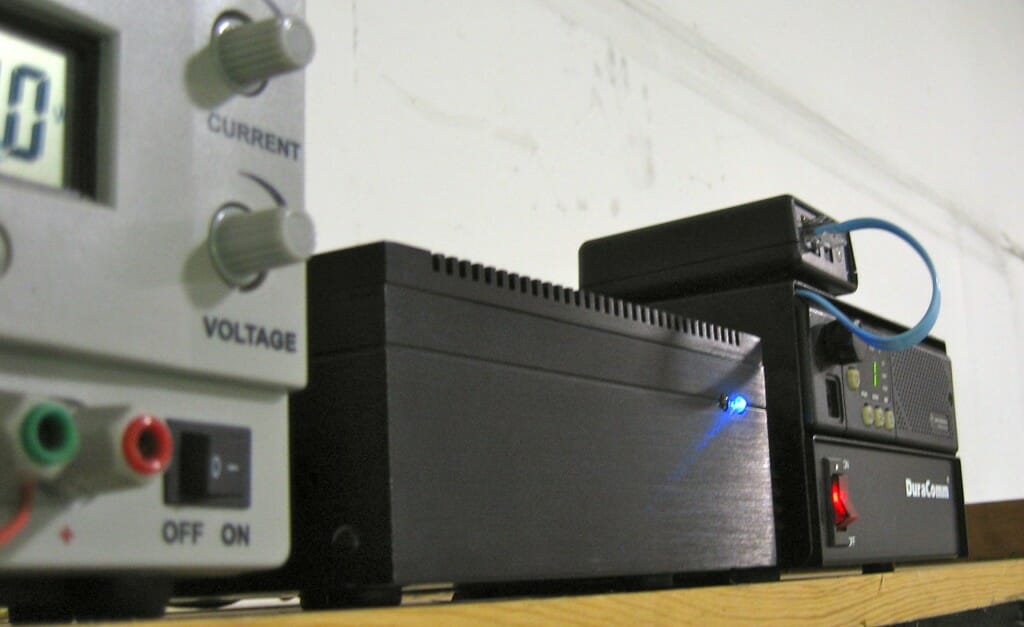 To address this, Seatow started setting up a string of automated stations on the East Coast in 2010, occupying the now-dormant marine radiotelephone channels (24, 26, 27, and 28). These Maritel rigs consist of a Motorola Radius marine VHF and a controller, along with a high-gain TG-5 antenna from GAM Electronics. They do one thing, and they do it very well: whenever the station hears a transmission, it temporarily records it… then pauses a couple of seconds and transmits a voice announcement along with a replay of the captured audio, followed by a second safety-related announcement.
The beauty of this is that you can hear your own signal and you know where the station is located. This provides much more useful information about how well your rig is working, and you don't have to bother anybody to get it!
In 2012, after installing the Icom M504 in Nomadness, I was sitting at the dock wondering if it worked. Like most folks, I kinda hate bugging the Coast Guard for trivial radio checks, and a quick exchange with the Port office only told me that my signal was making it a few hundred yards. I did a web search to confirm that it was still OK to use channel 22A for a test, and stumbled across the Seatow link above… but was immediately frustrated to discover that there were no stations in the Pacific Northwest! I sent them a note and things went from there… and I am delighted to report that I now host an automated radio check machine on VHF channel 28.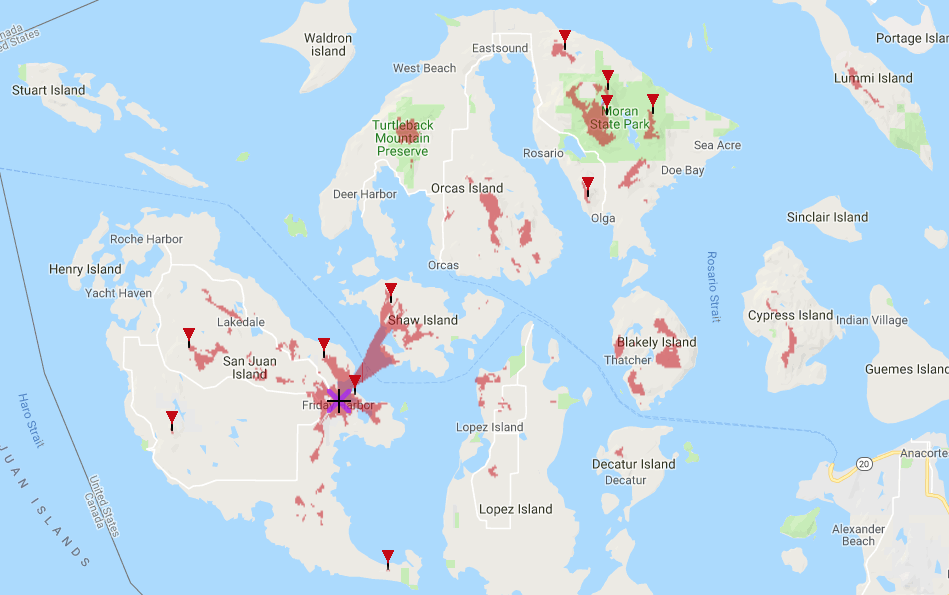 Please help us map coverage!
For this to become a useful utility around here, there needs to be some idea of the station's range and dead spots. The terrain of the San Juan Islands is highly varied, with open water, mountains, and a maze of twisty passages that makes it an exciting place to explore by boat. That does not translate into simple inverse-square-law propagation predictions, however.
If you are out and about on your boat, please give this a try. Simply call for a radio check on VHF 28 (you don't need to identify your vessel, although you can if you like), and listen for the automated reply. If it works, or even if it does not, please send me a quick note to tell me about it… along with this information:
Where were you?

How clearly did you hear the station?

How clear was YOUR signal as re-transmitted?

Is your radio fixed or hand-held, and is the antenna low or atop a mast?
I have created a Google map for signal reports, and it appears below. I have some test data, including a video report from a sailboat in Bellingham, about 25 miles away (with a likely reflection off Mount Constitution on Orcas to get around the 1665-foot peak of Lummi Island). It has also been heard at Shilshole Marina in Seattle (though the path was one-way), and we have received good signal reports from Oak Harbor, Sequim, Anacortes, and Sidney as well as the surrounding waters of the San Juans. Now that the site has moved, more data would be good. Thanks to all who help with testing!
You can zoom and pan around the map… it should get interesting once I hear from more people who try the service (I even took a ferry trip to Anacortes with a handheld on the deck and did my own quick survey…)
In the map below, droplet style rounded icons are fixed-mount radios installed in boats, with the dotted ones sail and the plain ones power. The push-pins are hand-held VHF rigs (low power and inefficient rubber-duckie antenna). In all cases, I use this color code:
Green – solid copy with little or no noise
Blue – fully usable, but with some noise & dropouts
Yellow – marginal signal… in there, but hard to understand
Red – no copy at all
View Friday Harbor Automatic Radio Check Coverage in a larger map
2022 Note: this coverage map is no longer relevant, and is just here for historical context.
Cheers from Datawake!
You must log in to post a comment.