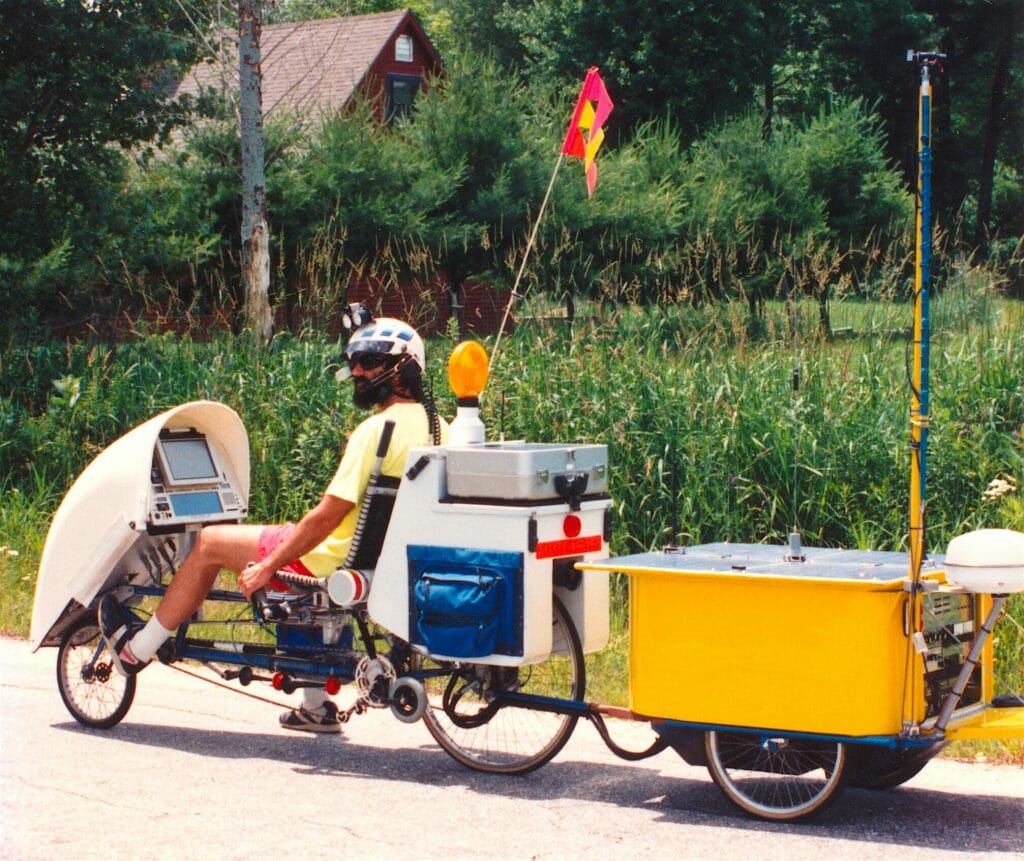 BEHEMOTH at 1992 Seattle Bicycle Expo
I received this wonderful letter about a month after appearing with BEHEMOTH at the Greater Seattle Bicycle Expo… an energetic experience with lots of interesting conversations. I was on a high-speed speaking tour around the US, with an insane schedule, and I remember being delighted with this well-organized event… intense, but relaxing. This letter was a rare treat… letting me know how a public appearance went from the client's perspective.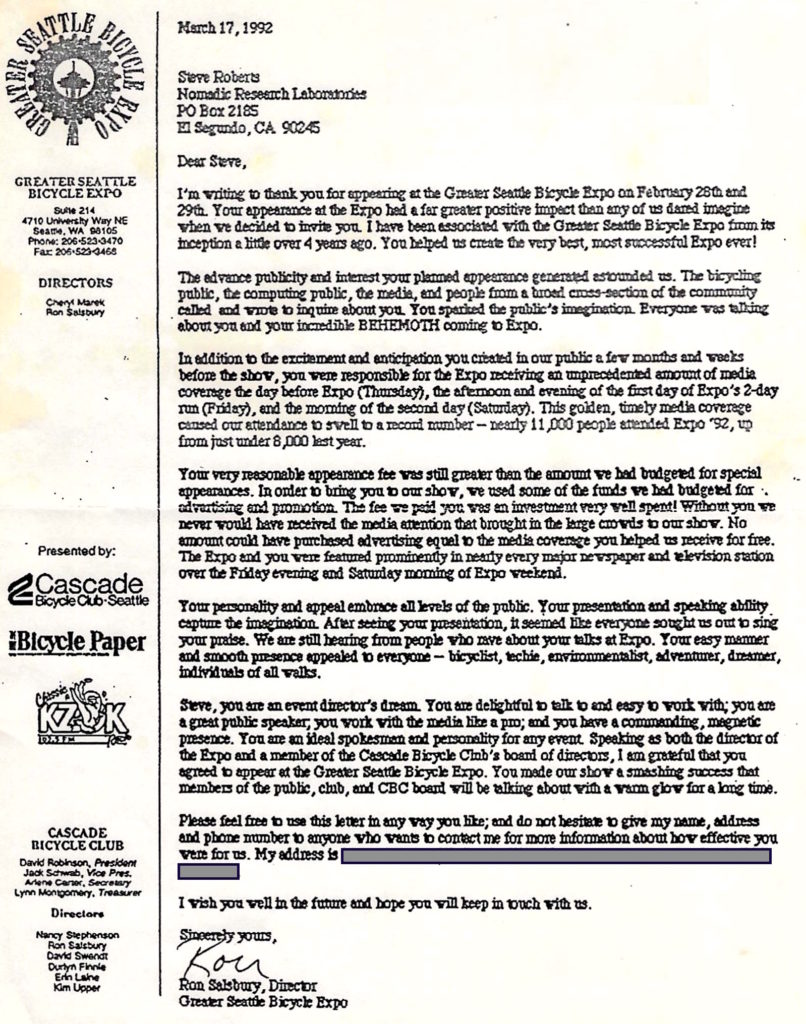 Dear Steve,
I'm writing to thank you for appearing at the Greater Seattle Bicycle Expo on February 28 and 29th. Your appearance at the Expo had a far greater positive impact than any of us dared imagine when we decided to invite you. I have been associated with the Greater Seattle Bicycle Expo from its inception a little over 4 years ago. You helped us create the very best, most successful Expo ever!
The advance publicity and interest your planned appearance generated astounded us. The bicycling public, the computing public, the media, and people from a broad cross-section of the community called and wrote to inquire about you. You sparked the public's imagination. Everyone was talking about you and your incredible BEHEMOTH coming to Expo.
In addition to the excitement and anticipation you created in our public a few months and weeks before the show, you were responsible for the Expo receiving an unprecedented amount of media coverage the day before Expo (Thursday), the afternoon and evening of the first day of Expo's 2-day run (Friday), and the morning of the second day (Saturday). This golden, timely media coverage caused our attendance to swell to a record number — nearly 11,000 people attended Expo '92, up from just under 8,000 last year.
Your very reasonable appearance fee was still greater than the amount we had budgeted for special appearances. In order to bring you to our show, we used some of the funds we had budgeted for advertising and promotion. The fee we paid you was an investment very well spent! Without you we never would have received the media attention that brought in the large crowds to our show. No amount could have purchased advertising equal to the media coverage you helped us receive for free. The Expo and you were featured prominently in nearly every major newspaper and television station over the Friday evening and Saturday morning of Expo weekend.
Your personality and appeal embrace all levels of the public. Your presentation and speaking ability capture the imagination. After seeing your presentation, it seemed like everyone sought us out to sing your praise. We are still hearing from people who rave about your talks at Expo. Your easy manner and smooth presence appealed to everyone — bicyclist, techie, environmentalist, adventurer, dreamer, individuals of all walks.
Steve, you are an event director's dream. You are delightful to talk to and easy to work with; you are a great public speaker; you work with the media like a pro; and you have a commanding, magnetic presence. You are an ideal spokesman and personality for any event. Speaking as both the director of the Expo and a member of the Cascade Bicycle Club's board of directors, I am grateful that you agreed to appear at the Greater Seattle Bicycle Expo. You made our show a smashing success that members of the public, club, and CBC board will be talking about with a warm glow for a long time.
Please feel free to use this letter in any way you like, and do not hesitate to give my name, address, and phone number to anyone who wants to contact me for more information about how effective you were for us. My address is [old personal contact info redacted].
Sincerely yours
Ron Salsbury, Director
Greater Seattle Bicycle Expo
You must log in to post a comment.