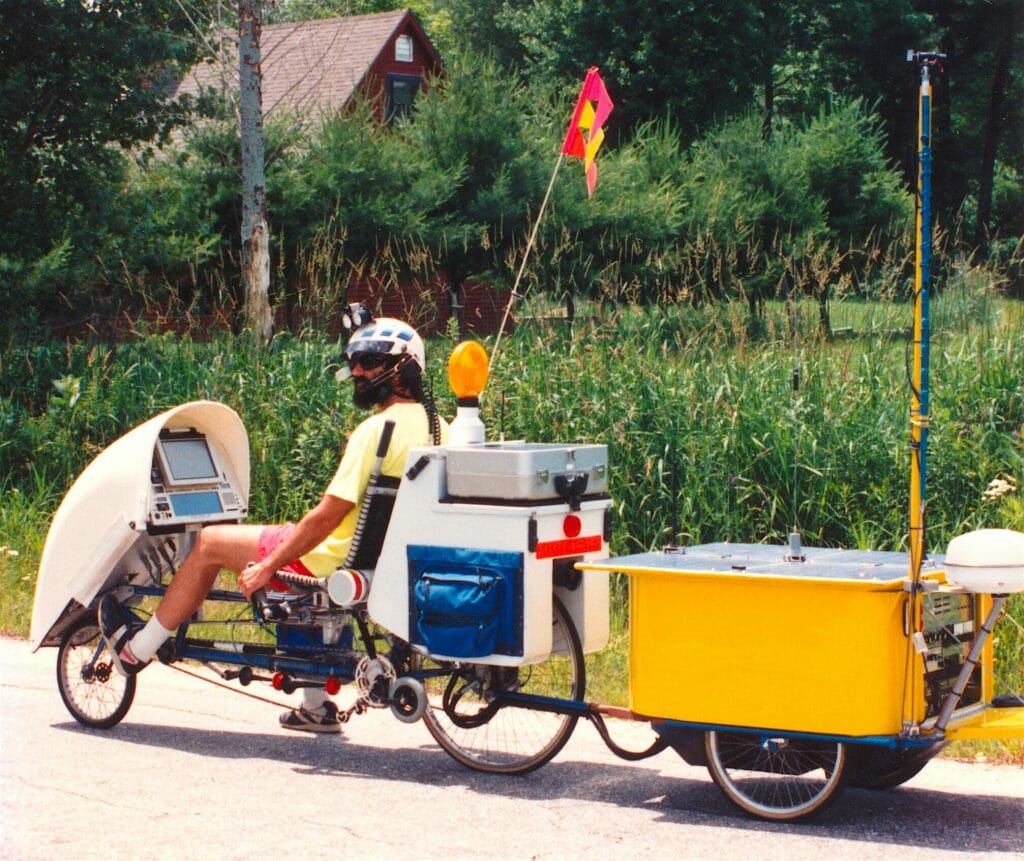 BEHEMOTH at 1992 Seattle Bicycle Expo
Because this event with BEHEMOTH generated such a flurry of media coverage, all about the same time, I am departing from our usual structure of one story per post and putting them all on right here. This is an excellent demonstration of what happens with a well-run event, and the archive opens with their wonderful letter to me a couple of weeks later. Below that are all the local stories in alphabetical order, with the text OCR'd and included for searchability and easier reading.
This took place while I was on a high-speed speaking tour around the US, with an insane schedule, and I remember being delighted with this well-organized event… intense, but relaxing. This letter was a rare treat… letting me know how a public appearance went from the client's perspective: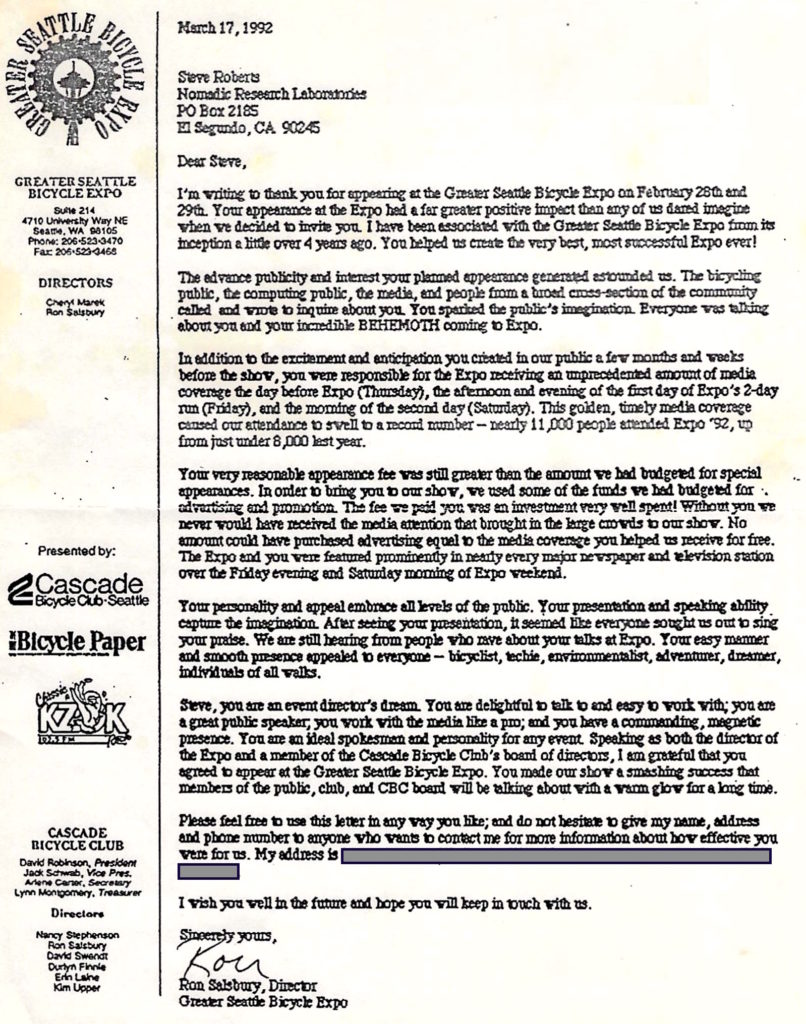 Dear Steve,
I'm writing to thank you for appearing at the Greater Seattle Bicycle Expo on February 28 and 29th. Your appearance at the Expo had a far greater positive impact than any of us dared imagine when we decided to invite you. I have been associated with the Greater Seattle Bicycle Expo from its inception a little over 4 years ago. You helped us create the very best, most successful Expo ever!
The advance publicity and interest your planned appearance generated astounded us. The bicycling public, the computing public, the media, and people from a broad cross-section of the community called and wrote to inquire about you. You sparked the public's imagination. Everyone was talking about you and your incredible BEHEMOTH coming to Expo.
In addition to the excitement and anticipation you created in our public a few months and weeks before the show, you were responsible for the Expo receiving an unprecedented amount of media coverage the day before Expo (Thursday), the afternoon and evening of the first day of Expo's 2-day run (Friday), and the morning of the second day (Saturday). This golden, timely media coverage caused our attendance to swell to a record number — nearly 11,000 people attended Expo '92, up from just under 8,000 last year.
Your very reasonable appearance fee was still greater than the amount we had budgeted for special appearances. In order to bring you to our show, we used some of the funds we had budgeted for advertising and promotion. The fee we paid you was an investment very well spent! Without you we never would have received the media attention that brought in the large crowds to our show. No amount could have purchased advertising equal to the media coverage you helped us receive for free. The Expo and you were featured prominently in nearly every major newspaper and television station over the Friday evening and Saturday morning of Expo weekend.
Your personality and appeal embrace all levels of the public. Your presentation and speaking ability capture the imagination. After seeing your presentation, it seemed like everyone sought us out to sing your praise. We are still hearing from people who rave about your talks at Expo. Your easy manner and smooth presence appealed to everyone — bicyclist, techie, environmentalist, adventurer, dreamer, individuals of all walks.
Steve, you are an event director's dream. You are delightful to talk to and easy to work with; you are a great public speaker; you work with the media like a pro; and you have a commanding, magnetic presence. You are an ideal spokesman and personality for any event. Speaking as both the director of the Expo and a member of the Cascade Bicycle Club's board of directors, I am grateful that you agreed to appear at the Greater Seattle Bicycle Expo. You made our show a smashing success that members of the public, club, and CBC board will be talking about with a warm glow for a long time.
Please feel free to use this letter in any way you like, and do not hesitate to give my name, address, and phone number to anyone who wants to contact me for more information about how effective you were for us. My address is [old personal contact info redacted].
Sincerely yours
Ron Salsbury, Director
Greater Seattle Bicycle Expo
Bicycle Paper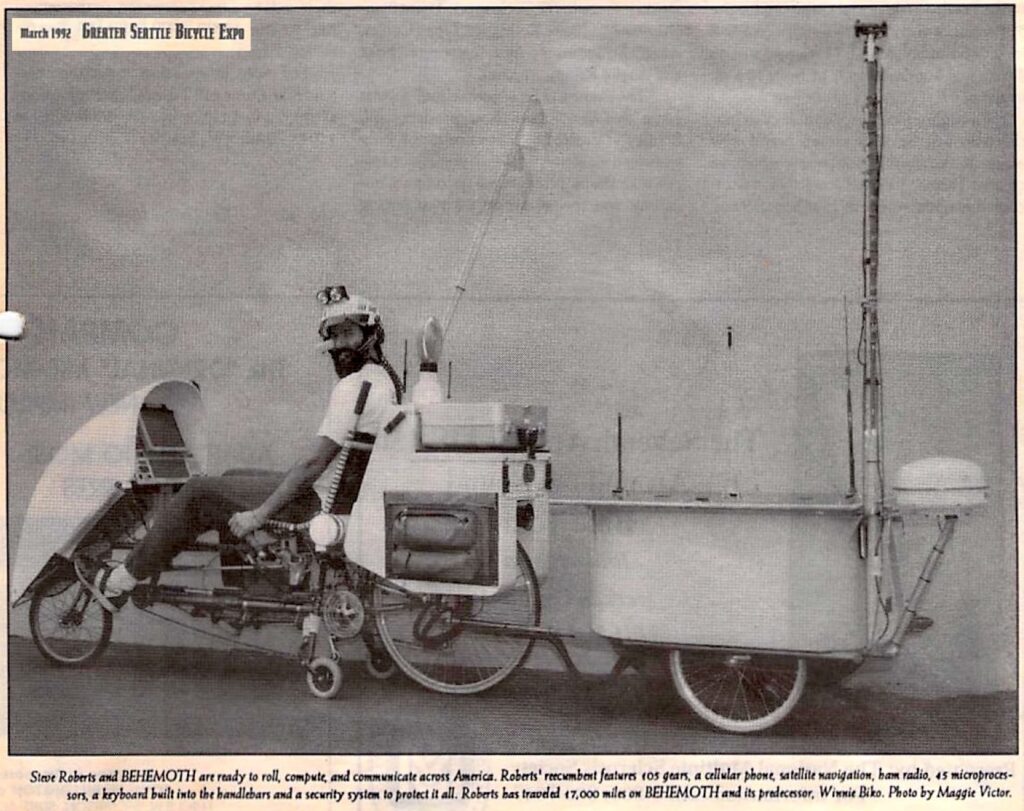 Roberts' BEHEMOTH weighs 580 pounds
On the road. The endless bike tour. Abandon the job, the normal routine, and ride over the horizon for one more day, one more year. Many people dream of setting off on the tour that never ends, but sooner or later you have to settle down to a job again. Right? Well, maybe not.
Nine years ago, Steve Roberts lived in Columbus, Ohio, in a lifestyle most people would regard as comfortable — suburban house, well-paying job, recognized authority in his field and a published author. But, as he puts it, "Columbus inspires long-distance travel." When he sat down to decide what to do with the rest of his life, suburbia and security were not included.
Travel, electronics and bicycles were included. A writer can work anywhere, but it takes a leap of imagination to stretch the concept of "anywhere" to include a tent, a picnic table at a camp site, a booth in a diner, or on the bike itself with a keyboard built into the handlebars. Desktop publishing extended to biketop publishing through the high-tech wizardry of the worldwide telecommunication network.
Steve's dream of a portable lifestyle became a reality in 1983 when he sold the house and set off down the road on Winnebiko, a recumbent bicycle that carried a laptop computer, ham radio, and a modem to file magazine stories from the nearest phone booth. He has logged 17,000 miles in nine years. BEHEMOTH, the current vehicle, is a 580- Ib, 13-ft long recumbent-and-trailer combination with almost as much communication and computer equipment as a 747. BEHEMOTH (which stands for Big Electronic Human Energized Machine… Only Too Heavy) will be on display at Expo in Booth 90, with The Recumbent Cyclists Magazine.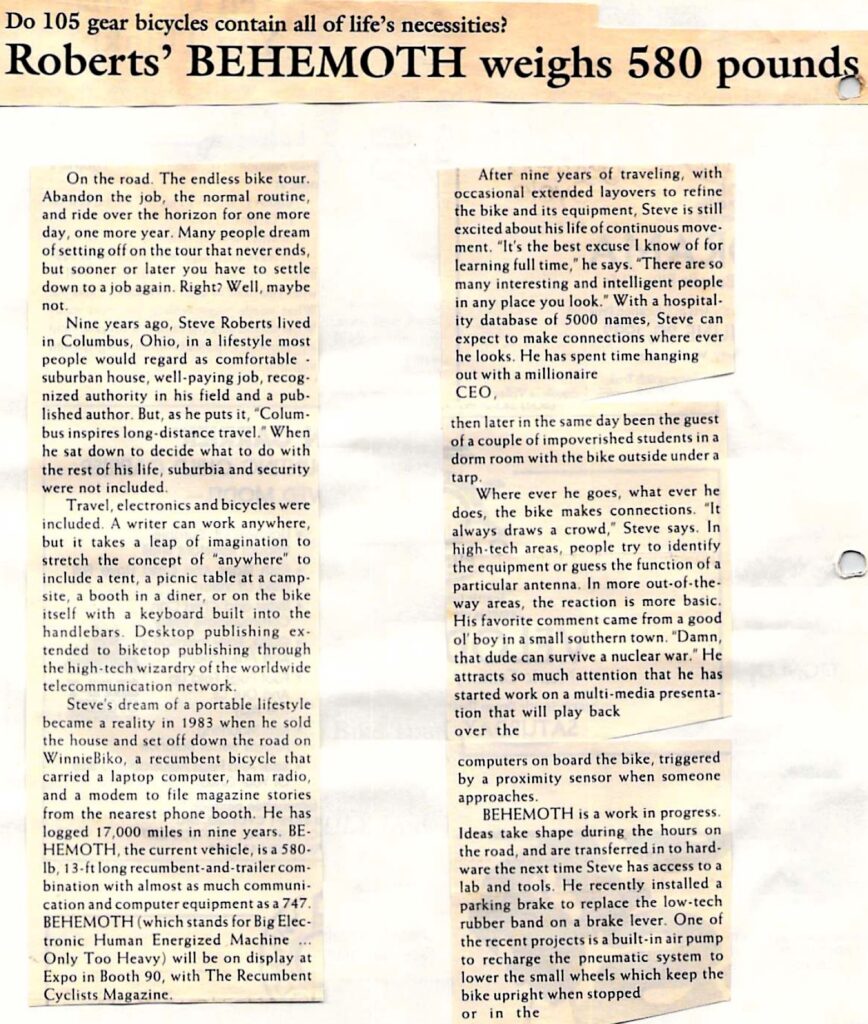 After nine years of traveling, with occasional extended layovers to refine the bike and its equipment, Steve is still excited about his life of continuous movement. "It's the best excuse I know of for learning full time," he says. "There are so many interesting and intelligent people in any place you look." With a hospitality database of 5000 names, Steve can expect to make connections where ever he looks. He has spent time hanging out with a millionaire CEO,
then later in the same day been the guest of a couple of impoverished students in a dorm room with the bike outside under a tarp.
Whereever he goes, whatever he does, the bike makes connections. "It always draws a crowd," Steve says. In high-tech areas, people try to identify the equipment or guess the function of a particular antenna. In more out-of-the- way areas, the reaction is more basic. His favorite comment came from a good ol' boy in a small southern town. "Damn, that dude can survive a nuclear war." He attracts so much attention that he has started work on a multi-media presentation that will play back over the computers on board the bike, triggered by a proximity sensor when someone approaches.
BEHEMOTH is a work in progress. Ideas take shape during the hours on the road, and are transferred into hardware the next time Steve has access to a lab and tools. He recently installed a parking brake to replace the low-tech rubber band on a brake lever. One of the recent projects is a built-in air pump to recharge the pneumatic system to lower the small wheels which keep the bike upright when stopped or in the lowest of the 105 gears available.
Whatever changes Steve makes to the mechanical or electronic systems, he says the basic bike will always be a recumbent. "Touring on a standard upright diamond frame is absurd," he says. "I need to be comfortable, to mount hardware." Although he recognizes that mountain bikes, for example, can do some things that are impossible on a recumbent, for traveling he wouldn't have any other bike. His longest days include a 136-mile ride logged from Aspen to Grand Junction, Colorado, and a couple of centuries in Texas.
Steve is getting ready to wrap up his layover in Silicon Valley and hit the road again. The lab will move into "the
mothership," a van and trailer he uses to cover more distance than he can on the bike. He has been exploring opportunities in Japan, and plans to build in large chunks of time for touring. How long will he keep it going? We'll just have to wait and see. 'The trip was triggered by a desire to escape from suburbia," Steve says. "But I didn't know it was going to go on this long. Now it's open ended completely."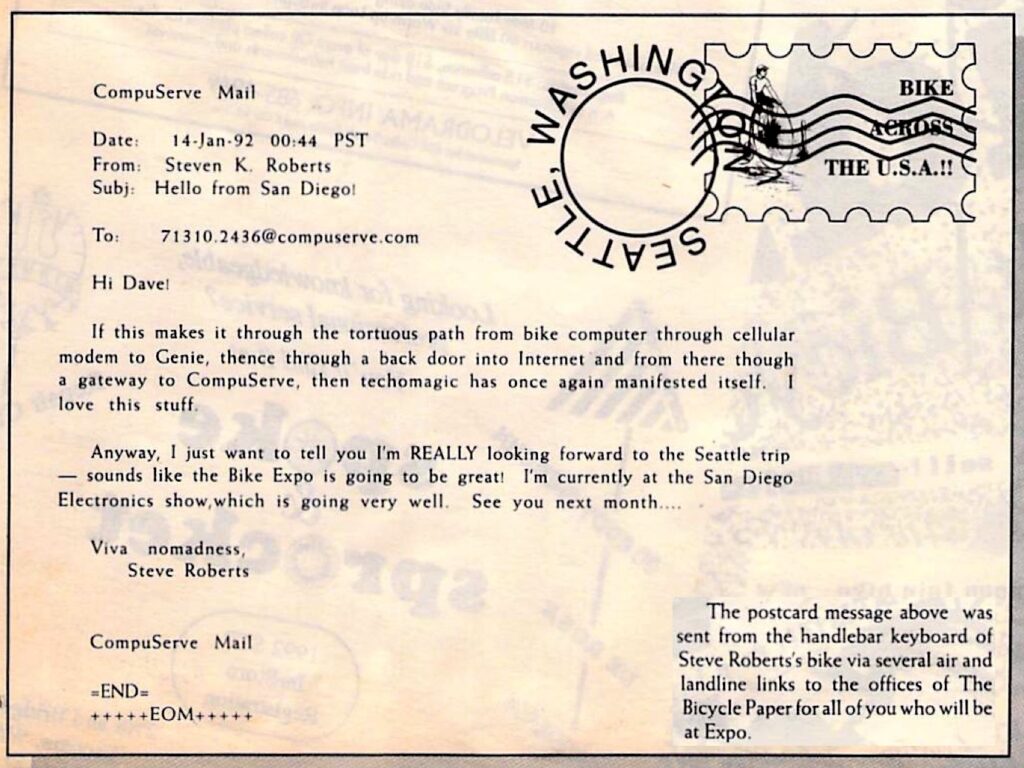 CompuServe Mail
Date: 14-Jan-92 00:44 PST
From: Steven K. Roberts
Subj: Hello from San Diego!
To: 71310.2436@compuserve.com
Hi Dave!
If this makes it through the tortuous path from bike computer through cellular modem to GEnie, thence through a back door into Internet and from there though a gateway to CompuServe, then techomagic has once again manifested itself. I love this stuff.
Anyway, I just want to tell you I'm REALLY looking forward to the Seattle trip — sounds like the Bike Expo is going to be great! I'm currently at the San Diego Electronics show, which is going very well. See you next month…
Viva nomadness,
Steve Roberts
Journal American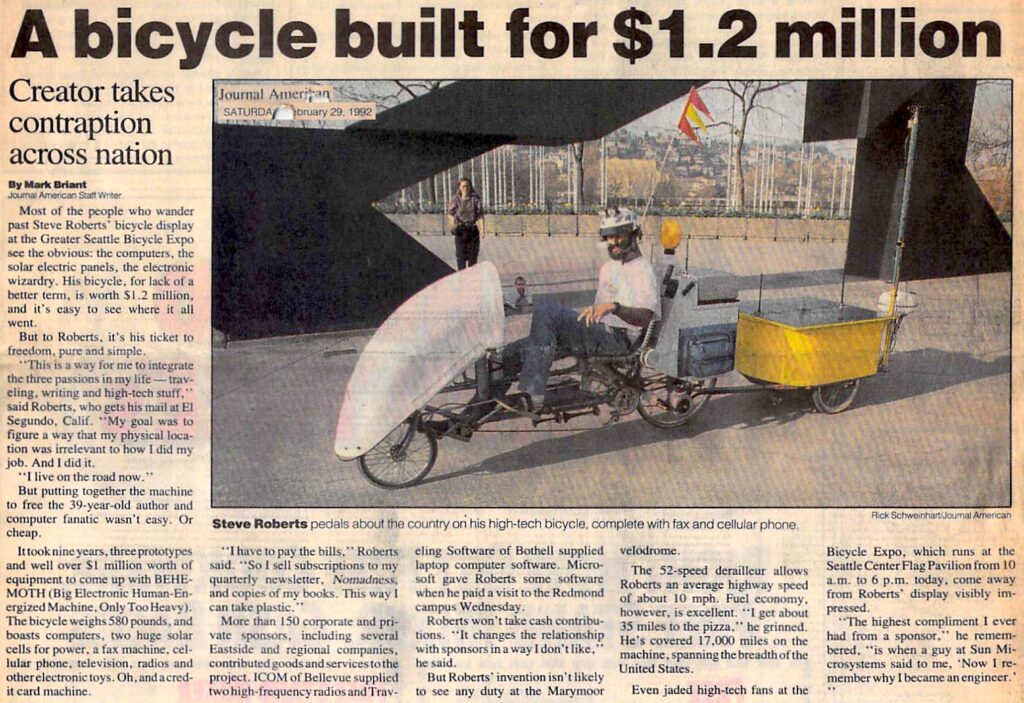 A bicycle built for $1.2 million
Creator takes contraption across nation
By Mark Briant, Journal American Staff Writer
February 29, 1992
Most of the people who wander past Steve Roberts' bicycle display at the Greater Seattle Bicycle Expo
see the obvious: the computers, the solar electric panels, the electronic wizardry. His bicycle, for lack of a better term, is worth $I.2 million, and it's easy to see where it all went.
But to Roberts, it's his ticket to freedom, pure and simple.
"This is a way for me to integrate the three passions in my life — traveling, writing and high-tech stuff," said Roberts, who gets his mail at El Segundo. Calif. "My goal was to figure a way that my physical location was irrelevant to how I did my job. And I did it.
"I live on the road now."
But putting together the machine to free the 39-year-old author and computer fanatic wasn't easy. Or cheap. It took nine years, three prototypes and well over $1 million worth of equipment to come up with BEHEMOTH (Big Electronic Human-Energized Machine, Only Too Heavy). The bicycle weighs 580 pounds, and boasts computers, two huge solar cells for power, a fax machine, cellular phone, television, radios and other electronic toys. Oh, and a credit card machine.
"I have to pay the bills," Roberts said. "So I sell subscriptions to my quarterly newsletter, Nomadness, and copies of my books. This way I can take plastic."
More than 150 corporate and private sponsors, including several Eastside and regional companies, contributed goods and services to the project. ICOM of Bellevue supplied two high-frequency radios and Traveling Software of Bothell supplied laptop computer software. Microsoft gave Roberts some software when he paid a visit to the Redmond campus Wednesday.
Roberts won't take cash contributions. "It changes the relationship with sponsors in a way I don't like," he said.
But Roberts' invention isn't likely to see any duty at the Marymoor velodrome.
The 52-speed derailleur allows Roberts an average highway speed of about 10 mph. Fuel economy, however, is excellent. "I get about 35 miles to the pizza." he grinned. He's covered 17,000 miles on the machine, spanning the breadth of the United States.
Even jaded high-tech fans at the Bicycle Expo, which runs at the Seattle Center Flag Pavilion from 10 a.m. to 6 p.m. today, come away from Roberts' display visibly impressed.
"The highest compliment I ever had from a sponsor." he remembered, "is when a guy at Sun Microsystems said to me, 'Now I remember why I became an engineer.'"
Northwest Cyclist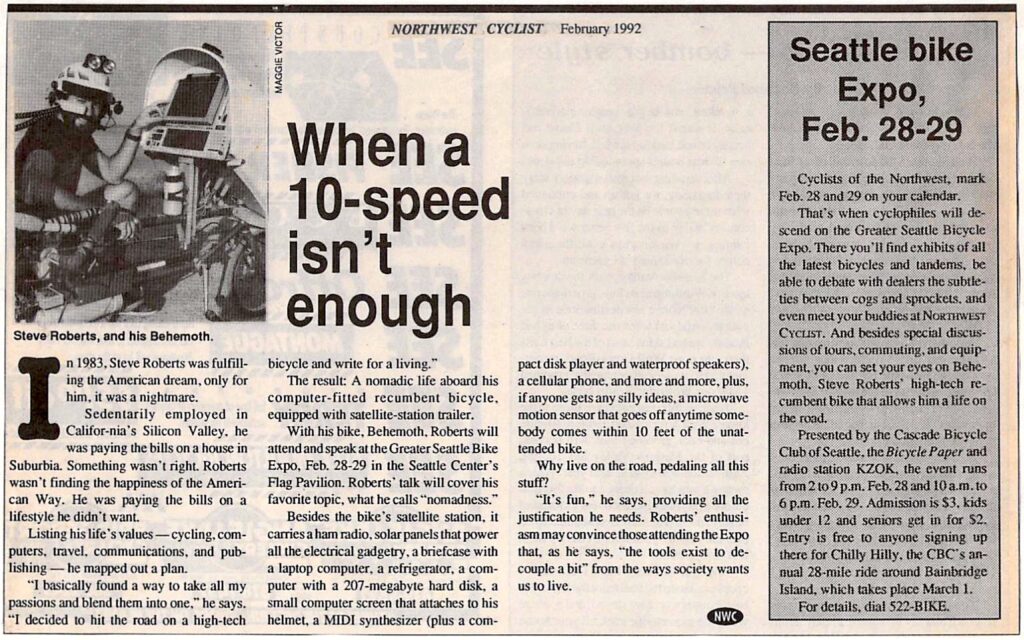 In 1983, Steve Roberts was fulfilling the American dream, only for him, it was a nightmare.
Sedentarily employed in California's Silicon Valley, he was paying the bills on a house in Suburbia. Something wasn't right. Roberts wasn't finding the happiness of the American Way. He was paying the bills on a lifestyle he didn't want.
Listing his life's values — cycling, computers, travel, communications, and publishing — he mapped out a plan.
"I basically found a way to take all my passions and blend them into one." he says. I decided to hit the road on a high-tech bicycle and write for a living."
The result: A nomadic life aboard his computer-fitted recumbent bicycle, equipped with satellite-station trailer. With his bike. Behemoth. Roberts will attend and speak at the Greater Seattle Bike Expo, Feb. 28-29 in the Seattle Center's Flag Pavilion. Roberts' talk will cover his favorite topic, what he calls "nomadness."
Besides the bike's satellite station, it carries a ham radio, solar panels that power all the electrical gadgetry, a briefcase with a laptop computer, a refrigerator, a computer with a 207-megabyte hard disk, a small computer screen that attaches to his helmet, a MIDI synthesizer (plus a compact disk player and waterproof speakers), a cellular phone, and more and more, plus, if anyone gets any silly ideas, a microwave motion sensor that goes off anytime somebody comes within 10 feet of the unattended bike.
Why live on the road, pedaling all this stuff?
"It's fun." he says, providing all the justification he needs. Roberts' enthusiasm may convince those attending the Expo that, as he says, "the tools exist to decouple a bit" from the ways society wants us to live.
Seattle Post-Intelligencer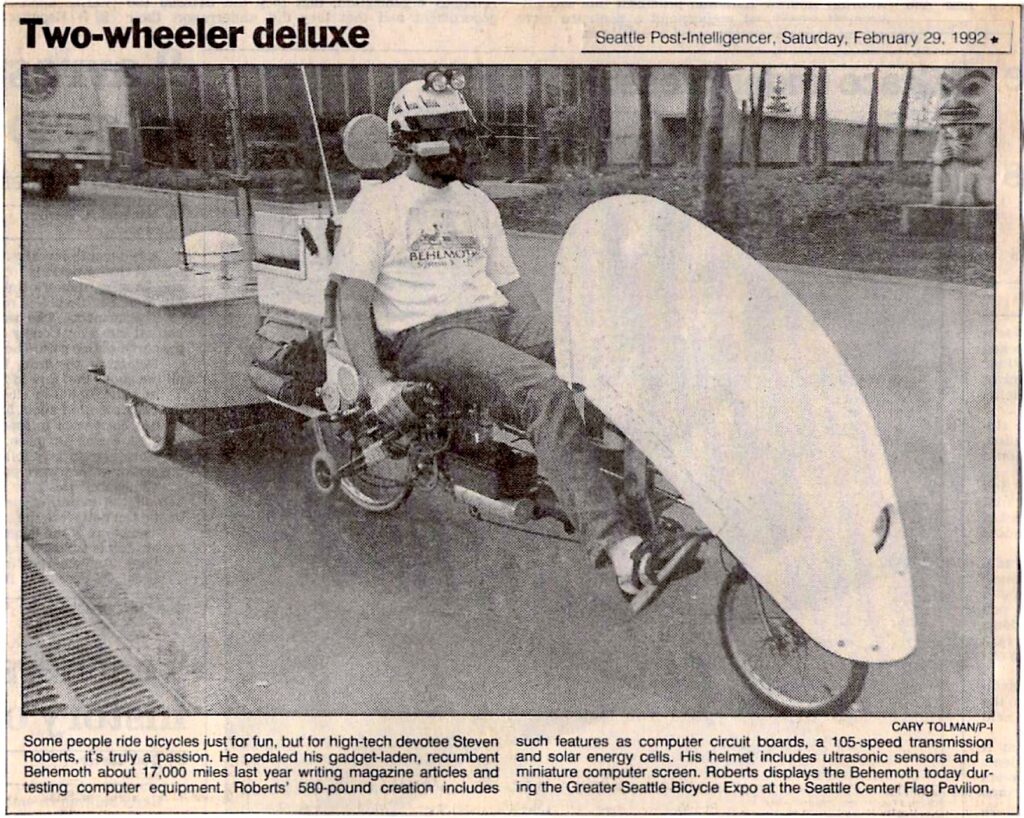 Two-wheeler deluxe
Some people ride bicycles just for fun, but for high-tech devotee Steven Roberts, it's truly a passion. He pedaled his gadget-laden, recumbent Behemoth about 17,000 miles last year writing magazine articles and testing computer equipment. Roberts' 580-pound creation includes such features as computer circuit boards, a 105-speed transmission and solar energy cells. His helmet includes ultrasonic sensors and a miniature computer screen. Roberts displays the Behemoth today during the Greater Seattle Bicycle Expo at the Seattle Center Flag Pavilion.
Seattle Times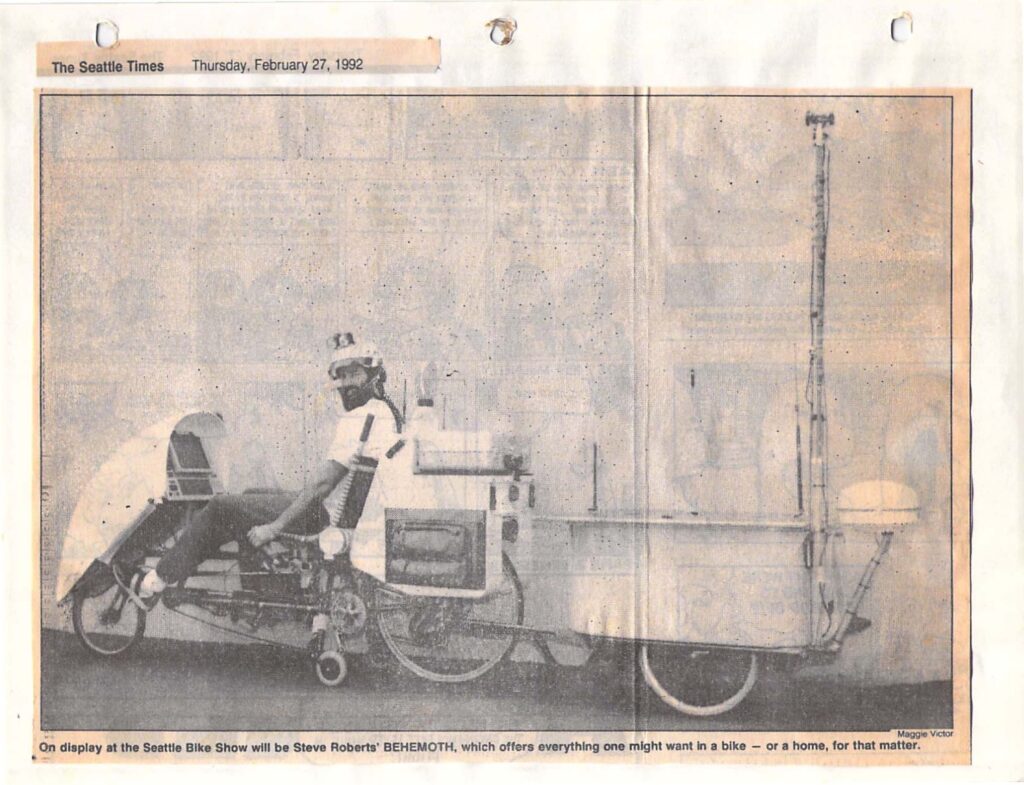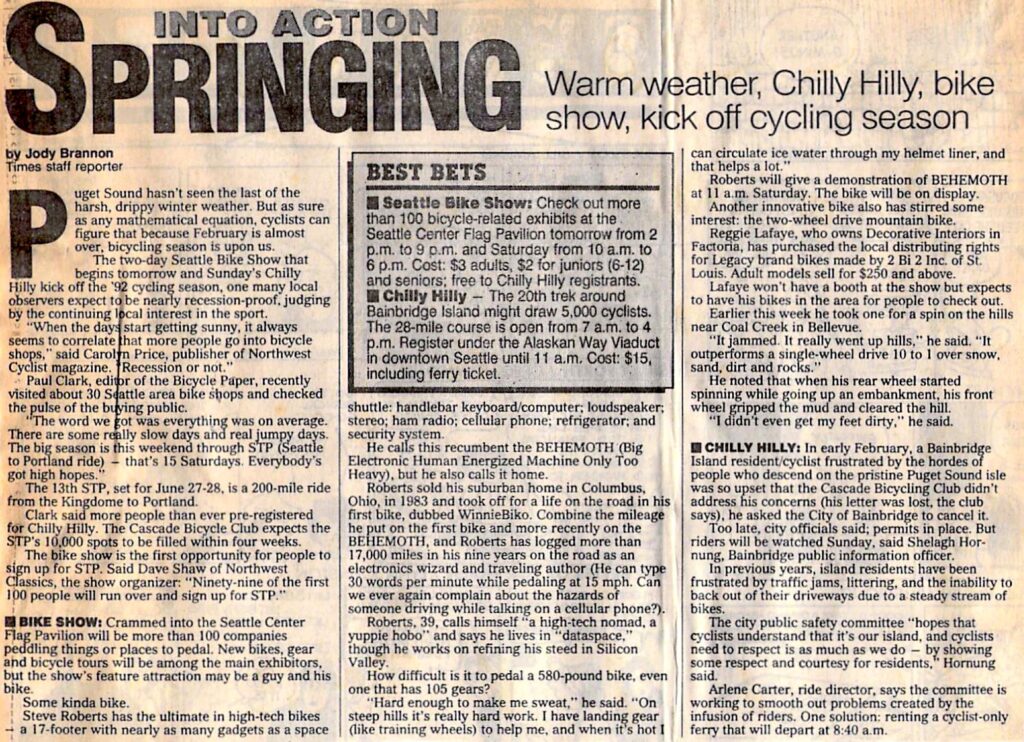 Media Event Announcement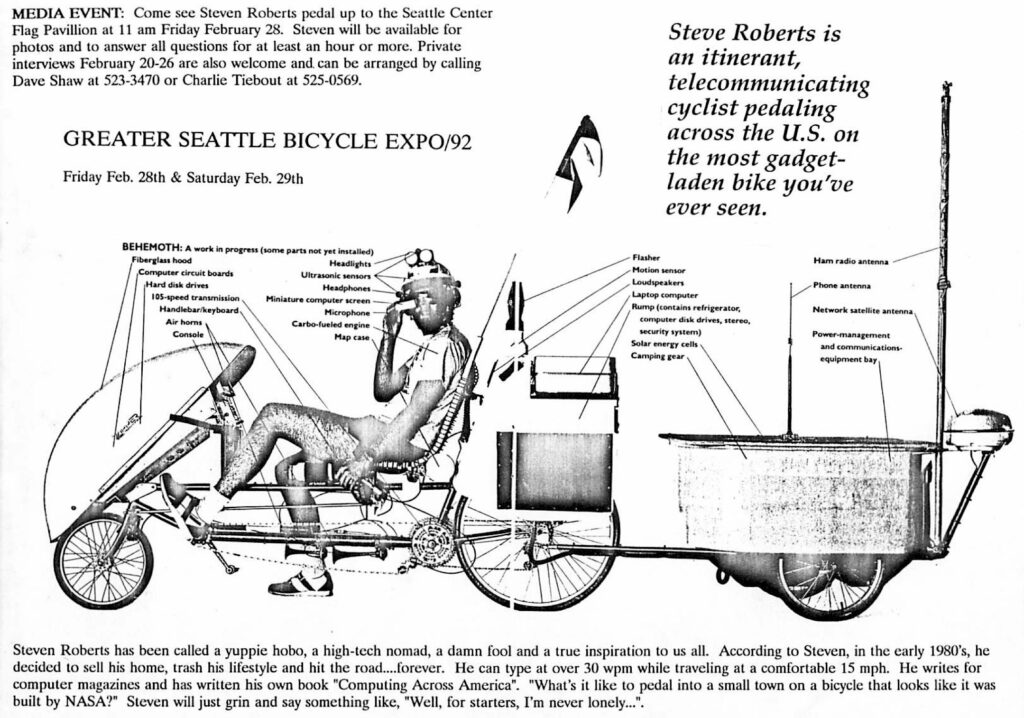 Media Monitor Report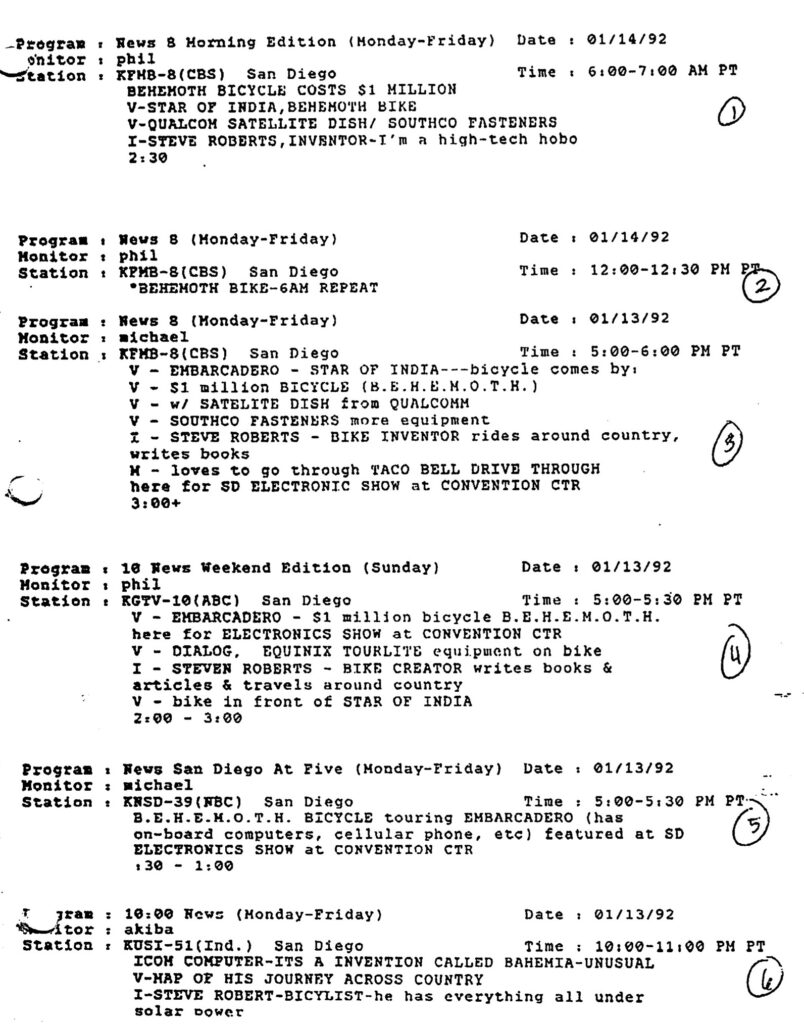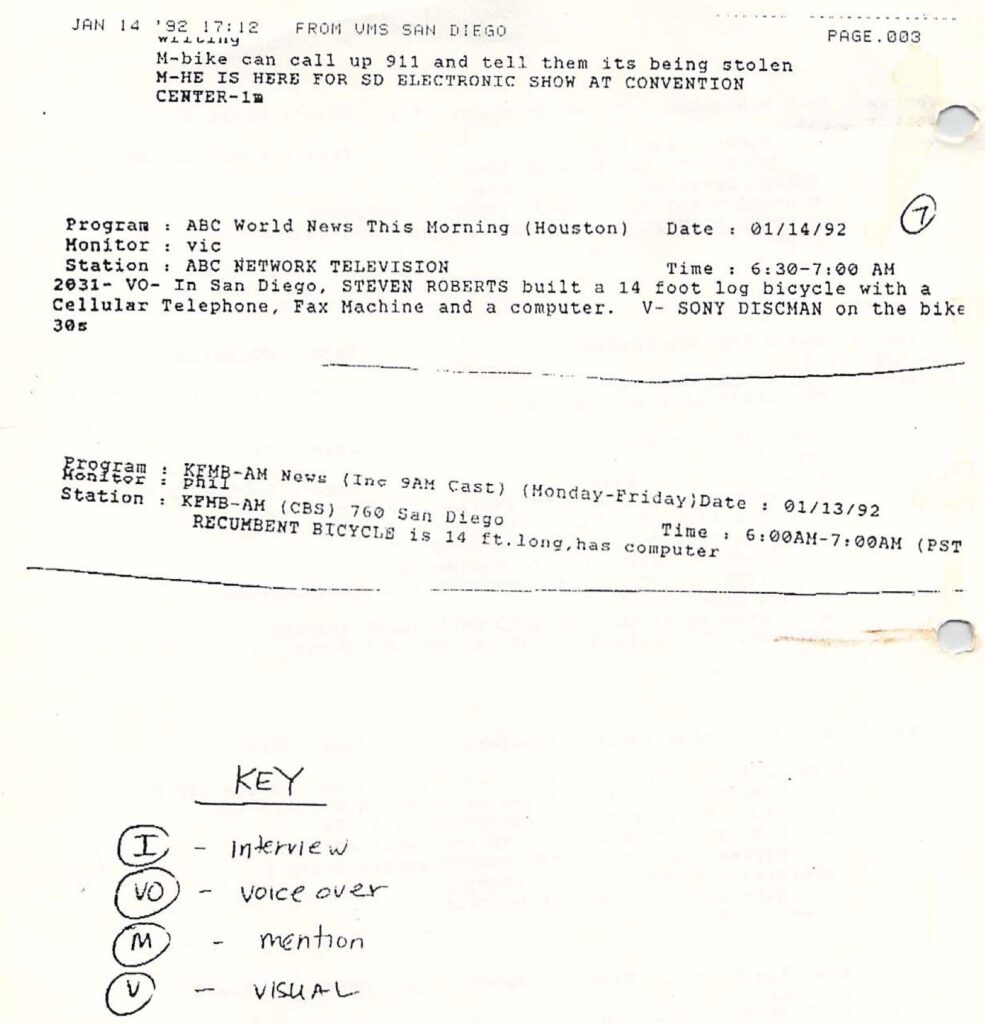 You must log in to post a comment.