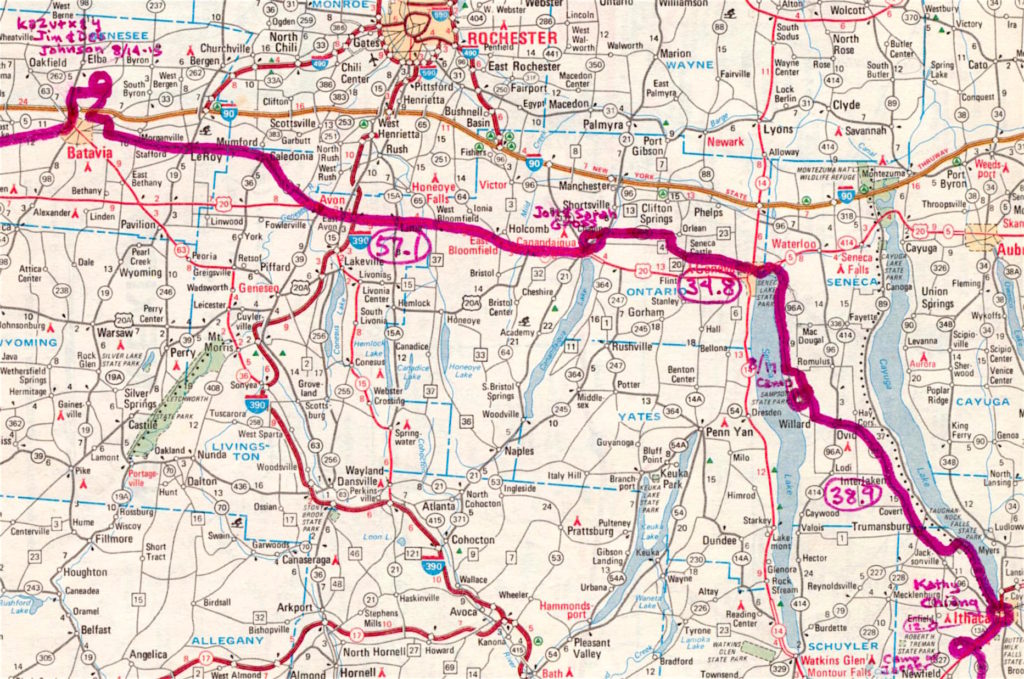 Biker writes, computes, and pedals – Canandaigua
by Jonathan Zukosky
Canandaigua Messenger 
August 17, 1987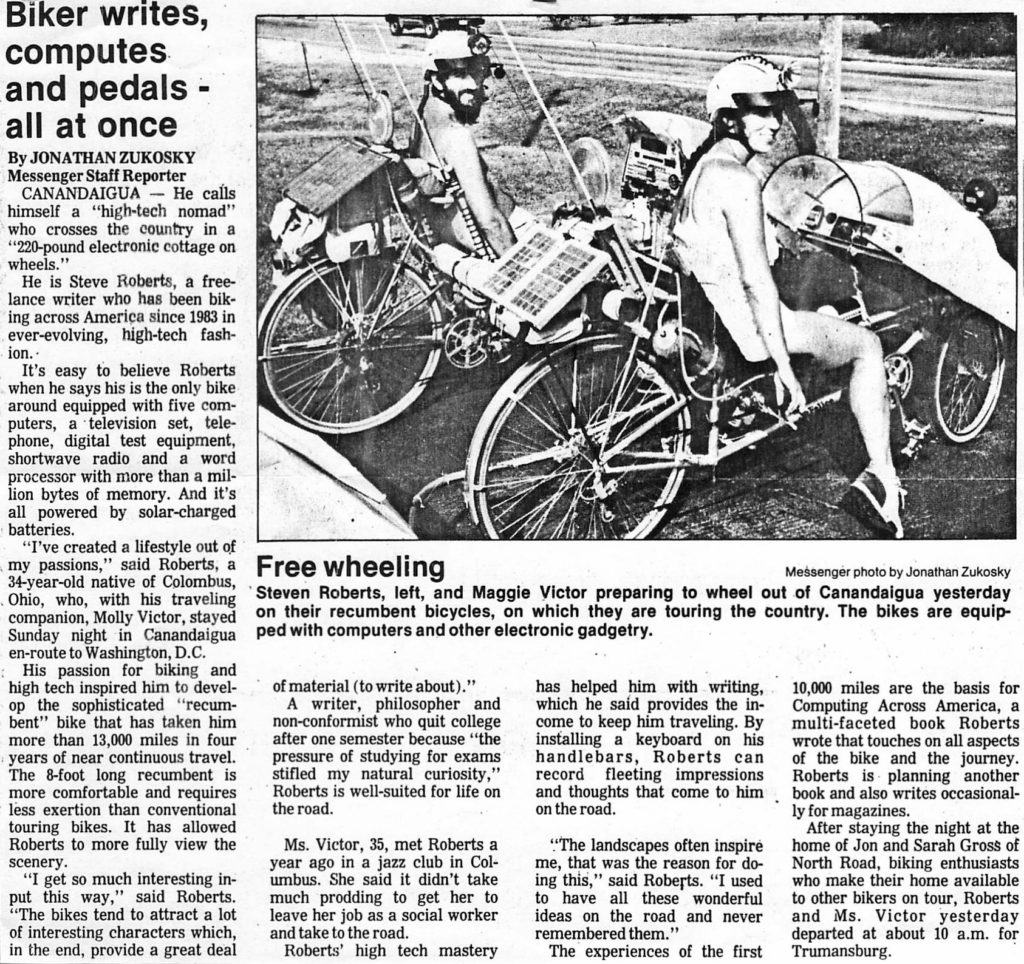 He calls himself a "high-tech nomad" who crosses the country in a "220-pound electronic cottage on wheels."
He is Steve Roberts, a free lance writer who has been biking across America since 1983 in ever-evolving, high-tech fashion.
It's easy to believe Roberts when he says his is the only bike around equipped with five computers, a television set, telephone, digital test equipment, shortwave radio and a word processor with more than a million bytes of memory. And it's all powered by solar-charged batteries.
"I've created a lifestyle out of my passions," said Roberts, a 34-year-old native of Columbus, Ohio, who, with his traveling companion, Maggie Victor, stayed Sunday night in Canandaigua en-route to Washington, D.C.
His passion for biking and high tech inspired him to develop the sophisticated "recumbent" bike that has taken him more than 13,000 miles in four years of near continuous travel. The 8-foot long recumbent is more comfortable and requires less exertion than conventional touring bikes. It has allowed Roberts to more fully view the scenery.
"I get so much interesting input this way," said Roberts. "The bikes tend to attract a lot of interesting characters which, in the end, provide a great deal of material (to write about)."
A writer, philosopher and non-conformist who quit college after one semester because "the pressure of studying for exams stifled my natural curiosity," Roberts is well-suited for life on the road.
Ms. Victor, 35, met Roberts a year ago in a jazz club in Columbus. She said it didn't take much prodding to get her to leave her job as a social worker and take to the road.
Roberts' high tech mastery has helped him with writing, which he said provides the income to keep him traveling. By installing a keyboard on his handlebars, Roberts can record fleeting impressions and thoughts that come to him on the road.
"The landscapes often inspire me, that was the reason for doing this," said Roberts. "I used to have all these wonderful ideas on the road and never remembered them."
The experiences of the first 10,000 miles are the basis for Computing Across America, a multi-faceted book Roberts wrote that touches on all aspects of the bike and the journey. Roberts is planning another book and also writes occasionally for magazines.
After staying the night at the home of Jon and Sarah Gross of North Road, biking enthusiasts who make their home available to other bikers on tour, Roberts and Ms. Victor yesterday departed at about 10 a.m. for Trumansburg.