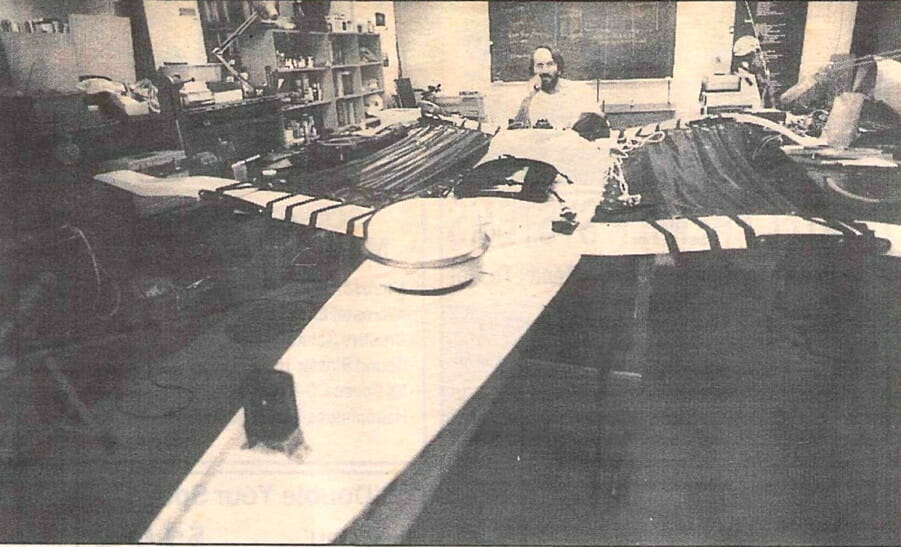 For biking nomad, home was the Internet – San Diego Union-Tribune
For 2 years, I had a lab in the engineering building at University of California San Diego, where, as "adjunct faculty," I ran a projects class for seniors in electrical & control engineering. This article appeared during the first year there, when the nautical substrate was a Fulmar-19 trimaran, and we were building a network of FORTH nodes to handle control and data-collection.
by James Crawley
San Diego Union-Tribune
August 30, 1994

photo by Bob Shanks
"It's like I'm wandering around the neighborhood and dropping in on friends," he says
Steve Roberts has lived a nomadic life for the past decade, traveling 17,000 miles around America on a bicycle.
The bike — actually three generations of bikes, each more complicated and heavier than the previous version — was an electronics store on wheels. Packed with $1.2 million worth of computers, satellite communications gear and powered by solar panels, the ultimate incarnation and its trailer were a 580-pound monster, aptly named Behemoth.
While traveling, Roberts wrote a book, was on Phil Donahue's show and was the subject of hundreds of newspaper, TV and radio interviews.
To hold together his nomadic existence, Roberts relied on the Internet.
"It's my home," said Roberts, a lanky, bearded 41-year-old.
"It's not only my home, it's my business," he said.
Over the Net, Roberts has communicated with friends, many known only by their electronic mail; dealt with sponsors; garnered technical information; researched various personal interests; and used it to publish news and information about his travels.
"All my relationships are through the Net," Roberts said. "It's like I'm wandering around the neighborhood and dropping in on friends."
When he started riding the back roads of America in 1983, Roberts relied upon a Radio Shack TRS-80 — "Trash 80" to computer aficionados — hooked via a klutzy but workable audio coupler to any phone as his connection to the Internet. By the time he quit his road travels last year, Roberts was using a Macintosh computer connected to a state-of-the-art Omnitracs satellite communications system, donated by San Diego's Qualcomm Inc. (NOTE: that was a Model 100 I used, not the TRS-80)
Now, bivouacked for two years in a laboratory workshop at the University of California San Diego, Roberts is working on Microship, a 19-foot-long trimaran that will be outfitted with computers, digital cameras, solar cells, satellite transceivers and high-tech sensors. And a sail, rudder and foot-powered propeller.
Elementary- and secondary- school students will be able to monitor the Microship's progress and interpret the telemetry information.
Engineering students are helping design and build the vessel in a third-floor lab. Eighteen students helped on the project last spring, and four assisted this summer.
When quizzed how he got the fiberglass needle-nosed boat into his lab, Roberts rifled through a cabinet to find a videotape of himself and a crew of undergraduate students using a makeshift davit to hoist the 260-pound boat from the courtyard below. As the hull was hoisted to the balcony, a university cleaning woman watched quizzically.
While Roberts benefits from having help in building the Microship, he said it is a fair trade for the students and the university.
"There's a sore need for engineering projects that are hands-on for the students instead of just theory," Roberts said.
But it is the Net where Roberts does most of his collaboration.
"For anything I need, I can find a wizard who knows everything," he said.
Roberts has a ready list of experts who can help: His Internet mailing list has 4,000 addresses. Every few weeks, Roberts sends an update on his travels and Microship development to list members.
"It's an information resource," Roberts said. "A couple of times a week I toss a question out to the list."
He sees his role as that of a facilitator.
"While they help me, I help them 'see the world,'" Roberts added.
A LITTLE BIT
To learn more about Roberts and his adventures, past and future, try out his World Wide Web pages by pointing a Web browser at https://microship.com (corrected from obsolete ucsd.edu address in story)