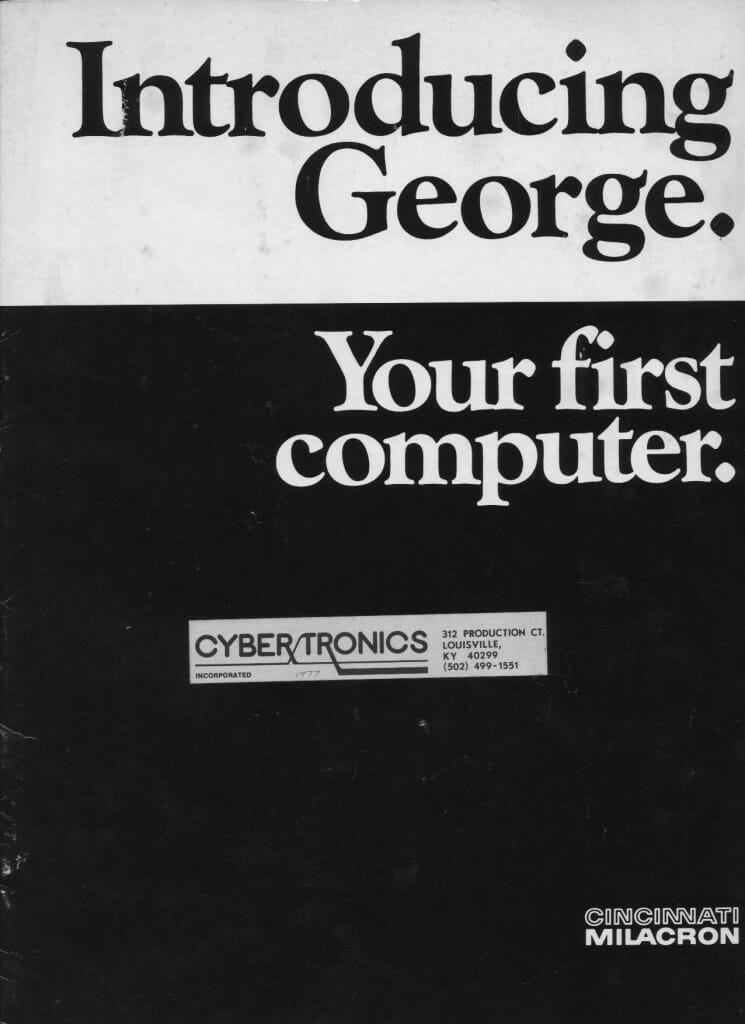 Cincinnati Milacron George – Your First Computer
This machine was introduced in 1977, and I was technically a dealer although I never sold one (which explains the Cybertronics label on the cover page). Prices ranged from $16K-70K, and it was a radical foray into the world of "small business computers" for a long-established company that had been focused on numerical-control machines and robotics.
Although this is outside the usual domain of these archives, since it is not my creation, the brochure is enough of a rarity that I decided to scan it for posterity. Here is a page  from Computerworld with a bit more history about the George family of computers. I am not sure, but I believe it was based on their CIP/2200 architecture from a few years earlier (please correct me via the contact form if this is wrong).
Introducing George
Your First Computer
by Cincinnati Milacron, 1977
(scanned by Steven K. Roberts)
Who can use him:
George is just right for small or medium-sized businesses that want to boost efficiency and productivity levels with something more manageable than a big computer. And more affordable. It doesn't matter whether you've got 10 employees or 300. George is ideal for offices, manufacturing plants, warehouses, wholesale and retail firms, contractors—and a host of other businesses. No doubt, many of them like yours.
What he does:
George gathers facts and figures geared to your specific business, because you tell him to do just what needs to be done. You give him the information once—and he never forgets it. He'll help you with periodic or ongoing evaluation and reports for controlling any facet of your business. You can simplify your daily routine and make it more accurate. What's more, George can do it all in micro-seconds and minutes, instead of hours and days.
Basically, he handles two major areas: operation functions and management functions. He can be programmed to schedule and route delivery trucks, to check your inventory, to process product orders, to send and withdraw information between departments and to do dozens of other jobs. In short, to handle all the detail work in less time. George also can be set up to work in more than one office or location.
For management functions, he'll tell you if there's trouble ahead and how to avert it. He gives you a super-fast overview of information you need for vital decision making. And George can easily grow with your business when required—with added units, components, or capabilities.
And you don't have to be some kind of programming whiz to make George do all these things for you. You simply work with the distributor who sells you George. Tell him what kind of problems you want George to handle and how your business works, and he'll take care of the rest. He's the programming whiz, and you get all the happy results.
What he is:
George is a versatile combination of hardware and programming software. He has a keyboard and a controlling device (or central processing unit), set up with a computer language so he can speak to other Georges. He has a Video Display Terminal screen for instant read-out of information you give him or get from him. And there's a printer for hard copies of information appearing on the VDT. To make George work, there's an input device we call a "Floppy Disk Drive" You just slip in a flexible 8″ diameter diskette to write and store data. You retrieve data from George's output device consisting of either the VDT and/or the hard copy printer.
Is George fast? Impress your friends with this figure: data is read from or written on a diskette at a nominal speed of 31,250 characters per second! What's even more impressive is that George is so easy to work with. A member of your staff can get acquainted with him in a few hours. So don't worry about so-called "training time."
How he's different:
George is manageable in every sense of the word. Because you control him. He's your brightest new employee. He'll work faster and do more than many other computers, and cost about half the price of many others.
George is convenient. You can buy both his hard­ware and software from one distributor. And these distributors are spotted around the country to give you still another edge. They're well established sales outlets. Because of this background of distributor know-how and Cincinnati Milacron quality and expertise, you get a unique combination when you buy George. Computer technology from a Fortune "500" company together with facilities for outstanding local service. All tailored to your special marketing and in-house needs. It's about time George came along.
Exactly what can George do for you?
He'll do exactly what you want. Automatically. And that could be a lot of things. Here are just a few typical jobs you can program into him, using a manufacturing business as an example.
Watching the inventory.
George is a good manager in this application. He helps you know exactly what's on hand and automatically sees that the proper inventory is maintained. You'll save money because good control over inventory transactions cuts your investment to a minimum and makes your customers happier.
Handling the payroll.
He'll take the "ouch" out of typical payroll headaches by reducing preparation time. He'll also handle time-consuming reports involved in getting the payroll ready. And you can get labor distribution reports from George—either by department or on an individual job basis.
Keeping an eye on the product.
Because George doesn't miss a thing, we can program him to keep you — and everyone else involved — posted on product costs, as well as related activities like engineering changes in your product. George provides instant records to help you analyze these areas.
Monitoring Production.
Depend on George to give you status reports on jobs in progress, along with such information as cost details on manufacturing procedures. Accurate shop reports, available instantly, are important. And George knows it.
Setting the Accounts straight.
George helps correlate activities on accounts payable and accounts receivable. You get more accurate control of liabilities and cash outflow, like check reconciliation, for example. You can cut losses caused by bad debts, thanks to up-to-date information from George. And you'll improve your cash flow.
Following Orders.
Keeping you ahead on customer order efficiency is an important service from George. He'll prepare orders and invoices, give you status reports on back orders and even analyze your profit for each invoice. These and other items involved in orders and invoicing can reduce clerical work and speed up order processing.
Supervising Sales.
When you need help analyzing your sales activity, George is right there with the data you need. He'll give you reports on profits and sales for quick and accurate comparison—even break the reports down by customer, product item or salesman.
Balancing the books.
Want to know how your company stands financially? George has the answers—in moments. He'll summarize all your accounting transactions for a complete, accurate status report. Your monthly balance sheet and income statement is another area handled automatically, by George. All of which takes the pain and strain out of general ledger work.
And this is how George works.
You can get a variety of data and reports from George's programmed memory for specific informational needs, or to solve a particular problem. And you can get the information two ways:
Video Display Terminal Data Entry

Visual Display
All data entry, inquiry, and updating is accomplished on George's video display terminal. George sounds off if you try to put a letter where only numbers belong, or vice versa.
He has several other tricks up his sleeve to help you avoid costly time delays and confusion… like checking for valid account numbers before he records the information.
George always presents information to you into two video intensities. Data is brighter than the template, making it much easier for the operator to visually verify the input.
Reports
George has many pre-formatted easy-to-read standard reports such as Accounts Payable Aging… yet he gives you the significant advantage of determining your own captions and sub-totals on financial reports such as the Balance Sheet.
George's birthplace:
As you'd expect, George didn't just happen. He's the result of years of experience and effort, all from the dedicated people of Cincinnati Milacron.
Cincinnati Milacron, the world's largest machine tool builder, has been a major manufacturer of numerical and other electronic automation controls for more than 15 years. The more demanding our machine tools became, the more demanding their controls had to be, and ultimately a completely new 200,000 square foot plant was designed and built especially to produce the most advanced forms of electronic control systems and minicomputers.
When it was time for George, we were ready for him.
A few other important facts about George:
Installation: George's installation is handled by the distributor from whom you purchase him, but under our guidance and direction. You don't have to worry about a thing; it's all taken care of for you.
Service: Even George needs service now and then, and fast, dependable service is always an important consideration in a computer installation. Our Cincinnati Milacron field servicemen and factory-trained distributor servicemen are widely experienced and readily available nationwide. However, if you prefer to perform your own maintenance, complete training courses are offered.
Warranty: You'll receive a written warranty with George backed by a 90-year-old company.
Training: A member of your staff can be trained to handle George in a few hours. However, if you want it, much more extensive training is available, complete with modern classroom facilities, a "hands on the equipment" approach, and the latest training aids. It's all available at our plant in Lebanon, and detailed information is available upon request.
Peripherals: Many "peripherals"—items of equipment that extend George's capabilities, like magnetic tape readers or punch card readers—are available if you want them. Complete details are available.
The rest of George's family: George is probably all the computer you need right now, but as your business grows you may want to move up to a bigger and better George. If so, he's ready—with more sophisticated models for either office or data processing environments, for either single or multiple users. Their capabilities are vastly greater than George's and we'll be happy to tell you about them when you're interested.