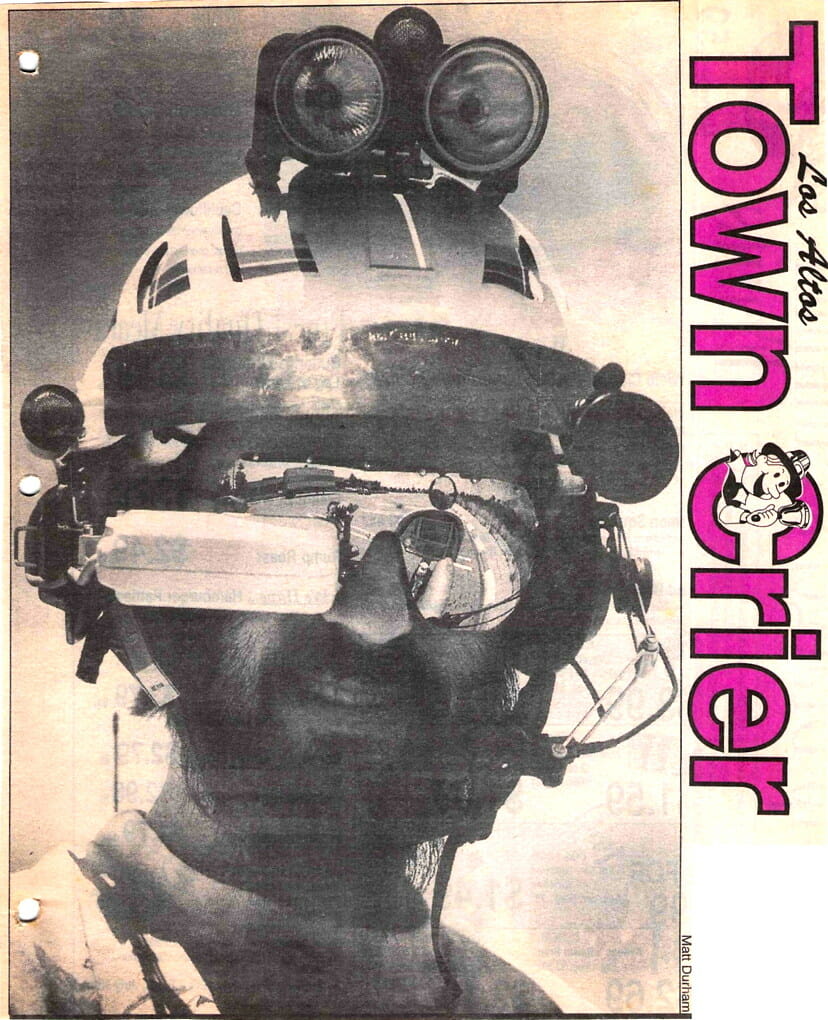 Computing Across America – Los Altos Town Crier
This came at a very intense moment… I was just about to leave the Bikelab at Sun Microsystems and drive to Omaha in order to do the RAGBRAI bicycle ride across Iowa, cranking out hundred-mile days with 10,000 other cyclists. As it happened, a mechanical breakdown interfered with this plan and I only managed a couple of riding days during the event, but I continued more lazily from there and up the western shore of Lake Michigan. It takes public deadlines, I think, to separate the creeping featuritis from essential projects, and this article appeared just as I was wrapping up this essential phase of BEHEMOTH development. A crazy time…
High-tech nomad plans cross-country adventure on solar-powered, computerized bicycle
by Cristal Borlik
Los Altos Town Crier
July 10, 1991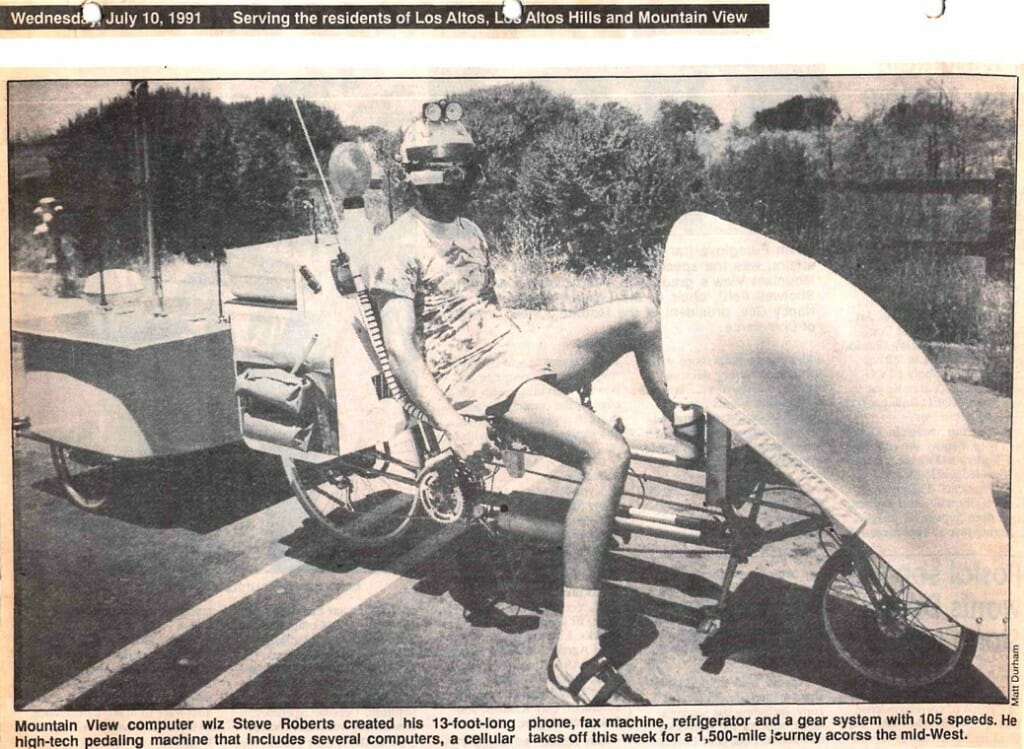 Steve Roberts tried the American dream. It was awful.
The technical writer and consultant worked for a computer company and lived in the suburbs of Columbus, Ohio, for several years before discovering he didn't like his job.
So he combined his passions — travel, bicycles, computers — and developed an occupation that would satisfy him.
"I threw them all in a blender — the obvious thing to do was to develop a high-tech bicycle," Roberts said from his lab in Mountain View. "My high school counselor never mentioned this as a career option."
For Roberts, the solution made sense. He bought a recumbent bicycle — sort of like a beach chair with pedals — and attached a lap top computer, ham radio and a citizens band radio. He named the high-tech bike "Winnebiko" and by the summer of 1983, he was ready to pedal the pavement of many states.
The first trip found the lanky bicyclist dot-to-dotting through cities across the East Coast and southern United States.
He wrote newspaper and magazine articles on his computer and sent the stories through modem lines at pay phones.
He also wrote a travel book about his solo adventure titled, Computing Across America: The Bicycle Odyssey of a High Tech Nomad.
He pitched his tent, stayed in motels and visited friends, traveling wherever his muse led him. He made heaps of new friends, adding names and addresses to his hospitality computer network.
If Roberts got lonely, he hooked up to computer networks and conversed with other able-bodied keyboards.
It took him a year and a half to complete the adventure, preparing him for a two-year trip soon after.

High-tech nomad
Roberts has clocked more than 16,000 miles since his career change eight years ago. After the first 10,000 miles, Roberts attached a commercial trailer to the back of the bicycle.
In 1987 he started publishing his own newsletter, The Journal of High-Tech Nomadness, in which he writes about his adventures. With the bike's advanced computer technology, Roberts can actually compose and pedal simultaneously.
This week, he plans to rent a truck and drive his newest bike to Omaha, where he will join up with 10,000 cyclists for the annual "RAGBRAI" bicycle trek across Iowa. "It'll be brutally hot but I'll dive right in," he said. "I'll probably come back and die for a couple days."
After the 60-mile-a-day week-long ride through corn fields he plans to cycle to Chicago, Wisconsin, Michigan, Ohio and finally Kentucky. Roberts said the 1,500-mile trip is to test out the new bicycle, dubbed Behemoth (which stands for Big Electronic Human-Energized Machine … Only Too Heavy.)
His first bike weighed just 135 pounds. Since then, he's added a customized trailer, a refrigerator and more computers. Today, the 13-foot-long Behemoth weighs about 400 pounds. Behemoth has a function-to-weight ratio, he said.
"With my first bike, everyone thought I was so insane for carrying so much weight," Roberts said. "It just keeps growing — scary isn't it?"
He is planning a trans-America journey for next January. With 400 pounds of bike to pedal up hills, Roberts said his body will likely go through metamorphosis.
"I'll probably look like a pyramid when all this is over," he said.
About 150 sponsors provide Roberts with the resources, tools and computer technology he needs to enhance and maintain Behemoth.
Sun Microsystems in Mountain View donates the space for his workshop, Nomadic Research Labs. In return, Roberts does some consulting work for the well-known computer company. "My job is to be stimulating," he said.
He covers his monetary expenses with newsletter subscriptions, book royalties and occasional consulting contracts.
If Roberts wants to talk with other computers, he uses a satellite terminal, connecting him with Internet global computer network 24 hours a day. He recently "talked" with newspaper reporters in London, sending and receiving messages in just a few seconds. "I forget I'm on the other side of the lake," he said.
With his satellite navigation system, Roberts can determine latitude, longitude and elevation to within 100 feet. He keeps United States maps on compact disc and with an electronic compass maintains a moving map on his computer screen. Behemoth also can tell Roberts road conditions to find out route steepness.

World at his fingertips
Behemoth uses solar power, trapping the sun's energy and sending it to batteries underneath the bike. The batteries juice the on-board computer hardware. The bike sends any left-over energy to a small refrigerator behind the seat. Roberts also installed special brakes, which convert the energy of motion into electric current.
Most of the computer equipment is under a dome-shaped fiberglass hood in front. Computer circuit boards, hard disk drives and a three-screen console, enable Roberts to use a word processor and diagnose system glitches.
Roberts recently replaced his citizens band radio with a cellular phone and can send and receive facsimiles.
And Behemoth has quite an alarm system. If thieves tamper with the bicycle, the bike pages Roberts to alert him. Roberts then can turn on the bike's intercom system and hear what's happening, even ask the speech synthesizer to say something like "Don't touch me."
"The bike can carry on a conversation with them and they don't know there's a man behind the curtain," Roberts said.
If theives are insane enough to steal the bike, Behemoth can call 911 and say "Hello, I'm a bicycle and I'm being stolen," giving authorities its longitude and latitude. "I just hope the police believe this crazy call and understand longitude and latitude," Roberts said.
Roberts' database holds 1,500 names of hospitable people who can put him up for the night. In fact, his computer can plot his cycling route, print out names and phone numbers and then dial them.
Roberts carries camping gear in the trailer if he needs a quick nap on the road. Otherwise, it's off to a motel, what he calls "credit card camping."
Despite his huge circle of friends and acquaintances, Roberts admitted he occasionally gets lonely.
"Most contacts on the road are beginnings of endings. The subject matter of all conversation is the bike but that's old news to me," he said. "Unfortunately, most doors end up to be closets."
He has traveled with a companion in the past and said he'd like to find others to join him.
"There's a fundamental trade-off of freedom and security," he said. "I'd like to find a deeper range of intellects than just one person."
The bottom line is to have fun. "If there's any altruistic thing here, it's to prove that computers are not always threatening and awful," he said.
"I'm just a yuppie hobo. I'm homeless and unemployed — I don't know what all the fuss is about."