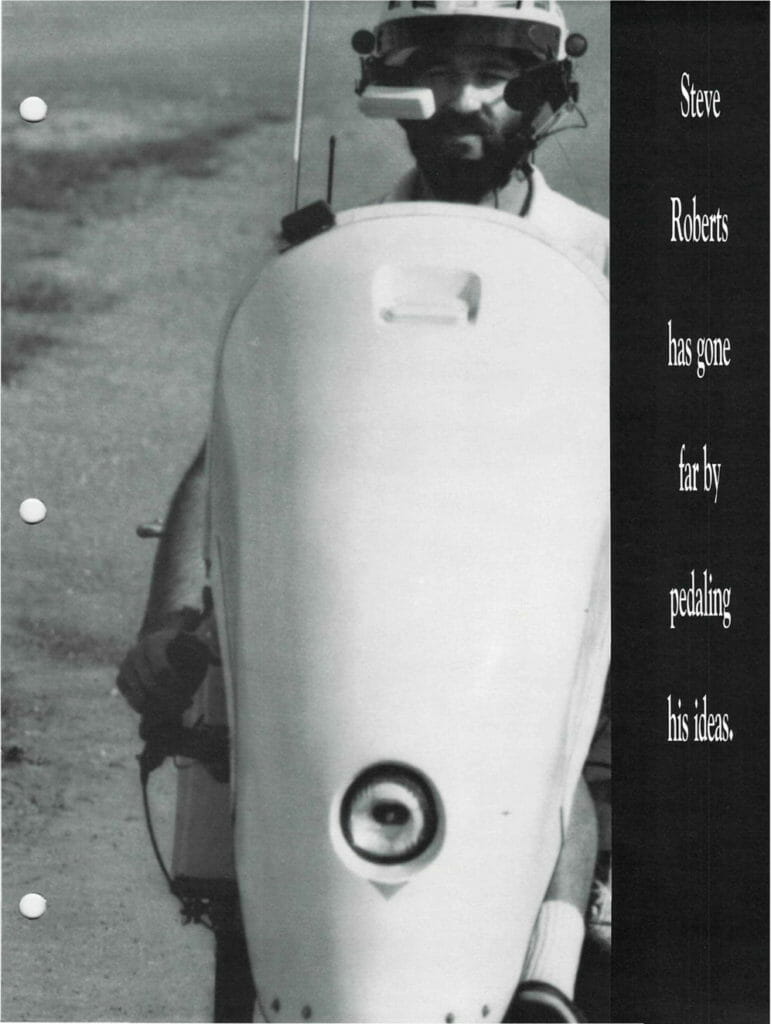 The BEHEMOTH project spanned 3.5 years, about two of which were in prime facilities donated by Sun Microsystems. During that time I lived in Building 4, immersed full-time in the project… aided by an astounding volunteer crew of engineers and fellow geeks from all over Silicon Valley. The relationship with my host company was interesting; I was a "high-tech court jester" of sorts, surrounded by interesting people and paid to be stimulating. I miss those days, and am forever indebted to Bill Joy and John Gage for making it happen.
This little article in Sun's in-house magazine was written near the end of my tenure there, and captured something of the buzz around the project. An excellent piece in Discover Magazine gives a different perspective, and my Anatomy of a Unixcycle story explains what a SPARCstation is doing on a bicycle.

Sun Microsystems
Illuminations
June, 1992
Ever since Steve Roberts sold his Columbus, Ohio, home eight years ago and began criss-crossing North America on a recumbent bicycle equipped with computer and communication gear, home has been an abstract electronic concept he calls "dataspace." But to Steve, it's as dear — and as real — as any hearth. "It might not matter where your body happens to be," says the freewheeling nomad, "so long as you maintain a presence in the networks. Being nailed unwillingly to a single ZIP Code doesn't make sense anymore."
Over this time, the restless computer innovator, author, speaker and consultant to Sun Microsystems has designed and built even more impressive and bizarre incarnations of his roving communications and computing platform. Steve's latest creation, devised at a Sun laboratory during his three-year layover in Silicon Valley, is a custom bike called BEHEMOTH – Big Electronic Human-Energized Machine, Only Too Heavy.
Have Gizmo, Will Travel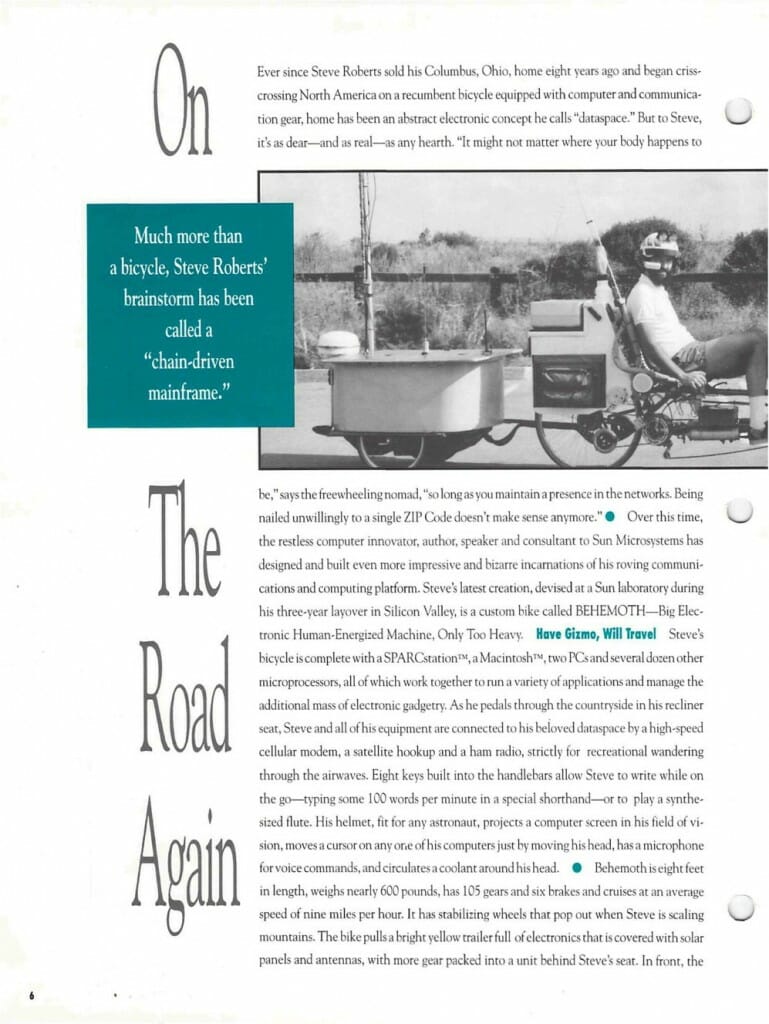 Steve's bicycle is complete with a SPARCstation™, a Macintosh™, two PCs and several dozen other microprocessors, all of which work together to run a variety of applications and manage the additional mass of electronic gadgetry. As he pedals through the countryside in his recliner seat, Steve and all of his equipment are connected to his beloved dataspace by a high-speed cellular modem, a satellite hookup and a ham radio, strictly for recreational wandering through the airwaves. Eight keys built into the handlebars allow Steve to write while on the go — typing some 100 words per minute in a special shorthand — or to play a synthesized flute. His helmet, fit for any astronaut, projects a computer screen in his field of vision, moves a cursor on any one of his computers just by moving his head, has a microphone for voice commands, and circulates a coolant around his head.
Behemoth is eight feet in length, weighs nearly 600 pounds, has 105 gears and six brakes and cruises at an average speed of nine miles per hour. It has stabilizing wheels that pop out when Steve is scaling mountains. The bike pulls a bright yellow trailer full of electronics that is covered with solar panels and antennas, with more gear packed into a unit behind Steve's seat. In front, the console full of computer screens resembles the cockpit of a spaceship — prompting some observers to inquire whether Steve was with the space program. The bike even features a full-fledged security system that issues a voice warning to the curious who come too close, blaring, "Do not touch, or you will be vaporized by a laser beam." "A loud warning is extremely effective," explains Steve. "It denotes ominous machine intelligence in something that is already quite alien." For those who do not heed the warning, however, the bike will automatically lock the front wheel and dial 911, announcing, "Hello, police. I am a bicycle. I am being stolen," while transmitting its precise location on the Global Positioning System.
Pit Stop at Sun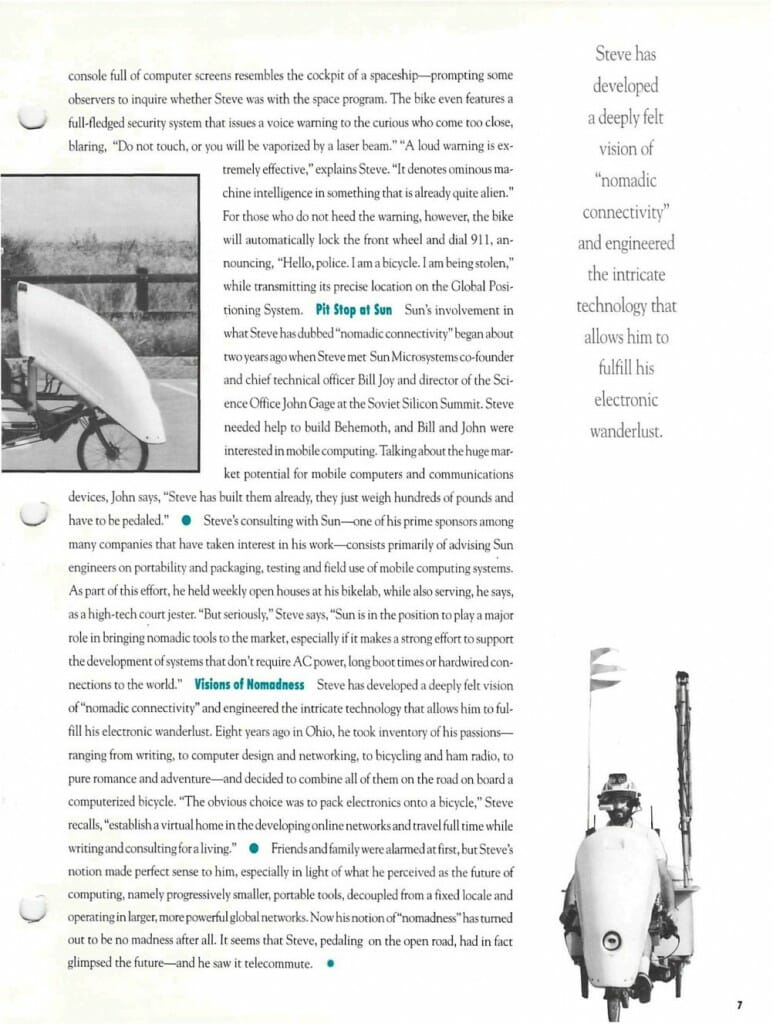 Sun's involvement in what Steve has dubbed "nomadic connectivity" began about two years ago when Steve met Sun Microsystems co-founder and chief technical officer Bill Joy and director of the Science Office John Gage at the Soviet Silicon Summit. Steve needed help to build Behemoth, and Bill and John were interested in mobile computing. Talking about the huge market potential for mobile computers and communications devices, John says, "Steve has built them already, they just weigh hundreds of pounds and have to be pedaled."
Steve's consulting with Sun—one of his prime sponsors among many companies that have taken interest in his work — consists primarily of advising Sun engineers on portability and packaging, testing and field use of mobile computing systems. As part of this effort, he held weekly open houses at his bikelab, while also serving, he says, as a high-tech court jester. "But seriously," Steve says, "Sun is in the position to play a major role in bringing nomadic tools to the market, especially if it makes a strong effort to support the development of systems that don't require AC power, long boot times or hardwired connections to the world.
Visions of Nomadness
Steve has developed a deeply felt vision of "nomadic connectivity" and engineered the intricate technology that allows him to fulfill his electronic wanderlust. Eight years ago in Ohio, he took inventory of his passions — ranging from writing, to computer design and networking, to bicycling and ham radio, to pure romance and adventure — and decided to combine all of them on the road on board a computerized bicycle. "The obvious choice was to pack electronics onto a bicycle," Steve recalls, "establish a virtual home in the developing online networks and travel full time while writing and consulting for a living."
Friends and family were alarmed at first, but Steve's notion made perfect sense to him, especially in light of what he perceived as the future of computing, namely progressively smaller, portable tools, decoupled from a fixed locale and operating in larger, more powerful global networks. Now his notion of "nomadness" has turned out to be no madness after all. It seems that Steve, pedaling on the open road, had in fact glimpsed the future — and he saw it telecommute.
---
Here's a photo of some of the Bikelab crew, fueled by Tony & Alba's pizza (along with the famed PizzaTool)
You must log in to post a comment.