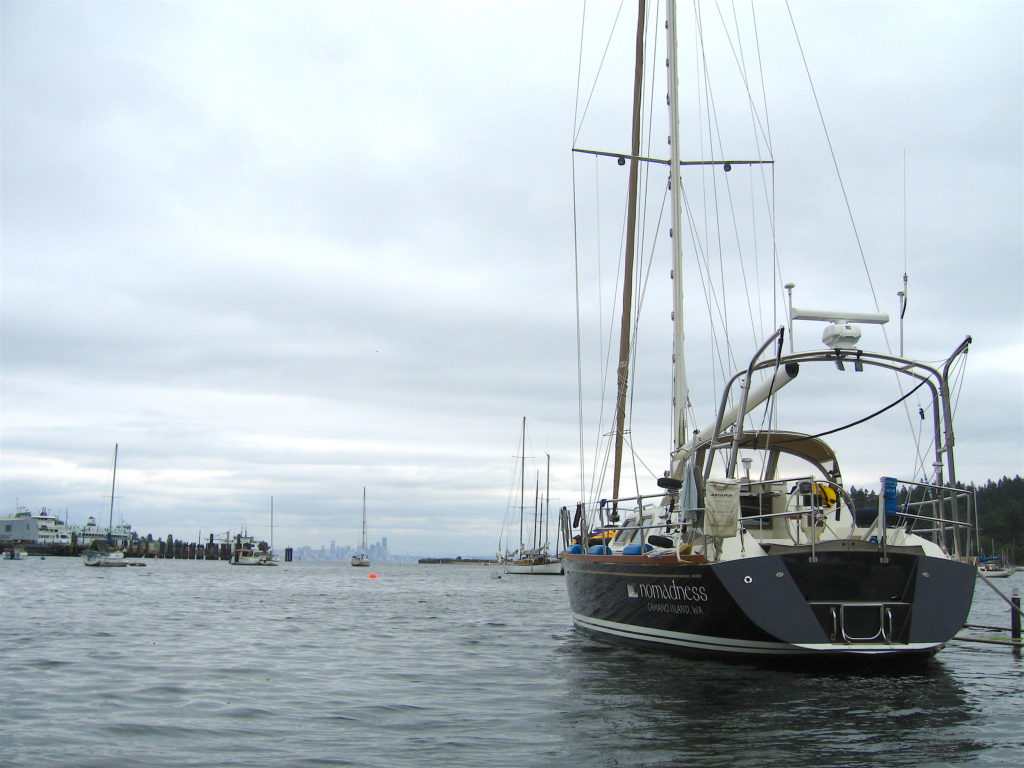 It is unbelievable and almost surreal to be sitting in the salon of Nomadness, the view outside at last presenting something other than the endlessly reversing Swinomish channel and the rather unexciting marina.
It's a nonstop show now. Full moon and fast clouds soaring back and forth as we swing at anchor from the black mud of Oak Harbor. Dock strollers in Everett ambling by against a backdrop of confused choppy water sparkling in the sun, as a 22-knot wind stretches our new docklines and the VHF crackles with Coast Guard traffic (three people in the water near a capsized boat were rescued by Amazing Grace). Forested islands passing slowly, sometimes at heel angles while under sail, sometimes as a slow pan with a purring diesel soundtrack. The colorful Eagle Harbor, with rowing teams and kayakers darting among derelict houseboats and gleaming yachts as Seattle reflects setting sun across the Sound.
It doesn't suck, really. Not at all.
Getting off the Dock
The past few days have been a massive succession of learning curves and changes-of-state, all of which were welcome and long-overdue. The first hurdle was the hardest: getting enough slack in the To-Do list to consider actually leaving, rather than just chronically planning to do so. That can easily become a lifestyle in itself, you know, the years passing while reality trails behind the mission creep of new capabilities and evolving needs. People spend careers doing exactly this, and I look back with a painful wince at 16 years since I retired the BEHEMOTH bicycle and started looking to water. At every level of magnification, it is hard to take the first step when there is so much preparation to do.
Sky is a good influence. I over-engineer relentlessly, chasing gizmological visions of terrible beauty. She likes it simple, austere, and now. While my Inner Geek would never allow full adoption of her modus operandi, the influence has the effect of rendering mine more lean… and lists get pruned to reflect what is essential while she gets me off my too-sedentary butt to get things done. My own favored way of removing something from the task list is to conclude that it's not necessary after all, so as the weather grew more alluring, we found ourselves working with an oddly synchronous urgency… even notifying the marina of our departure date.
But first, we had to deal with some epic biology… mussels, barnacles, kelp, grasses, and slimes various that had matted the entire hull, disabled the speed log, and turned the MaxProp into a big vague blob thriving in the primordial ooze of La Conner. Troy of North Sound Diving polished 'er up:
Slipping the dock lines sounds easy, but this boat has one very strange quirk: she doesn't back well. The Max-Prop has lots of oomph with 77 horses behind it, of course… but the underwater profile is rather bizarre with a huge gap between the keel-mounted running gear and the skeg-hung rudder. Backing is so clumsy that for a time I even convinced myself there was a hydraulic problem allowing slippage, but now that I can actually watch a rudder-angle display it is clear that we are looking at a design issue. Since that's not going to change anytime soon, it means three things: lots of practice in places that won't involve insurance companies if I screw up, avoidance of parking spots that involve difficult retreats, and very likely a bow thruster.
Our Baccara friends were there to cast off lines and keep her aimed right, however, so this particular launch wasn't too bad… and we were off to the fuel dock where I slurped 88 gallons into the aft tank, carefully calibrating the N2K sensor at every 10 gallons. (Days later, however, it still tells me I am at 100%, so either the ship is infinitely efficient or something is amiss.)
Onward!
We tiptoed out of Swinomish Channel with a strong sense of escaping, and turned south for Camano Island while listening to NOAA weather radio talk of 20+ knot winds later in the evening, and lacking anything but calm-weather anchorage at our "home port" decided to skip across to Whidbey and duck into Oak Harbor. Again I acutely felt the lack of a chartplotter, tiptoeing in at low tide while identifying charted marks with binoculars and unable to use a hand-bearing compass on the steel boat… but we made it through a phalanx of racers heading out, found the dock full, and were presented with the opportunity to learn how to anchor. "I've never done this before," I called to the skipper of a Beneteau as we glided past. "Just what you want to hear from the guy upwind of you, eh?" His friendly gesture seemed to suggest as much forward movement as possible.
We survived the night, though not without a bit of nervousness and plenty of checking reference points on shore. My 300 feet of chain, 65-pound Bruce anchor, and Lighthouse electric windlass make for a robust bit of ground tackle, so with one more initial learning curve checked off we headed out to get to know the sails. Yarrh! Now we're talking…
She has a stately motion under sail, and there is enough momentum with 18 tons of displacement to complete a tack at a relaxed pace. Not too tender… the heel angle is mild even when she has a bone in her teeth. Running downwind is not as smooth; the mainsail touches the shrouds at a moderate sheeting angle and there is no preventer to reduce accidental jibe potential, but I'll deal with that later. For now, it was most reassuring to be able to make decent upwind progress:
(OK, that little bit at the bottom end is messy… it took a while to figure out how to refurl the main!)
We anchored off a friend's beach for a while, then, while lounging in bed, discovered that fooling around with the fuel-level sender had damaged the old gasket. A diesel stink was rising through the new latex mattress, and sure enough, down in the hold was a puddle of pink fuel. That, coupled with more wind predicted and uncertain holding through a wide tidal range on the fully exposed beach, prompted us to motor on to Everett for a painful lesson in parallel parking between power boats in 20 knots of wind off the dock and a 3-knot current astern.
I ended up having to do a 360 in the channel to take another run at it, and a couple of "dock angels" helped with lines. Two days later, trying to back into combined river and tidal current, I had problems again – getting sideways in the channel, unable to bring the bow upcurrent until another pair of angels caught a stern line and flipped us around. This is not good. I need a bow thruster. The Sideshift looks intriguing, kind of like the "redneck bow thruster" I was going to cobble together with a couple of left-over trolling motors but doubtless much more robust. The alternative is the classic tunnel thruster, but those are insanely expensive to install ($10-15K) and are fraught with problems including turbulence, fouling, and difficult maintenance.
Fixing Your Boat in Exotic Ports
That's the definition of cruising, according to one wag, and I see it happening already. We're in Eagle Harbor on Bainbridge Island now, and my list is daunting: generator raw-water leak, main engine light smoke at idle even when hot, the epic plumbing job, chartplotter installation at outside helm, Mac Mini installation below, SSB and other radios, change the Racor I used for fuel transfer once the new vacuum gauges arrive, replace the awful Prosine inverter charger, calibrate the rate gyro compass, do the on-water commissioning for the autopilot, install a Floscan N2K interface for fuel-consumption monitoring, build solar array, deal with the maneuverability issue before I break something, fix tank sender, and more. Gak. But at least we're off the dock and getting to know her quirks while adapting to life at sea. It's the first step, always the hardest of all.
We're continuing south on this shakedown cruise, then will take some time to deal with the major issues before heading into Canada. An upcoming post is going to cover a few tools that I have come to truly love (while dissing a few that evoke the opposite response), and no doubt there will be a few more adventures to continue adding spice to a life that has been much too devoted to planning. Boogie!
Fair winds,
Steve
You must log in to post a comment.