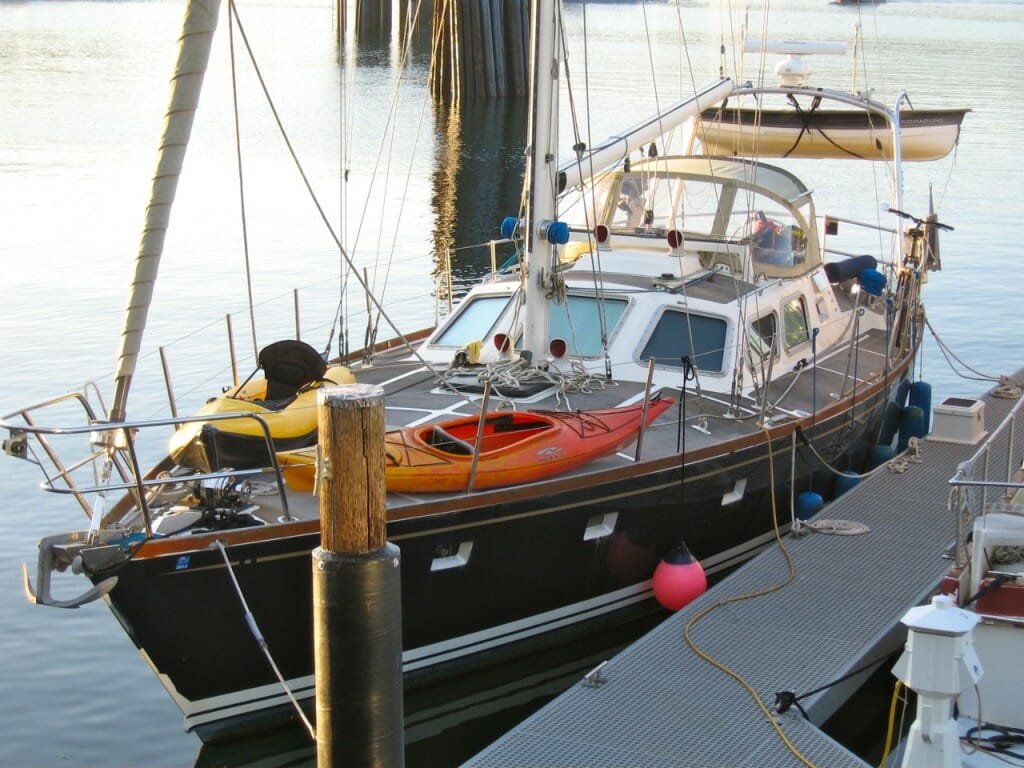 Friday Harbor – the new home port of Nomadness
I've been quiet in this blog lately, not wanting to write a series of posts about the numbingly boring topic of moving, but now it is essentially done but for one final trailer load to bring the Microship from Camano Island. I am no longer based in La Conner, where a long shoaling channel with tricky currents separated me from open water (but where the proximity of workspace to boat was as good as it can get).
The new trade-off resolves very differently… Nomadness is about three boat-lengths away from putting up her sails, right on the end tie to the south of the Friday Harbor ferry terminal…
The lab is at the other end of town (hence the bicycle on the stern rail), and is 2200 square feet that I am just starting to organize after far too many ferry trips involving a 50-foot truck-trailer rig packed with tonnage. I'll spare you the photos of box-mountains, and even those showing the beginnings of organized workspace, but I do want to introduce Cecil, posed next to the drill press named Big Red (now seeming rather a misnomer):
This is excellent space for a project, even with the commute (annoying at times, but that's a First World problem). At the moment, I'm in a mad rush to finish basic setup of work surfaces, inventory, security cams, and all that other infrastructure stuff… August will be a full month of boat geekery featuring Tim Nolan, coming from Wisconsin to take a geek's vacation and help with the power system, followed by Daniel Collins, fresh from an intense adventure in a Gulf Stream gale.
The most significant recent project aboard Nomadness is the lab desk substrate, something I've been thinking about for ages. The entire console system design was frozen, awaiting something more than the crude plywood visualization model that has been there for a year; thanks to the creative energy of Fred Westergaard, it is now complete (and gorgeous… details here):
The desktop is 1.5″ thick, laminated, and very well supported all around in addition to a stainless post in the center. One of the more novel features is a 32″ x 16″ steel plate inset along the middle of the front edge, allowing magnetic fixturing for lights and key tools. I've already moved into the tool cabinet, and can observe that it is a lot easier to find things when it is convenient to put them away in the first place. The left edge of that box defines the start of the wrap-around console of 13U rackspaces.
I've said this countless times, but I'll try to be better about blogging here. Most of the project details have been published in the Nomadness Report, which is now a monthly except cough for June… which didn't happen. Issue #20 is now underway, including a long feature about desk construction, the Raymarine E7 chart plotter, the power project, and details about the new life in Friday Harbor. (2017 note: the link is now to the compilation of all 22 issues.)
It feels wonderful to be here, with sails drifting by and a constant buzz of nautical activity. Much more to come!
You must log in to post a comment.