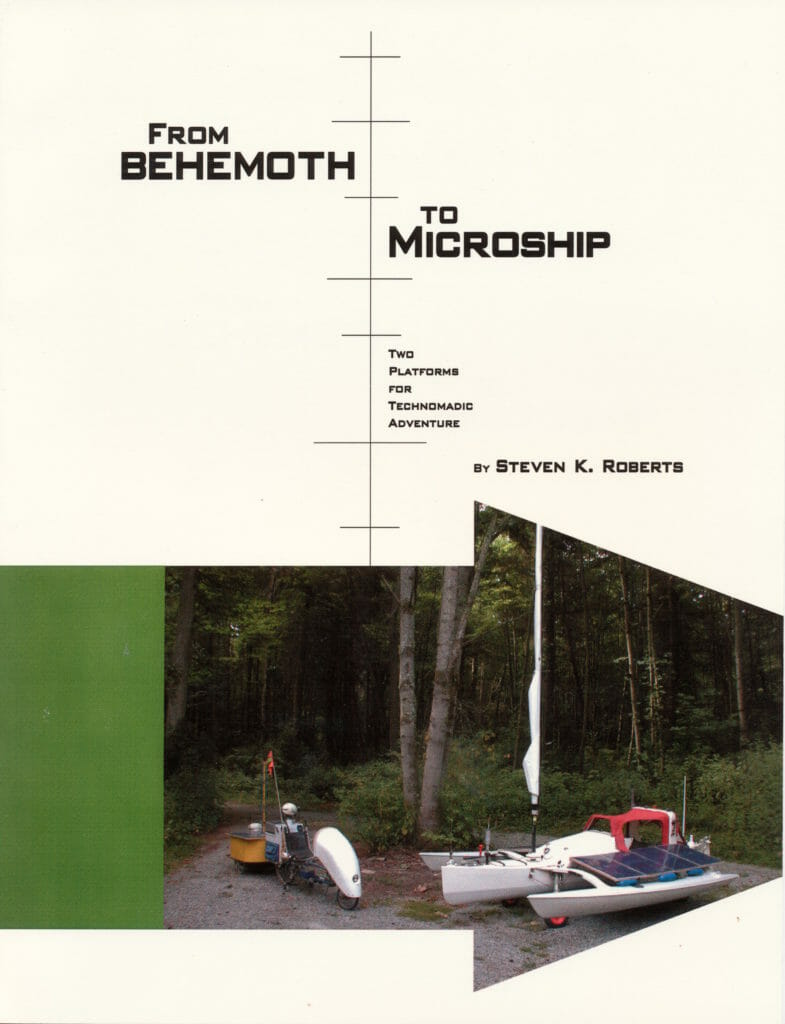 From BEHEMOTH to Microship – QST Review
QST has always been the quintessential magazine of amateur radio, predating me by decades. As such, like all other hams, I'm dabbling in things that have long kept paleogeeks up all night… probing the ether and chasing those elusive DX (long-distance) stations. Of course, some of the things I've done with radio have been a bit non-traditional, and when QST ran a feature about BEHEMOTH in April 1992, many old-timers quite reasonably assumed it was an April Fools joke. But nine years later, there was a brief follow-up in the form of this little review of my book about the new Microship project, a 110-page collection of philosophical maunderings, tech details of the bike, and exploration of the unfolding micro-trimaran.
by Steve Ford, WB8IMY
QST
June, 2001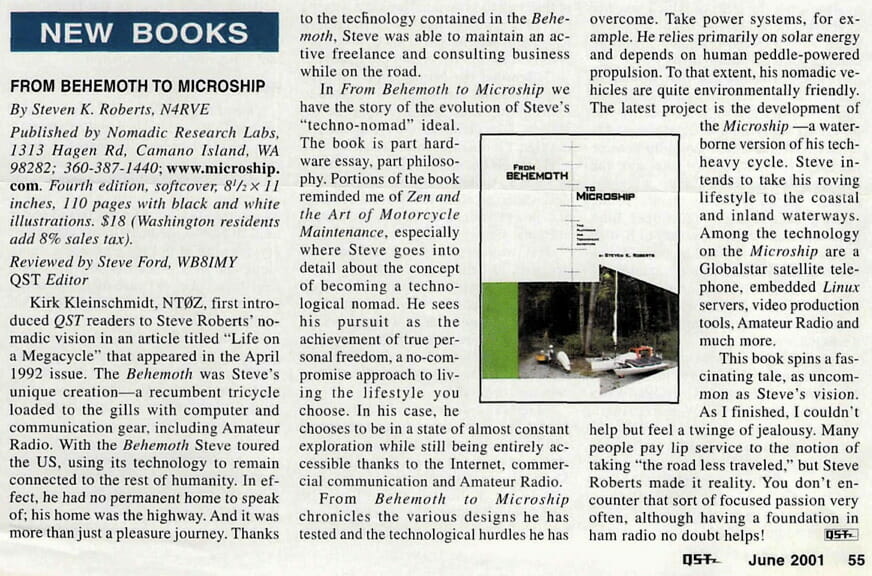 Kirk Kleinschmidt, NT0Z, first introduced QST readers to Steve Roberts' nomadic vision in an article titled "Life on a Megacycle" that appeared in the April 1992 issue. The Behemoth was Steve's unique creation—a recumbent bicycle loaded to the gills with computer and communication gear, including Amateur Radio. With the Behemoth Steve toured the US, using its technology to remain connected to the rest of humanity. In effect, he had no permanent home to speak of; his home was the highway. And it was more than just a pleasure journey. Thanks to the technology contained in the Behemoth, Steve was able to maintain an active freelance and consulting business while on the road.
In From Behemoth to Microship we have the story of the evolution of Steve's "techno-nomad" ideal. The book is part hardware essay, part philosophy. Portions of the book reminded me of Zen and the Art of Motorcycle Maintenance, especially where Steve goes into detail about the concept of becoming a technological nomad. He sees his pursuit as the achievement of true personal freedom, a no-compromise approach to living the lifestyle you choose. In his case, he chooses to be in a state of almost constant exploration while still being entirely accessible thanks to the Internet, commercial communication and Amateur Radio.
From Behemoth to Microship chronicles the various designs he has tested and the technological hurdles he has overcome. Take power systems, for example. He relies primarily on solar energy and depends on human pedal-powered propulsion. To that extent, his nomadic vehicles are quite environmentally friendly. The latest project is the development of the Microship — a waterborne version of his tech-heavy cycle. Steve intends to take his roving lifestyle to the coastal and inland waterways. Among the technologies on the Microship are a Globalstar satellite telephone, embedded Linux servers, video production tools. Amateur Radio and much more.
This book spins a fascinating tale, as uncommon as Steve's vision. As I finished. I couldn't help but feel a twinge of jealousy. Many people pay lip service to the notion of taking "the road less traveled." but Steve Roberts made it reality. You don't encounter that sort of focused passion very often, although having a foundation in ham radio no doubt helps!
This review was written by Steve Ford, the author of three excellent books from the ARRL: the Satellite Handbook, the HF Digital Handbook, and the Emergency Communication Handbook.